Flamenco in Valencia is there for those who seek it. Tucked away in El Carmen and a hop and a skip from Las Torres des Quart, you'll find Cafe Del Duende. This is the pumping heart of Valencia's flamenco scene. Some say it is the most authentic form of flamenco that you'll find in Valencia. It's certainly the most intimate, says Eugene Costello…
If you are in search of flamenco in Valencia, there is a temple to the art in El Carmen. Café del Duende has a small bar with around ten tables for guests and a large stage. As well as a group of four or so musicians and singers sitting side-by-side in chairs, as is the custom in flamenco performances. There must be plenty of space for the stomping and strutting of the dancers.
We met the owner ahead of a Saturday night show in December 2021, Anabel Vazquez.
Flamenco has nothing to do with where you are from
Anabel started Café Del Duende in 1998, always and exclusively for flamenco. Duende is someone that has a passion and a talent for something, a calling, she tells us. The name, duende, is someone that stands out, a talent, someone with a gift, someone special.
She runs Café del Duende with another Valencian woman. Her colleague Diana, who helps run the bar, joins us for our chat.
I had not realised that you could find flamenco in Valencia. I ask whether flamenco is not something more usually associated with Andalucia.
"Flamenco has nothing to do with where you are from," says Anabel firmly. "We used to go out a lot, and I felt the city needed a place where you could continue listening to music or talking, after a night out.
She reflects for a moment, then says, "In fact, we even had books at one point, so people could hang out and read."
So it is not accurate to say that flamenco comes exclusively from the South, as I had thought?
"Flamenco is something that has survived and endured," Anabel explains. "Spain is surrounded by water, it's a peninsula. We've had so many different types of people come in and add to whatever makes Spain 'Spain'," she continues.
An ever-evolving art form
"We are receptors of those that come and visit," Anabel warms to her theme.
"Wherever they go, they bring their cultures with them, and cultures mix in Spain, in my view. What's good about flamenco is that it has a great capacity for adaptation."
I ask whether there is a difference between flamenco in Valencia and other forms of flamenco.
"Flamenco has a recognisable musical base," says Anabel.
"There are palos and depending on where you are geographically, you can find one style or another. There are alegrias that are typical of Cádiz. And there are others that are typical of Córdoba. These include bulerías, fandango, petenera, rondeña, soleá or even tango.
"These are all types of flamenco," adds Anabel. "Usually 12, four and three tempos are most common. The alegria is a palo of flamenco. Flamenco has many rhythms, many styles, with cantes and bailes. And that is even before we get to personal flair and style."
A flamenco singer is a cantaor or cantaora, she explains.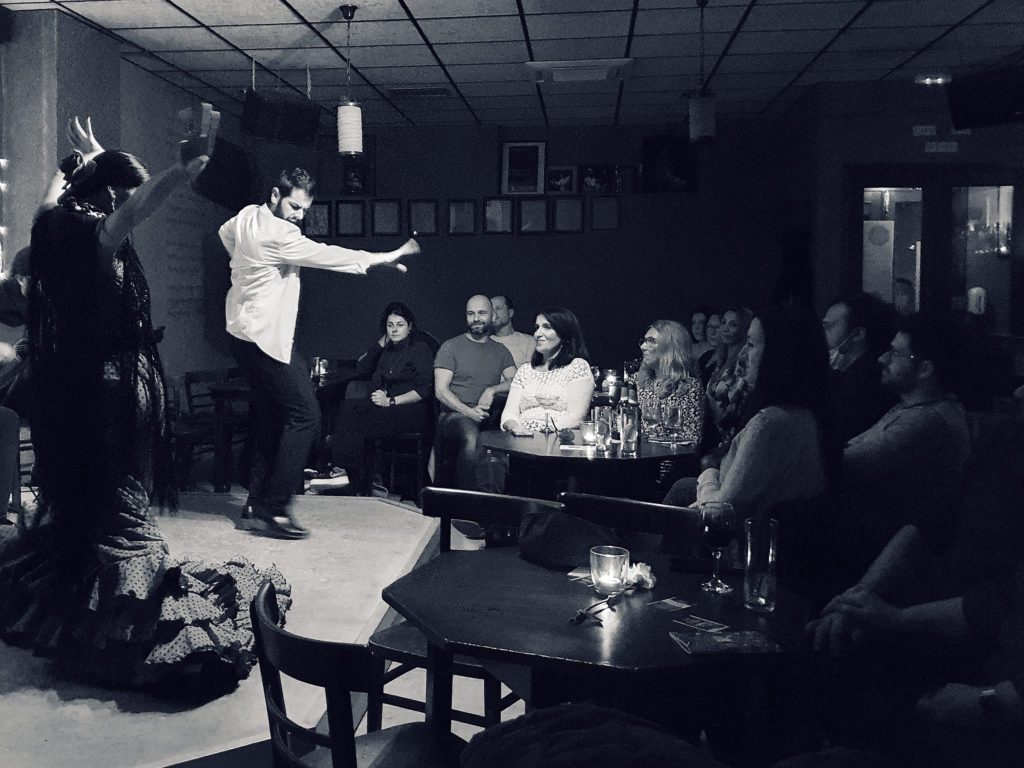 So is the dance as important as the music in a flamenco performance?
"Flamenco has its roots in singing,"Anabel explains. "It has similarities to Arabic-style singing, it has a lot of melismas."
A brief history of flamenco
Melisma is the singing of a single syllable of text while moving between several different notes in succession. Music sung in this style is referred to as melismatic, as opposed to syllabic. The latter is where each syllable of text is matched to a single note. An informal term for melisma is a vocal run.
Is it similar to the Portuguese fado, then?
"The same thing happened there, different influences created a musical style," says Anabel. To illustrate her point, she says, "it started like this". As she sings, she starts rapping her knuckles on the wooden table to create a monotone beat.
"And then it evolved to this," she continues. She begins clapping her hands in the traditional flamenco style.
"So we had body percussion! And afterwards, the guitar came, and in flamenco guitar. Guitarists also play percussion rhythms on their guitars while they play, with extremely festive beats," says Anabel.
"Afterwards, El Cajón came from Peru. And now almost every instrument you can find for those that create salsa can be found in a flamenco performance," Anabel adds. She says with evident pride, "we've had people coming from Japan, people that dedicate their lives to flamenco. Recently, we had a Dutch guy who performed on stage and also dedicates his life to flamenco."
She smiles. "Flamenco is not just a music – it's a way of life."
Roots that come from all over the Hispanic world
She talks about the communal experience of creating music in an improvised manner. "Where does rock and roll come from, where does jazz come from?" she asks rhetorically.
"Flamenco sometimes is a very internal, soulful and painful music," she points out, "there are quejios, but it can also be an extremely festive music."
"The Festival De Cante Jondo was a musical event organised by many Spanish intellectuals and artists. These included Federico Garcia Lorca, the acclaimed Spanish poet, by the way. Afterwards, flamenco garnered a more mainstream following, and reached new levels of recognition," she continues.
"Like the fandango, it's a metre, una petenera, as well. Los Cantes de Ida y Vuelta, when people went over to Latin America to work, they brought back aspects of culture with them. And thus flamenco grew."
A constantly evolving tradition
Her point is that flamenco is a constantly evolving tradition, with influences from all over the Spanish-speaking world, so it doesn't belong to any one region. It is a free art form – but sometimes that freedom creates problems within orthodox circles of flamenco. For her, flamenco in Valencia is natural.
Anabel opened this place more than two decades ago, and has built up a loyal clientele: "We've been here for twenty-something years, and people know this place," she says. She modestly adds, "I don't interpret anyone as competition, above all else we all contribute to the scene."
She used to be a musician, she tells me, but these days she just loves the music: "It's an extremely important language, it's how I understand and interpret the world."
I ask where her performers and musicians come from.
"Literally everywhere," she answers. "We have people from Valencia, but also people from other places. The people performing tonight as bailaores are from Cordoba. However, the guitar player and cantaor are from Valencia. People visit from all over Spain to our shows. We are happy to be known by true flamenco lovers."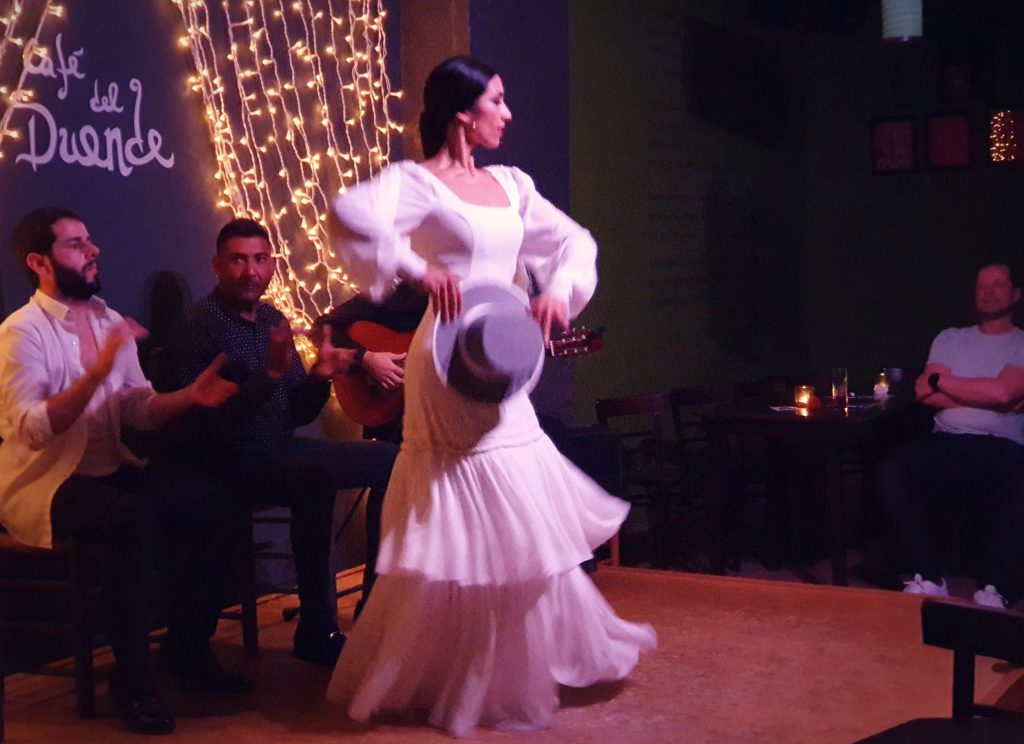 The artists' point of view
I turn to a woman with raven hair and flashing dark eyes. Lidia Reyes – la bailaora for tonight's espectáculo – is 36, from Cordoba. She tells me that her father is gitano.
"I left home when I was 18, and I've lived in Valencia for three years," she says. Lidia has a two-year-old boy, and they live in Ruzafa.
"I'm a bailaora," Lidia tells me, "but I am also classically trained musically. My passion for flamenco came about because I grew up with it. We played flamenco at home – my father is a professional guitarist," she tells me. She adds that, for her part, she considers flamenco to have Andalucian roots. But she says that flamenco in Valencia makes perfect sense as an evolution of the art form.
Sitting beside her, guitarist Paco Costa takes up the story. He tells me he is from a small town in Valencia. He's 40, with two kids, a boy, six, and a one-year-old girl.
"I started playing flamenco when I was 17. It's a little bit late, good flamenco players usually start earlier," he says. "For me, flamenco just came to me, my family didn't really listen to it. I found it myself," he confides.
In fact, he has an online school where he teaches guitar in the traditional flamenco style (https://pacocosta.com/cursos/).
"I've played many times here at El Duende. Almost every month we come, but not always with the same artists. We play together often, but we're not a band, we just play together.
"We all know the language of flamenco and we speak it together," he concludes.
At that, the pair go backstage to change and prepare for the show.
The show must go on
The animated chatter of the groups sitting at small tables around the stage in an intimate arrangement dies down as the lights dim. Then the performers emerge to sit on chairs arranged alongside each other.
There is an attentive silence. Lidia is almost unrecognisable, having changed from jeans and heeled boots into a swirling traditional flamenco dress with high-heeled laced flamenco shoes, her jet-black hair scraped back into a bun.
Paco begins to strum, and a cantaor breaks the silence with a mournful ballad that holds the audience entranced.
Soon, the tempo increases, and the space is filled with the sound of stomping and clapping as Lidia and another bailaor strutted around the wooden stage. The musicians cry out whoops of encouragement to Lidia – "Olé! Vaya guapa!"
Flamenco is a journey that takes you from mournfulness to joy, rising to a crescendo and dropping to heartfelt sadness in a turn.
This is one of the most authentic flamenco experiences that you will find in Valencia, and the cluster of visitors at the tables around sat entranced and rapt, some whooping along and clapping, others silently bewitched by the spectacle.
It's a 90-minute performance, starting at around 11:30pm and with a short break at the midpoint. It's entirely affordable, and the homely bar stays open until 3am. It is the home of flamenco in Valencia. With live performances from Thursdays to Saturdays, it is an unmissable highlight of Valencia's nighttime entertainment circuit.
As Arnie might have said, "I'll be back"…

• Performances generally take place Thursdays (opening at 20:30), Fridays and Saturdays (opening at 21:00) and Sundays (opening at 19:00); performances are free with a minimum consumption of €15 per head or €15 including a drink; Carrer del Túria, 62, 46008 Valencia; +34 630 45 52 89; cafedelduende.com/en