It's been almost a year since Valencia Life interviewed the charming carpenter of Cabanyal, bespoke furniture maker Ryan Godwin. As self-effacing and modest as ever, he has plenty of reasons to be cheerful. By Eugene Costello
Ryan Godwin is one of the most cheerful and generous souls in the overseas community in Valencia – specifically, Cabanyal. Last year, he told us how he had gone from theatre, TV and commercial set-building to setting up his own workshop as a bespoke furniture maker in Valencia – specifically, Cabanyal.
We wanted to have a catch-up with him to see how things had been developing one year on.
We did so in his workshop-studio down in Cabanyal. To describe Ryan as a gentle giant would be lazy writing but the bigness of his stature is matched only by the bigness of his heart. He has a permanent soft smile and light laugh, and is one of the movers and shakers of the burgeoning overseas community in Cabanyal.
He tells me, "Well, thankfully, we have gone from strength to strength. We have received numerous more commissions" and is generous enough to add that doing the article with Valencia Life a year ago massively helped his exposure and to gain clients.
But the end of the restrictions due to Covid have brought other unexpected wins as well.
Game, set-build and match for the carpenter of Cabanyal
All the set-building work he lost in the pandemic is now coming back, poco a poco.
This year, the carpenter of Cabanyal has been flown to Amsterdam to build a huge set for Heineken. He has been to Berlin for Absolut Vodka. And for a company called Snowflake, he has built installations in Amsterdam and Copenhagen. He was also even flown to the baronial home of a millionaire in Aberdeen, Scotland, to build a lavish set for their daughter's wedding. Great work. 
This return to the international stage, where Ryan clearly has an enviable reputation for the quality of his builds, has not come at the expense of his private works here in Valencia.
"I am as much a juggler of balls as a furniture-maker and set designer," he says with a diffident laugh.
"I have had some super commissions this year, and bear in mind that sets are temporary by nature. They are not built to last. With my bespoke furniture, I put myself into creating something that is original, bespoke and unique. I am proud of each and every piece I make, and knowing that the client falls in love with them is wonderful. It is a privilege to earn a living doing something that you absolutely love doing."
What commissions has he been busy with this year, then?
"Well," he considers. "Off the top of my head, some that stand out are a bar unit, free-standing cabinets and a coffee table. All of which I am especially pleased with."
He has a big job on at the moment. Ryan explains: "I am working on restoring an apartment in Cabanyal, which will have an open-plan kitchen in due course.
"And I have taken all the original century-old wooden doors and shutters. They have many coats of (usually leaded) paint on them. I take them to my workshop to strip and sand them back to the original wood. It is laborious and painstaking, but when you see the old wood emerge from under all that paint, it is a thing of beauty." 
The future's bright, the future's Valencia orange
How does the future look for Ryan?
"I am feeling good about the future," he says with a smile. "The only dark cloud is that because of the war in Ukraine and other factors, the price of raw materials has shot up exponentially."
He confides that a huge international furniture retailer called Wayfair recently contacted him. They said they loved his work and would be interested in chatting about possibly supplying his pieces.
"It was hugely flattering but I am a one-man band. I could not possibly deliver on the scale that would be commercially viable with such a huge distributor and retailer. Massively complimentary, though, and it has started giving me dreams for the future.
"The dream would be to employ a number of woodworkers and apprentice furniture-makers here in Valencia. This would allow me to put out my designs to scale, on a production line. And to expand to fit out events and theatrical productions here in Valencia." 
He smiles modestly again, and says, "At least, that's the plan for when I can improve my Spanish."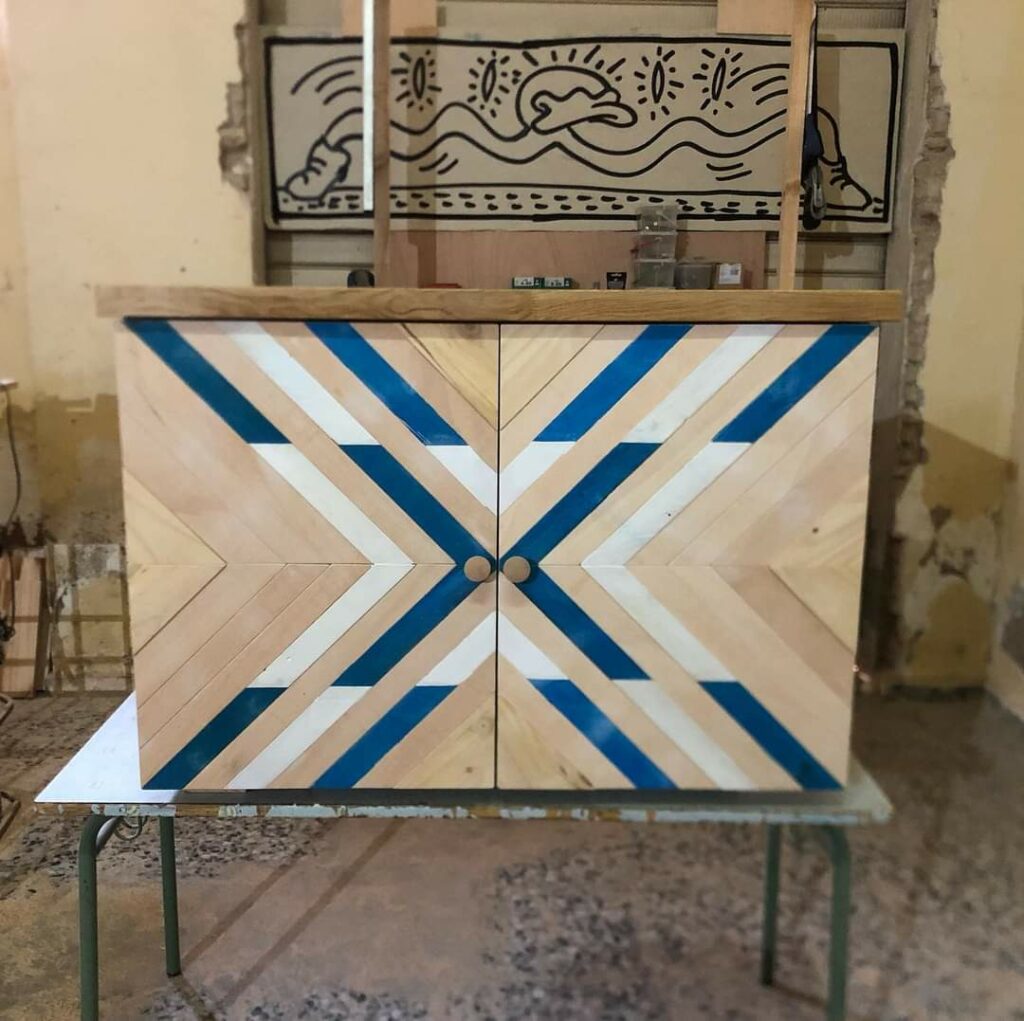 The bespoke furniture maker of Valencia is proud of his connection to Cabanyal. Though "like all incomers, I would be a little sad if it changed too much. I rather love it just the way it is.
"Living and working here in Cabanyal gives me great hope for the future. There's plenty of creative incomers arriving all the time. And new bars and restaurants opening and a general buzz of things taking off.
Much as is your career, Ryan. We wish you well…

• Want your own, unique piece? Contact Ryan via WhatsApp on 633 713 338 or visit his site at https://madeinvlc.es Or find him on Facebook @madeinvlc or on Instagram @hecho_en_valencia to see examples of his work