Graham Tyner and Rissana Shytu, of relocation firm Settle Easy, could not turn a blind eye to the Russian invasion of Rissana's homeland, Ukraine. The displacement of her people meant that many have ended up here in Valencia. So they have started a Ukraine community centre to help with the most urgent and basic of needs… Daniel Hazelhoff went to meet Graham at the centre in El Carmen
Graham Tyner and Rissana Shytu, originally from beleaguered Lviv, Ukraine, run a company called Settle Easy, which is a location service for expats, helping incomers in every aspect of the relocation. They've been running it for five years. When the full-blown Ukrainian crisis erupted, they started up a Ukraine community centre in El Carmen, near Torres de Quart.  
"We run a community centre for displaced Ukrainians, we try to have the kind of things that they might need, toys, diapers, clothing and formula, I mean, that was the original idea, everything evolved quite a bit from there," says Graham.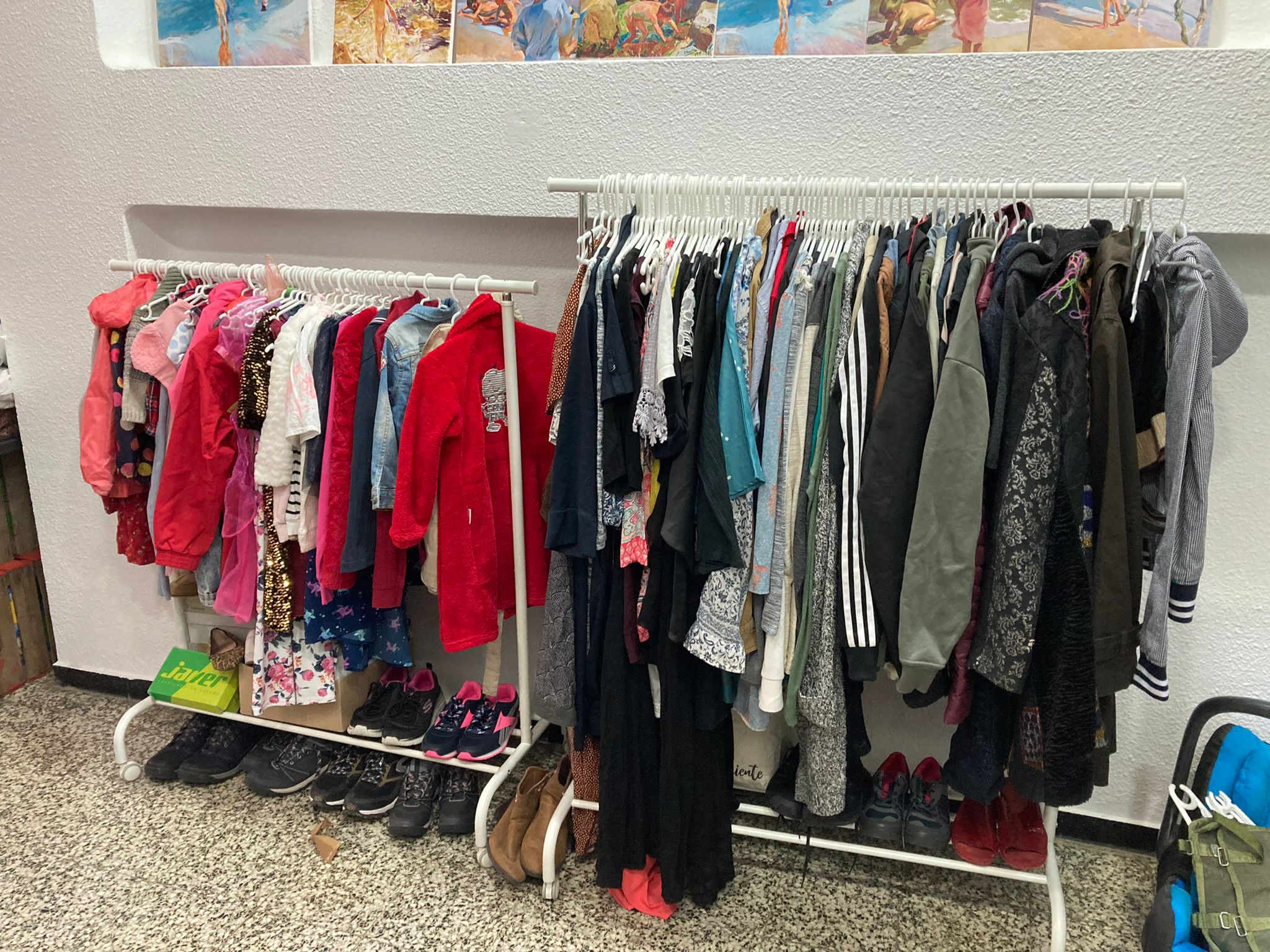 As the war has progressed, they've had their hands full dealing with a full-time business and a full-time service for displaced Ukrainians. Graham explains that they have regular families that come from once to several times every week. On top of that, there's a large influx every shift, every week.
Ukraine Community Centre – From small beginnings 
Graham and Rissana understand the clear demand for food within the community. From there they were able to identify gaps in what the Spanish government can currently provide in terms of resources. With education, integration, and quality of life as their main goals, they set off on their mission to improve the situation of Ukrainian refugees.
"When we started looking into the existing resources as things were unfolding we assumed that the government would be giving a lot of help, and in some senses there is, but we found a gap in the needs being provided, toys diapers and formula are really expensive, those things are really hard to come by, and so food was not our primary objective, it was more community building," explains Graham.
We asked how they ensure the help they provide goes to Ukrainians.
"They need some sort of documentation to prove they are Ukrainian. A photo of a passport or what have you, just something to let us know they're Ukrainian. We only serve the Ukrainian population. That being said, if we have any things left over, of course, we help who we can." Says Graham. 
"They've been through so much. Some people arrive not expecting things to have gone on this long. Not to mention how much longer it can continue – no one knows," he explains.
An army of volunteers
As we talk, about 30 families stand in line outside of the small entrance space in El Carmen, and supplies start to fly in. At this point, we had to pause the interview to help organise and stash all the goods. This gave us an opportunity to get our hands dirty and really understand what they do every week to help. And it's no small task. Over 30 dozen eggs, crates of rice, produce, toys and clothes… In less than two minutes the place was flooded with volunteers, and helping hands, everyone working towards a common cause. 
After a while, we were able to get back to our conversation. Here at Valencia Life we wanted to know how it all works.
"So, funding is our biggest struggle, or rather getting the word out is. We need to get the information out as much as we can so people can provide physical donations, such as clothing, food, and materials," explains Graham.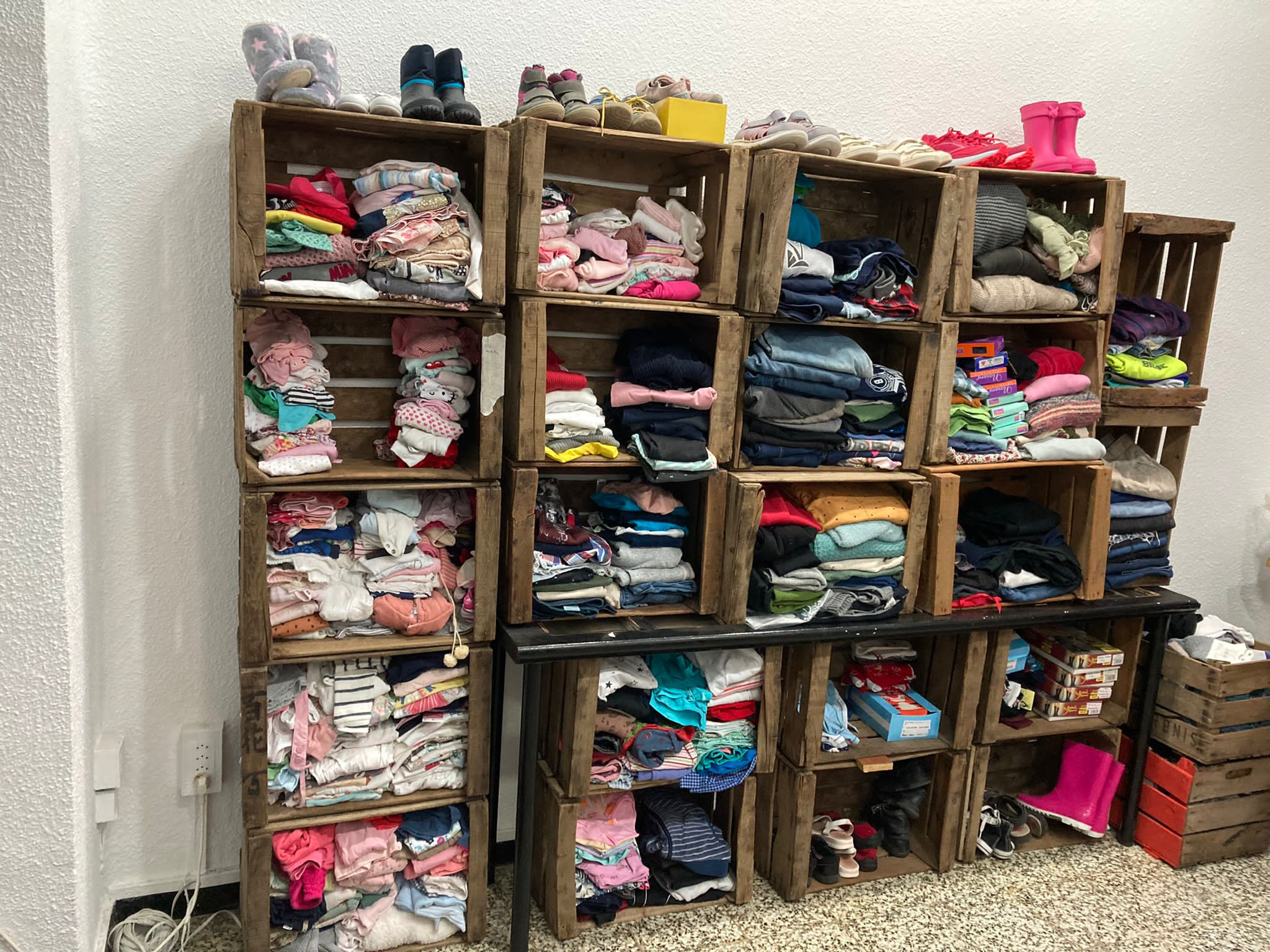 Cash donations are key, it allows them to buy the specific groceries they're out of, and of course, keep the lights on.
"We go through 36 dozen eggs a day, we could go through much more, 50 dozen, what have you, but 36 is what our budget allows for at the current moment. We're doing the best that we can. A dozen eggs a family, 50-55 families a day, 4-6 people per family, though some are much much bigger. Sometimes, we get families of 12-16 people." We can tell there's passion in Graham's voice as he tells us this, with a hint of exhaustion.
By keeping a full-time business running and simultaneously making sure everything goes to plan with the Ukraine community centre, Graham and Rissana are easily pulling 60-hour weeks. 
We got a first-hand view of "how the machine works", as Graham puts it.
Feeding the thousands
"We go through so much food, but that was never the focus. There's a food bank we know of, but there are not enough provisions, and the boxes of food are just standardised sizes. The thing is, families aren't uniform, some are larger, and some are smaller. So our aim was not necessarily to focus on food, but it's the primordial need, so we've ended up providing," he explains as we finish up with the last boxes.
"If it were available, we could get through around €2,000 worth of groceries a week. Right now, we're getting through €800 to €1,000, sometimes more.
"We give out a lot of books, the children learn so quickly, so they will soon become an asset to these families that are going through these rough times.
"Imagine coming somewhere that uses a completely different language, not understanding, and on top of that there's a completely new alphabet you have to learn," says Graham.
So, how does all of this get organised? And how do people find you, and donate?
"We have a Facebook page with about 1200 people, and members, that's where the majority of our donations and help come from. We're looking to expand the way that we get the word out. We need people who have Spanish skills, and who are persuasive, to set up donation boxes in the local grocery shops in the neighbourhood. We're open to them being manned, but the hard part is convincing grocery stores to even let us put up those donation boxes in the first place, so we need a really convincing individual to walk around sorting things out," says Graham
But it's not just about feeding and distributing goods to those in need. Whole families are down here, in a new country, trying to learn a new language, so integration is a huge part of what they are doing.
"Breaking into the local Spanish community is the next frontier for us. We're trying to integrate the communities, you know, feeding people isn't enough. We need to get people involved.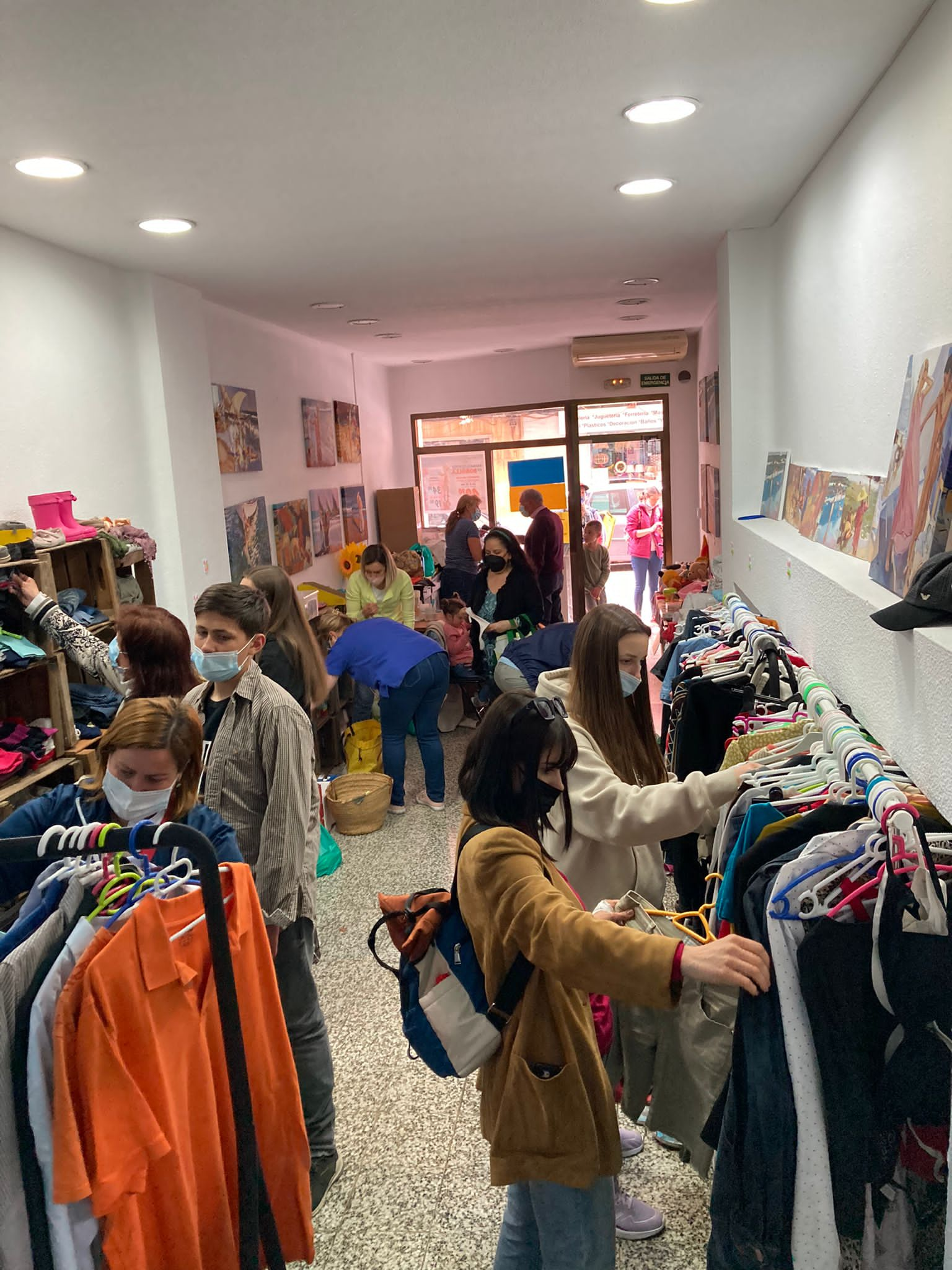 "There's nobody that's catering to this specific community, so we need to do our job. They get government support eventually, but these things take time. And I think there's not enough access. It's also very confusing, things are getting lost in literal translation. What we know is it takes 8-10 weeks to schedule an appointment," he explains.
From the masses to the individual
When asked "Why Valencia?" Graham had this to say.
"There are so many people in this area. When you get uprooted out of your home, they are skipping Germany, and Austria, because they're expensive, so there's this fine balance. Why Valencia? It's a great place. They might know people here already, or they learn that it is more affordable, it has great weather and it's sustainable, so cycling and public transport suit their lack of budget.
"We work side by side with some people in Alicante. In fact, some people come to us from Alicante.
"We get really specific requests, so, for example, clothes for a plus-size woman, she couldn't find anything her size. So we needed to source some clothes for her. We messaged everyone we knew who was that size, four women cleared out their closets, and she came from Alicante and got it.
"We had another man who was 6ft, 4in, and about 110kg, size 46 shoes, so finding proper sizes for him was very difficult. Therefore, we had to go out to find anything we could for him. 
"So what we're trying to do is provide for the masses, but also cater to individual needs. Comfort is important, for some people to be comfortable they might need a little extra something.
"We had a family with a blind child, that was a really difficult situation. That's one thing the government is doing really well, by the way, they're getting kids into school, and they're doing it quickly. So anyway, this kid, we tried to network him with the organisation ONCE, organización de ciegos españoles, a self-funded foundation that raises funds through selling lottery tickets and so on. Now they're trying to help get him some new resources.
"And we have a woman who's here in Valencia. Her father has dementia, he suffers from PTSD and thinks he's in World War II. There are tons of stories like this, and we try to do what we can on these individual levels. So this man has lost the last 50 years or more of his life, he's in a new country, and he doesn't speak the language. So what we did was find a woman who works with a Ukrainian church, she's a psychiatrist, and she's going to go over to his place and help him."
It's these examples of solidarity that really tell the story of those who come and those who help.
What's next on the agenda?
"We want to host language-sharing events, book clubs and playdates for kids. But the whole food situation is more complicated than we thought, so these types of community events need to be pushed back a bit until we are more established."
"We want to build a wider community, and we want to plan events like putlocks relatively soon. And the crazy thing is there are so many kids, so we want to provide community-building toys, like balls, and sidewalk chalk, things that bring kids together. We feel like this can only aid integration."
As Graham points out, if just a few people in our expat groups would donate €10 per month, their work would become infinitely easier…
Urgently needed:
Coffee
Eggs
Bread
All fresh fruits and veggies
Oatmeal
Meats and cheeses for sandwiches
Milk
Canned veggies
Tuna
Rice
Pasta
Fruit juice
Volunteers, donors and Ukrainians in need can come Tuesdays from 12:00 – 15:00; Wednesdays from 10:00 – 13:00; Fridays from 14:00 – 18:00; Saturdays from 12:00 – 14:00; to the Ukraine Community Centre at Carrer del Pintor Zariñena, 5, 3, 46003, Valencia: WhatsApp +34 684 300 926; graham@settle-easy.es

Links for donations: bit.ly/DonateUAVLC; use their IBAN ES34 1465 01 00961748249864  addressed to Graham Tyner
Keep up to date with the latest news in Valencia here.