When Sophie Langan hears 'Central Park', she immediately thinks of Manhattan skyscrapers and the typical hustle of the city that never sleeps. Valencia's Parque Central, however, is quite the opposite, she says, with its green space uniting the city through idyllic scenes of nature… 
Valencia's Parque Central is a vast 66-hectare site located in the heart of the city. It was previously a hub of transport that inadvertently segregated eastern and west Valencia. When Valencia's trailblazing technology created high-speed underground transport, the railway tracks were buried. An operation to reverse physical and social segregation in one of the most significant redevelopments to date began. The railway buildings, then derelict, were restored. All part of the city's aim to create a social and cultural space to facilitate unification.
Renovation designed by Kathryn Gustafson
After a world-wide competition, the internationally acclaimed landscape architect Kathryn Gustafson began to design the Parque Central. This came with a €73 million investment. Gustafson's previous works include the Princess of Wales Memorial Fountain in London and the Seattle City Hall Plaza. Her endeavours aim to create distinctive sculptural landscapes. Her works typically act as a response to the seasons. And air, heat, sun and wind using materials that possess organic qualities. Gustafson focuses her architecture on movement, combining visible and non-visible elements such as light, sound and atmosphere. The overall aims of Gustafson's creations are, first, to offer solace. Second,to create a sense of tranquility from the hectic-ness of everyday life. And third, to provide a unifying structure in the landscape. Arguably making her the perfect visionary for this project of unifying the Eastern and Western sides of Valencia.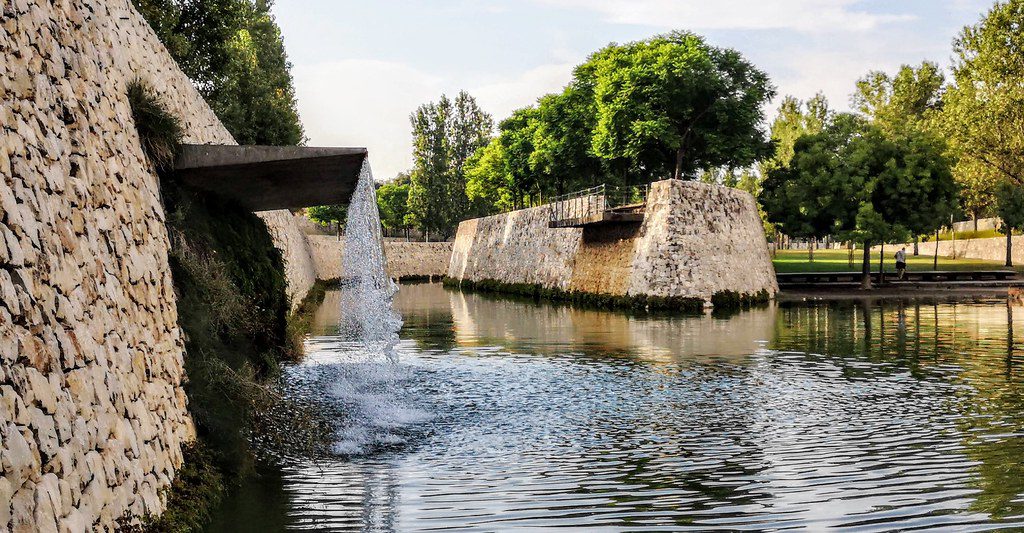 'Central Park' today
Visiting Parque Central today is a stimulating and evocative experience. Its design acknowledging Valencia's past and present position as a centre of commerce and culture. And its physical location is surrounded by ecological habitats. While focusing on the historical, cultural and geographical uniqueness of the city, this innovative project has prioritised sustainability. It has done so by discreetly collecting rainwater and recycling the water back into the city. Various water features also act as a how water is so much part of Valencia's history. As the gardens surround the old train station buildings, a real sense of transitional architecture comes through. There is a distinction between the old and the modern further reflecting the history of Valencia. 
As you enter the park, the smell of fresh flowers and plants hits you. And you are seduced by the various examples of architecture laced throughout the park. Overall, Parque Central is a completely tranquil and serene space providing dozens of sun traps. You'll also find shade underneath gorgeous plants and trees. In stark contrast from Manhattan's skyscrapers, this park is full of grand water features to admire (or to jump in). For me, this captures the blend between Valencia's city and coastal feel. The man-made maze of flora provides space for walks, runs, family time and picnics. There is even a playground that has slides and climbing walls for children to play. All of which makes Parque Central the perfect, free-of-charge location for a day out… 
• Parque Central, free admission, spring and summer from 08:00 to 21:00, autumn and winter from 08:00 to 19:00; Parque Central, Camí Vell de Malilla, Valencia, España, +34 963 510 888