If you are looking for the best (only?) British- or Irish-style sausage rolls in Valencia, make Mercat de Russafa your mecca, says Eugene Costello…
Best sausage rolls in Valencia? Don't mind if I do… There are not many things that I miss about the UK. London parks, sometimes. Full English breakfasts the occasional Saturday morning. And, above all, British-style sausage rolls. Until now…
Two lads from Dublin, Romano Fusciardi and Marcus Spray, both 33, arrived in Valencia in January with loads of energy and ideas to make their mark. One such idea was to produce and sell the best sausage rolls in Valencia, as well as deli-style sandwiches in ciabatta (pan rústico) and focaccia, and pies, of which more later. And they have now opened a puesto at Mercat de Russafa.
Romano and Marcus have known each other since the age of 12 when they started at high school in Rathgar, south Dublin, near the world-famous home of Irish rugby, Lansdowne Road, now renamed the Aviva, such is our march to corporate endorsement…
After being mates at school, they both went to Trinity College, Dublin. This is Ireland's premier university and was founded in 1592 by Elizabeth 1. Romano studied History and Marcus PPE, specialising in Economics.
After university, Marcus moved to London where he worked as a civil servant and economist. Romano worked in his family pair of Italian restaurants in Dublin, then went on to teach. He and his girlfriend Susan happen to live in the flat opposite me in my finca. So his commute to work is exhausting. (That's a joke, by the way. It is two manzanas or blocks away.)
From Ireland with love
So they are probably the best educated sandwich-stall owners you'll find in Spain. Let alone Valencia.
Marcus says with a laugh, "I was probably subconsciously influenced by the Borough Market model near where I worked in London. Each stall has a specialism and the emphasis is on quality produce, served honestly. And that is what our vision was for our puesto in Ruzafa market."
Romano nods to his Italian roots with a ridiculously toothsome arancini, a delectable ball of rice, essentially. Romano uses saffron rice, and adds in white wine and provelone cheese, and the effect is to die for. In fact, the puesto is named Annetta, after his grandmother from Casalattico, near Lazio. One suspects that something of her spirit is here in these products.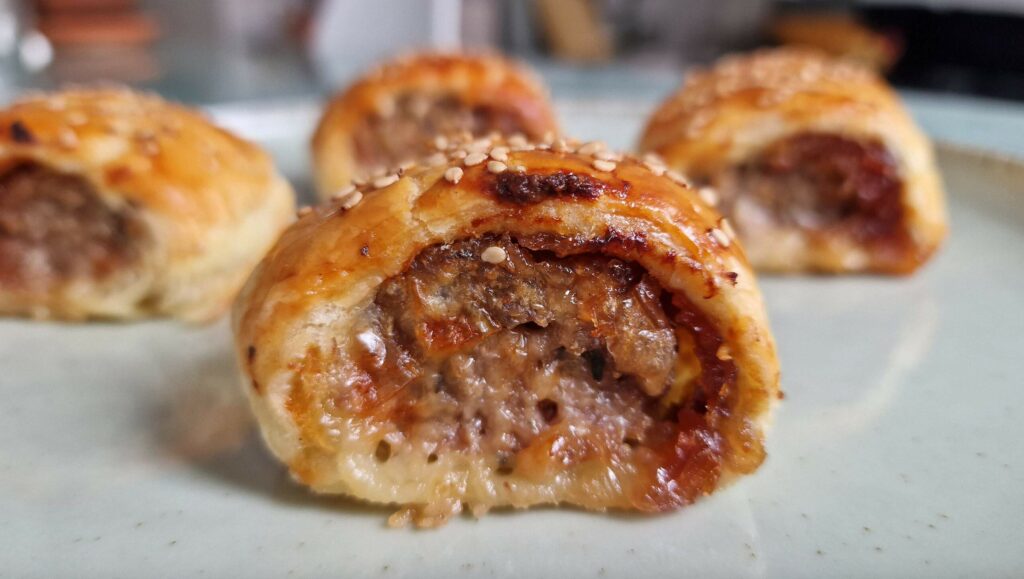 I can certainly attest to the quality of the offering. A good range of ciabatta-style bocadillos that one might find in a London delicatessen. My favourite is one with porchetta and melted cheese – thank God for the bar-top griddle. They also offer a caprese with buffalo mozzarella, tomato and basil. And the Mediterranean with grilled seasonal vegetables such as sweet peppers, courgettes and red onion.
Best sausage rolls in Valencia
But for me, all of these – apart from the porchetta – play second fiddle to the mouthwatering sausage rolls. The lads have an offsite kitchen where they make up the goodies. The sausage roll is made of minced high-quality pork. The lads add in fresh thyme, Dijon mustard and onion chutney, giving the roll a delicious sweet taste. They season them highly, and add in cheddar, to boot.
What made them decide upon the move? Marcus says, "Well, during lockdown, I couldn't go the office. As laws relaxed, I was able to go to Borough Market for a bit of human interaction, it occurred to me that this would continue.
"I read about Valencia becoming so popular with digital nomads, and I though we should get in ahead of the curve."
Romano nods in agreement. "Yes, we got talking and began to form a plan. My partner, Susan, has a job with a social network site and can work remotely. So we hit upon Valencia."
Any drawbacks? Says Marcus, "It would be great if Mercat de Russafa became more like Mercat Central. That is on the tourist trail and is always busy. We need footfall and support from regular customers. But we have faith and believe it will come."
The life of pie
The stall only opened in July 2023 but they plan to keep expanding the product range. They have already added vegetarian sausage rolls to the roster – Romano himself is veggie. And this week Marcus unveiled what should be an award-winning chicken and sage pie. He shows me the recipe on his mobile as a WhatsApp from his mum. Put it this way, it makes the Gettysburg Address read like a short tweet. It's complicated but makes for a fabulous pie.
Marcus and Romano are incredibly friendly young men. Their dream is that Mercat de Russafa will go in the same direction as Mercat de Colon, and become a foodie mecca on the tourist trail. And with trailblazers like the lads, it can surely not be long till their dream comes true…
• Annetta Deli, Calle 6(third aisle from the Literat Azorin entrance on the right-hand side); Tues Sat 09:30 – 15:00, tel + 34 637 187 152; @annetta.deli on Instagram