Ride the sustainability wave and stand out from the crowd with help from these vintage stores around Ruzafa. Daniel Hazelhoff reports…
Vintage stores supply customers with a chance to define their own style, away from the norm. The market is growing, and with it, the chance to sustainably replenish and renew your wardrobe without remorse.
As even the newest arrivals to Valencia will know, Ruzafa is a hotspot for leisure and style. Dress the part with the help of Valencia Life's choice vintage stores in Ruzafa. Though the increase in demand has marginally affected price tags, many stores still remain super affordable. For those that don't mind the tag, we're also sharing those spots that also show unique flair, even selling furnishings.
From cheaper kilo markets to high-quality eccentricities, Valencia Life has sifted through piles of vintage – much as these stores do at rastros and elsewhere – so that you don't have to.
Flamingos Vintage Kilo
Start your shop at one of the cheaper spots on this list. Here, you pay by weight. During sales opportunities this shop is quite literally a steal, not to mention one-of-a-kind in Valencia. You can easily restock your wardrobe in one shop. From vintage coats to old wedding dresses or leather jackets, Flamingos Vintage Kilo has whatever you need. Though their in-person store sells threads by the kilo, you can find single items on their website.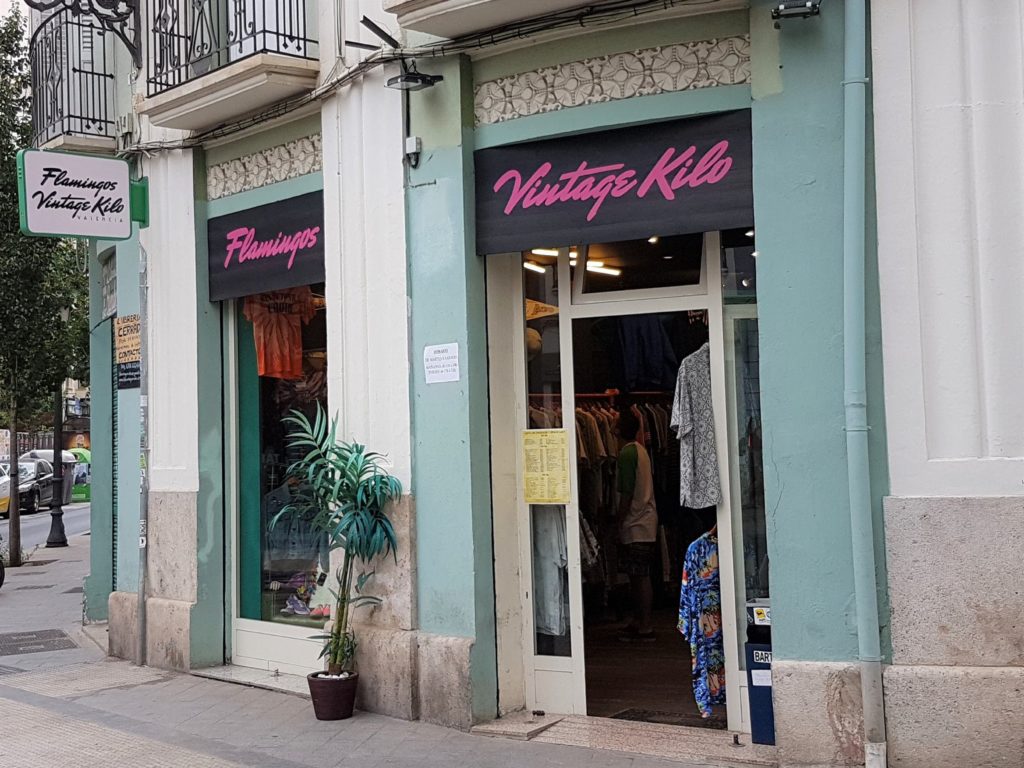 "We've been running for five years, it's actually a franchise," explains Lucia, a Flamingos salesperson.
"It started in Barcelona and expanded, and clearly Ruzafa is the spot to be for a place like this," she adds.
Lucia explains that there are different prices for different products. Lighter products such as T-shirts and polos run at €39 a kilo. Other heavier products like leathers, coats, jackets, and jumpers are priced at €24 per kilo. Some special products are also priced at €24 a kilo, items such as last season's fashion benefitting from this reduced price.
Flamingos Vintage Kilo: Carrer de Cadis, 17, 46004 València, Valencia; Monday to Saturday from 11:00 – 21:00; +34 963 03 47 12
Reusado
Reusado has an edgier, bolder style. This vintage store supplies streetwear and urban threads. From fresh collectors' item trainers for the footwear aficionado to second-hand iconic street gear, this spot has a very unique character. And with it comes a relatively affordable price tag. Not to mention they regularly host sales, bringing everything down a few notches in price.
"We have a second-hand vintage style here," says Heilen from Reusado.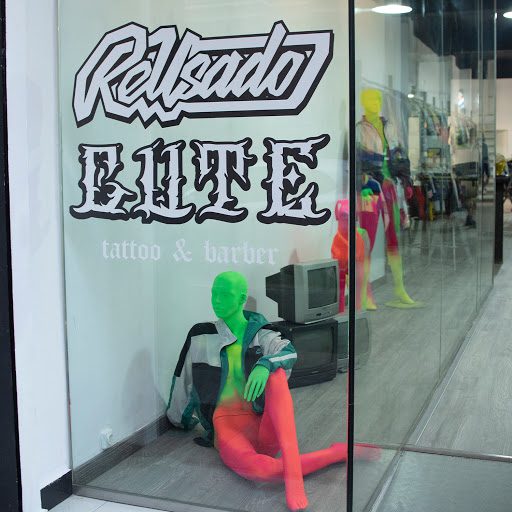 "We try to find exclusive items, things you just won't find anywhere else, and competitive prices. We also have special collectors' item trainer models and we collaborate with some brands and get out special offers from time to time."
Reusado is one of three businesses within the co-working complex it is in. They have a tattoo parlour and a barbershop inside the store. All of this adds to that edgy attitude, and they've got the clothes to show it.
Reusado: Carrer de Dénia, 12, 46006 València, Valencia; Monday to Saturday from 11:00 – 14:00 and from 17:00 – 21:00; +34 640 96 51 21
Aiclé
This gem sports some of the more affordable options in Ruzafa, with a twist. Much of the clothing at Aiclé has been customised to be very unique pieces, with a low price tag. You can find shirts for around €15 and discount racks within the store.
Everything from vintage sport jumpers, to jeans, and Hawaiian style shirts hang on Aiclé's hangers. The reused and modified style this spot takes on makes it one of the more sustainable shops on this list. So if you're looking to go green, this might be the spot for you.
"What's special about our space is our tailoring," says Aiclé tailor and salesperson Keila.
"We customise a lot of the pieces you see here. It's secondhand, and vintage, yes, but we're very picky when it comes to choosing the items we buy, display and sell," she adds.
Walking around, you will see many pieces with a distinctly unique style. This is the work of Aiclé. They add that little something extra to their pieces so you can stand out from the crowd and flaunt your new outfit.
Aiclé: Carrer del Dr. Serrano, 21, 46004, València, Valencia; Monday to Thursday from 11:00 – 21:00, Friday and Saturday from 11:00 – 21:30; +34 696 20 76 17
Madame Mim
Madame Mim is a time machine of sorts, with clothing, furniture, and accessories from a bygone era. Second-hand clothing, curiosities and antiques are their specialities, and along with it comes a higher price tag. Jewellery boxes, hats and coats are delicately displayed in this transgressive space. From antique gas masks to bespoke furniture, this strange spot is more than a store, but an experience in its own right.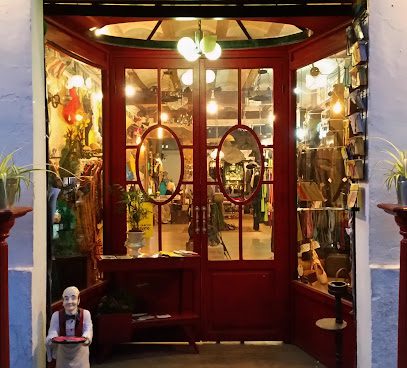 At Madame Mim, you're going to want to take your time as you stroll through this more sizable store. Each section hides treasures to discover. This spot is great for eccentric gifts or treating yourself to something never-before-seen.
Madame Mim: Carrer de Puerto Rico, 30, 46006 València, Valencia; Tuesday to Saturday 11:00 – 14:00 and 17:30 – 21:00; +34 963 25 59 41
Kowalski
At the peak of our Valencia Life vintage mountain stands Kowalski. A space that's something else. It's where fashion meets fine arts. And it's so much more than that. From music to art supplies, quality hats, to the finest leather jackets in town. Kowalski stands out as a shining example of individualism. There's nothing else like it when it comes to quality products of all kinds. With that quality, however, comes the price tag – but it is worth it.
"The store is an extension of both my wife and my personal life," says Marcos, co-owner of Kowalski.
"What you see here is what's going on inside us. Vinyl, art, books, fashion and antiquities. I used to work for La Generalitat, and in 2012 I had to leave. It was a blessing in disguise, we were able to project who we really are through our store."
It's a fact that the moment you walk through those doors, you know you're in one of Ruzafa's, and even Valencia's, most iconic stores. Though underground in nature, its spirit is reflected through its products, and the friendly atmosphere. Kowalski is a place of personality and culture you can't afford to miss.
Kowalski: Carrer de Dénia, 20, 46006 València, Valencia; Monday from 10:00 – 14:00 and 17:00 – 20:00, Tuesday to Saturday from 10:00 – 14:00 and 17:00 – 20:30; +34 666 48 98 76
So there you have it, five of the best vintage stores in Ruzafa. Whatever choice you make, it'll be a good one. Ruzafa has so much to offer when it comes to fashion, food, and bevvies. So grab a group and head out into town. And if you want the best deals on the best places in Valencia, sign up for our newsletter, and become a Valencia Life insider.
Your deals are waiting…
For more news in Valencia click HERE.