Valencia is a city that balances work and leisure, and dancing in the city is a great way to meet people, have fun and keep fit. Daniela Studente shows you how to take the first steps…
Where to learn how to dance salsa and bachata in Valencia
For the last four months, I have been investigating Latin dance culture in Valencia city that is free of charge, community-based and with plenty of fiesta. By dancing out of my comfort zone and becoming a part of the Latin dance movement I have discovered that the dance community in Valencia is strong, united, and welcoming. If you want to dance in Valencia, then keep on reading.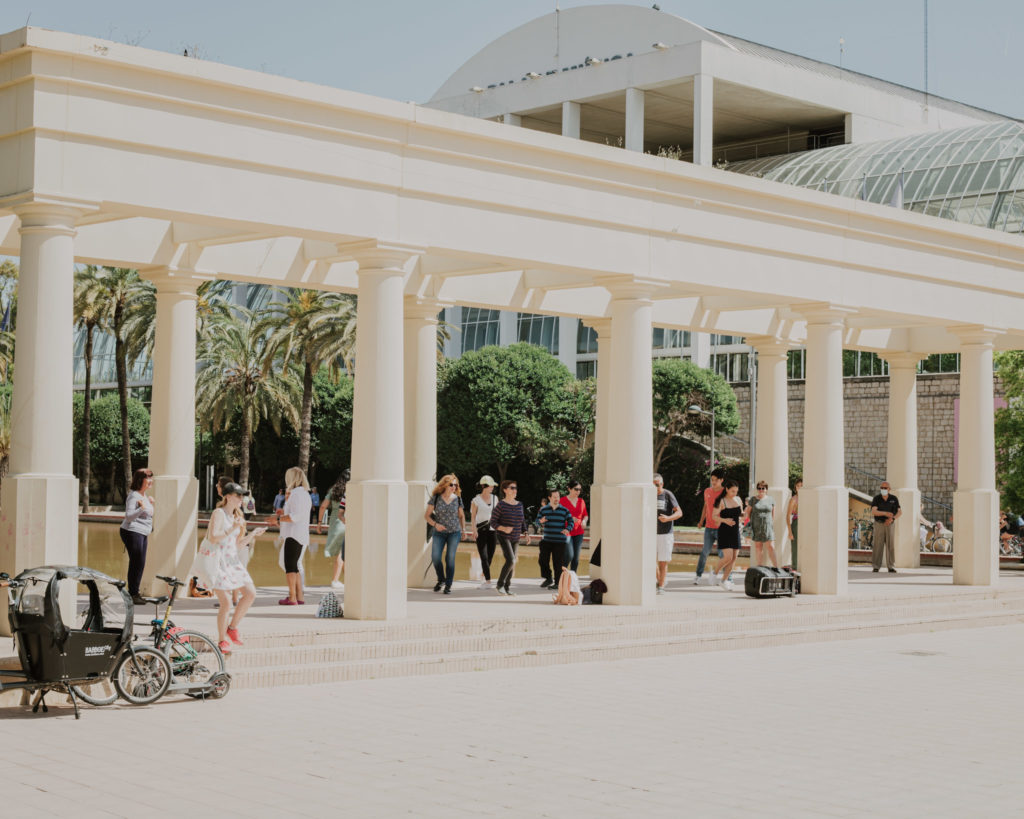 Just a quick heads up – this isn't an article about the dance academies of Valencia or an advertisement for collaboration. It's based on my raw experience.
How big is the Latin dance culture movement in Valencia?
The first week in Valencia was full of changes. Moving into a new place, understanding the city, and awkwardly twisting my tongue in Spanish. What did I learn at first glance? There is always a reason to celebrate no matter what. I received an invitation to a social dance and was excited to enjoy my first sips of agua de Valencia and dance the hard week away on the floor. I expected that everybody would be jumping around to the music, but when I entered the event, guests of the fiesta were dancing in couples.
So my attention went straight to the music – amorous, balanced, and poetic with a rhythm that makes hips draw eights. "What is this music?" I ask my host. He explains: "Bachata – this Latin genre of music consists of five main instruments. Two guitars, the bass, the bongos, and the güira.
"The Dominican music genre is a Latin dance style that is becoming very popular in Valencia, and Spain. Just like the blues, bachata often focuses on heartbreak and lost love. In fact, bachata was initially known as amargue, which means, it makes one bitter.
Now, it has become a fixture of modern Latin dance charts and dance floors across the Caribbean, the United States and the United Kingdom. In Valencia people dance it in the Turia park, the beach, the streets of the city, bars and discotecas. "
"Now – shall we dance?"
My host offers me his hand and invites me to dance bachata. I take his hand, and he leads me through the rhythm.
He showed me the basic steps and then some turns. At the next song, we started to dance without distance between us. Our bodies followed the music, breaths synchronised and our hips moved through the dance floor through steps I was learning for the first time. I didn't know my body could move to this rhythm.
While dancing we spoke through body language, generous smiles, and eye contact – we were talking without saying a word. People were dancing salsa as well, but I didn't dare, because I thought it was too complicated in the first weeks. After my first social dance, I became curious about the dance movement in the city. That's why it's my pleasure to share it with you.
Where to learn dancing in Valencia for free? Bailar con Ben!
Are you completely new to dance? You have never danced salsa or bachata? Feel curious about learning how to dance? You are welcome to join free salsa, bachata and kizomba classes, and social dances with Bailar con Ben. In free classes I learned basic steps for bachata and salsa, building a solid base to feel confident on the dance floor.
I adapted to dancing in a couple because moving in a duet is a lot different than dancing solo. I also understood the music by listening to songs and putting steps in the rhythm. In Ben's classes, you will learn a solid base and have a chance to dance with different partners. Notice that dancing trains empathy as well. Every dancer has his own style and communicates differently through movement. Ben also organises a social dance that feels like a boot camp where women dance with women, and men with men, and everyone shares their knowledge and enjoys the movement. Classes are happening in Turia park during the weekend and social dance is organised in the evenings in front of Akuarela Playa club at Malvarrosa beach.
To follow the timetables and find what suits you best, join the Telegram channel @bailarconben, where every weekend Ben shares timetables for the upcoming week.
Says Ben, "I came to Valencia to dance. I started the movement here last November, because I wanted to dance in the sun and outdoors while exploring different clubs in Valencia. We started this with a few friends and now the community keeps growing every week. Now in groups, we are around 300 dancers.

What keeps me motivated? Thanks that come from people who share their experiences, changes they have received through dancing, or that we shared the best moments of their holiday while dancing. Friendships are created through this movement and a dance community in Valencia has been born," he says.
He has been dancing since childhood and used to have a dance studio in the south of Spain and also held classes in Gibraltar and Leeds in the UK.
Want to learn the Bachata in Turia Park? Dance bachata together with Kevin and Lucia
Have you noticed a group dancing bachata under the Alameda Bridge in the Turia park on Saturdays? It's bachata classes with Kevin and Lucia. The dance lessons are rich with knowledge and adaptable to your level, beginner to advanced. Thanks to Kevin and Lucia's bachata classes in the Turia park every Saturday, I strengthened my coordination, learned turns and figures, built the ability to trust different dance partners and felt less insecure in my body.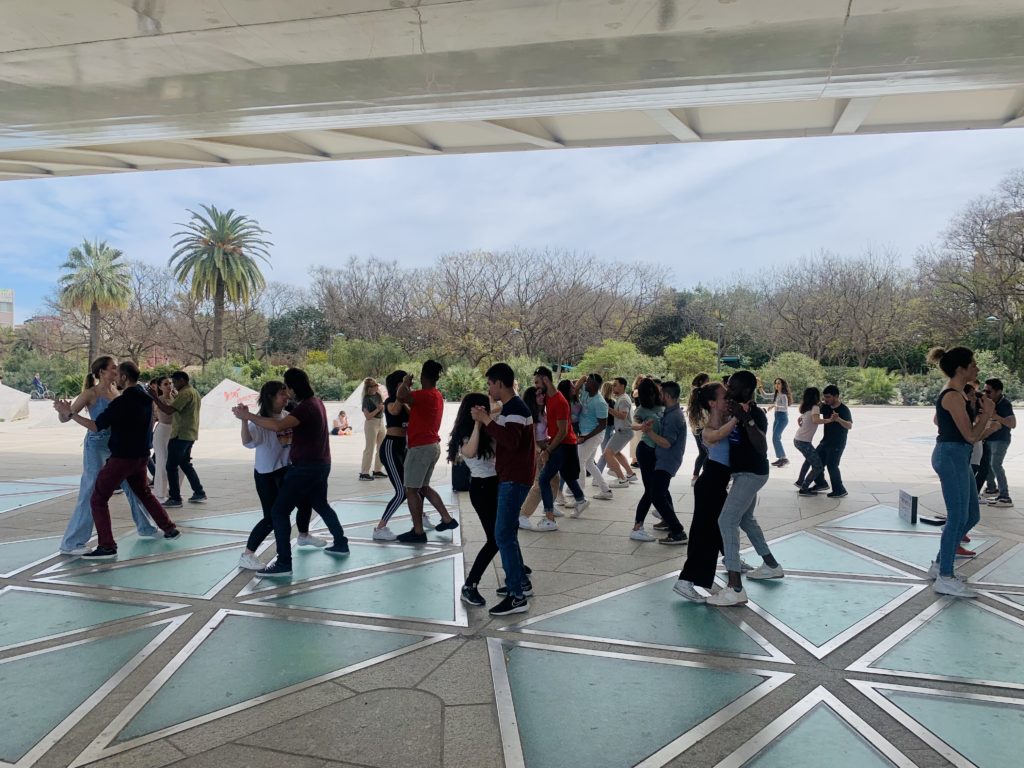 How to move through the rhythm and implement different figures on the dance floor? I found the answer in the classes because for everyone it's individual. With the arrival of good weather in Valencia, dancers decided to start doing outdoor classes in such pleasant environments as the Turia riverbed. Every week more and more people started to come.
How to sign up for Kevin and Lucia's dance classes
Fill out the form on Instagram – @kevinluciabachata – and if you have any questions feel free to contact the teachers because they will be happy to help you.
The students are your upcoming dance partners because through the lesson you learn choreography and practise it each time with a different partner. Dancers who come to the classes are from all over the world. Bachata teachers have created a very international environment that is cheerful and open-minded for people to make friends and learn body movements. In addition to the dance class, they organise group activities such as lunches, going to the beach, and dancing together in discotecas. Kevin and Lucy have created a big family here in Valencia, it is clear.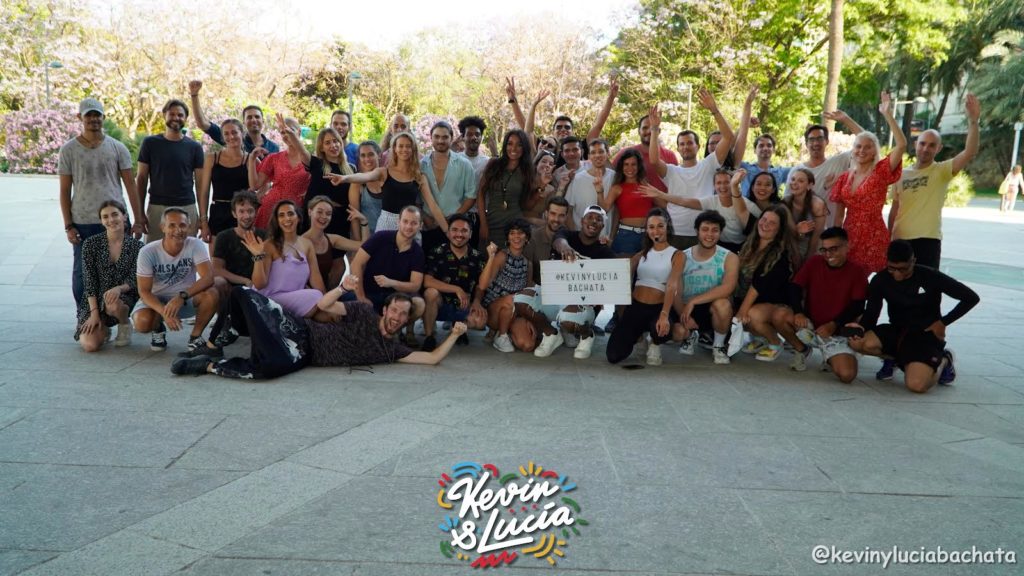 "Bachata is one of the most sensual Latin dances that can exist, and it is characterised by going beyond the dance. We do this to allow you to establish a deeper connection with the person who is your dance partner because, in it, bodies and looks are able to say everything you dare not," explains Lucia.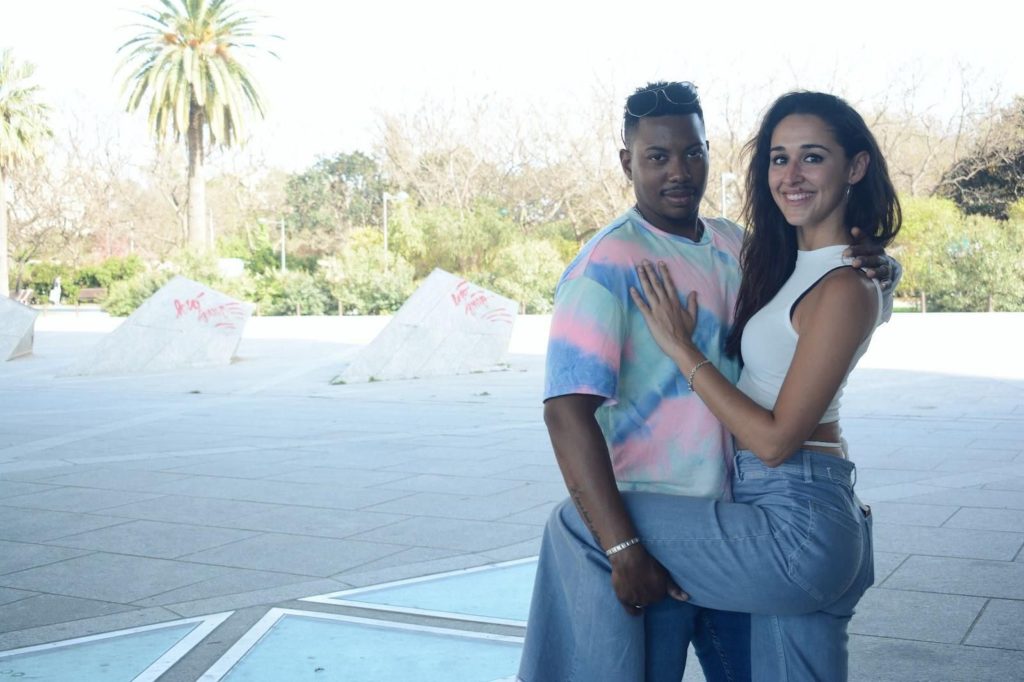 Where to practise your moves for salsa and bachata in Valencia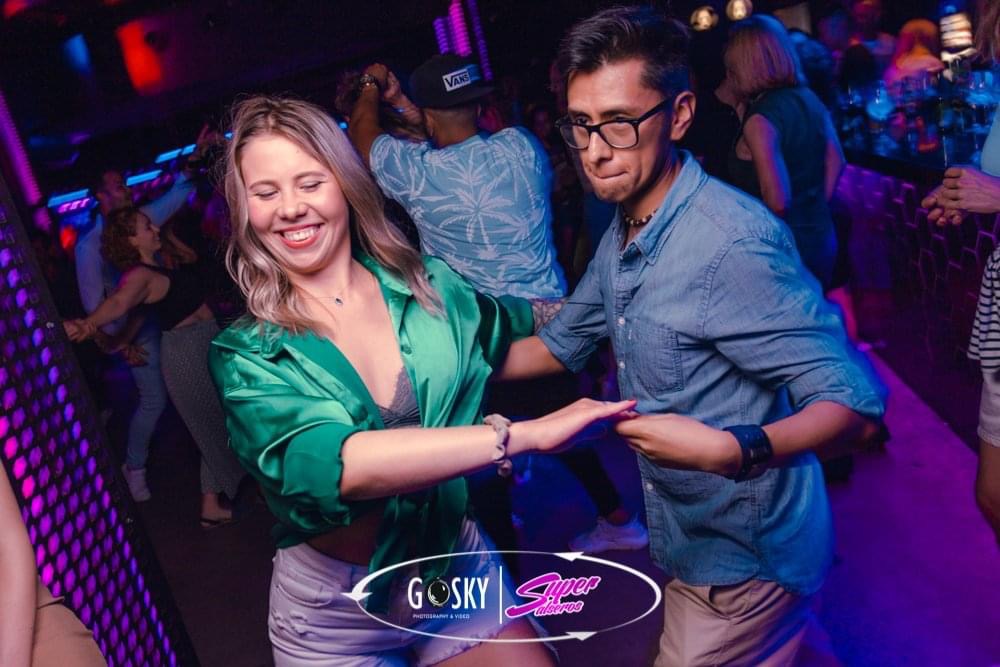 Event organisations provide classes at the beginning of the night starting from 6pm – salsa, bachata, kizomba, and tango. At 9:30 pm the social dance starts. Tickets give you access to dance classes all night, drinks, and the discoteca afterward – everything for a perfect Sunday night to dance the long week away at Malvarosa beach. Sign up using the number on the posters to save up to 3 EUR, rather than buying at the doors. Save your ticket at the entrance to exchange later for a drink. Around 11:30 pm sneak a peek at the bar on the first floor, because you might find some free sandwiches on the counter. Personally, this is my favourite place, where as a beginner of Latin rhythms I can let it loose, shake the hips and disconnect with my daily routine on the dance floor and dance with friends.
€9 with a drink, dance classes and disco afterwards; Akuarela Playa, Carrer d'Eugènia Viñes, 152, 46011 Valencia; 18:00-01:30 every Sunday, https://supersalseros.wixsite.com/supersalseros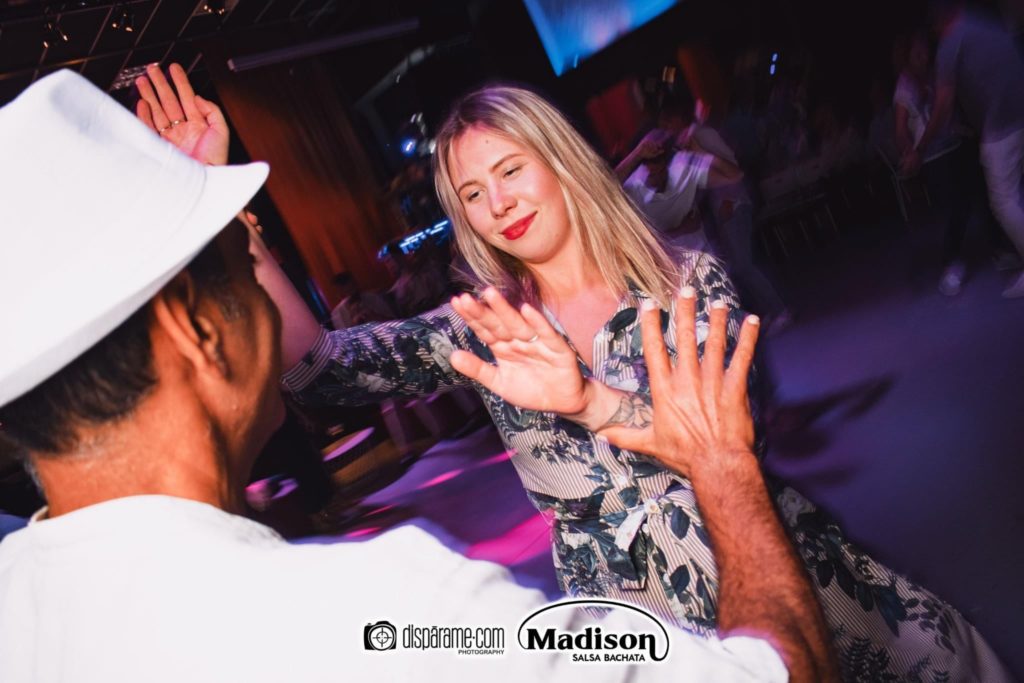 Salsa and bachata boot camps, classes, and social dances. On Fridays, this place is packed with dancers who are proving their place under the bright lights in the club, like on a battlefield. The club is open from Tuesday till Sunday. Every day is different – at weekends the club opens two rooms, but during the weekdays the crowd is smaller and there is only one dance floor to salsa on. The tickets during the week include two non-alcoholic drinks or beers, or one soft drink with alcohol of your choice. During spring, it was my favourite place to catch the rhythm.
Asucar Valencia, Open for dancers from Tuesday till Saturday early morning. Classes and social dance. To see the prices, check out website. Calle de Beato Nicolás Factor, 12; 46007 Valencia; http://asucar.es/clases/
Live music concerts, dance shows, and beautiful surroundings, just a 15-minute drive out of the city centre to this nightclub. Wow! The dancers on the floor left me speechless. The level is very high and professional since salseros from all over Valencia come together to enjoy the night. To be honest, I felt like I'm too inexperienced for this dancefloor, and I need to take some classes and prove to myself I can blend in. During my visit, I enjoyed watching the professionals in their natural habitat, by learning through watching. I will return after a few months when I'm confident in my steps. Dancing salsa by live music is a real treat. Feel free to discover it yourself, though…
Calle de Polideportivo 23, Massanassa; lines C1 and C2 from Estación de Nord; https://sala-madison.com/
When Tuesday comes, the tables in the pub are moved and it becomes a dancefloor to welcome guests to show what they have. On Tuesday night you will hear Latin music and meet dancers that visit the bar regularly. Easy flow, delicious cocktails, and a great place to meet and greet to catch up after the weekend every Tuesday with your friends and open new connections.
Free, Caribbean's, Avenida de França, 17, 46023 Valencia; https://caribbeanspub.com/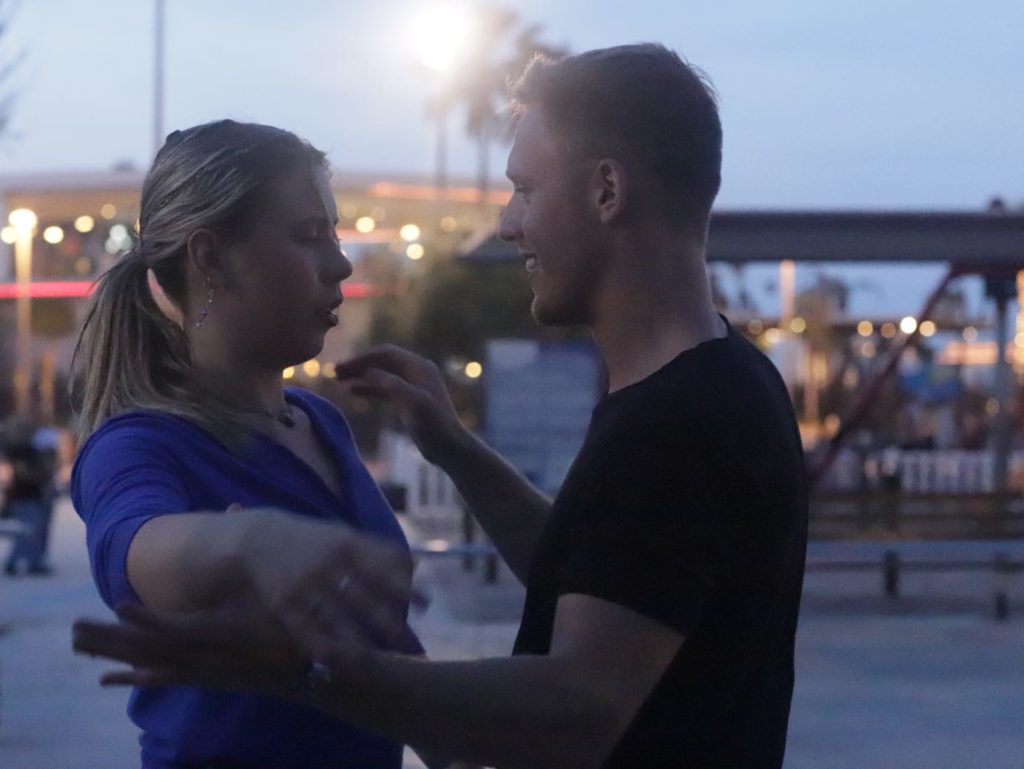 Clandestinos – next to Marina Beach Club at Pergola de la Marina
Every Wednesday starting at 9pm till late at night, salseros from different dance schools and communities come together just to dance the night away under the stars. Music and people are there, no tickets are sold and there is no advertising done for this event. What else do you need? Everybody dances with everyone without any expectations. Moments where relationships get stronger, empathy takes over and the night stays young forever through the summer nights.
Social dancing for Free in Pergola de la Marina every Wednesday 9pm – 2am
I have met talented, passionate, inspiring, and soul-filling people on the dance floor, from whom I learned important details about body language, and made great friends with matching values. After every social dance on Wednesday, I'm already looking forward to the next one. Dancing is addictive! This is a real and strong community of Valencia where you can grow in your skills and knowledge – for me, it's just pure happiness.
Sadly, Noches de Bohemia, Noches de Salsa, Discoteca Tropicana, Mi Cuba are the places where I haven't danced yet, but are popular among the dancers of Valencia. That's why they are on the to-do list to test how hot the dance floor gets. I welcome you to give body language a try, investigate the dance floors yourself, find your style, and enjoy the confidence boost that dancing fulfils by feeling aware of your skin.
The dancing community in Valencia is growing and you are welcome to be a part of it. You'll learn that, with salsa, bachata, tango, and kizomba, it's the same as learning how to cook, surf, paint, or any other skill that you are adapting. Practice makes perfect, so don't be too hard on yourself. From the beginning you are learning a new skill that's complicated so leave some energy for failure.
Where are you dancing in Valencia? What am I missing? Let me know and let`s dance together. Hasta pronto en la pista de bailar – see you on the dance floor!
Know of a dance venue that should be featured? Email daniela@valencialife.es