Air Nostrum, Iberia's regional partner based at Valencia Airport, has ordered ten UK-built helium airships for use on regional routes from 2026. Eugene Costello reports…
In a major shot in the arm for sustainable travel, Air Nostrum has ordered ten Hybrid Air Vehicles Airlander 10, to be flying by 2026.
Hybrid Air Vehicles (HAV), which developed Airlander at Cardington airfield in Bedfordshire, is to begin manufacturing in South Yorkshire.
The firm said 1,800 jobs would ensue as a result of the order.
HAV said Airlander 10 will cut flight emissions by up to 90% for journeys across Air Nostrum's regional routes in Spain.
Each ship will carry up to 100 passengers.
The aircraft, nicknamed "the flying bum" thanks to its unusual shape, will produce less than a tenth of the carbon dioxide footprint per passenger of jet planes. That is 4.5kg compared to 53kg on a jet plane.
The airships stay aloft using helium and electricity. Furthermore, they will be able to land pretty much anywhere that has a flat surface, including water. They need far less space for landing and take-off than a plane, even just a field should serve. It also means that Air Nostrum should be able to add routes to destinations that lack space for an airport, especially islands.
"According to HAV's website, hybrid aircraft fly due to a combination of aerodynamic lift (like an aeroplane), lifting gases (like an airship) and vectored thrust (similar to a helicopter).
"Airlander generates up to 40% of its lift from aerodynamics by the passage of air over the hull. The remainder comes from buoyant lift from the helium," says the BBC.
Carlos Bertomeu, Air Nostrum's president, said: "We are exploring each and every possible way to reduce our carbon footprint.
"The Airlander 10 will drastically reduce emissions and for that reason we have made this agreement with HAV.
"Sustainability, which is good news for everyone, is already a non-negotiable fact in the daily operations of commercial aviation."
Luxury and ease
HAV has previously said it expected to fly from Barcelona to Palma de Mallorca in four-and-a-half hours. This makes it a commercially viable option. It is likely to have a comparable overall journey time to existing routes. Once you factor in check-in times, travel to and waiting at the airport, it will suit many.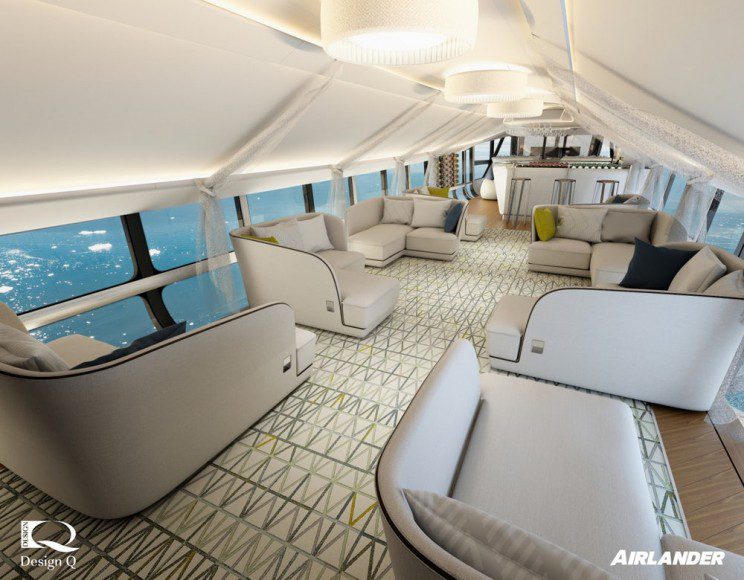 Stock photos released by HAV would suggest that the differentiator will be a sense of luxury. The journey times will be half that of a ferry and with huge environmental benefits. Think armchairs, a bar and a glass floor that allows panoramic views.
The airship era of the 1930s came to an end with the Hindenburg disaster. This happened at Naval Air Station Lakehurst, in Manchester Township, New Jersey, United States. The accident caused 35 fatalities (13 passengers and 22 crewmen). There had been 97 people on board (36 passengers and 61 crewmen), with an additional fatality on the ground.
Journalist Herbert Morrison's recorded radio eyewitness reports from the landing field immortalised the disaster. His tearful exclamation, "Oh the humanity!" as bodies fell from the blazing ship has passed into folklore.
Some 85 years later, HAV and Air Nostrum are ready to try again.