Welcome to a new feature, Valencia Property of the Week. Think a five-bed, three-bathroom villa with swimming pool on the Altury urbanisation near Turis and Real de Montroy is out of your budget? Think again, says Eugene Costello…
The Altury urbanisation is one of the prettier and best laid-out near Valencia. It is made up of approximately 600 homes straddling both sides of a valley with a flower-filled dried-up riverbed. First of all, there is a bar, restaurant and sports centre on the estate, with two decent-sized towns a ten-minute drive away (you will need a car, of course, this is in the countryside). Driving along the estate's well-maintained tarmac roads, one is struck by all the pretty, traditional-style houses and villas, enclosed by bougainvillea-draped white walls. It is a quiet and peaceful corner of paradise.
Heaven is a place on Earth
Chris and Becky Yates, a fiftysomething couple living in Altury, love the place. Says Chris, "For us, it's perfect, it's quiet with a fabulous sense of community and it's multicultural. And there are Brits, Irish, Dutch, German, French and, of course, lots of Spanish who often use it for a second or holiday home.
"And it's well occupied, even in the winter, so there are always people to chat to. We are 30 minutes from the airport, and 40 from the city. Plus Turis and Real are just ten minutes away for bars, restaurants, supermarkets and health centres.
"We couldn't choose a better place to live, in all honesty."
So if this sounds like your dream lifestyle but you worry that it is out of budget, think again.
Graham Hunt of Valencia Property is marketing a fabulous home on the estate. It comes with five bedrooms, three bathrooms, an undercroft (think man-cave or huge garage), two floors, two terraces, two living rooms and a swimming pool. Wowsers. And it is on the market for about the same price as a studio in Hackney, east London.
Yes, you read that right.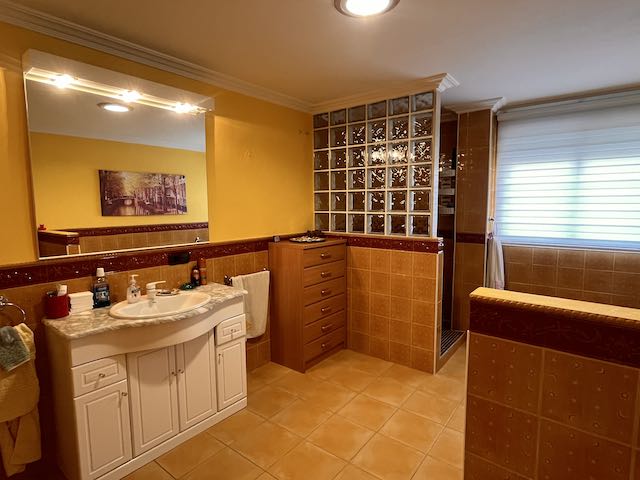 So if living the good life in the countryside within easy access of Valencia, surrounded by arable fields and country lanes was your dream, now it is one step closer to becoming a reality.
All of this can be yours for a negotiable £265,000.
Come on in, the water's lovely…
• To view, click here and make an appointment with Graham or a colleague to go and view. This one won't be on the market for long. Hell, I'd buy it myself if I could…