Last week, a delegation of Ukrainians met with two directors of tourism here in Valencia to discuss how Valencia might make further efforts to welcome Ukrainians to the region. By Eugene Costello
Valencia is making clear efforts to welcome Ukrainians to the region. On Thursday, Svitlana Chaurova, a remarkable lady who has fled Ukraine with her two children and about whom Valencia Life wrote Butterfly Effect Shows Community Spirit To Ukrainian Refugees in Valencia, contacted us to ask whether we would attend a meeting with her. It was to help Valencia to make efforts to welcome Ukrainians to the region. She was meeting Emiliano Garcia, councillor for tourism for the Ayuntamiento, and his colleagues. She would be accompanying Irina Yarmalenko, a councillor for the city of Bucha.
Bucha has achieved a grisly notoriety because of the war. FRANCE 24's senior reporter Catherine Norris Trent was at the scene in Bucha when seven more bodies were exhumed just on Monday, 13 June. She said: "Another seven bodies, several with their hands and legs tied, were found in a grave near Bucha, a town near Kyiv synonymous with war crimes allegations, the regional police said Monday.
"Seven civilians were tortured by the Russians then executed in a cowardly manner with a bullet to the head," Kyiv regional police chief Andriy Nebytov said on Facebook, saying 'several victims had their hands tied and knees bound.
'This grave was discovered today in an area where Russian troops were stationed near the village of Myrotske', which lies some 10 kilometres northwest of Bucha, he said. He said police were 'working to identify the victims'.
Amazing resilience
Svitlana and Irina are amazing examples of the resilience of the Ukrainian people, who have come to Valencia and are trying to create opportunities for their displaced countrymen and women.
A statement said, "On behalf of the Honorary Consulate of Ukraine in the Valencian Community, Tetyana Nizhelovska, Iryna Yarmolenko, a Councillor of Bucha, and a Councillor of Valencia, Emiliano García Domene, together with the head of the department of Tourism and Internationalisation, Mª José Vivó Alós, attended the meeting.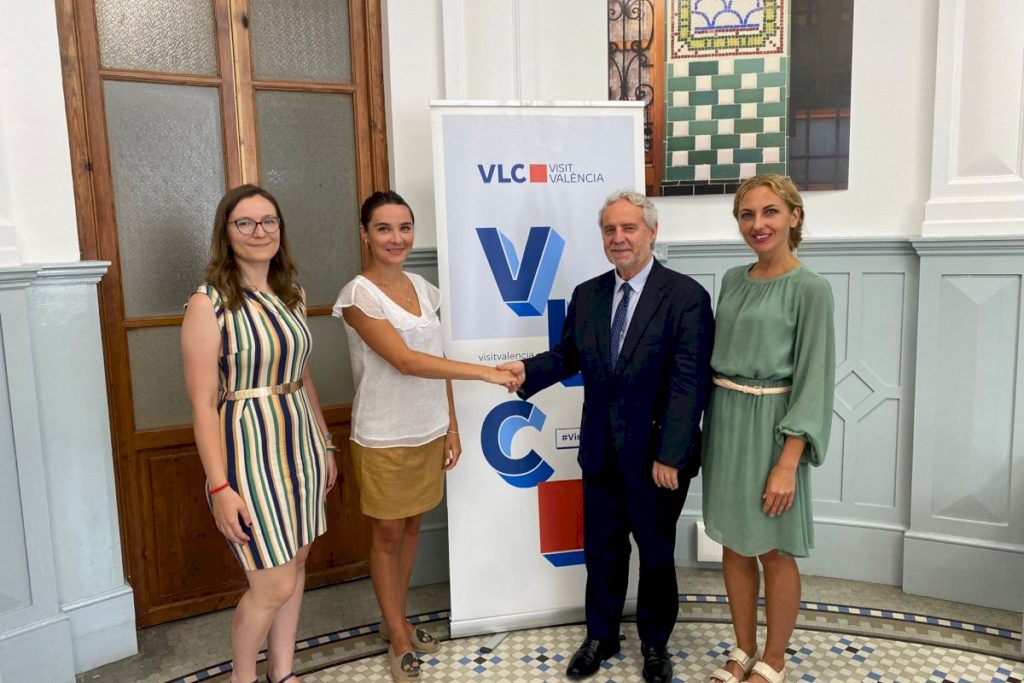 "At the meeting, several important issues concerning the needs of the Kyiv region were discussed, the project 'Irpin Reconstruction Summit 3.0' on the sustainable reconstruction of Ukrainian cities was presented and a project on the organisation of a camp for children whose parents are at war, promoted by the Association of Ukrainian Cities, was presented.
"It should be recalled that the city of Bucha has been sadly in the news as a result of suffering one of the most tragic and violent episodes of the current war provoked by the Russian invasion of Ukraine."
These women are powerhouses, and are entirely without self-pity. Instead, they are full of determination and resolve to change their lives, and the lives of others, for the better.
A plan towards peace and solidarity for Ukraine
Lana says, "Our mission is to build and rebuild houses, repairing roofs and damage, and very quickly. Very many people from Ukraine want to return home. So if every city in Europe undertakes the patronage of just one house, that will help to return more than 300,000 people by the autumn.
"Also in Ukrainian resorts, there is an opportunity to help the psychological rehabilitation of children affected by the war. You can help to provide school vacations – children are already going on summer holidays. One week in Valencia, for instance, will help to forget and give joy to children who this year do not have the opportunity to go to the sea or children's camp in Ukraine."
It is a measure of the city that Valencia makes such efforts to welcome Ukrainians to the region.