Marrakech – The Riad Less Travelled
Valencia Airport is adding international routes the whole time. Chris Cooper took advantage this month and headed off to the sights, smells and sounds of Marrakech for an unforgettable experience in the Red City
Valencia is a wonderful place to live. The weather is fine most days, the food is good, the city is pretty. It is no wonder Valencia is frequently listed as one of the best places to live in Europe. But we all need a holiday, and there are a host of interesting places to visit from Valencia in just a few hours.
Marrakech is just a two-hour flight from Valencia and flights start at around €50 return with Ryanair.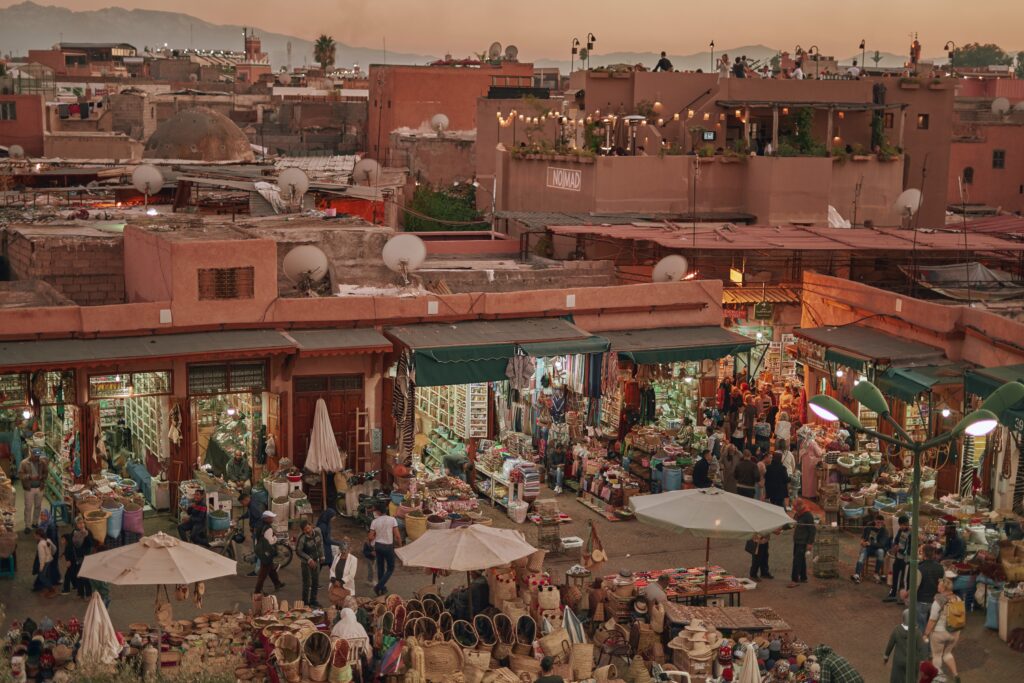 Marrakech is not for the faint-hearted so prepare yourself for a dazzling culture shock. The city was founded in 1062 by the leader of the Almoravid dynasty, Yusuf ibn Tashfin. The famed red city wall was built in the 12th century and, after various extensions and renovations over the years, still stands today. Circling 12 kilometres around the Medina (the old town) and the Kasbah (the citadel), the wall separates the old from the relatively new.
The streets are small and windy and getting lost is par for the course. The easiest reference point is the 12th century Koutoubia mosque. Standing 77 metres tall, on the south side of the famed Jemaa el-Fna ('Big Square'), it is both impressive – and an extremely handy landmark when attempting to navigate the medina on foot.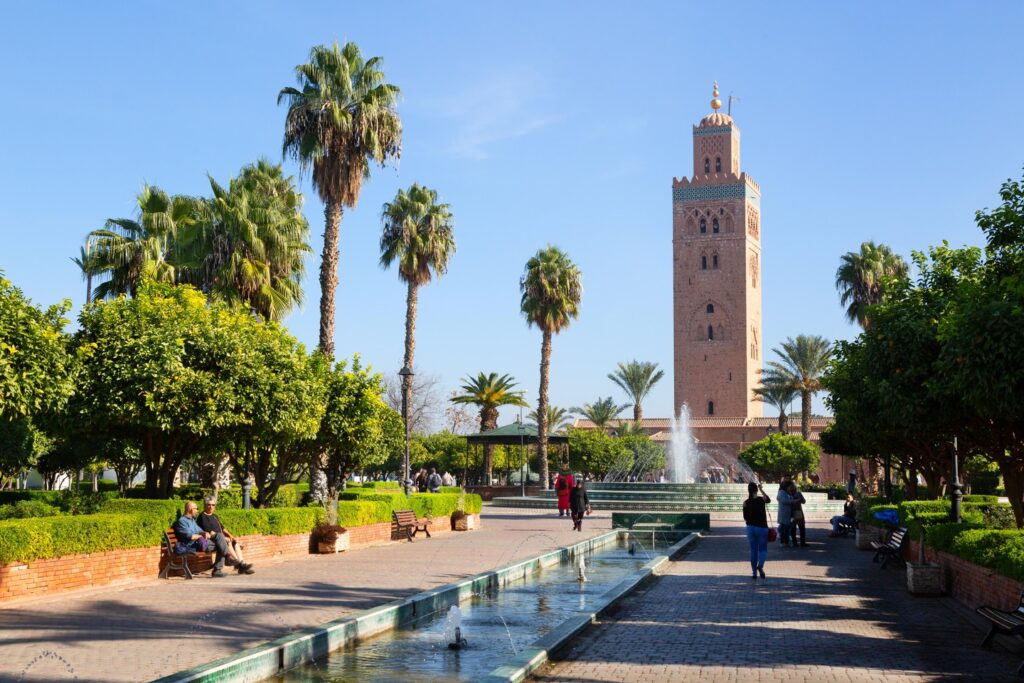 The most common type of accommodation is a riad. A riad is a townhouse with no windows to the street. The main focus is the internal courtyard, usually containing trees and a small pool, and a rooftop terrace. The riads vary in comfort and luxury so a good rule of thumb is that you get what you pay for. They make an excellent escape from the frenetic life outside the doors.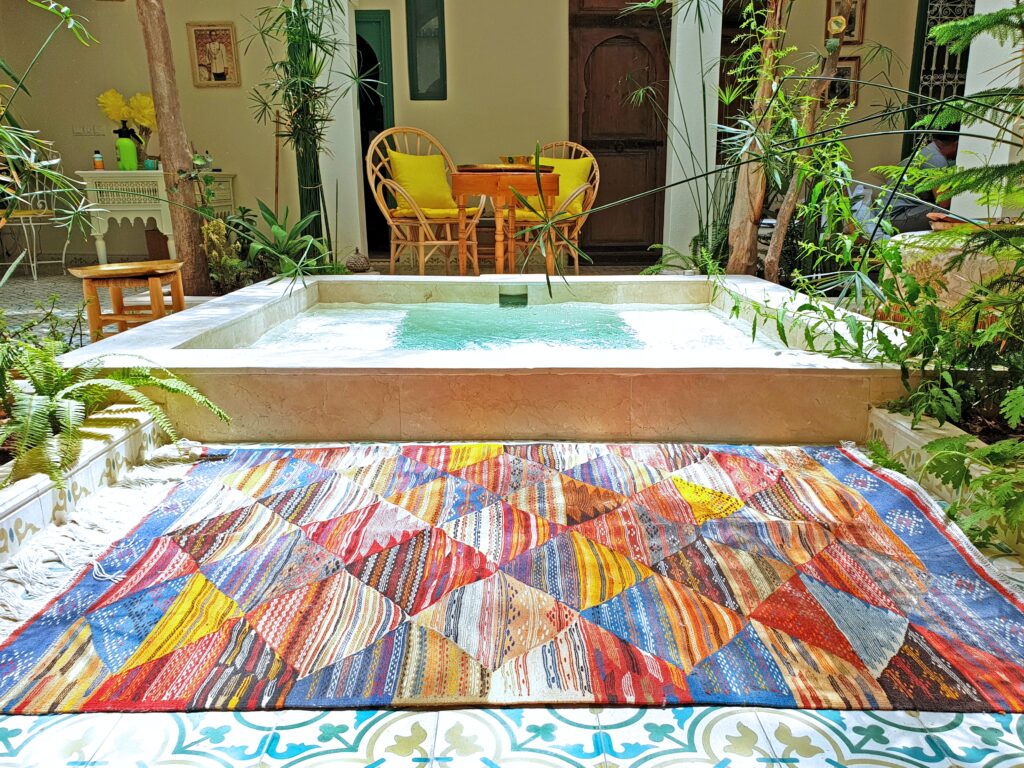 Marrakech is relatively safe and has little or no violent crime. That is not to say you don't need to be on your guard. With many museums and the famous souks (markets), people will constantly start up a conversation with the aim of showing you a "once-monthly auction" (which happens to be daily), a low-priced pair of babouche (leather slippers), or simply to lead you back to the "Big Square". It is easy to be sucked in, but a firm "no" saves a lot of time and money.
The souks are an enormous, magnificent, warren of markets covering a huge part of the medina. It is a joy to get lost among colourful carpets, sparkling lamps and hand-made leather goods. Days could be spent here without having to do anything else in the city, and the light refracted into these alleyways has an amazing effect.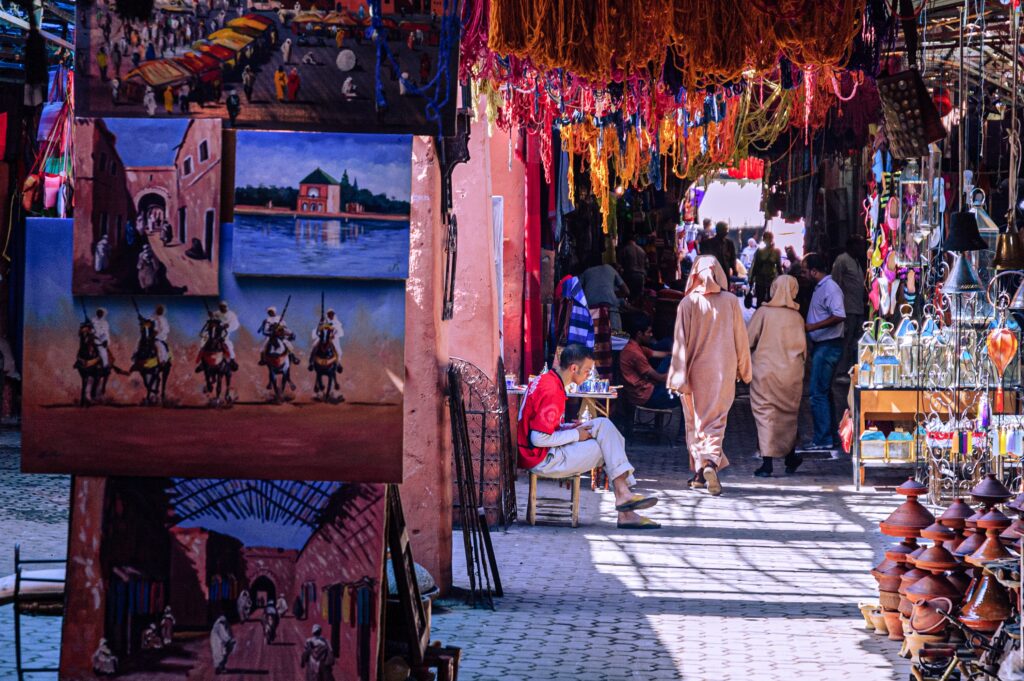 Most stall owners will start with a price two to three times higher than they are willing to accept and a bit of haggling is expected. There are three key points to making a good purchase:
Check out the price in the fixed price market
Just to the south west of the medina, by the Koutoubia mosque, there is an artisan market where the prices are non-negotiable. Seek out the item you want to buy, check the price and use this as a guide to the maximum price you would possibly pay in the souks.
Don't show too much interest
Those glittering, tasselled babouche have set your pulse racing and you simply must have them. This is the vendor's dream as he knows he will make a quick sale for a high price. It is best to maintain an indifferent approach, to the point of walking away from the stall. The vendor will soon find you and give his genuine final price. Never make an offer and then change your mind as this is considered extremely rude.
Make a low initial offer
It is not rude to make an offer of three times lower than the initial price given. The idea is to reach a point in between. Know what you are willing to pay and offer lower. The vendor will either laugh or feign offence, but the negotiation will finish far closer to where you want to be.
No doubt there will be times where you pay over the odds and a few times where a bargain will be had. If you do pay too much, do not despair as it won't usually be by more than a few euros and the vendor lives on tourism. If haggling is not your bag, most souk items are sold in the fixed price markets.
Marrakech is replete with gardens, museums and palaces. Non-Muslims cannot enter mosques but can admire the gardens or architecture.
Here are some of the most popular attractions in no particular order:
La Maison de la Photographie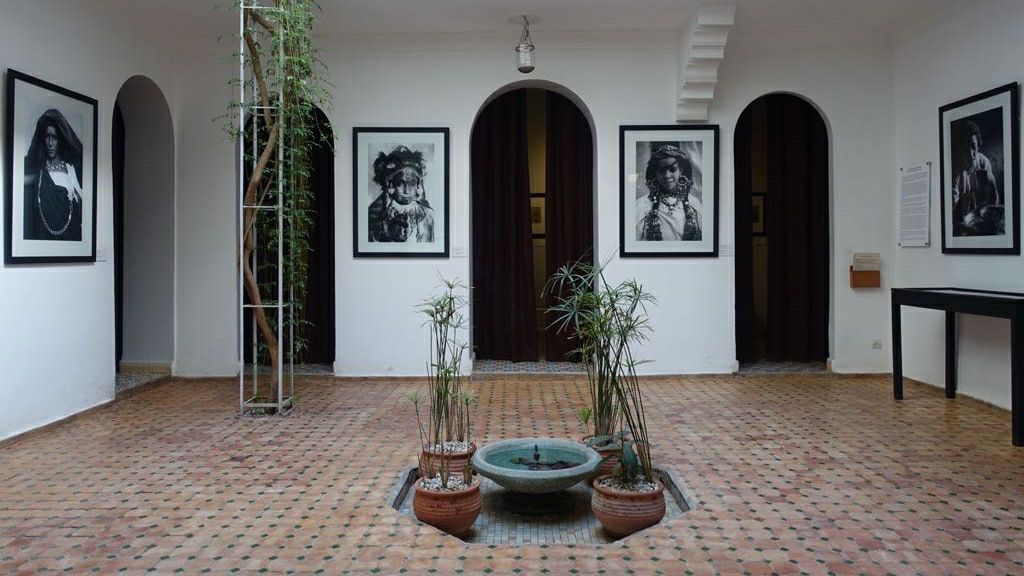 Located in a riad-turned-gallery, the house of photography documents the landscapes, lifestyles and portraits of Morocco from the 19th and 20th centuries. Entry is 50 Moroccan dirham (MAD), which is about €5, and the museum also has a rooftop café with views of the city and mountains.
Le Jardin Secret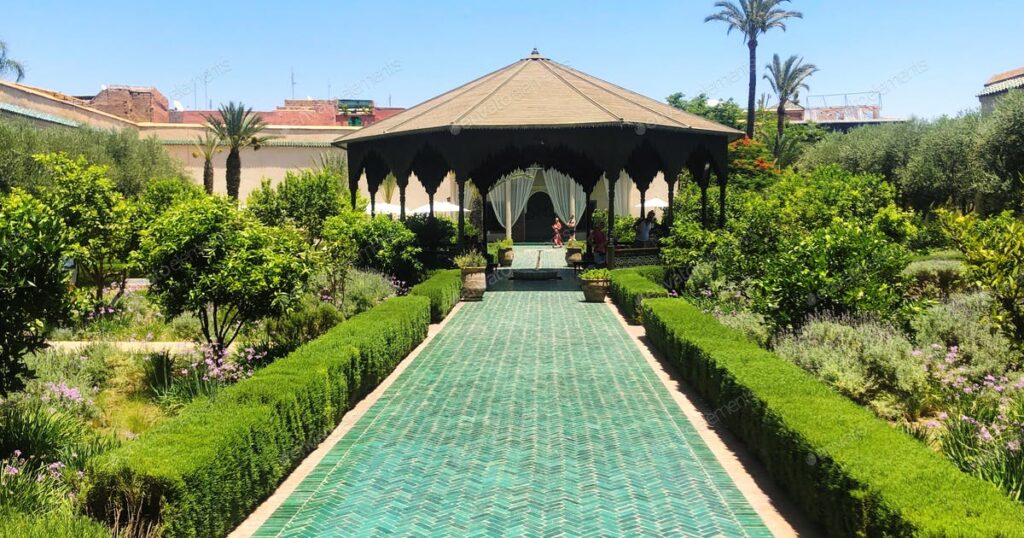 Elegantly restored and opened to the public in 2016, Le Jardin Secret houses a traditional riad garden containing North African and Mediterranean plants, and an exotic garden, featuring plants and trees from all over the world. The garden also has a tower, which can be visited for an extra 30 MAD and a café overlooking the gardens. Entry to the gardens is 70 MAD.
Dar el Bacha – La Musée des Confluences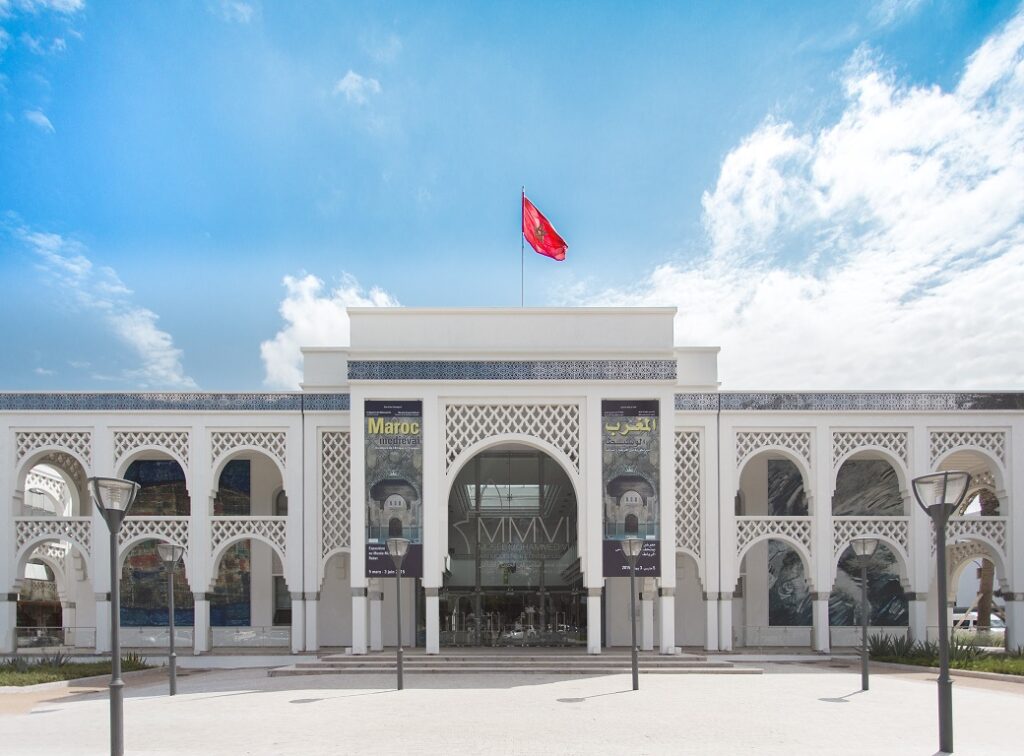 A beautiful, ornate palace, Dar Bacha now houses the archaeological collection of Patty Birch and runs temporary exhibitions exploring Eastern and Western cultures.
An exquisite coffee house of the same is on the ground floor of the palace. A pot of coffee costs 40 MAD on average and there are literally hundreds to choose from. One pot serves just under four cups of coffee. Dar Bacha coffee house also has a shop where coffee is sold by the gram. Entry to the museum is 60 MAD.
Le Jardin Majorelle and le Musée Berbere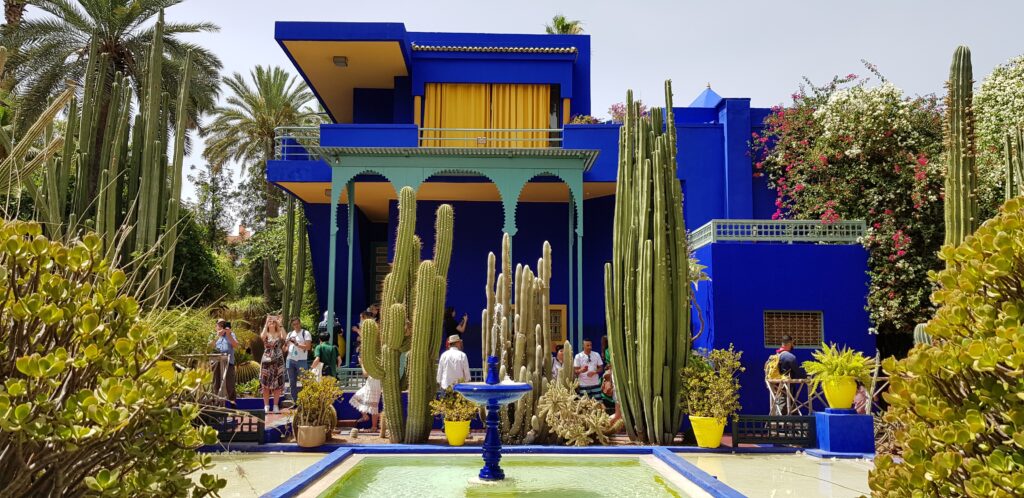 Created in 1923 by French painter Jacques Majorelle, later purchased by Yves Saint Laurent a few years after Majorelle's death, this is the most photogenic and expensive of Marrakech's gardens. Located outside of the medina, near the upmarket Gueliz district, the garden boasts an array of larger trees and cacti, water features complete with koi and turtles, and the most strikingly coloured buildings imaginable. The most impressive colour is the indigo blue, now called Majorelle blue after the artist. The Berber museum is to be found in the gardens and entry is an extra 30 MAD. Photos, jewellery, clothes and tools are all on display and the museum includes a history of the Berber people, said to be the oldest indigenous people in Africa.
The garden is quite small and mainly serves as an opportunity to improve photo collections and the price, at 100 MAD, seems expensive but it is a "must-see" for many.
The Bahia palace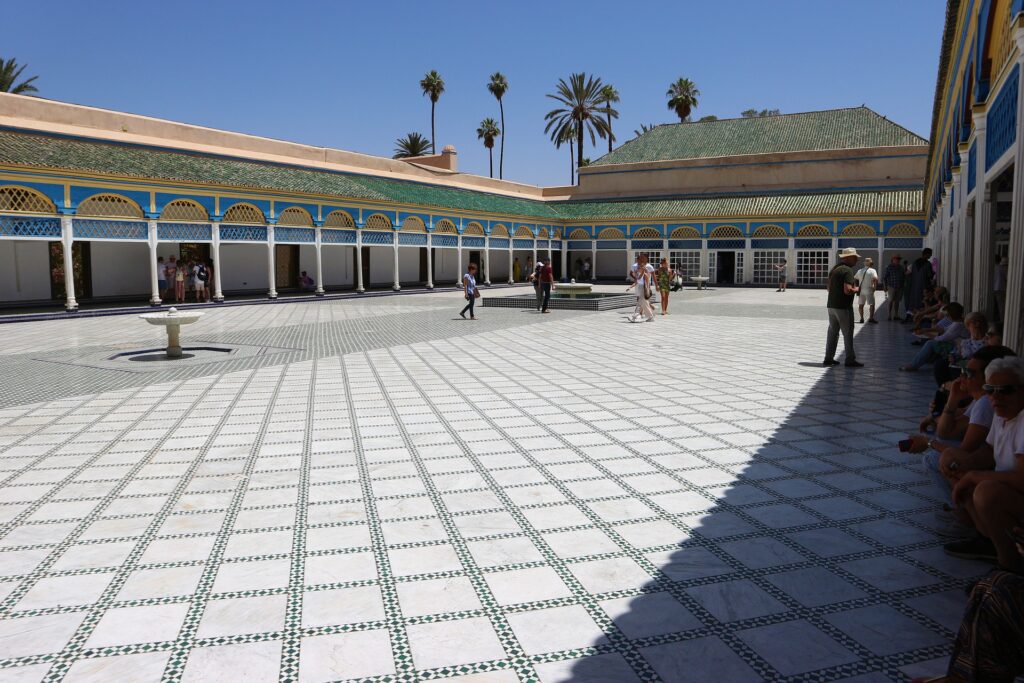 This 150-room palace was home to slave-born vizier Abu "Bou" Ahmed, who spared no expense in lavishly decorating it from floor to ceiling. Bahia roughly translates as "beautiful" and even that may be an understatement. Entry to the Bahia palace is 70 MAD.
Badi Palace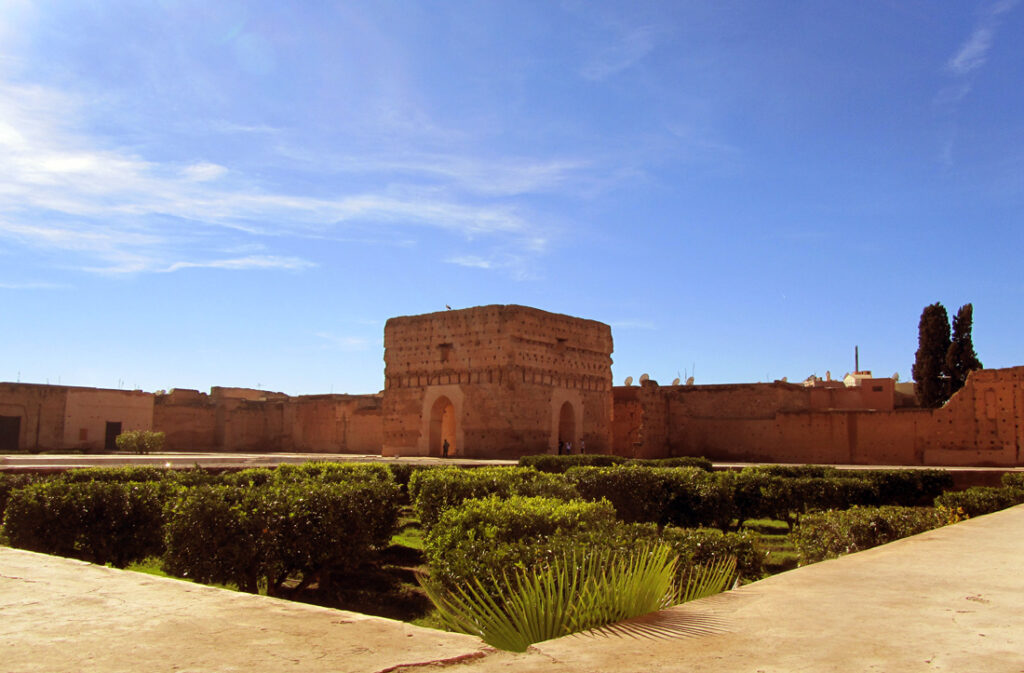 The ruins of Sultan Ahmed el-Mansour's once magnificent palace, Badi offers an insight into the power and wealth of Morocco's past. The palace also houses the minbar (prayer pulpit) from the Koutoubia mosque, which was crafted by Cordoban artisans.
Musée Yves Saint Laurent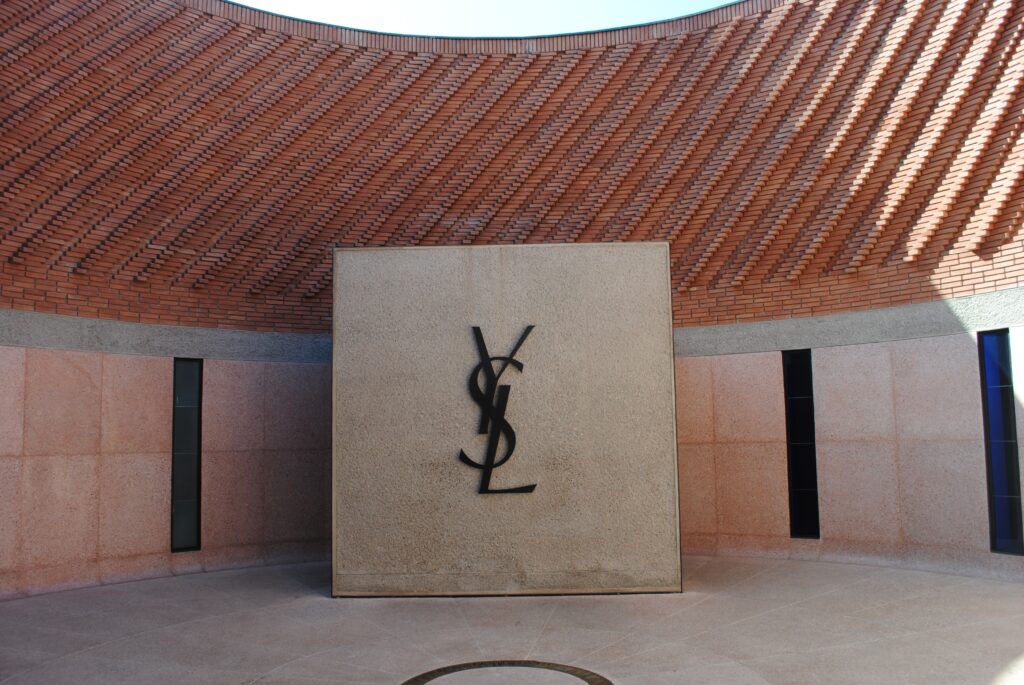 The fashion designer was a frequent visitor to Marrakech and had a home there. The museum was completed and opened in 2017 and is dedicated to the designer's couture legacy. Hundreds of garments spanning Yves Saint Laurent's 40-year career are on permanent display and the building itself is an architectural masterpiece. Located next to the Majorelle gardens, the entry fee is 100 MAD. There is also a cafeteria which serves non-alcoholic drinks and lunch in the stylish garden.
Mamounia hotel – Avenue Bab Jdid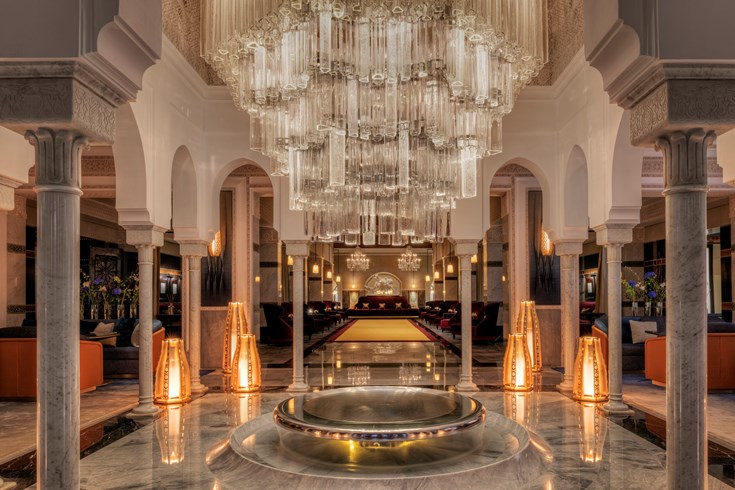 Neither a garden nor a museum, the Mamounia hotel combines both. Gifted to Prince Al Mamoun as a wedding present in the 18th century, the gardens were there before the hotel. The 1920s built hotel includes 210 luxury rooms, four restaurants, boutiques, a spa, two swimming pools and even a vegetable garden. Prices for a room begin at €500 per night. If that is above budget a day pass for the hotel and pools is €50. With a decent excuse and a little charm, it is possible to enter for free and have a look about. Winston Churchill described Marrakech as "the Paris of Africa" and, since he stayed here on his many visits, it is easy to see why. The Churchill bar and the Churchill suite now exist in honour of the hotel's most famous patron, and a gin and tonic can be enjoyed for a mere €33 (yes, you read that right, sadly). Not to be confused with the Churchill bar in Fez; the old rogue got about a bit.
Eating and drinking in Marrakech caters for all budgets. Aside from €33 gin and tonics in the Mamounia, as a Muslim country, alcohol is generally frowned upon in Morocco.
Licenses are expensive so expect to pay between 50 and 80 MAD for a 33cl bottle of local beer.
TIP: Buy Moroccan wine cheaply at the guarded cellar in the local Carrefour and smuggle it back to your riad; your wallet and your bank manager will thank you.
La Kabana (1 Kissariat Ben Khaled R'Mila, Rue Lalla Fartima Zahra) has a lively rooftop terrace bar and restaurant serving alcoholic drinks and a wide variety of local and international dishes.
The most popular dish in Marrakech is the tagine. Baked in a clay pot (the tagine) for over an hour, a tagine is made up of stewed meat and vegetables cooked in spices and its own juices. A typical riad or touristic restaurant will charge between 50 and 100 MAD for a tagine and between 10 and 30 MAD in a street restaurant used by locals. Most restaurants will provide a complementary mint tea, also known as Berber whisky, after eating.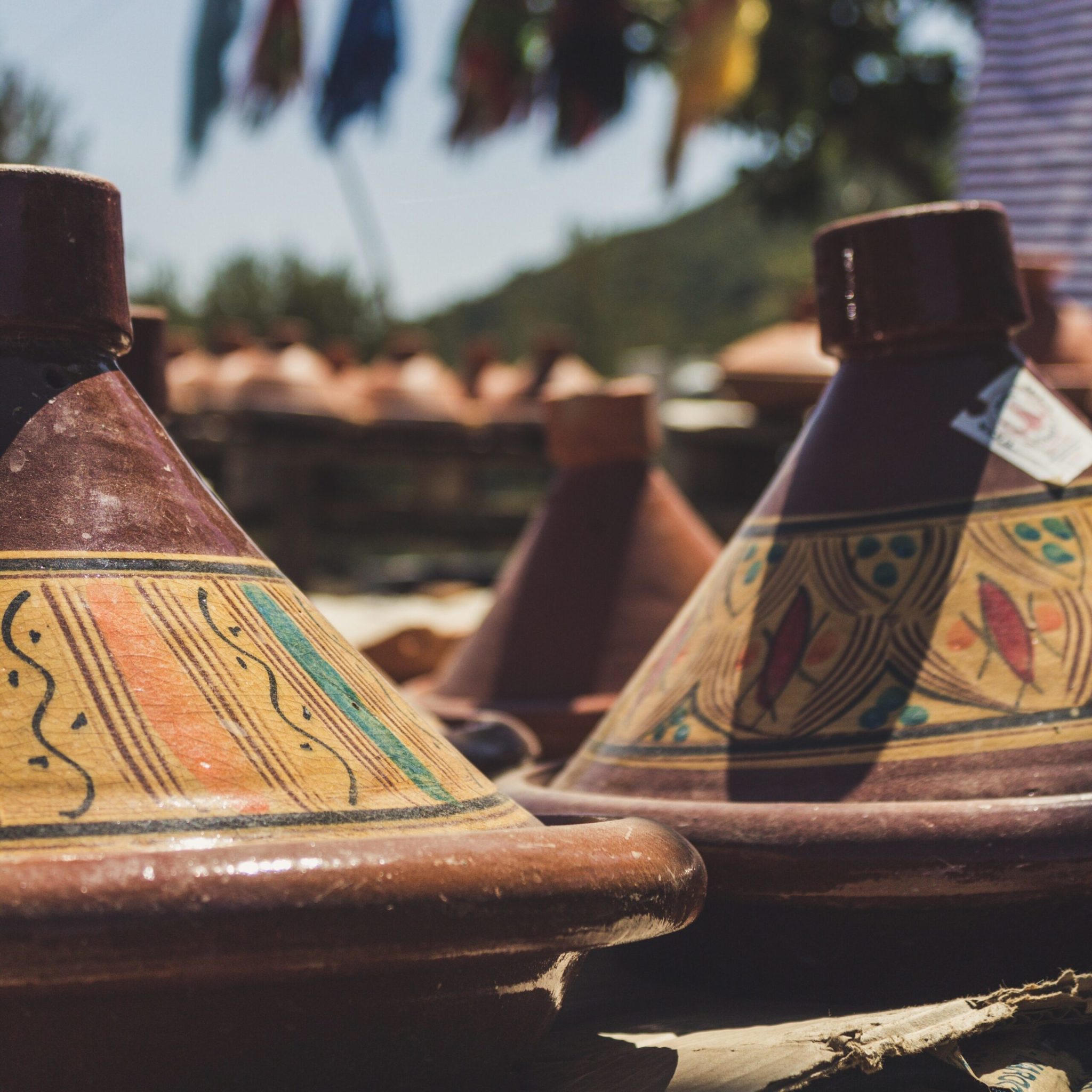 Marrakech mainly runs on tourism so there are countless day trips and activities on offer from hundreds of tour operators. Ibrahim Amzil on Tripadvisor offers a trip to the Imlil Valley for a hike in the high Atlas Mountains and to the Agafay desert below for a camel ride. The mountains are a 40-kilometre drive from the city and home to the Toubkal mountain. Standing at over 4,000 metres, the Toubkal is the highest peak in North Africa. Upon arrival at Imlil village, a guide takes you on the tough but rewarding hike up to Tacheddirt, the highest village in North Africa. The hike passes the luxurious Kasbah du Toubkal, the hotel where much of Seven Years in Tibet was filmed. Once in the village, the guide takes you to a typical Berber house for a cup of heard-earned mint tea. The views are breathtaking at any time of year. After descending by road on foot to the village of Aroumd, a home-cooked lunch is provided on the rooftop terrace of another Berber house.
A short drive from the mountains, across high grassy plains before a steep descent, the hot and arid Agafay desert awaits. The camel ride lasts about half an hour and is a peaceful way to enjoy the rocky desert landscape if you manage to hang on.
The whole day trip costs €25 per person and lunch is an extra €6.
As of February 2021, visitors to Marrakech are required to have a valid passport, valid proof of Spanish residence (or proof of application), a completed entry form, a hotel reservation and a negative Covid-19 PCR test taken no more than 72 hours before arrival.
Just two hours from Valencia, Marrakech offers the most culturally different, vibrant destination imaginable and so is an ideal destination for your next holiday.