Ever wanted to learn how to row a Viking longboat? You don't need to go to Norway, Chris Cooper learnt – a hop and skip down to the Marina in Valencia, and Bob – or, rather, Sigmund – is your uncle…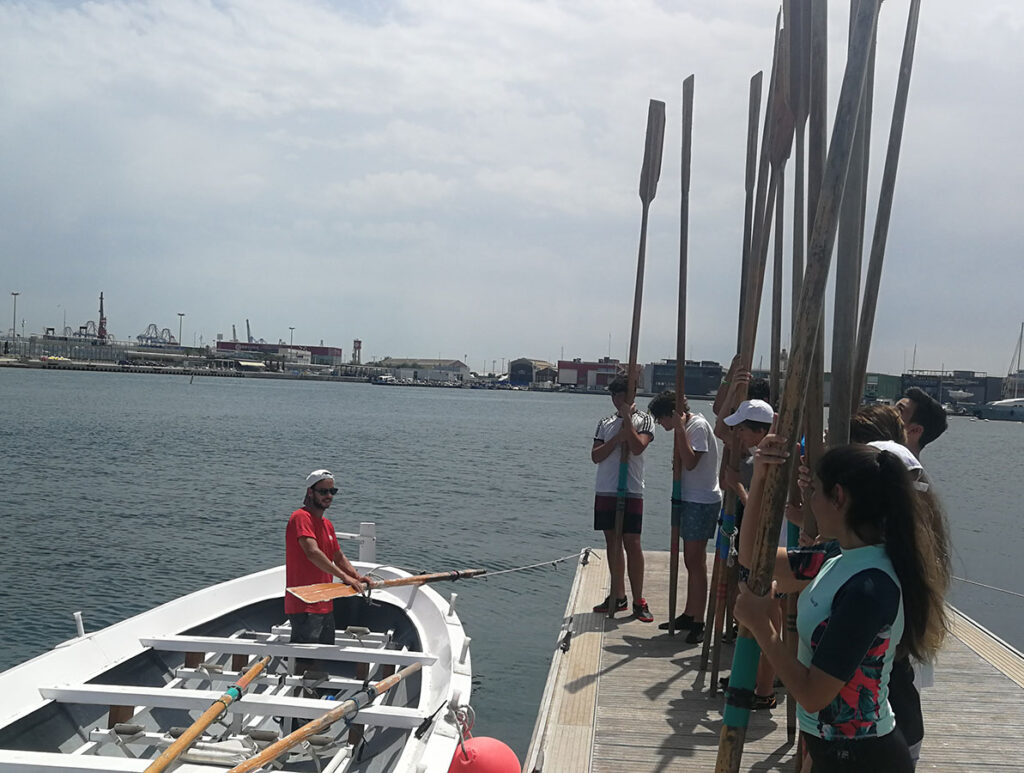 August, arguably, is not the best time to go looking for some hard-core outdoor exercise in the afternoon. Anyone who has spent a sticky summer in Valencia knows that. Especially on a Vikingesque longboat on the shadeless sea. To be more precise, the Marina Juan Carlos I, in the northern section of the port of Valencia.
A friend told me and my girlfriend that the Ayuntamiento runs daily rowing lessons and asked if we would like to sign up. Having not been on a self-propelled water vessel since a fateful – and ultimately soaking wet afternoon on a rented punt in Cambridge, and hoping to improve this record – we agreed.
When we arrived, we found a small shack where Carlos, our instructor, was waiting. We paid (a very reasonable) €10 euros per person for the 90-minute class. Carlos explained that the boat holds ten people and handed us each a rope as we introduced ourselves to the rest of the group. They were all Spanish, and one girl, Marta, had already had a class so was honoured with the front-right seat in the boat, from where she would set the stroke rhythm.
Carlos gave us each an oar, colour-coded red for the left side of the boat, and blue, for the right. The rope we were holding attached to the side of the boat and the oar slid through a loop, which Carlos had instructed us how to knot.
Once in the boat, oars looped in, we set off.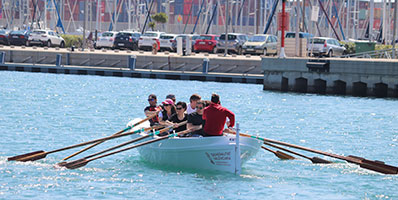 Since we were mainly novices, it was slow going at first. With four on the left, four on the right, one at the front and one at the back, there were many oars clacking or catching each other until we were able to settle into a rhythm of sorts.
At first it was quite disorienting; rowing backwards propels the boat forwards and rowing forwards moves it backwards, but eventually we built up a head of steam.
The rower pulls the oar in a straight line towards his or her chest and gains purchase and traction by pushing off a wooden bar behind the seat of the person in front with their feet.
We rowed around the port and took in the spectacular views from the water and the time flew past like a wheeling seagull. It required some concentration and physical effort, but there were breaks where we could catch our breath and enjoy the surroundings.
Once back on dry land we lamented not having brought a change of clothes. Not because anybody had fallen in, but because rowing is physically demanding – after 90 minutes on a boat in 30° heat, everybody was drenched in sweat.
A rowing class is not the simplest way to get some exercise, granted. But for an educational, socially stimulating workout in beautiful surroundings, it is an affordable and ineffably rewarding experience that will provide memories that will endure. As such, we considered it a bargain.
Horned Viking hats are optional but not included. Though if you do decide to wear one, you have to drink mead from it. That's the law.
Rowing School in Valencia (managed by the Rowing Federation of the Valencian Community); classes usually run from Monday to Saturday in the mornings and afternoons; call or WhatsApp +34 640 78 00 78; https://fremocv.org/escuela-remo-valencia-contacto/ (site also available in English, French and Italian)