Looking for the best cocktail bars in Valencia for a great date? Don't worry, we've got you covered. Longtime resident Daniel Hazelhoff casts his eyes over the running and picks five classy winners, while Eugene Costello adds his favourites…
Top Five Cocktail Bars In Valencia For A Date
Bugalü
Bugalü is truly a spot to behold. Cocktails concocted by @Juliosiette, a charismatic master craftsman, and mixologist galore. Bugalü also holds a unique atmosphere, one of the most lively bars in Valencia, and at the top of our Valencia Life list.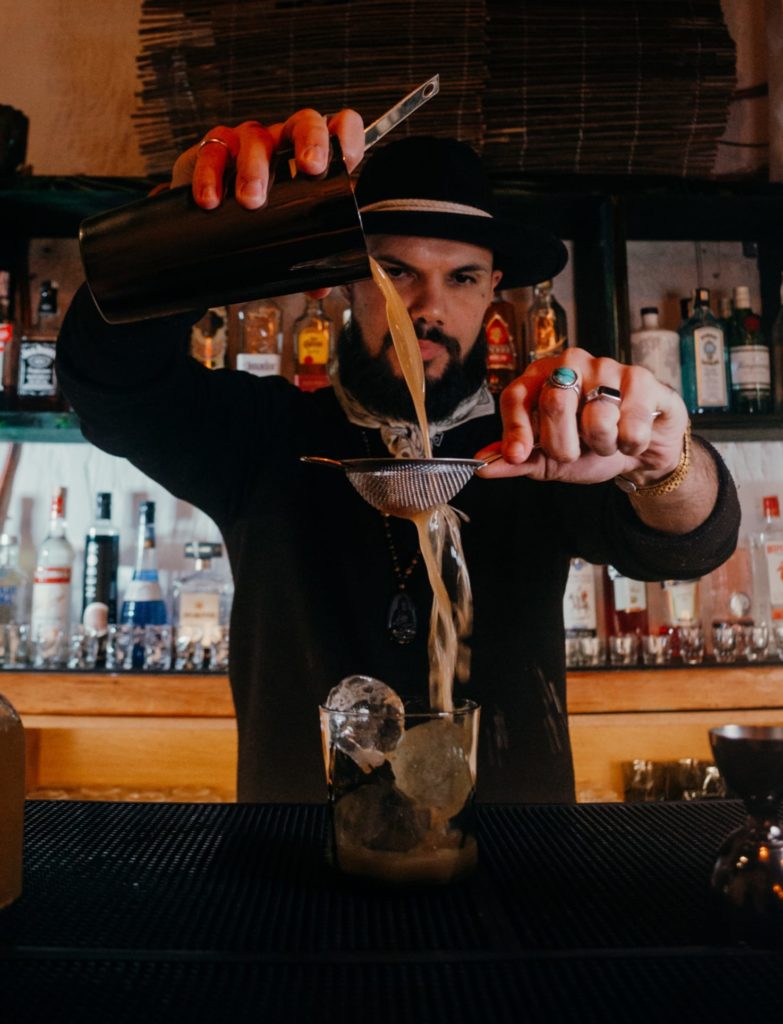 Bring your date over and wow them with top-of-the-line cocktails and mouthwatering food such as duck gyozas or cochinita pibil bao, a Mexican-style pulled pork in a bun. Set in the intimate Barrio Del Carmen, Bugalü will have you drinking fine drinks while schmoozing the night away in its unbeatable atmosphere.
Try their Rockstar, or Tropicana cocktails, and then bask in their flavoursome cocktail heaven. Their music selection and unparalleled service also make for a seamless experience.
They use a first-come, first-served model, so make sure you get there early – they become busy, and quickly.
Plaça de Mossén Sorell, 6, left door 3, 46003 València, Valencia; Tuesday to Saturday from 18:00 – 1:30; Sunday and Monday closed; https://bugalubar.com/
Ateneo Sky Bar Restaurant
Valencia's sunsets are by far some of the most romantic aspects of this city, so why not appropriate that for your date? At the Ateneo Sky Bar Restaurant, you can wow your date with a lovely view of la Plaza del Ayuntamiento. Though higher up in the price range the view is hard to beat.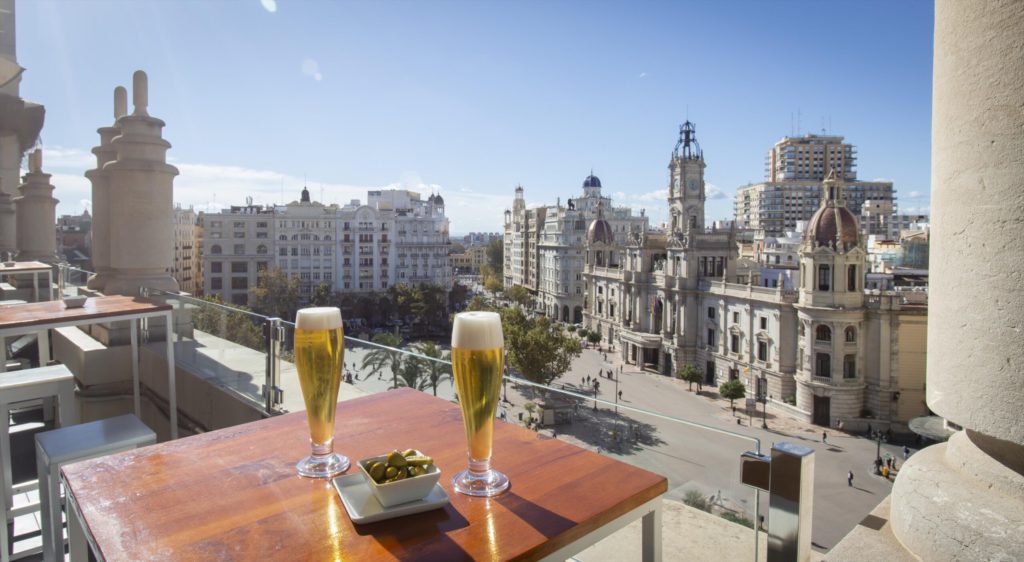 Just to access the bar itself costs three euros. However, if you have a drink those three euros come off your bill, and high-quality cocktails are plentiful here, so you'd be silly not to. There is also a mostly indoor restaurant serving tapas, and even tacos.
The Ateneo Sky Bar can get pretty busy, so we recommend you make a reservation if you choose this for your date spot. A perfect destination for a pre-dinner drink.
Plaça de l'Ajuntament, 18, sixth floor, 46002 València, Valencia; +34 962 93 55 70; ateneorestaurant.com; Monday to Sunday from 12:00 – 18:00
Apotheke
Have you ever felt the irrational need to travel back in time to the 1920s? A time of lawlessness, questionable morals, and illegal boozery. Dress up like your favourite '20s gangsters and dip into Apotheke. A unique experience.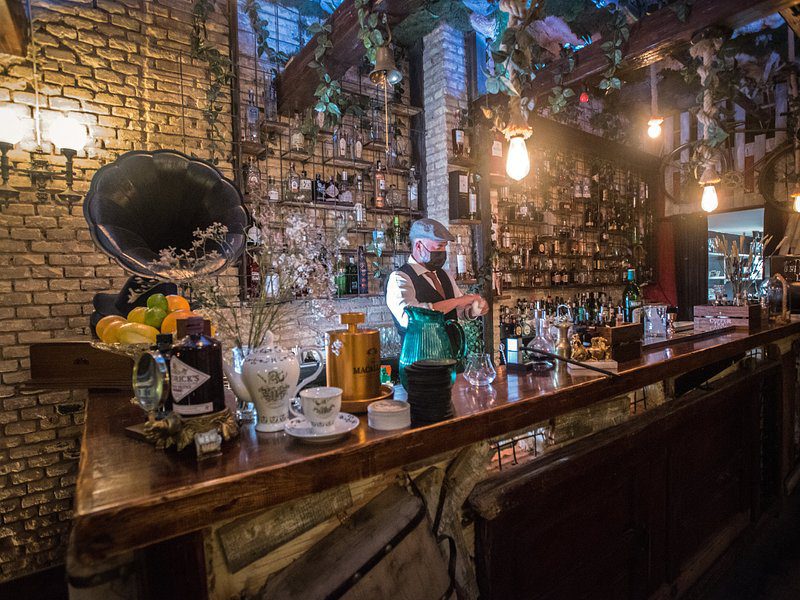 The whole bar is set to a 1920s theme, where jazz and gangsters meet. Choose oysters and cocktails, or enjoy their elaborate snacks such as a red tuna nigiri bao or a pato à la royale. Apotheke shines through its cocktails – some of Valencia's best mixologists have stood behind the bar, whipping up boozy beauties.
If you want to do something different on your next date, Apotheke should be at the top of your list.
Carrer de Ciscar, 18, 46005 València, Valencia; +34 960 04 52 79; Monday from 19:00 – 1:00; Wednesday to Saturday from 17:00 – 1:30; Sunday from 19:00 – 00:30; Tuesday closed; Apothekevlc.com
Christopher Lee
Valencia's oldest pub, and one of our personal favourites at Valencia Life. This spot is for the true cocktail connoisseur. Christopher Lee has been open since 1971, so it's another time-travel destination.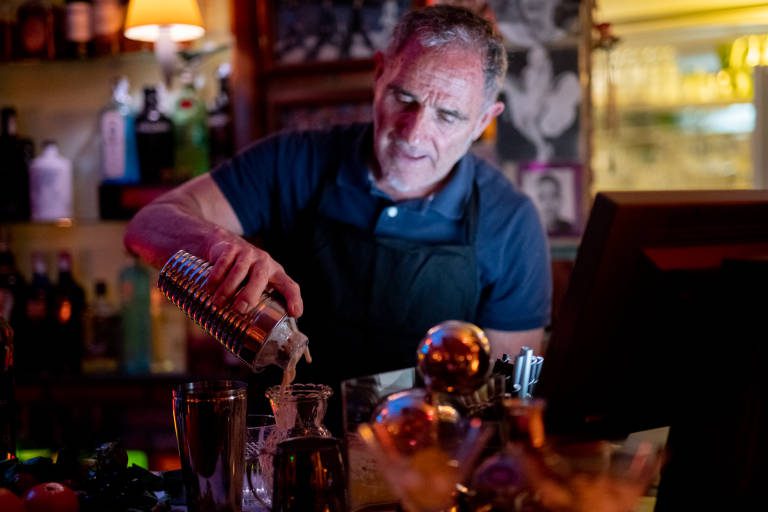 Once inside, you'll find yourself in Hollywood in the '40s and '50s. With a somewhat kitsch aesthetic, this little-known place will have you seriously hooked. Here, you'll be listening to blues and jazz while you sip on master crafted cocktails.
Christopher Lee has been run by the same owners since 1978 and has a charm all its own.
Carrer de Pinzón, 17, 46003 València, Valencia; +34 664 42 22 02; Wednesday to Saturday 19:30 – 1:30; Sunday from 19:00 – 00:30;
Cafe Berlin
One of Ruzafa's more hip locations, Cafe Berlin will have you leaning on the bar with its spectacular cocktails. Reminiscent of Berlin-style bars, here you have great cocktails, and the crowd has style. You'll be among the beautiful people. Makes you look good.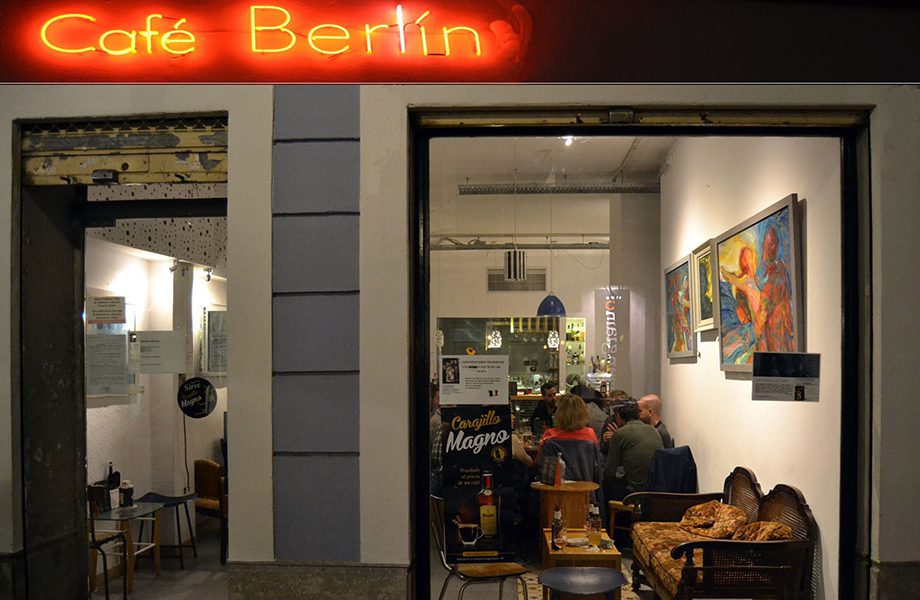 Impress your date with top-shelf cocktail ingredients and a lively atmosphere. This little spot calls the heart of Ruzafa its home, and once here, you've got a variety of choices when it comes to an after-dinner dinner.
Carrer de Cadis, 22-24, 46004 Valècia, Valencia; Monday to Thursday from 18:30 – 1:00; Friday to Saturday from 18:30 – 2:30; also Sunday from 17:00 – 00:00
So that the end of our list of the best cocktail bars in Valencia for a date. Want to treat your date to more than just a cocktail? Then check out the best date restaurants in Ruzafa.