The 36th Goya Awards in Valencia saw Cate Blanchett and Penélope Cruz dazzle while Javier Bardem and 'El Buen Patrón' – The Good Boss – cleaned up. Eugene Costello reports…
At the 36th edition of the Goya Awards, held at the Palau de Les Arts in Valencia, Cate Blanchett and Penélope Cruz led the way in the glamour stakes. But the real winner was El Buen Patrón – The Good Boss – which took home a slew of trophies.
Cruz and Blanchett led the way
The A-listers Cruz and Blanchett led the way in glamour on the red carpet before heading inside for the dinner and awards ceremony. Billed as Spain's Oscars, the Premios Goya is an annual event by Spain's Academia de Cine.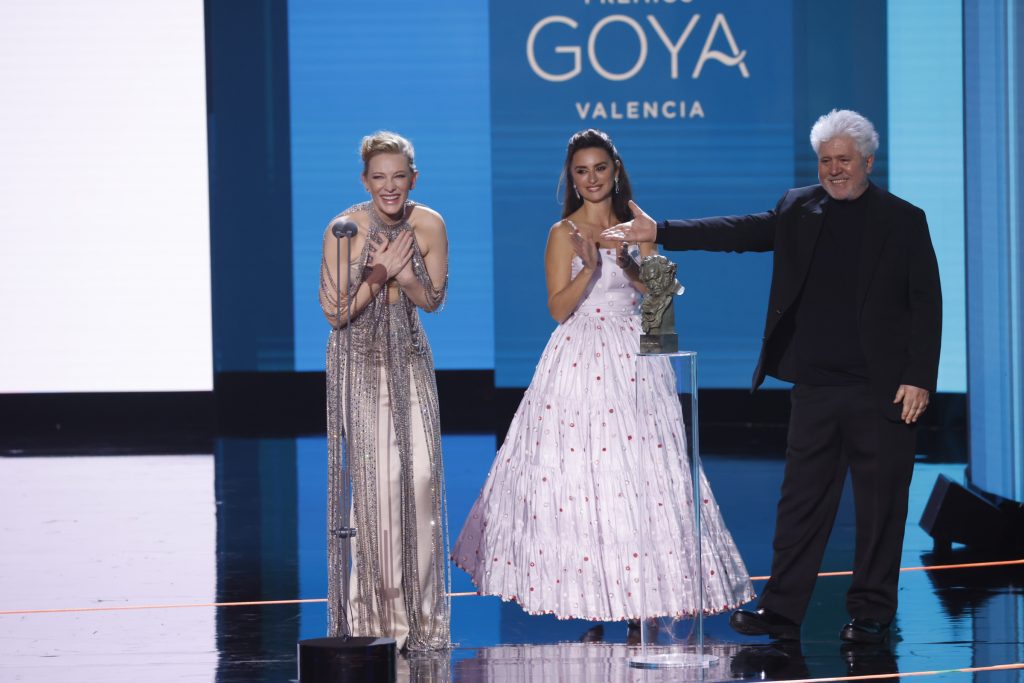 Australian-actress Blanchett, 52, was there to receive the inaugural Goya International Award, both for her acting legacy as well as for her much-lauded humanitarian work.
And Penélope Cruz, 47, born in Alcobendas, Madrid Province, was there both to support husband Javier Bardem. He was attending after being shortlisted for his leading role in El Buen Patrón (The Good Boss). And she was there for her own role in Madres Paralelas (Parallel Mothers) with her long-standing collaborator, director Pedro Almodóvar.
Blanchett wore a metallic beaded top and floor-length skirt combo, with the blouse slit to the navel. Cruz dazzled in a lilac prom-style gown with polka-dot theme, a corset-style bodice that showed off her toned figure. She completed her look with trademark smokey-eye makeup and sparkly, dangling earrings.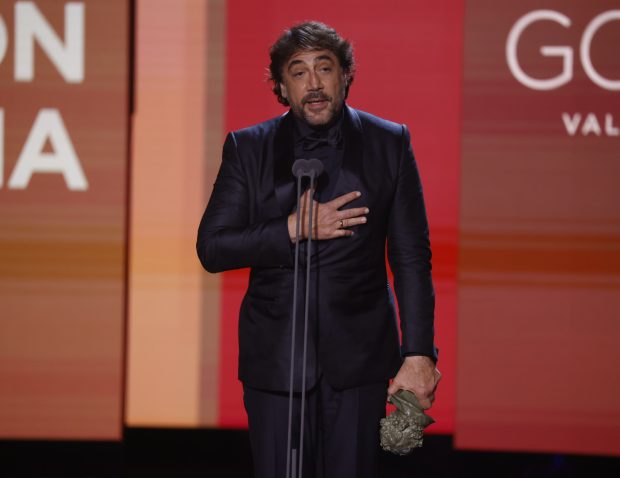 Bardem, 52, typically suave in a black suit and bowtie, was last week hugely diplomatic as to which leading lady he would be "rooting for". Because, in competition for the Best Actress Gong was wife Penélope and his Being The Ricardos co-star Nicole Kidman, 54.
Goya Awards in Valencia: Family Ties
Bardem said: "I think both did a fantastic job but Penélope did something extraordinary because she's nominated for the second time for a role in Spanish—that's really historic.
"Of course, I am rooting for her," Bardem told Deadline.
"And I'm also rooting for Nicole, we had an amazing time working together. So, I'm rooting for Penelope…and then I'm also rooting for Nicole. It makes sense," added Bardem, who was born in Las Palmas de Gran Canaria.
But perhaps Bardem let slip that his real duty lies towards the mother of his children, Leo, 11, and Luna, eight.
"'To speak of my nomination, it's truly an honour and a privilege to be recognized.
"But it's her nomination that brings me the most happiness, as well as us being able to celebrate something so special together.
"If we were normal people, we would do a party. But we're actually quite boring," he added self-deprecatingly.
The Winners at the Goya Awards in Valencia 2022
During the event, it was to be mixed fortunes for the power-pair of Spanish cinema. Firstly, Bardem picked up Best Actor for El Buen Patrón, his seventh Goya gong. Then, it was seventh heaven for director Fernando León de Aranoa, who took home Best Director and Best Original Screenplay.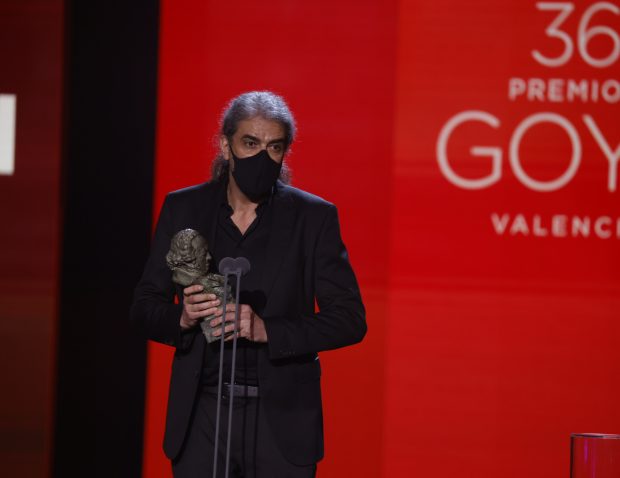 However, wife Penélope lost out for Best Actress. That went to, not Kidman, but Blanca Portillo for Maixabel, for what is a powerful performance in a true story. Portillo plays widow of a Basque Country governor, Juan Mari Jauregui.
In 2000 the retired politician was drinking coffee in a bar near San Sebastian when two men walked up and shot him twice in the back of the head, reported at the time in the Guardian. It provoked huge condemnation save from the political wing of the Basque separatist group. One of the ETA killers wrote to Maixabel 11 years later requesting to meet her. She agreed to do so in a form of restorative justice.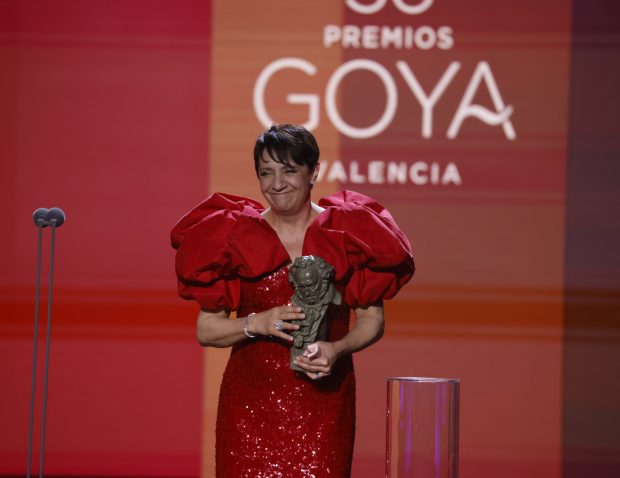 A step towards healing
Her forgiveness, and Portillo's portrayal of her, has touched a huge nerve in Spain. A country that is, after all, less than 50 years into democracy after the Franco fascist dictatorship that still leaves a scar. And with problems around separatism in País Vasco (Basque Country) and Catalunya to this day. In 200 Jauregui was the seventh person that ETA killed.
If this award shows a country coming to terms with its past, that is seen as a step towards healing, commentators have said in Spain.
Spanish cinema is seen as coming into its own and enjoying something of a renaissance, according to film publication Variety.
Says Variety, "The 2022 Spanish Academy awards come after various signs of robustness in Spanish filmmaking," pointing to strong box office takings so far of €3 to €4m each for The Good Boss, Maixabel and Parallel Mothers].
Concludes Variety, "The lineup of upcoming Spanish titles in 2022 suggest that building recognition may not be a flash in the pan."
And the winners are…
BEST FILM
The Good Boss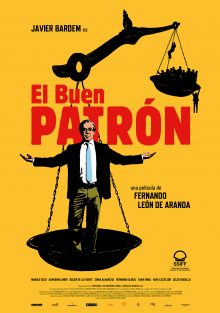 BEST DIRECTOR
Fernando León de Aranoa (The Good Boss)
BEST NEW DIRECTOR
Clara Roquet (Libertad)
BEST ACTRESS
Blanca Portillo (Maixabel)
BEST ACTOR
Javier Bardem (The Good Boss)
BEST SUPPORTING ACTRESS
Nora Navas (Libertad)
BEST SUPPORTING ACTOR
Urko Olazabal (Maixabel)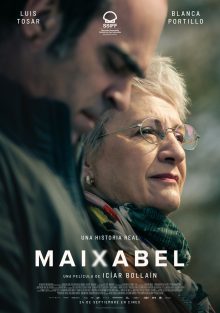 BEST ORIGINAL SCREENPLAY
Fernando León de Aranoa (The Good Boss)
BEST ADAPTED SCREENPLAY
Daniel Monzón y Jorge Guerricaechevarría (The Laws of the Border)
CINEMATOGRAPHY
Kiko de la Rica (Mediterráneo: The Law of the Sea)
BEST ORIGINAL MUSIC
Zeltia Montes (The Good Boss)
BEST ORIGINAL SONG
Te Espera El Mar (María José Llergo for Mediterráneo: The Law of the Sea)
BEST NEW ACTOR
Chechu Salgado (The Laws of the Border)
BEST NEW ACTRESS
María Cerezuela (Maixabel)
INTERNATIONAL GOYA AWARD
Cate Blanchett
BEST ANIMATED FEATURE
Valentina (Chelo Loureiro)
BEST IBERO-AMERICAN FILM
La Cordillera De Los Sueños (Patricio Guzmán, Chile)
BEST EUROPEAN PICTURE
Another Round, (Thomas Vinterberg, Denmark)
BEST DOCUMENTARY
Who's Stopping Us? (Jonás Trueba)
HONORARY GOYA
José Sacristán
BEST LIVE-ACTION SHORT FILM
Verónica Echegui (Tótem Loba)
BEST ANIMATED SHORT FILM
The Monkey (Lorenzo Degl'Innocenti, Xosé Zapata)
BEST DOCUMENTARY SHORT
Mamá (Pablo de la Chica)
BEST EDITING
Vanessa Marimbert (The Good Boss)
BEST PRODUCTION DESIGN
Albert Espel, Kostas Sfakianakis (Mediterráneo: The Law of the Sea)
BEST COSTUME DESIGN
Vinyet Escobar (The Laws of the Border)
BEST ART DIRECTION
Balter Gallart (The Laws of the Border)
BEST SOUND
Daniel Fontrodona, Oriol Tarragó, Marc Bech, Marc Orts (Tres)
BEST MAKEUP AND HAIR DESIGN
Sarai Rodríguez, Benjamín Pérez, Nacho Díaz (The Laws of the Border)
BEST SPECIAL EFFECTS
Pau Costa, Laura Pedro (Way Down)
You can keep up-to-date all with the latest local news in Valencia here.