Valencia Life visited Mercat Central early one morning to learn how fresh produce is brought from Albufera and La Huerta straight for sale. Paul and Dani learnt all about local produce, culture, and history. Why do people even bother with chain grocery stores when we have such a wealth of produce on the doorstep? Daniel Hazelhoff reports, pictures by Paul Knowles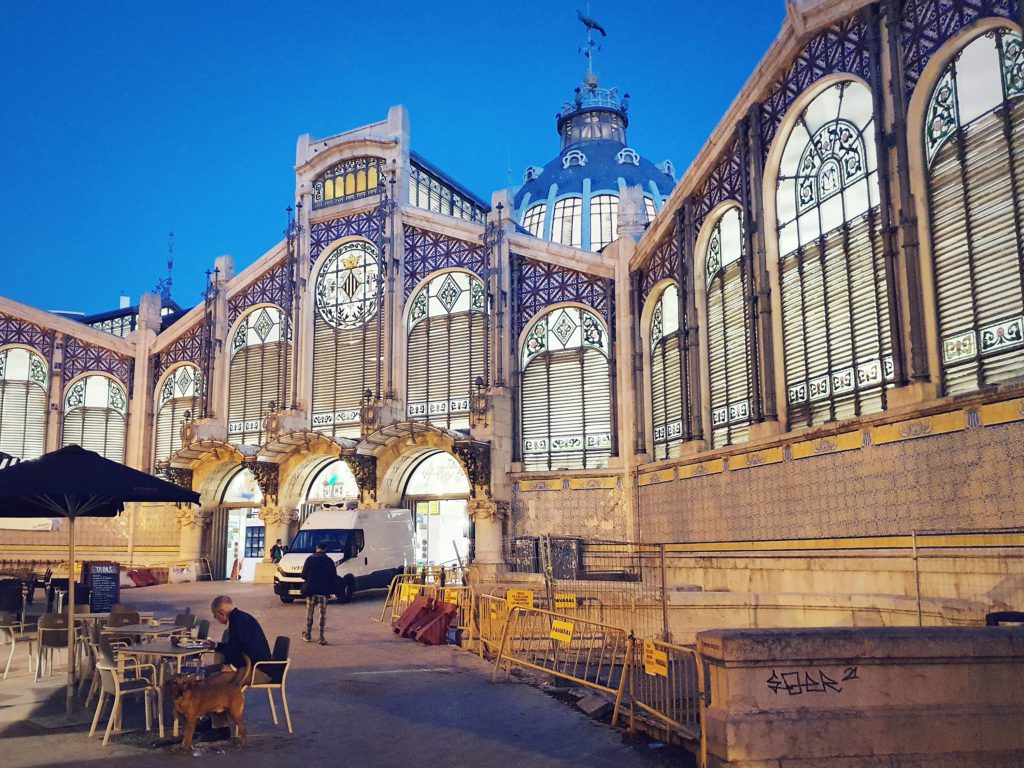 Just before sunrise, I meet up with our photographer, Paul Knowles. We had planned to sample some fresh produce at the largest market in Valencia, Mercat Central, which opened in March 1928 and is one of the primary examples of Valencia's Art Nouveau architecture. Already at the entrance, we can hear the buzz and jocular chatter of stall owners, with virtually no customers roaming about the market just yet. I would recommend you visit the market at around 8:00 am; the vendors are more than happy to talk about their products, each having their own story and history, and all of their attention, at this time, is for you. Few places in our modernising world hold a place for this type of social interaction through purchase, and there's a deeper connection to be had with one's food, and those who purvey it.
Valencia's finest produce all on show
Motivated by our senses, we first followed our noses and found ourselves at one of the many cheese stalls. The salesperson cheerfully spoke to us about the regional cheeses and explained that at the moment, she's out of one of her favourite products, a cheese from Requena. She explained that this cheese had recently sold out at a food festival, and supply was low, due to a low milk yield from the farm. She proceeded to show me an assortment of local cheeses from La Comunidad Valenciana, and explained how their quesos frescos/quesos blancos (fresh cheese) can only be sourced from La Comunitat Valenciana, due to its freshness and short shelf life, Queso Fresco indeed seems an apt name. We were recommended the local brand Catí, as they make both goat and cow cheese varying in strengths and texture. We couldn't pass them up without sampling.
Don't forget the rice vendor at Mercat Central
As we strolled around the awakening market, we saw a stall displaying a vast array of olives. There were of course, different shades of green, but curiously with purples and oranges, too. My curiosity got the better of me and I asked why some types of olives had such different hues. The kind lady at the stall chuckled at me like a teacher to a student who asked an obvious question, as she explained that olives are mostly locally gathered, and indeed, they come in different blacks and greens, but the more extravagant colours came from their seasoning and dressing. A particularly interesting olive was in a curry, giving the olives an orange tincture. 
What would a trip to the Valencian central market be without a visit to the rice vendor? Most of the rice in this stall hails from Valencia, specifically la Albufera, our wetlands and home to the majority of our rice production. She had over ten types of rice, of which only two were not from Valencia. A standout product was definitely the fat, medium grain bomba, typically used for Valencian paella. Thanks to its high starch content and absorption capabilities, it's a grain that captures flavour exceptionally.
From Albufera to La Huerta
Next, we stopped off to talk to a lovely farmer about his Valencian tomatoes, an absolute must. He explained that the Valencian tomato used to be a summer season vegetable, however now they're able to grow it all year around. The sheer size of these things is incredible, and he insists the best way to eat them is to slice them in half, or quarters, salt, and olive oil, nothing more, nothing less. Being an avid radish fan, I was curious about a particular variety he was selling, a longer, thinner type. He explained that he is one of the only farmers in the area still growing these types of radishes, so of course, I had to buy a few bunches…
Still in the realm of La Huerta, we stumble across some recently picked mushrooms. The foraging season is upon us and it shows, with six different types of wild mushrooms still lightly covered in earth standing out from the farm-grown, with their wild shapes, and interesting colours, all locally picked. 
We happen upon a snail vendor, Juan. He explains very clearly that one of the only commercially bred snails is El Moro. Most other snails are painstakingly picked by hand, with the Valencian favourite being La Xoneta. El Moro being the most popular snail in Spain as a whole. As difficult as hand picking snails sounds, Juan assured me it can be rather lucrative. 
Going to Central Market is a ritual
I remember reading an article recently, stating that some Egyptian oranges were being sold as Valencian oranges. So spotting a fresh orange and mandarin stall I asked the seller about the situation. She expressed the pain she feels, as a local grower and vendor, however, she has a trick up her sleeve. Oranges and mandarins come with the stem and leaves still intact, she says. I ask why. 
"Because this is proof of freshness!" she says. "If the leaves are not dry and still green, they must have been picked recently. If not the leaves fall off and the stem grows dry, and the lie becomes evident," she asserts. The vendor stood in front of a sign, with a sort of poem written on it, detailing the experience that is the market:
"Going to the market is a ritual, let the products of the day tempt you. You're here to talk about your woes, in the hours of light…" 
It is a fitting prayer to welcome worshippers to this great art-deco cathedral of fresh produce. If you live in central Valencia, make sure you adapt your shopping customs to buy fresh produce, locally sourced. Don't let Mercat Central go the way of Mercat de Colón or even Spitalfields and Covent Garden in London. A sanitised experience aimed at tourists. Mercat Central is still the real deal. Fill yer boots…