This week, 'Valencia Life' published an interview with Natalya Solonynka of Ruzafa's Liverpool Bar, about her mission to help the war-ravaged in her homeland of Ukraine. Now, as Valencia welcomes refugees, she is personally taking them in, and urges others to do the same. Eugene Costello went to meet Vika and her children to hear reports from the frontline…
Late at night two nights ago, I received a WhatsApp from Natalya Solonynka, a Ukrainian. Along with her husband Amadeo Garcia, she runs Liverpool Bar in Ruzafa. They are doing what they can to help the people of Ukraine in their hour of ghastly need. They do so by collecting parcels and emergency supplies to be trucked to her homeland.
This, though, was more urgent.
Natalya told me she had taken in a Ukrainian refugee and her two children.
Would I come and meet them the following afternoon to hear their story?
I, naturally, agreed.
Tales from the frontline in East Ukraine
So I headed up to Aqua shopping centre, along with Valencia Life's photographer, the following afternoon, a sunny spring day. We arranged to meet by the play area downstairs. When we arrived, they were in a clothes shop. Natalya was buying essentials for the kids.
Says Natalya, "They are in the clothes they arrived in – the least I can do is buy them clothes so they can be comfortable."
She introduced me to Vika, a woman of 35, with her two children, Zlata, ten, and Nazar, about to be four.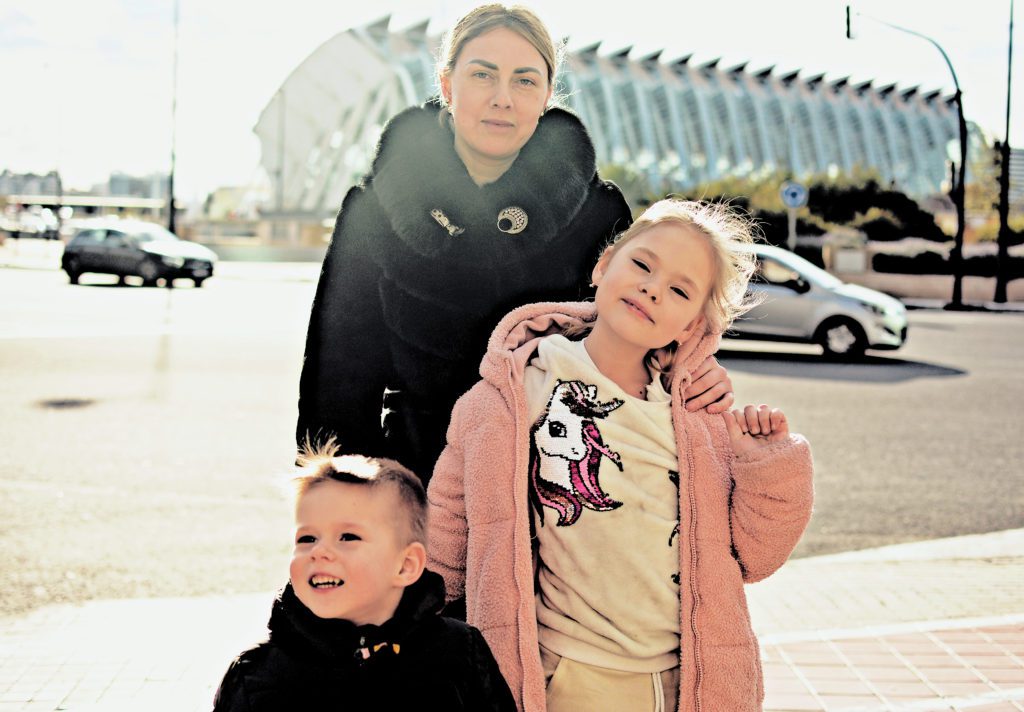 We sat and chatted on a bench while the kids played. Natalya acted as translator.
I asked Vika how she had reached Valencia
"My journey here was very difficult," she tells me. "The trains were full, people were sleeping on the floor, even by the toilets.
"It was very difficult, there was a a lot of destruction. We waited for two hours, near Kyiv, before this train there was an empty train, but it was in danger of being bombed.
"There was no light, or electricity, we had to keep hidden, in fear of Russian plane bombings. In many cases the planes bombed the trains. We waited in Vila Cherpa, (white church). In my family, we speak mainly Russian.
Russian lies exposed by the people Putin claims to be helping
I suggest, Putin says he's helping Russian people
She snorts. "Russian people are in Russia, we are Ukrainian. I feel 100% Ukrainian, even though we are ethnically Russian."
I say, but Putin and the Kremlin are telling [Ukraine president Volodomir] Zelensky that Donetsk and Luhansk should become a separate region, and he wants them to change the constitution to ensure that Ukraine will always remain neutral.
Vika winces and looks sad. She eventually says, "I only have bad words to say about the Russian government, and I don't want to say them.
"Putin came to our country and destroyed everything – our lives, our land and our future. I was happy in Ukraine, I didn't want to move. I was happy with my children, and my husband, but he has destroyed everything.
"Everybody in Ukraine hates him and wishes death upon him. I have two children and raised them in Ukraine. They play music, and sports, and then the quarantine hit, and now this.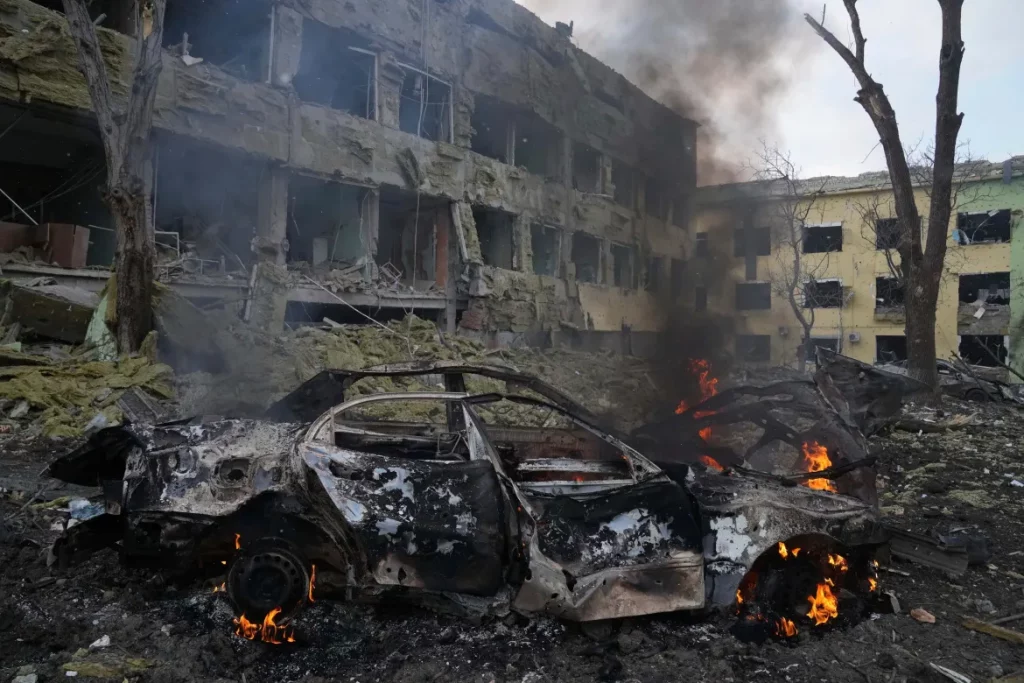 Valencia welcomes refugees
"My daughter's name is Zlata ten, and my son is Nazar, almost four. My husband is in Ukraine, working. He's a miner. I have three brothers, and they are fighting. My husband is working because we need money.
"My town is Pokrovsk, it's a small town. Two days after I left, two bombs hit very close to my house. And now the towns and cities have been bombed. They even drop small bombs disguised as toys. They found 89 small bombs like toys in my town."
I ask Vika if she is the ethnic Russian that Putin claims he has come in to protects.
She laughs mirthlessly.
"Yes, yes. Everybody speaks Russian in this town, and even have family in Russia."
I ask when she left and how she ended up in Valencia.
She replies matter-of-factly, as though she were discussing a holiday rather than escape from a war-ravaged hellscape.
"We left 28 February," says Vika.
On the way, she tells me, she met a woman in France who has many friends in Spain and other countries, so they came to Spain together.
"In France, the whole organisation was horrible, really brutal conditions, no food, nothing," she says sadly.
"The volunteers here in Spain were very kind, and they also provided food and shelter, they looked after us. I took a train from Donetsk to Poland, and then from Poland, we took buses to Berlin, to France, and from there into Spain. Plast Ucrania has helped many Ukrainians find refuge during these trying times," she tells me.
Fears for those left behind
I ask whether she has fear for her fellow countrymen?
She seems tearful for a moment.
"Yes," she says, "I worry about my husband and my brothers. And my brothers are so young, and they're fighting.
I ask, what are her wishes or views on what she would like to see as the outcome of this situation?
Without hesitation, she tells me: "I want Ukraine to join the European Union, so the EU can help repair damages, and build Ukraine back up, and to the standard of other European countries".
And so, I ask, if you could ask European leaders anything, what would you ask?
She levels her gaze in my eyes and says, unflinchingly: "Close the sky."
I ask Natalya, how did she find out that Vika needed a home?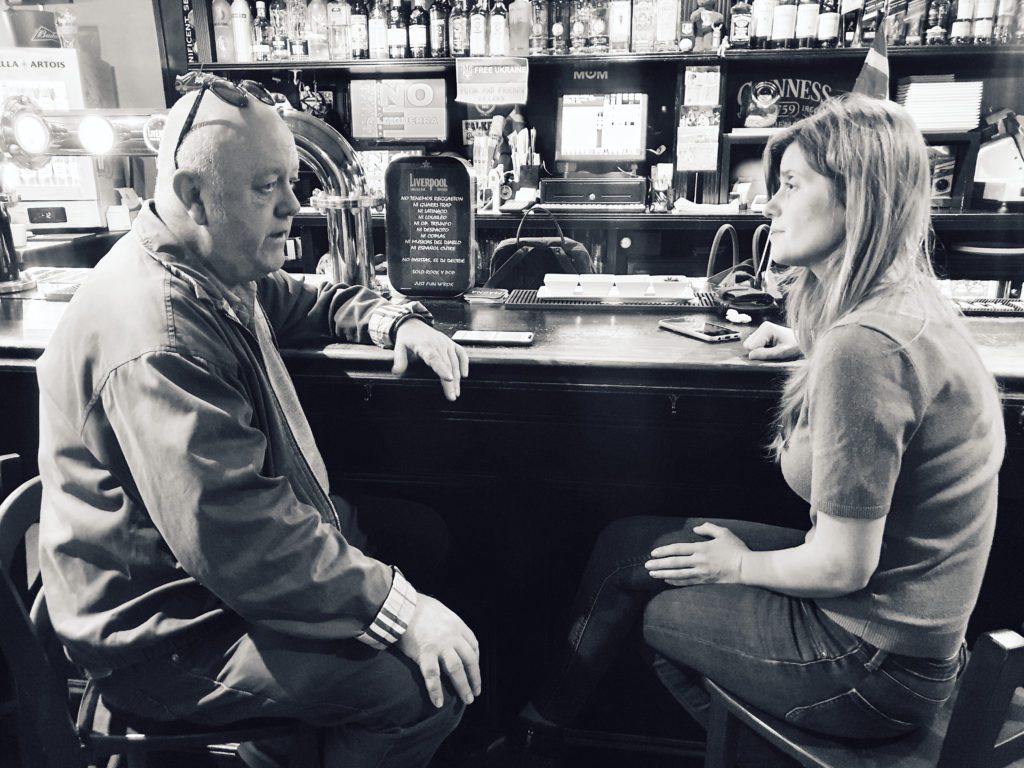 She tells me, "Yesterday I was in the Plast Ucrania organisation (the Ukrainian Scouts' Association), bringing medical supplies, and there was a man," she says.
"We started to talk about flats. He asked if I knew of any places for refugees for a few nights. I knew my neighbours who are Ukrainian, so I called her, and she agreed.
"But Vika and the children arrived very late, so we took them in instead. They looked so tired, we decided to have them with us. Soon they will have another place to stay.
Many people are looking for places
Natalya, I ask. For our readers, what message do you have?
She is emotional and presses her hands together in a praying gesture: "If you have a spare room, or a flat, or a house, any space, many people would be very thankful for your kindness.
"Many people are looking for places, some people can pay, but many can not. Juntos por la Vida is helping out as well as Plast, contact any of these associations if you have any room or spaces."
We emerge to take photos.
Then I say to Natalya, now one with you.
She bristles and says, "No, please no.
"This is about helping my people. If I take a photo, people will say, she is only doing this to promote her business.
"This is not true.
"I do this because this is bloody, barbaric war. And it is on our doorstep…"
• If you can help, please contact Liverpool Bar for parcels or if you can help with accommodation, please also contact Liverpool Bar for contact details
Keep up to to day with the latest Valencia news HERE.