The Menú del Día is almost sacred in Valencia – typically, three courses with bread, wine and coffee for around the €10 mark. This week, Eugene Costello and colleagues visit the hugely popular La Masía in Ruzafa. Photographs by Paul Knowles...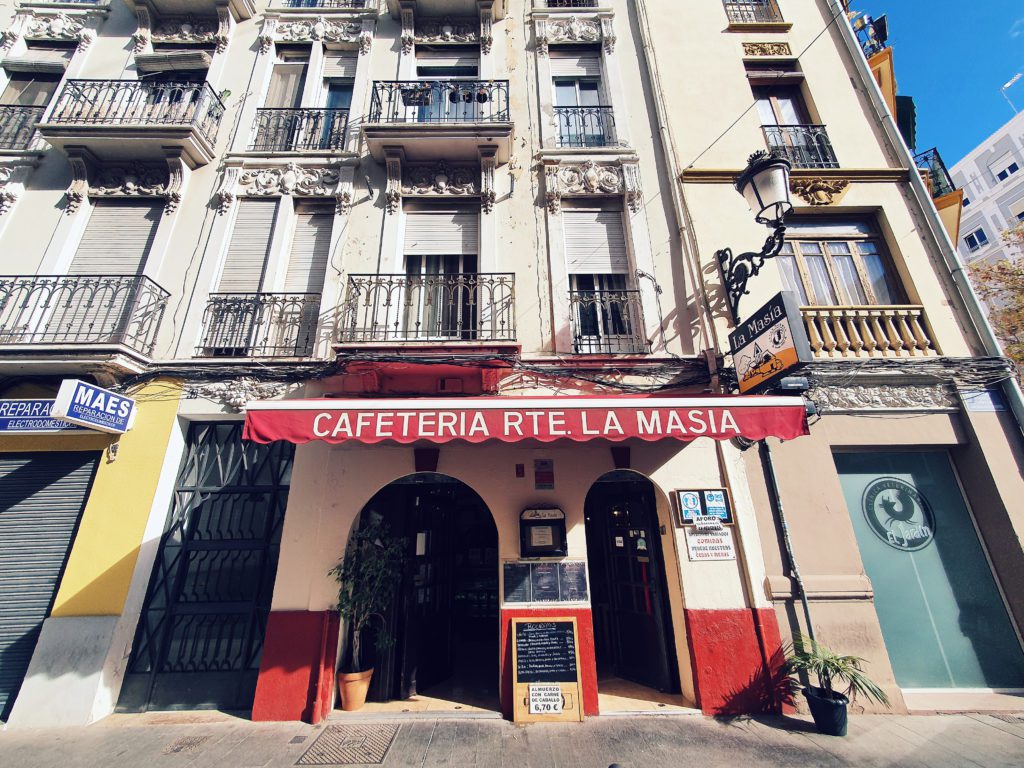 Among the many unalloyed pleasures of life in "the best city in the world for expats" (© Internations City Ranking 2020, out of 66 cities surveyed), the ubiquitous menú del día deserves a special mention.
It's a simple enough proposition. Starter, main and dessert, plus bread, wine and coffee for around €10. That's eight and a half quid to you, guv – a pint in some London pubs, or half a pack of fags. Never. Going. Back. But I digress…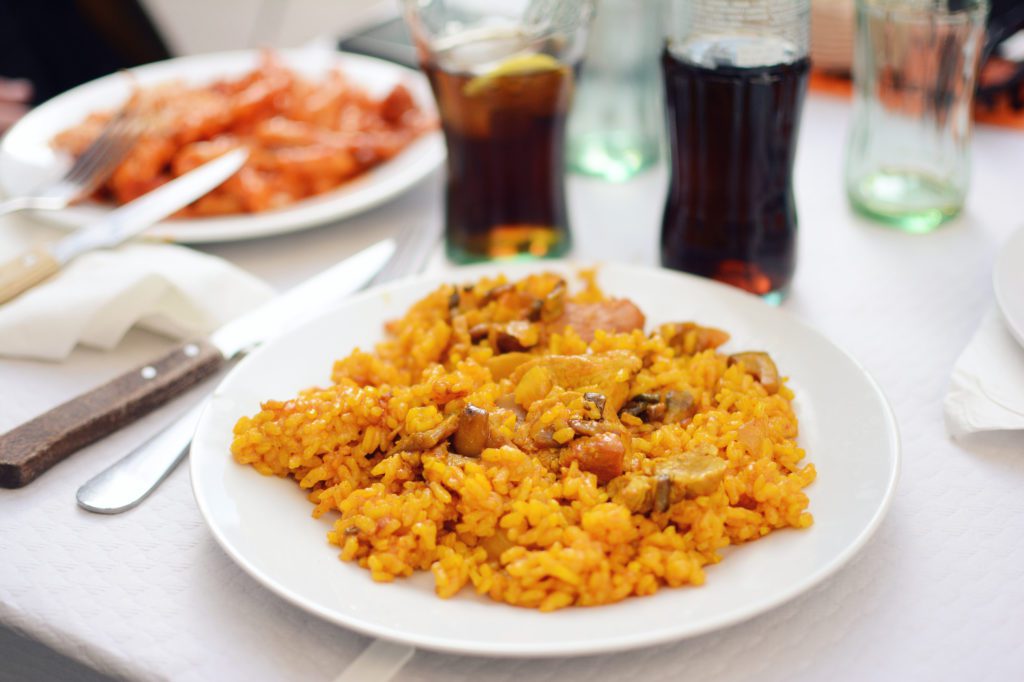 In my neck of the woods in Ruzafa, on a busy corner with a double terrace and around a dozen tables is La Masía. Valencia Life photographer and sports editor Paul Knowles tells me that La Masía is short for La Masia de Can Planes, the name of Barcelona FC's youth academy, responsible for such galácticos as Lionel Messi, Iniesta and Xavi over the years. I am initially sceptical, but sure enough, hanging in pride of place behind the bar, is a Barca pennant; it seems the old curmudgeon was right. Then again, even a stopped clock is right twice a day…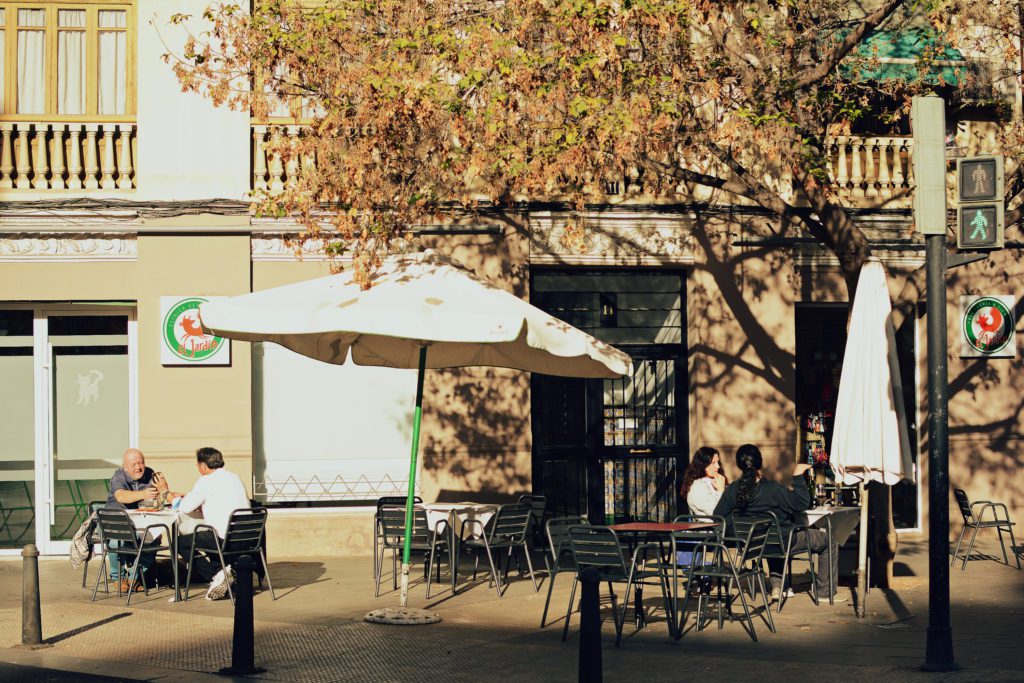 Anyway, back to the lunch. A glorious sun-dappled corner of Calle de Matias Perelló and Calle del Pintor Salvador Abril – by the way, I am thinking of becoming a pintor, a doctor or a maestro to ramp up my chances of having a street named after me in Valencia – the sun emerged from the modernist finca opposite to beam down upon the very table that owner Toni Sanchez had reserved for us. Heavenly.
Incredibly, a middle-aged couple at the next table complained at this unwelcome intrusion so Laura, the friendly young waitress, toddled off to fetch an enormous parasol to protect them from the savage rays of the mid-November sun. The sun can come as close to Earth as 146 million kms in January, an event known as perihelion so I expect they are getting in practice for this dangerous period. Lovely people, the Valencians, but I fear I shall always be an outsider.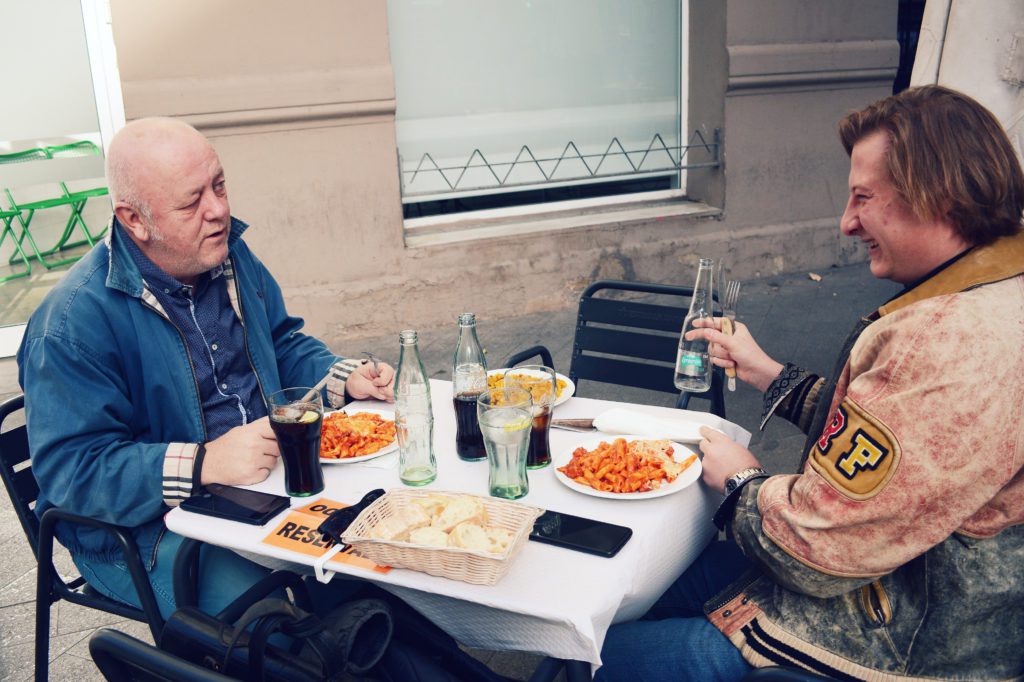 And so to the food
Paul plumped for paella with pork and mushrooms, while writer Dani – on Toni's recommendation – went for homemade macaroni with chorizo and ham, as did I. A basket of fresh bread and our drinks arrived, then the food a blink of an eye later.
The macaroni was delicious – soft and with generous slices of ham and chorizo, and all in a wonderfully tangy and cheesy tomato sauce. Paul's paella, he said, was rich with depth of mushroom flavours, the perfect autumnal dish, despite the fact we were basking in short-sleeved shirts.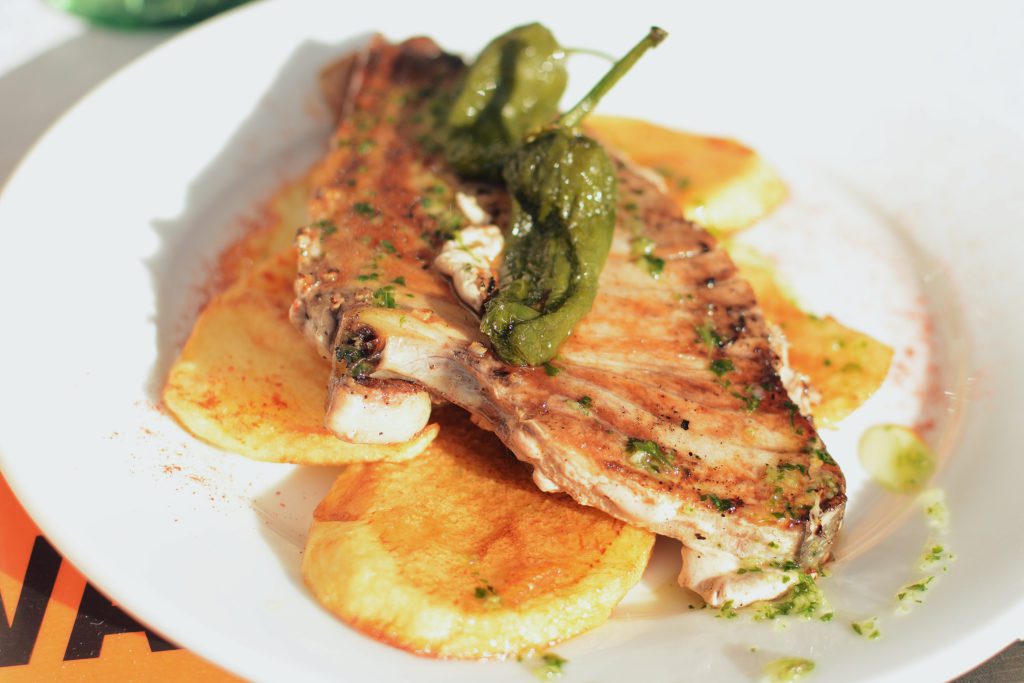 Now, menú del día is an event as much aimed at workers as at the retired and tourists, so service is quick, the Spanish are usually in a rush since they only take a miserly three hours for lunch and have to squeeze in a nap as well. So almost as soon as they whisked away the starter plates, Toni himself returned with our mains. Paul chose secreto ibérico in a roquefort sauce and La Masía's signature crispy sautéed potatoes. As most readers who already live here will know, "secreto" is one of the most popular cuts of pork, between the shoulder and loin, an especially tender, succulent and juicy cut that is on every supermarket meat counter and in all the markets so as for being a "secreto", it's about as secret as the fact that Santa may be an invention harnessed by the Coca Cola company.
Dani went for bistec de ternera – a minute steak garnished with pimientos de Padrón and I had atún a la plancha. A deft touch – pimientos de Padrón are standout. Named after a town in A Coruña, Galicia, they are usually mild but every so often one finds one that is piccante, giving rise to the phrase Os pementos de Padrón, uns pican e outros non (Padrón peppers – some are hot, others not).
Now, this is a neighbourhood bistro that exists only for breakfast and lunch – the Spanish equivalent of a London workers' caff – so you eat what you are given and in the way the chef chooses to cook it.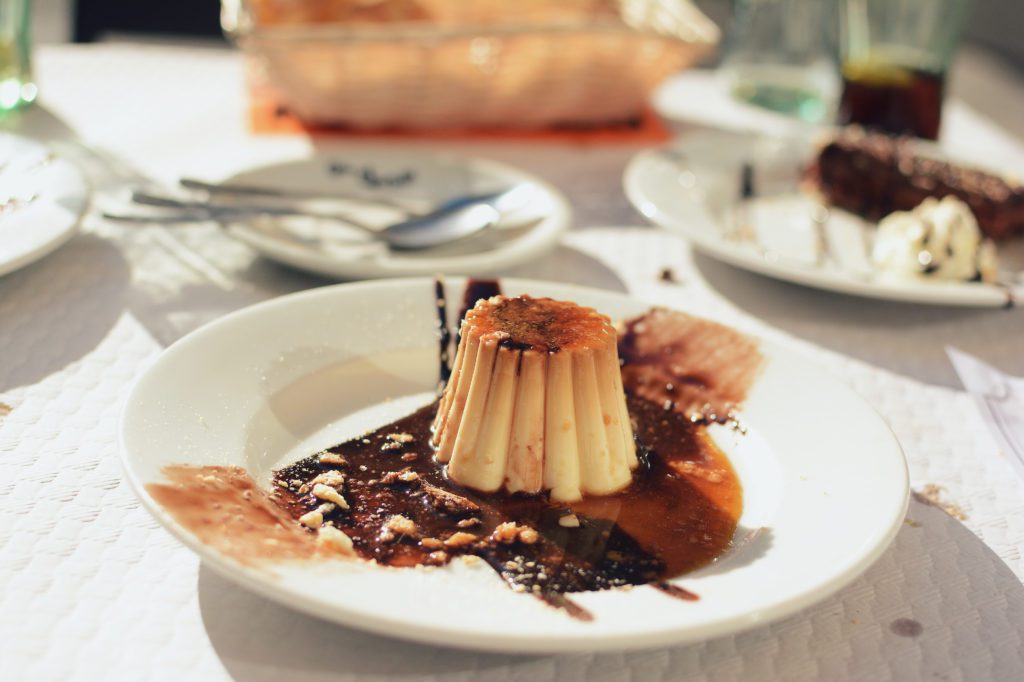 If you are fussy about wanting your main to be rare, for instance, that is a negotiation you need to have before you order because they are cooking for up to 30 people at the same time. So while I would have preferred my tuna to be lightly seared rather than well done, I should have stressed that before even ordering, and it was a good, filling plate. Did I already mention the crispy sautéed potatoes?

Desserts were wide and with a fantastic range of choices. We went for chocolate cake with chantilly cream on the side, homemade caramel ice cream and panna cotta in a chocolate and cherry sauce.
The tarta de chocolate was a substantial slice, and the cream was a welcome counterpoint to the weight of the cake. But for me, the caramel ice cream was a showstopper, simple and with great nutty depth. And the panna cotta was perfect – wobbly and custardy, and fresh as a cucumber.
Throw in coffees and complimentary whiskies, brought in person by the genial host, Toni, who sat down with us, and you'll be ready for your siesta.
Valencia Local Hero: Toni Sanchez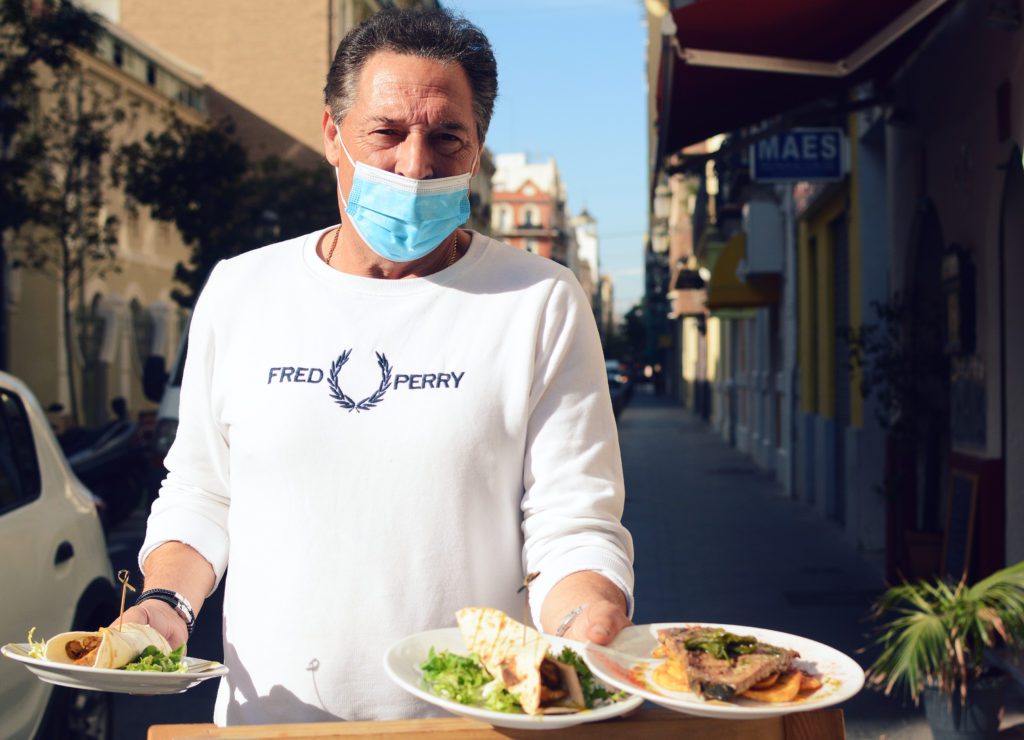 A charming and perennially youthful 57, Toni has a marvellous head of black hair, and could always audition for a part as an extra in The Sopranos, aided by his gold necklace.
He grew up in the countryside in Villanueva del Arzobispo, in Jaén province, Andalucia. "It calls itself a city but in reality, it is a village," he says. Wikipedia supports him on this – at the last census this "city" [sic] had only 8,924 inhabitants.
It was life up in the mountains, and Toni he tells me that his dad worked in the region's primary product, growing olives – "it was a tough life," he says. He came to Valencia 23 years ago with his wife, and they set up La Masía as a family bistro. Now separated, La Masía retains the feel and ambience of a family enterprise, and with Laura and Maria José, the three appear more like siblings than a boss and employees.
Has he travelled much, I ask? He laughs, and says, "Where I am from is a nine-hour drive, I have been to Mallorca, Menorca and Mexico, and when I get there, there are beaches and hotels that all seem identical. I once went to Prague and I paid €8 for a single beer!
"We have the perfect climate here in Valencia, we have beaches and, look, we are sitting in short-sleeved shirts in the sun as we approach December. Why do I need to go anywhere?"
He seems content with his lot, I say, and he laughs.
"Of course! Why would I not be? Look, we close every day at 5pm, we open on Friday and Saturday evenings but we have Sundays and holidays off and for me life is good. I worked hard to get to this point but now it is time to reap the rewards – we are full most days and there is no stress in life.
"Why would I want to travel when we have it all here?", he asks rhetorically.
It's a fair question, Toni, and one that speaks for all of us who have chosen to make Valencia our home.
Menú del día, €9.90 for three courses, including bread, wine, dessert and coffee; La Masía, Carrer del Pintor Salvador Abril, 43, 46005 València, Valencia; +34 665 83 16 85; 8am–5pm daily, also 8–11:30pm Fridays and Saturdays, closed Sundays and public holidays, reservation advisable; mention 'Valencia Life' when booking for a drink on the house per person
You can also find them on TripAdvisor and Instagram
Do you know of a great neighbourhood restaurant with a menú del día that you think we should publicise? Tell us in the comments field below or email eugenecostellojourno@gmail.com

Previous reviews: Vlue Arribar, La Marina and Las Bodegas, Chulilla