Valencia Life – the podcast came into being over the past three months. We aim to focus on people who are doing their utmost to improve the quality of life for extranjeros in Valencia, and next week will record number 10, the final of Season One. By Eugene Costello
Back in September, my good friend Lily Chen came to me with an idea. "Euge," she said. "Have you ever thought about doing a podcast?
I confessed that I hadn't but Lily doesn't take no for an answer lightly. Her work rate is phenomenal, and she convinced me to give it a go.
Valencia Life: the podcast was born, largely through her efforts and vision.
You can hear the full series here on Spotify or here on Apple.
The pilot is a free-ranging chat between me and Lily as to why we chose Valencia. Or more likely, why Valencia chose us. We discuss Parque Central, Ruzafa, the history of the Turia, the City of Arts and Sciences, local boy Santiago Calatrava's futuristic masterpiece, and Caixa Forum's bold adaption of Calatrava's Agora, before now largely unused…
Meeting a literary weaver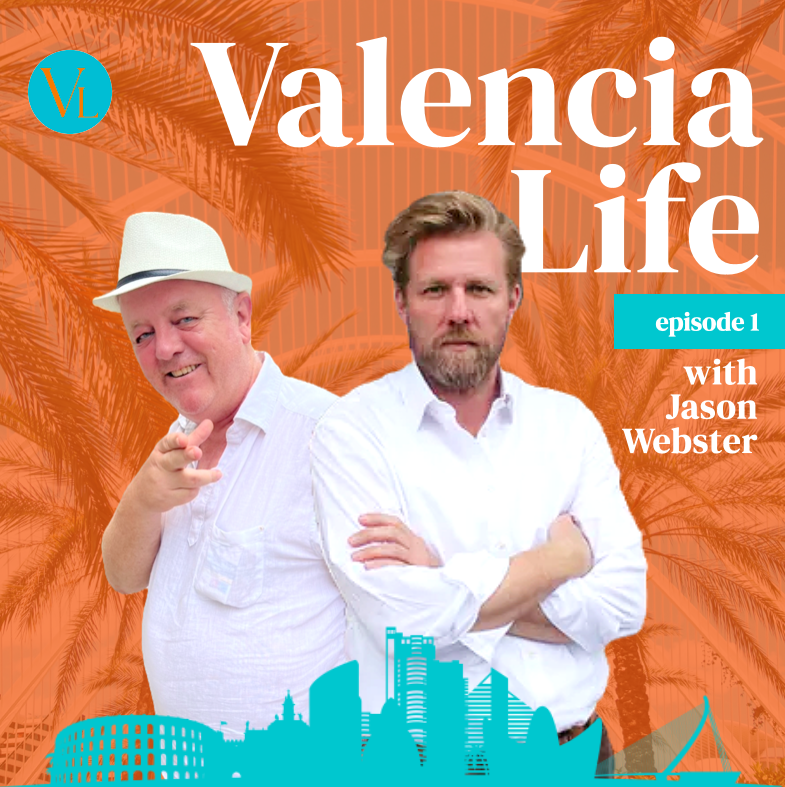 For our second show, we interviewed Jason Webster, the English author who made Ruzafa his home. He wrote the series of detective thrillers whose hero was the non-conformist dope smoking Max Cámara. What a wealth of stories he had! Jason has written 15 books – most recently, Duende, released last month. It is, he says, "an anthology that tries to capture the elixir that is the soul of flamenco", be it through poetry, lyrics or essays.
Jason is also the man who put Ruzafa, and Valencia, on the literary map, not least through his Max Cámara detective novels. It is what I call 'Med Noir', and I am now working his way through them. Find out how the story of his finca almost collapsing under the groaning strain of human waste that had not been connected to the sewerage became a reality for poor Cámara, and how it was common during the financial crisis for people to commit suicide by jumping off the top of tall buildings!
Fittingly, in England, in the Middle Ages, 'webster' meant 'weaver'. And he really is a weaver – of locale, of character and of plot. Funny, engaging and erudite, he nonetheless wears his erudition lightly. Listen to the interview – and order his books! We also published an article based on the interview that you can read here…
Our third guest was local legend Jonathan Cherry. Jonathan moved to Valencia in July 2019. He has developed a successful business training people to achieve fitness and live their best lives. He talks to me, a fellow Londoner, about why he hasn't been back to London, what he wishes he knew before he pitched up here – and he patiently pretends to laugh at Eugene's wince-inducing jokes. What a legend the geezer.
Number four came in the form of Lodewijk Cuypers, aka Ludo, from relocation specialists Globexs. Ludo first moved to Valencia 18 years ago, to Ruzafa. Says Ludo, "Now it is very fancy, with bars and restaurants, but back then Calle Cuba, Calle Denia and so on were dreadful, no-go zones." He adds, "I am not sure that Spain is the best country for foreigners to live and to work, but what I can say with absolute certainty is that, within Spain, Valencia is definitely the best city in which to live."
He should know – originally from Ghent, he has lived in Pais Vasco (Bilbao), Madrid, and knows Barcelona and Seville very well. Together with wife Tiscar, a residency and property lawyer, they run Globexs, with Ludo focusing on the property rental size.He tells us how enormously the city has changed in his time – "back then, Peris I Valero was basically a dirty, fume-filled motorway and there were no cycle lanes. Now the city has cycle lanes everywhere, making it a huge attraction especially to the Dutch and Belgians."
He concludes: "Valencia is very welcoming to foreigners, and there is zero racism."
Meeting Onda FC supremo Pim Hollander
For or fifth, we chatted to 27-year-old Dutch national Pim Hollander – technically, my oldest friend in Valencia, having met him on the first day of my new life here – who told us about his new venture:
ONDA F.C., a web app that allows members to train, play matches and take part in organised tournaments. He talks about witnessing Eugene's welcome to Valencia – a punch in the face from an elderly neighbour, the Dutch invasion of Valencia and those "bloody cyclists" from Holland, and wanting to spend more time with his partner Louise. He also describes the mushroom-like explosion of call centres in Valencia for Dutch companies, where employees are required to pretend they are back in the Low Country.
Our sixth guest was Murat Mumcuoglu, from Adana, eastern Turkey and, later, Istanbul. He moved to Valencia in 2019 to work for a company that builds waterparks – but then discovered Spanish wines. In fact, he became an influential blogger about Spanish wines in Turkey. His daughter was at the same school as Producer Lily's little girl – and he and his wife are renowned gourmands. Now his passion is to bring beloved Spanish wines from small producers to new markets…
Lucky Seven came in the form of the legend that is Jennifer Powers. When Jennifer Powers – aka Hurricane Jennifer – swept into the studio at Wayco as a guest on the Valencia Life podcast, we were not prepared for this high-energy powerball! Half an hour of hilarity ensued, perhaps our favourite podcast yet! We spoke to Jen about her plans to put on an event called Valencia Has Talent, through her company Intermission VLC, encouraging all kinds of performers to get involved. It was an amazing night, and was open to the public!
Meeting Visit Valencia in person
For number eight, we were privileged to chat to Visit Valencia's brand and markets director, Miguel Perez. A born- and bred-Valenciano, Miguel Perez has his dream job. Promoting his city to incomers and visitors. We chat to him about the astonishing slew of accolades that Valencia has received this year – they just keep coming – and he talks to us about what wonders Valencia has for residents and tourists over the Christmas period. He started out in sales, including furniture, but now sells the thing that is closest to his heart. Valencia. And after 14 years with Visit Valencia, he knows what he is talking about!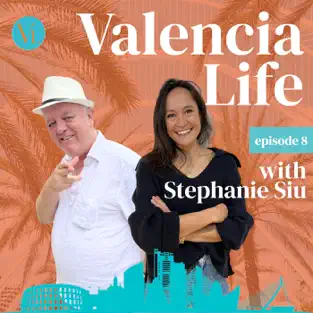 Number nine was the effortlessly chic and stylish Stephanie Siu. Stephanie is a serial digital nomad. She has lived in Scotland, London, New York and now Valencia! With her Spanish sister-in-law who is a lawyer, they run boutique relocation consultancy Encantada World. It's a fitting name — not only does Valencia "encanta" Stephanie, Stephanie in person is una encantadora…
And next week, we shall unveil which guest will be our season's finale!

• You can hear the full series here on Spotify or here on Apple…