Two Spanish-language summer camps will take place in Alicante this summer, aimed at ages 11 to 17, and from basic to advanced. A perfect opportunity to turbo-boost your teenagers' Spanish in an intensive, immersive and fun environment. By Eugene Costello
Two Spanish-language summer camps will take place near Alicante this summer, aimed at ages 11 to 17, from basic Spanish to advanced. Under the expert tuition of highly qualified native Spaniards with broad experience of teaching both in English and Spanish, teenagers will be able to maximise their confidence and ability in Spanish.
And if you don't have children, no pasa nada, the courses are also easily adapted to adult learners. More about the adult programmes below!
These residential courses will take place at the college Salesianos El Campello, and come with twin or three-bed rooms with en-suite facilities. The college is at El Campello, in a large college with communal areas and classrooms. However, most lessons will take place outside within the college grounds in roped-off clearings in pine woods with stone benches. Idyllic. Classrooms are for the rare day of poor weather.
Teacher Maria Cuesta explains. "We are focused on helping young people acquire the tools they need for real-life situations. Last year, we would take them to a local cafeteria and encourage them to order their own churros con chocolate o horchata. And we take different topics such as ordering in restaurants or about the environment.
"And we take them down to the beach to play volleyball and have fun, the emphasis is on fun, above all. And with the trees and ardillas – squirrels – and pajaros – birds – there are plenty of stimulations for learning.
"The only time we really use the classrooms is when we need to focus on specific areas such as the subjunctive."
Other fun activities for the afternoons and evenings include bowling, swimming and karaoke.
This residential camp options also includes in the price day trips and excursions to the castle, snorkelling and the beautiful island of La Tabarca. It even includes an outing to an escape room one afternoon. For those who are interested, the course can be expanded to include filmmaking with a local media company to immerse them in the world of filmmaking.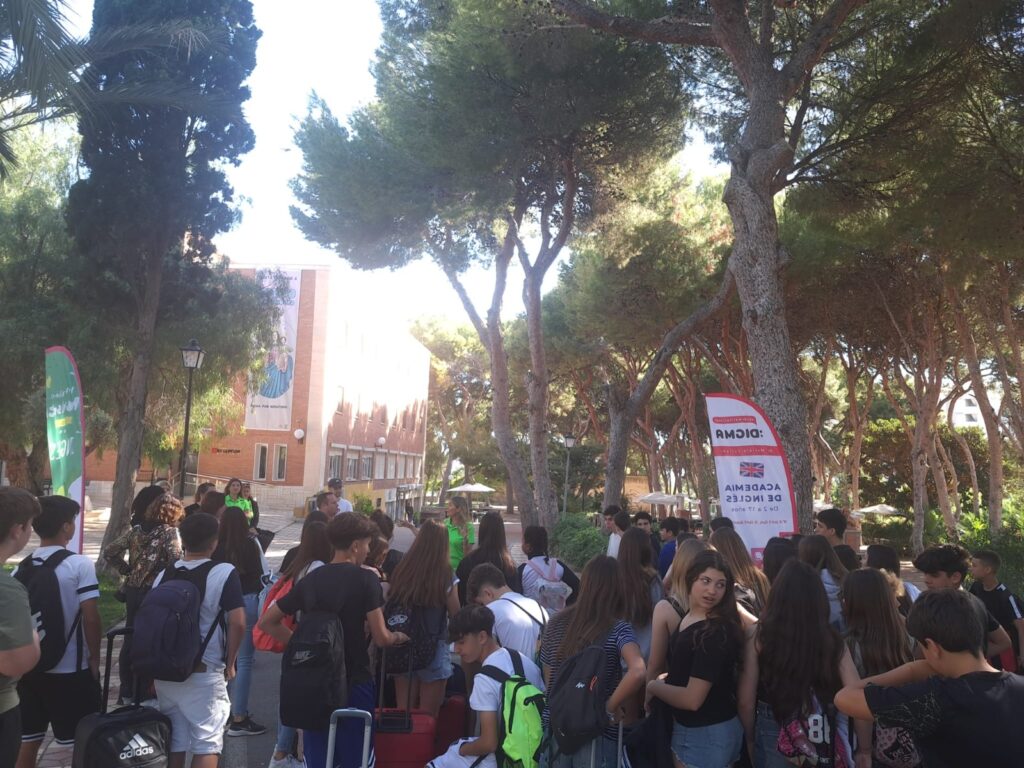 The programme offers 20 hours of tuition per week, and close by is a tram stop that will take you (or your children) straight to Lucheros in the heart of Alicante, a 20-minute tram ride. Alternatively, there is a Metro stop called Salesianos offering an alternative route. And of course there is a beautiful beach at El Campello. A few minutes further walking will bring you to the enormous long sandy beach at Muchavista.
Classes are from 9am to 2pm, and each group has a team leader who will be dedicated to looking after your kids. At 2pm, they have the choice of having lunch on-site for an extra 42€ per week, or they have the option of going into town with a team leader to explore the sites and museums, for which Alicante is rightly famed.
Food is freshly cooked and authentically Spanish. Think lentils, chorizo, albóndigas and paella. The local cooks are kind and will cook pizza for those who turn their nose up at traditional food.
And adults who wish to kickstart their Spanish can take advantage of similar arrangements in a separate block or can stay in hotels nearby, arranged by the team.
For teenagers, though, this is a fabulous opportunity to learn to be confident in Spanish and to have a truly enjoyable summer camp experience.
• The camps will run from 2-15 July and from 22 July to 5 August, priced at 950€ per week, all inclusive. For more details, email international@digma.es or call +34 965 123 774; more information at https://www.digma-international.es/