Connect Hub is a fantastic new resource aimed primarily at young people aged 16+, typically children of expats following the national curriculum of their home country but wanting to amplify their experience in a co-education environment. It also seeks to be a coworking space for digital nomads needing a hub. Its tagline is Life. Boldly Reimagined. And it promises to do exactly what is says on the tin, says Eugene Costello
Between the l'Amistat and Ayora areas of Valencia, and close to the student area of Blasco Ibañez, an exciting new project is taking shape. This is the space called Connect Hub. A new co-working and co-educating space in Valencia. Valencia Life visited to find out more.
It is a large, well-appointed place with numerous offices (some of which are available for private companies to rent), study rooms , breakout spaces, a kitchen and a chillout area.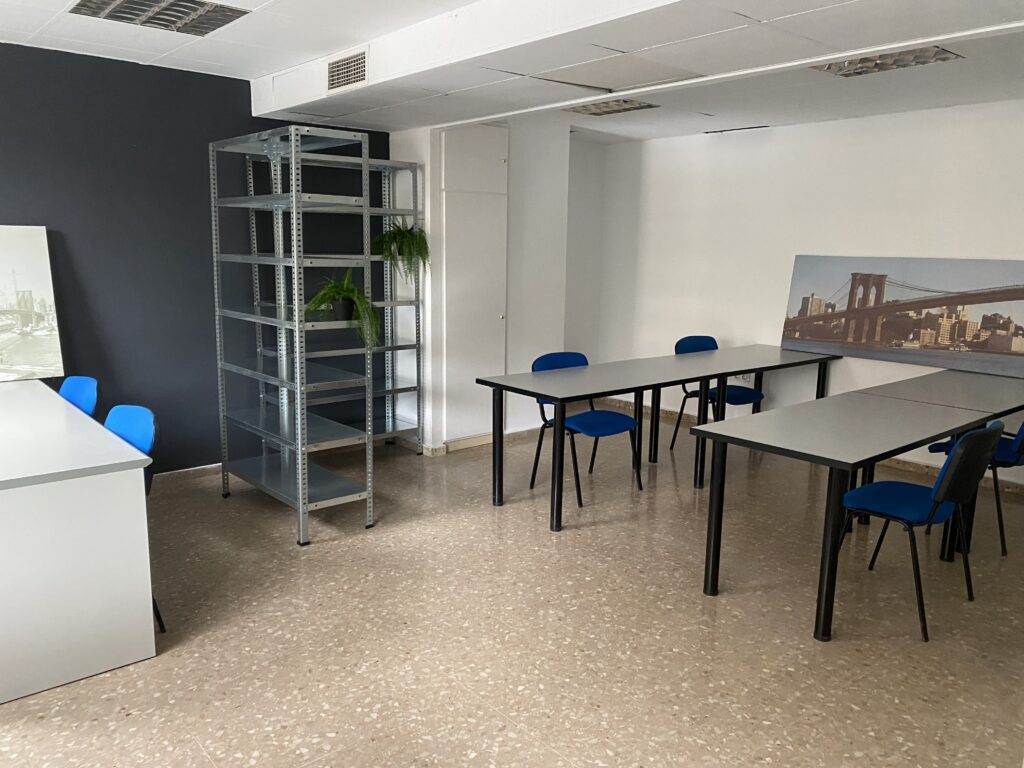 It is the vision and brain child of Tirzah Elese, a dynamic and energetic 46 -year-old who is passionate about helping young adults to amplify their learning environments.
Tirzah's main aim for the education aspect of Connect Hub is to offer an alternative, modern, real-world learning for young adults in their later stages of learning. This sits well, she says, with the reality that many colleges and universities are offering courses and curricula online and suitable for remote learning – "especially so since the pandemic." This means A-level, baccalaureates and other forms of advanced learning.
"This is great," says Tirzah, "but it often means that children are learning on a laptop on Mum and Dad's sofa or, at best, a local library.
"So I am creating a new co-working and co-educating space in Valencia. A space where they can have peers and a vibrant learning community, which won't be a silent and solitary space but an active forum of group work, collaboration, cooperation and aways interactive. College for the home-schooled, if you like.
"And we are innovative in that we want to bring together the world of work and studying, with guest lecturers advising on skills like communication, time-management, finances and taxes. So we will help our young adults to make colleagues in the world of work and look for cross-fertilisation of skills. And people will learn so much from professionals sitting alongside them.
"And we want to offer other life skills such as banking, budgeting, health and nutrition, mental health – all those extra skills that employers are looking for nowadays. It's all about problem-solving, communication, creativity and soft skills."
Aimed at digital nomads and home-schooled students
An equal primary offer is to create a community and hub for the digital nomads flocking to the Valencian Community. Connect Hub is directing its offer for remote working professionals taking advantage of the new laws in Spain that enable that work/life balance we all search for, in other words, to "have their cake and eat it too". Working globally, yet forming a local community. It aims to be a new co-working and co-educating space in Valencia. And perhaps beyond.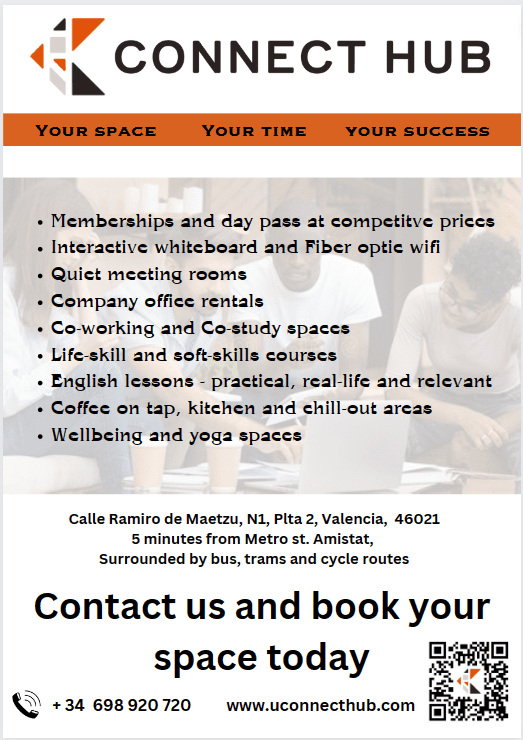 One thing that the pandemic gave us, says Tirzah, was the realisation that people can school or even work remotely, but it can be a solitary experience. This vision allows her members to network, problem-solve collectively and develop the full suite of skills that employers are looking for. Throughout the week, Tirzah is planning social events, guest lectures, and social time together.
In many ways, Tirzah was a digital nomad before the term really existed. Born to US parents in the Philippines, she grew up there until she was ten. Then a year in Hong Kong, a year in Macau and six years in Japan at a boarding school. A couple of years followed in Europe, then after a couple of years in London with a boyfriend they decided to move to Africa to do aid work. They ended up staying in Africa for nine years, set up an NGO and got married and had three kids. I suggest she has packed several lives into one, and Tirzah laughs, saying, "well, more than three."
This readiness to drop everything and live around the world was no doubt inspired by her father who was in the military and her mother "who got involved with churches and missions and aid work," says Tirzah. So a lot of the countries they lived in were very poor and her mother felt there was work she had to do. This transformative zeal has clearly influenced Tirzah greatly.
Tirzah moved to Denia but wanted a launchpad for her vision, and Valencia ticked all the boxes, with the staggering growth in the numbers of incomers arriving from round the world. "Valencia is becoming very open to so-called digital nomads moving here with their children who are involved with home-schooling and alternative education, so it seemed a great fit," explains Tirzah.
"If your family is Dutch, German, French, British, American or any other for that matter, and here for a few years and you are following your country's national curriculum online, this is a perfect addition to bring in a social dimension to their learning and social development."
Education is Tirzah's passion
A teacher by training and with several years working for the Department of Education in the UK, schooling and development is Tirzah's passion. "My main aim is to help schools and students to learn in the way they need to, in what suits their cognitive and social development needs. We need to do it differently and make it more accessible to the neurodiverse, the exceptionally talented and the young person searching for a relevant, modern and attractive education option," says Tirzah. "By bringing together students of different ages alongside the working professional, we are creating the opportunity to be a powerful platform for developing maturity, and skills needed for the workplaces of the future."
This, hopes Tirzah, will mean a whole new type of learning. It could even lead to franchise opportunities for growth. She even has two family members, one in Ecuador, one in California, who are watching her efforts with great interest with a view to growing the brand. So this new co-working and co-educating space in Valencia would go global, if all goes to plan.
"My investor in Australia would also be very keen to see us launch Down Under. He has a 15-year-old daughter who does not thrive in a classroom. But she does thrive when she works with local businesses and the community."
Tirzah sums up. "If you are at a school for expats in Valencia but feel you are not getting enough from it, or if you are home-schooling according to an online version of your country's national curriculum, come and talk to us. Be the boss of your own career and learning. There is a plethora of opportunities so you can take control . Choose what you believe will serve you best for the future you want."
Find out more by visiting https://www.uconnecthub.com/en. This weekend is an open weekend, with burgers provided by the excellent Big Johnson's Burger Joint and with live music; Saturday will see yoga workshops and vegan sushi classes. All that is missing is you!
Connect Hub, +34 698 920720; Calle Ramiro de Maetzu numero 1, planta 2 (3 minutes from Amistat/Casa de Salut Metro station); contactconnecthub@gmail.com