Escape the heat to indulge in rich Valencian history through the lenses of fine art. And experience the architectural masterpiece that is the Museu de Belles Arts de València, says Sophie Langan…
The Museu de Belles Arts de València's exterior displays striking gothic architecture, dating back to the 17th and 18th centuries, arguably an art form in itself, positively foreshadowing the beauty within. With an eye-catching cobalt blue dome, the Museum of Fine Arts is hard to miss. And you definitely won't want to miss it.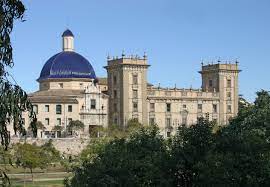 The artistic journey begins with 14th-16th century artwork, focusing on both religious pieces and depictions of traditional Spanish history. Hours can easily disappear in the cooling interior of the building, where visitors can amble around spacious displays centred by a picturesque courtyard. All the while observing the transitional design of the modern and the traditional. This classic Valencian experience offers an expansive and peaceful space for the artwork to be presented. As the second largest gallery in Spain, the Museu de Belles Arts de València oozes art of all mediums, most notably oil paintings and sculptures, in addition to proudly exhibiting works from one of the most acclaimed artists in Spain, Joaquín Sorolla Bastida.
Sorolla at the Museu de Belles Arts de València
Joaquín Sorolla was a Spanish artist born in Valencia in 1863, who is most accredited with trail-blazing the popularisation of Spanish artwork across multiple exhibitions in the West. His work typically conveyed traditional Spanish scenes and captured small moments. These include an impressionistic style adopted to depict children playing in the sea as their parents worked. His work moved towards realism with a bright palette capturing his optimism within the scenes. Sorolla clearly focused upon both freedom of colour and light, with open-air work aiding his depiction of Spanish habit and tradition. The main features of all his work remains as his direct observation of life and his absolute respect for the truth. Qualities visible across his exquisite portfolio.
Need to know
The Museu de Belles Arts de València is completely free to enter, and open 10am-8pm from Tuesday to Sunday. It is also key to note the inclusive accessibility features across the museum, with frequent and well signposted lifts and stairs and where applicable, ramps. The corridors are also wide with slip-resistant flooring. The indoor cafe is perfect to catch a bite to eat or a drink during the experience and offers shelter from the sun in a light and airy space. An additional factor to be aware of is the ability to lock bigger bags safely away in lockers for a deposit of €1. Opposite the museum are the Jardines del Túria, enabling a gorgeous scenic route to and from this venue, ultimately adding to what is overall an amazing experience.
Museu de Belles Arts de València, admission free, Tues–Sun, 10am-8pm; Carrer de Sant Pius V, 9, 46010 València; +34 963 870 300; https://museobellasartesvalencia.gva.es/va/