Looking for the best rental option in Valencia? Central Q apartments in Quart de Poblet seems to have it all, says Eugene Costello
If you want the best rental option in Valencia, Central Q apartments in Quart de Poblet should be top of your list. Over the past three years, rental prices in Valencia have risen exponentially, and are a regular source of complaint in various expat groups on social media. The reasons are varied but, like everywhere, ultimately come down to the age-old, thorny issue of supply and demand. Demand has massively increased because Valencia has had so much positive coverage internationally. Ever since it became "best city for expats" for Internations, reported in Forbes magazine, in fact. See Yet again, Valencia has been voted the world's best city to live in for foreign residents. It came top out of 50 destinations, thanks to its quality of life, leisure offering and ease of settling in, a new survey by Internations has found.
Added to this, the Ayuntamiento has introduced a raft of new requirements needed before awarding a property a "touristic licence". These include needing to be on the ground or first floor. And having an emergency exit, making all but a handful of properties applicable for the licence.
So a perfect storm that is making finding a rental property very difficult indeed.
And that is where Central Q comes in. It's a new concept, a brand-new complex aimed at co-living and co-working. The complex is right next to the Quart de Poblet Metro station. This is is on lines 3, 5 and 7 to the airport. This means 8 minutes by Metro to the airport. And 12 minutes to Xativa, right by Estación del Norte in the city centre).
Superb communal facilities in the best rental option for Valencia
It benefits from fabulous communal facilities. These include a residents-only swimming pool, an inhouse gym and a well appointed work-lounge for co-working. Naturally, the building comes with super-fast wifi and a flatscreen TV in all apartments. There is even a children's playground. And an enclosed 5-a-side football pitch.
I went for a site visit the other day and it was exceptionally impressive. The taxi from Ruzafa to Quart de Poblet was just 13€ and coming back, I took the Metro. After a one-minute wait – it is on the three lines that serve the airport – a 12-minute ride dropped me at Xativa in the city centre. It is even less to the hub at Angel de Guimera.
First, the build is impressive, with a curved frontage and penthouse apartments with roof terraces. It is ten-storeys high so early adopters should bag those with views and outside space. Inside, all apartments are light and airy with plenty of outside light.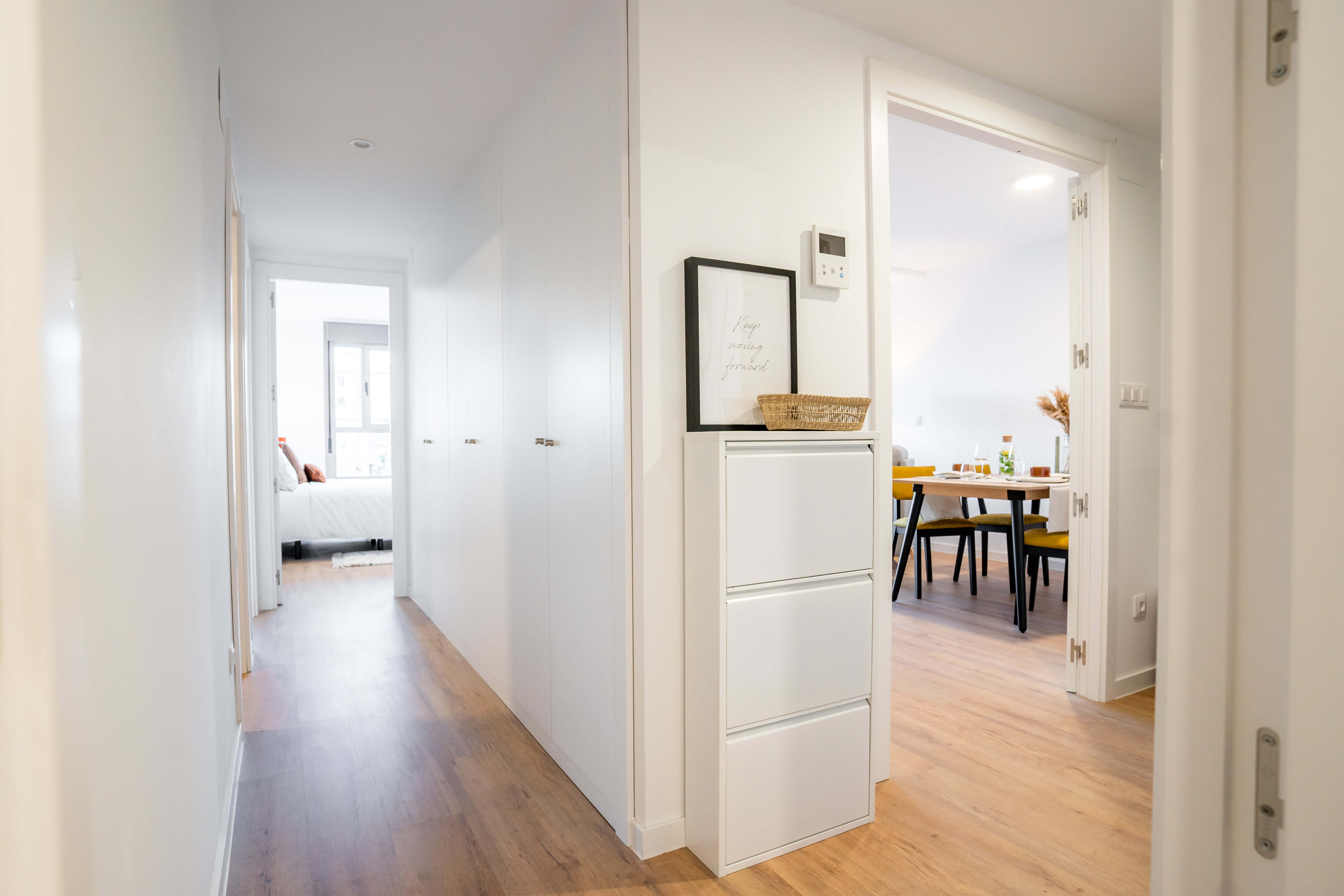 The owners of the building have thought things through when it comes to pricing. The price for unfurnished and furnished apartments are very reasonable. These start at 900€ for unfurnished 1-bed apartments, and €975 for furnished. Furnished here means beds, sofas, tables and chairs and so on. There is a higher level , "equipped", meaning the full serviced experience – think bedsheets, towels, kitchen utensils and so on. For these short-term rentals, the price for 1- and 2-bed apartments rises to 1300€ pcm. Very competitive with other short-term offerings at the equivalent of around €45 per night. As opposed to several times that with what is usually on offer – especially during Fallas.
A vibrant neighbourhood
So much for the state-of-the-art accommodation. What's the neighbourhood like?
Well, Quart de Poblet is a suburb of Valencia that has its own municipal council. It is in the middle of Mislata and Manises, and the A3 is to one side for most routes out of Valencia. The now-dry Turia river is beautiful for walking and exercise. There is a nearby golf course at Manises, where players drive off almost in the shadow of planes landing at the airport, for an added thrill. It's the real deal, making Central Q the best rental option in Valencia right now.
It has a rich history going back to Roman times. It figures in the story of Hannibal. Rebuffed here, he regrouped at Sagunto. Here, he besieged the hilltop fortress for months until he took it. It appears in medieval times in the stories of El Cid, Rodrigo Diaz de Vivar. The Spanish hero won a decisive battle against the Almoravids, the Moorish forces.
These days, it is a typically Spanish neighbourhood. It has a bunch of bars and restaurants offering almuerzos and menus del día. Ca Ximo on a corner one block from Central Q is one such. But do try to get there early, it is extremely popular with locals! The terrace outside is a sun-trap, and makes a pleasant spot to take a cafecito.
And there is a clutch of the usual facilities one expects. It has a Consum on the doorstep and two Mercadonas within a five-minute walk. So if you are looking for the best rental option in Valencia… Central Q in Quart de Poblet all adds up to the perfect life in Valencia of which you have dreamed…
The owners have exclusively offered priority treatment to readers of 'Valencia Life', such as a 10% discount on community and property management fees. To get your code, please email eugene@valencialife.es