The Ayuntamiento is spending more than €1 million to create public spaces for pedestrians in Patraix. Laura Menéndez reports…
The Perez Galdós-Giorgeta project has a starting budget of 1.010.893,13 € (IVA incluído), and aims to be completed in the space of four weeks. The initiative is a "pedestrianisation project aiming to increase pavement space" and to "establish a clear separation between pedestrians and vehicles, with a cycling lane to increase the use of sustainable transport," said vice-mayor and city councillor for Development and Urban Renewal Sandra Gómez.
An area of more than 2km will be affected, including all of Perez Galdós and Giorgeta avenues, improving urban planning for several neighbourhoods in the city. Pedestrian space between Paseo de la Petxina and calle San Vicente Mártir will be enlarged, providing a new cycling route and multiple new pedestrian paths. The aim is "securing social distance in pedestrian areas and establishing a clear division between pedestrian and cycling areas with a kerb are the main aims," the vice-mayor said.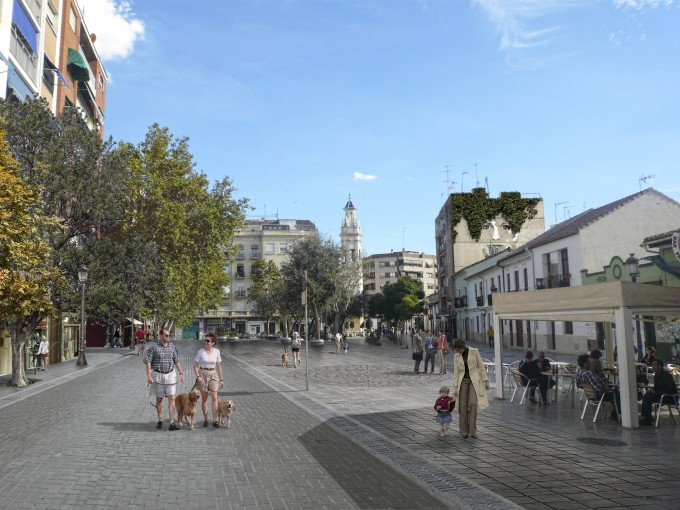 Pavements currently in place will have a width of between 2 and 2,5 metres depending on the area, while new pavements will have a width of 4 metres in all areas. In other words, pedestrians will enjoy more than an extra metre of pavements. Pedestrian areas will be demarcated and clearly separated from garages, which will still be accessible. EMT bus stops will be enlarged.
The project will be framed under the policy developed from the Councillorship for Development and Urban Renewal for the recovery of public space for citizenship throughout the city. The enlargement of these avenues is in response to residents' wishes, allowing a provisional recovery of the space while the final project develops. The enlargement will also be helpful towards reducing pollution and noise while improving landscape and quality of life.
New pedestrian areas will be coloured according to criteria stated in "Design guide for sustainable transformation in València" approved last 2020, being this project one of the first applications of the design guide. Perez Galdós avenue is a crucial axis due to its high traffic flow. The tactic of urbanism will propel a crucial transformation of the environment, allowing up to 45% of the total space in these avenues to be pedestrian-friendly.