Mausoleo, a fantastic representation of the quality and depth of post-punk on Valencia's underground scene. Daniel Hazelhoff spends a sunny afternoon in El Carmen with lead-singer and writer Andrés Sanabria…
It's a sunny Thursday afternoon, and I am waiting for Andrés Sanabria, the lead singer and guitarist for Mausoleo. It's a three-man band, and one of the finest representations of post-punk in the Valencian scene. As people walk around me, I am listening to their last album Absolución. It's a 23-minute masterpiece, and an album I've been listening to on repeat for some weeks. I had arrived at our meeting at La Plaza Del Tossal in El Carmen, near Torres de Quart early. I wanted to get a fresh feel of what I was getting myself into.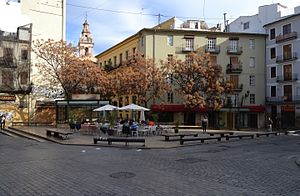 Mausoleo has a very special sound. Though they have hints and flavours of a wide range of genres, one can't really place one's finger on one specific influence. Mausoleo sounds like, well, Mausoleo. Mausoleo is post-punk Valencia. The metal-like bass riffs and heavy punk drums are juxtaposed by an ethereal sounding guitar and vocals. With lyrics that reflect the poetry of an introspective mind, riddled with the demons of past abuse, one gets profoundly lost in the hopeful melancholy of their music.
A mausoleo is a monument to life once death has passed
Their name itself conjures up images of a dark graveyard. A mausoleum is a monument to life once death has passed and this hallowing image is deeply present within their sound.
As I'm halfway through the album, I hear my name being called from behind me. I turn around to see Andrés giving a young couple directions to the centre for immigration help, his coat laden in homemade patches of dark patterns and spectral imagery.
As he finishes helping out the young couple, he turns to me and smiles the brightest of smiles and gives me a hug and a kiss. We make our way towards a bar with some sunlight to talk about music, the band, and life in general. This interview would end up being a four-hour conversation about life, philosophy and abuse.
"We're on our third album now, and we're still finding ourselves, to be honest," Andres tells me.
Their third album has been written and recorded, and as we speak, he receives a message from one of his producers, stating that the master copy has been finished. This serendipitous occasion offered me a sneak peek preview of their new album. This new one contains a few more heavy metal influences than the last two. However, there's some flamenco, and even trance themes involved within the drums in some of the songs of this five-track album.
Mausoleo and Valencia's Post-Punk Scene
I asked him how he sees the current underground scene in Valencia.
"I've noticed that, after 12 years playing on the scene, the underground scene here is exploding. For example, when we were playing in Galicia recently, fans and artists kept speaking about Valencia, our music and the scene".
"All eyes on V," I say, imitating Tupac Shakur's classic All Eyes On Me riff.
As we both laugh, he carries on.
"I've been playing for 12 years, and I feel like more eyes are on Valencia right now. Madrid's music scene seems to have some frivolous themes to it – let's party blah blah blah. I'm not referring to every band, of course, but I just feel like Valencia is doing a lot more in terms of experimentation, and I don't even know what the hell is going on up in Barcelona."
We're drinking cheap cold beer, basking in the sun, just enjoying the sunny day and each other's company.
"I think Mausoleo has a very special tone and sound to it," I say. "You guys are rather melancholic, but there's always some kind of message, it's like you're exploring the dark corners of mental health," I venture.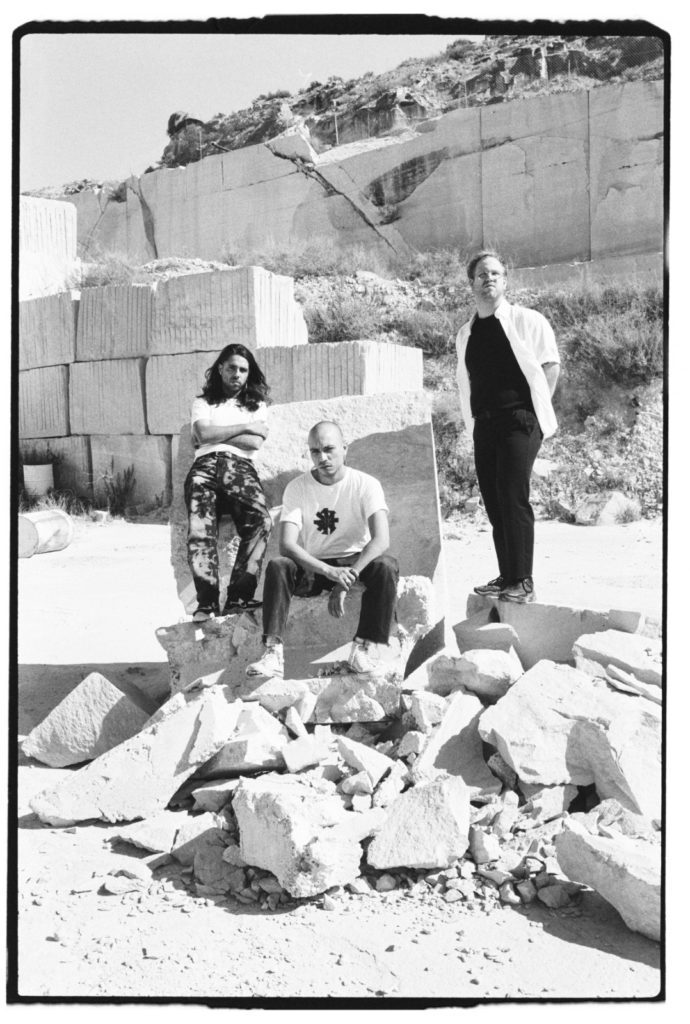 Always a silver lining
"There's absolutely an important message for me in every project Mausoleo does," says Andres. "There's always an exercise, every song, every lyric, is an exploration of consequence and circumstance, trying to push every situation to the limit.
"It's akin to a thought exercise, trying to take a look at every corner of a problem, but beyond that, there's always a push to move forward," he continues. "If you listen to the Album Absolución, it really sounds like this guy's gonna fucking shoot himself in the head.
"But as the album progresses, there's always a point of trying to create change. Todo luce precioso desde que no estas. Everything looks beautiful since you left. I wrote that song when I was with someone for five years, it was a deep relationship, however, we'd been together too long.
"After we broke up, I went to a park, there were cats everywhere. I used to volunteer with animals, they make me feel safe. I smoked a joint, cried, and just realised, I wasn't actually sad, I was relieved. There's always a silver lining," he says, wistfully, as he puffs away on a Camel.
Gettin' Deeper
"I just got out of a two-year relationship, one of the most beautiful relationships I've had in my entire life, we had something very special. So right now I'm in a bit of a bad place, but, shit man, everything comes and goes, I know I feel like shit right now, but I also know I'll feel better."
Take the song, Paredón, a wall used by firing squads, for example", says Andrés.
"Honestly, one of my favourites from Absolución," I say.
He flashes a genuine smile. "Thanks man, yeah, Paredón is just one massive exaggeration on what it feels like to be an absolute piece of shit."
And as we sit and talk, we reflect on how we all feel like that sometimes. Those moments in the darkest hours of the night, insomniacs staring at the ceiling, or wall. We remember with anguish actions and events from our past. Things we wish we could take back, or could have done, or could have changed. That's Paredón.
"Exactly, I also tried to tie in the idea of "the paredón" of the firing squad, like that anxiety is you just shooting yourself in the back. That song links directly into the next song, which is called Mentiré.
"Look," says Andres, "I had a really rough childhood, I grew up in a very abusive household in Cali, Colombia. I got used to living life as a lie, as a sort of crutch. That's what that song is about, lying your way through life, to yourself, to not hurt others…" he says sadly.
A Difficult Past, And Great Expectations
Andrés begins to speak about growing up in an abusive household. Sweet good morning kisses, brutal goodnight beatings, and how, as a child, that all just seemed normal. It seemed like that's what love was, he says.
"We don't need to talk about this, or include it in the interview," I say, "although I'm very happy you shared this with me, Andrés."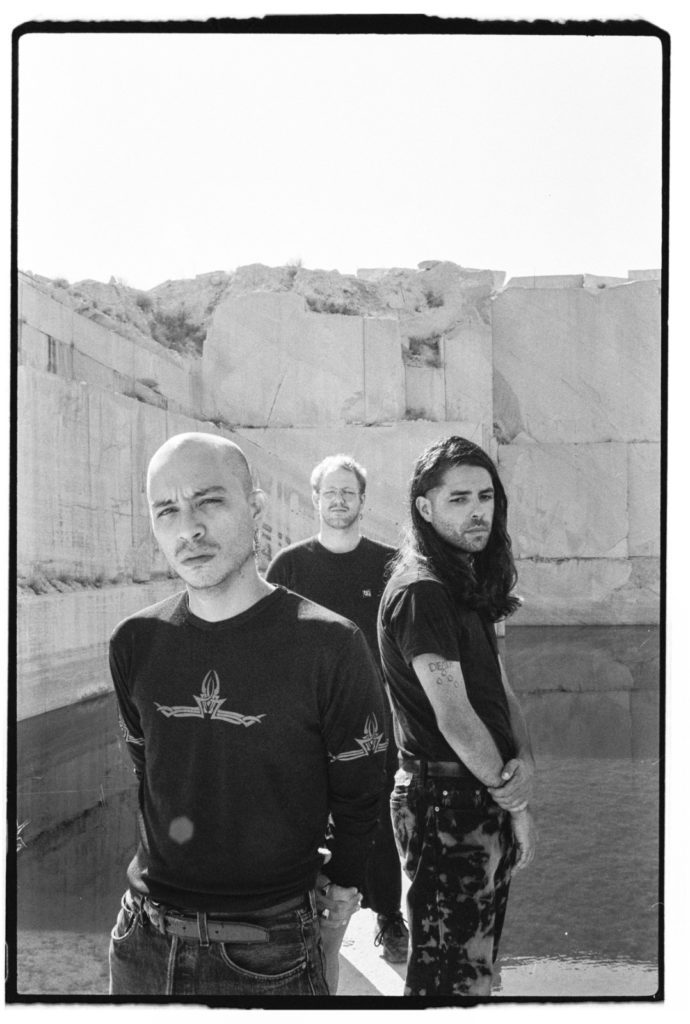 "Nah, not at all!" Andres exclaims. "This type of shit needs to be normalised. As a matter of fact, I feel like people don't talk about what they're going through enough. And that ends up perpetuating all of this abuse and bullshit. If we were to censor this, it would do a dishonour to those that have been through that violence.
"In a way, that violence is part of why Mausoleo is what it is," says Andrés.
"We have this song called Sodomizado, which is about just that, abuse, and that kind of Stockholm syndrome-like situation you get stuck in when you're in an abusive relationship, and that's all you know. So I'm playing a concert in Madrid, right, and this couple, they come up to me after the show, and they tell me how much they love that song, and how well it describes their love for each other. So, I told them, hey guys, if this is what you feel like your love is, you should definitely break up."
Even though the topic is dark, very dark, we both laugh about the interaction he had with that couple.
"And then they ask me, but why?!" he laughs "I said, because it's about abuse, not a healthy relationship, leave his ass!!!"
It's about power, and submission
We continued laughing and ordered a few more cold ones.
"I came to Spain when I was 13 years old, man, I thought what I grew up with was normal. Have you seen Salò?"
"I've heard of the book, I think, haven't read it"
"It's an adaptation of a Marques de Sade book called 120 years of Sodom, about four powerful men in WWII that take some kids and torture them for an extended period of time. It's about power, and submission. Sodomizado is a mix of that movie and my relationship with my father," says Andrés, without batting an eye.
"Yeah, I guess your parents are kinda gods until you humanise them, right?" I suggest.
"Exactly, man. My life changed when I realised all he ever did was impregnate my mother, that's it, nothing more, nothing less."
Childhood pain can make great art
I asked him if his father still lives in Valencia.
"My mother won a lawsuit when I was younger. She had to have an operation, and the woman she was working for wouldn't give her sick leave, so she sued, and was able to get €6 grand out of the situation. That €6 grand changed our lives, so we were able to move out of my father's house and go out on our own. That might have saved my life, man. He's back in Colombia now."
It's amazing how €6,000 can change a life completely, not much money, in the grand scheme of things, but a life-changing amount in that situation.
"Even though I grew up in a rough situation, one thing my parents gave me was a love for music. My father was a metalhead, my mother, a hippie. And weirdly enough, one of my main influences is salsa. I love the stuff, can't get enough of it. I'll send you some good artists," he promises.
We spend some time speaking about intentions, and malice. And how, yes, we all make mistakes, but the essential part of it all is, what your intention is. Though the road to hell may be paved in good ones, but if one avoids malice, you may be on the right path.
"We intend to cause emotion, and stimulate thought through our music," says Andrés
A lot of these situations can leave an individual lost within their own minds. The loss of trust, the inability to experience certain aspects of life out of fear of getting hurt again or hurting someone. A lot of Mausoleo's music reflects this insecurity and the introspection that comes with it.
I straightaway knew that this kid had to be my friend
"There's three of us in Mausoleo," says Andrés, while speaking of their desire to establish Mausoleo as one of Valencia's leading post-punk bands. "Xus (Arcas, bassist), Mikel (Cabanes, drummer), and I (lead singer and guitarist). We have a very deep relationship, it's all very open, we throw ideas off each other all the time, and share how we're feeling regularly.
"And we try to translate all of that into our music. Xus and I met when I moved from Colombia to Valencia. After my mum and I got out of that shitty situation, I was a bit of a recluse.
"But then one day I noticed this kid wearing band T-shirts, bands that I liked. One day one of my teachers, a math teacher, the guy fucking hated me, he said we were all being way too wild, so he put on a song to chill the class out. He played Led Zeppelin, man, and Xus, this kid I barely knew, was singing along.
"I straightaway knew that this kid had to be my friend, so we went out to a concert that weekend, and saw The Spits. We got absolutely obliterated," he goes on, "and it was the last concert of their tour. The drummer poured gasoline on the cymbals and was playing the drum kit as it burned, it was incredible.
"We've been close friends ever since," he concludes.
The connection between the band members of Mausoleo stands as a monument to what their music is about and these dark themes run through the collective mind of society. Sometimes they are met with some hope, some silver lining, a monument to life, after the small death of pain. It's a mausoleum. Mausoleo.
Listen to Mausoleo's music
• Mausoleo, Post-Punk Valencia band, offer their album Absolución here: https://www.youtube.com/watch?v=AzaXisBpBHU&t=799s&ab_channel=Mausoleo
And you can listen to their EP Extraño here: https://www.youtube.com/watch?v=B8a3qtlIKZQ&ab_channel=Mausoleo