Joaquin Sorolla comes back to Valencia in a new exhibition at the Fundación Bancaja next July 2022. Daniel Hazelhoff reports…
It's coming home, it's coming home, art is coming home, as the England football chant doesn't quite say. Valencia currently holds more than 100 lesser-known drawings, exhibited at the centre of La Fundación Bancaja. This exhibition, called Sorolla, Dibujante Sin Descanso, is produced by the Sorolla Museum Foundation in collaboration with the Bancaja Foundation, and will be on display until 9 January 2022.
July 2022 will see a new Joaquín Sorolla exhibition in the same Fundación Bancaja. The show will be titled La Infancia. La edad dichosa según Joaquín Sorolla.
The exhibition will start in the Museo Sorolla de Madrid from January 2022, before making its way to Valencia in July 2022.
Joaqín Sorolla comes back to Valencia
Joaquín Sorolla was known as El Pintor de la Luz because of his mastery of lighting effects in his art. The lustrous evanescence of Valencian beaches, and his stunning portraits paint the picture of late 19th and early 20th century Valencia. He was born in 1863, but lost his parents to cholera at the age of two. Following their deaths, his aunt and uncle took him and his sister in, and they began their education.
Firstly he trained as a locksmith. This, however, did not work out, and he soon began to show artistic abilities. So he started studying in la Escuela de Artesanos, in Valencia at the age of 13. After that he moved to the School of Fine Arts, in Valencia, where he proved his immense talent with the brush.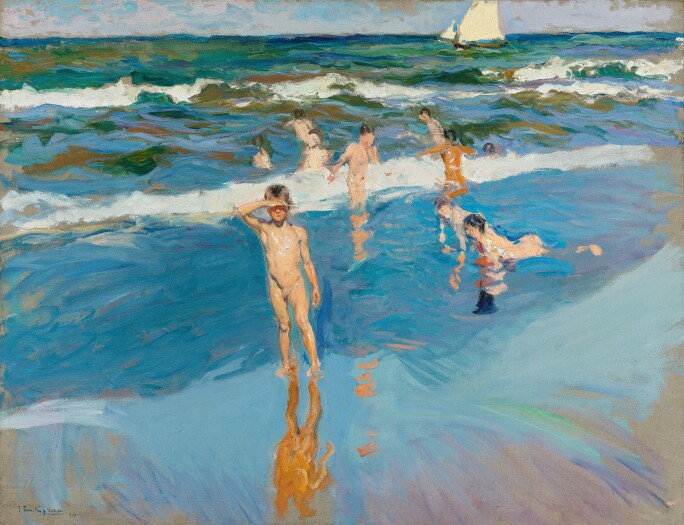 After training at the School of Fine Arts, he started to work with Ignacio Pinazo, who showed him how to work with light in new ways. This was his first dip into the painting style that came to be known as Impressionism, the work and style he is best known for.
From first impressions
Sorolla presented his piece Le Crit del Palleter, (below), which earned him a scholarship for study in Rome. There, he studied the work of the great Renaissance painters. However, one of his biggest influences was the artist Mariano Fortuny, where he further delved into the study of light and its effects.
In 1889 Sorolla finished his studies in Rome, and came back to Valencia. Here is where he developed his own style, and implemented all he had learned into perfecting his own craft.
Capturing the scenes of everyday life, Sorolla brings the observer into his Valencia – a Valencia of fields, beaches and agrarian, quotidian life. His ability to evoke realism through painting was, at the time, unparalleled in Valencia.
With almost 3,000 pieces, his prolific output has brought great pride to Valencia. Many observers and critics consider Juaquín Sorollato to be one of the Spanish greats. His impressionism snaps events and people, capturing them immortally.
Yet Sorolla did much of his work by memory. Evidently, this was because he displayed an uncanny ability to recall the effects of light and movement from his studio.
It is to Valencia's shame that Sorolla felt he had to move to Madrid to achieve his rightful recognition and that the main Sorolla museum is in the capital. This exhibition will help reaffirm his place as Spain's greatest impressionist. Sorolla will – finally – be more than the name of the modern, somewhat soulless, intercity train station here.
Plaza De Teutuan, 23, 46003 València, Valencia, Spain; Tuesday to Sunday from 10am-2pm and 4:30-8:15pm closed on Mondays; +34 960 64 58 40; fundacionbancaja.es
Tags: Art