A restaurant review by Eugene Costello
With the effortlessly cool cultural space Veles e Vents and the excellent Vlue Arribar with a chilled terrace and DJ and a fine-dining restaurant inside, you don't need the hassle and hyper-inflated prices of heading to Ibiza; you can soak up the Balearic vibe right here at the Marina in Valencia, says Eugene Costello…
The Queen of the United Kingdom famously has two birthdays; this year, I have been lucky enough to have five. For my first one, my incredible companion Tank Girl – La Italiana – took me to the Marina for a swanky lunch and a visit to board the replica 17th-century galleon Andalusia (https://valencian.es/galleon-andalucia).
I have a soft spot for a serving of culture and history – but it's undoubtedly best when it is preceded by some servings of fine-dining fare, a Seagram's-and-tonic and a decent tinto. The sun-flecked marina held the allure and promise of an early summer, and we strolled past the effortlessly cool events space Veles e Vents (https://veleseventsvalencia.es), also known as the America's Cup Building, and regularly host to big-name DJs from the Balearic scene to provide soundscapes to sunset on their generous terraces overlooking the water.
Just past Veles e Vents is a raised section with a clutch of restaurants; a persuasive maître d' charmed us to pick Vlue Arribar.
At the front is a water-fronted terrace with cool Ibiza-style decking and pastel-shaded wicker furniture, and a DJ pumping out fresh beats, with a well-appointed cocktail bar.
We opted instead to head into the dining room, a restful, shaded affair tastefully designed – think cream,turquoise and sage hues – and chose a corner table for afore-mentioned Seagram's-and-tonic.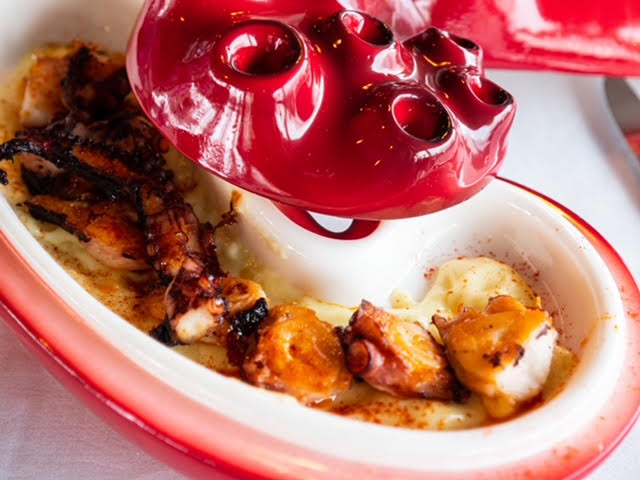 First up, our amuse-bouche arrived. This was essentially a bouillabaisse, or caldo de marisco as it is known around these parts, served in a shot glass with rustic bread to the side. Its dark brown/orange-y hue is down to the cooked tomatoes and saffron, and it gives off a strong fish-y taste from the stock, just as it should, offset with a generous helping of parsley. A good slug of the earthy confection leaves you wanting more, but there was plenty yet to come.
Tank Girl plumped for the octopus entrante, while I took the advice of our waiter, Jaime, and ordered the tartar de atún. This was a veritable mound of tuna (fresh, obviously, not the tinned variety), with a crown of salmon roe perched atop, creating a palette of dark and orange colours; a dried onion tapa provided good crunch, a very satisfying addition to the raw fish. A generous dollop of wasabi lent the dish a piquant element, and a smear of aubergine puree to the side was inspired, creating a medley of tastes that elevated this from a dull-but-worthy supporting role to being a star in its own right.
Tank Girl's pulpo was something else, though. It arrived in a long, lidded ceramic tentacle (see photo); inside, was a generous serving of ten succulent medallions of tender octopus in a delicious (don't count the calories!) creamy cheese and pureed potato sauce. I was tempted to mop up with the constantly replenished breadbasket but thankfully I kept back some space in the locker.
A word about the dish in which the octopus arrived; the owners have not made false economies in any sense, and the dishes are created by the wonderful artisanal producer José Piñero of El Taller Piñero in Alcoy, near Alicante, eltallerdepinero.com
It's refreshing to see restaurateurs and artists from the Comunidad Valenciana working together like this, giving each other support. The owners are Carmen Collado and her husband Ángel Brandez, who opened Vluebar Arribar in 2008. Their philosophy is simple; a cool space, great design and wonderful food, honestly priced. To this end, they have a dedicated chef de arroces, Adama, and two further chefs helping to create the flavoursome dishes, many of which are created by Carmen herself.
Between courses, just in case we were starving, our waitress Svetlana brought us a ceramic alcachofa, an artichoke, again an invention of José Piñero, filled with crispy vegetable tempura – carrots, aubergine, courgettes and so on – with a wonderfully smoky romesco sauce (peppers, tomatoes and paprika), a spicy broccoli puree, and a light meal in itself.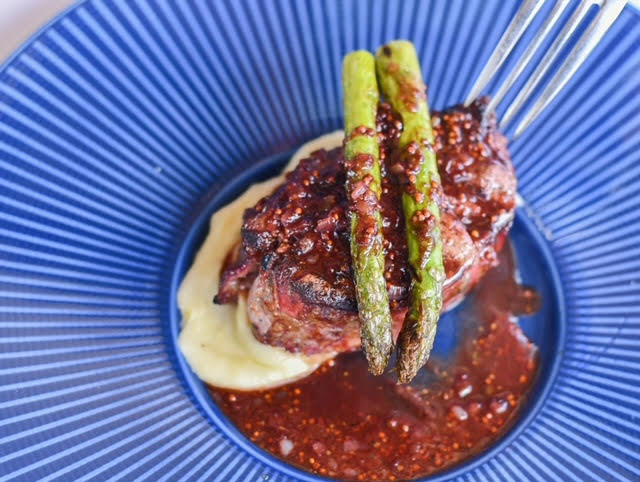 Then to the mains. I had ordered the solomillo especial, fillet steak, rare – poco hecho, while Tank Girl plumped for the solomillo con fritas. Although she is so slim that she becomes practically invisible when she turns sideways, like a stealth jet, she is on a diet, though in fairness that is to do with allergies, meaning she eschews sauces. Mine, however, was generously lathered with a rich, deeply satisfying mustard and port jus, and a generous smear of potato puree was ample, meaning I didn't steal Tank Girl's chips. Which must be a first for me. In truth, a pair of al dente asparagus spears crowning the beef was sufficient, but as an Irishman, I will never turn down a potato. We have long memories – 1845 is more than a time on the 24-hour clock for us.
We both washed down our steaks with an Avan Tinto 2018, a Ribera del Duero, a moderately spiced and medium-bodied Tempranillo, silky and with great depth. It's a mature-tasting wine, aged for 12 months in barrels that are 90% French oak and 10% American oak. Well, I say we – Tank Girl doesn't really drink, so it was double-bubble for me. Get in, as we say back home – a win-win that I claim as a personal triumph. It's the little things, after all.
My only regret is that we had left literally no space for postre – pudding, as we say in the UK. As we stepped back out to visit the boat of the Middle Ages moored alongside, I subconsciously thought of my own middle-aged spread and, with a furtive sideways glance at Tank Girl, let my belt out a notch. Time to go back to personal training with El Sádico, as I call my friend and personal trainer Jonathan Cherry, I thought to myself. What a wonderful restaurant Vluebar is…
• Restaurante Vlue Arribar, Carrer Marina Real Juan Carlos I, s/n, 46024 València; +34 963 44 97 57; vluearribar.com/en/
Story by freelance journalist and writer, Eugene Costello, formerly based in east London and now living in Valencia, Spain. https://eugenecostello.co.uk/