After a frankly rotten spring that was one long 'gota fría' with unusually heavy rainfall and thunderstorms, now we see the other side of the coin. A heatwave is to hit Valencia this week, says Eugene Costello
It was a pretty miserable winter and spring, with near (and actual) flooding in Valencia. Cars were submerged and the river made a temporary return, reaching the tops of exercise equipment in Los Jardines del Turia. So the recent return to balmier weather was welcome.
Now, though, we are about to experience the opposite, according to the State Meteorological Agency AEMET (Agencia Estatal de Meteorología). In her excellent news blog Valencia Report, Catherine Dolan reports that a heatwave is to hit Valencia this week. Says Dolan: "On Monday the mercury will begin to rise but the worst of the heat is expected for Tuesday, as shown in the photos of the AEMET tweet below:"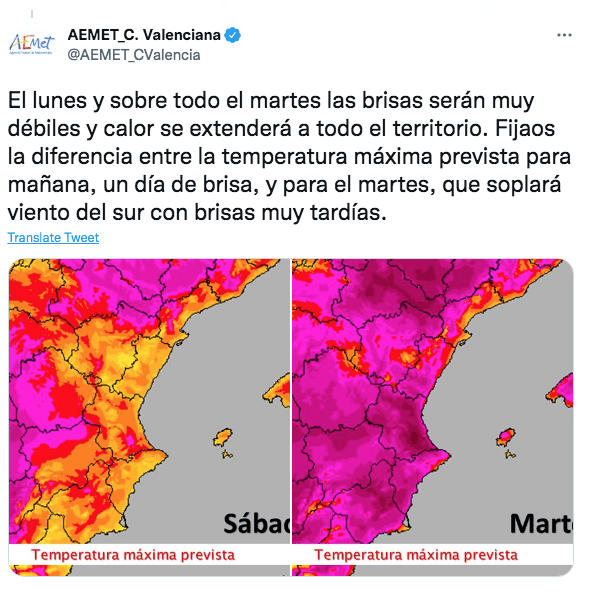 This says: "On Monday and especially on Tuesday the breezes will be very weak and heat will spread throughout the territory. Look at the difference between the maximum temperature forecast for tomorrow, a breezy day, and for Tuesday, when the wind will blow from the south with very late breezes."
Got a heatwave: burning in my heart
The forecaster adds: "It is not a situation of the Poniente (a western wind), but of African heat. Breezes will continue to blow over the weekend, although somewhat weaker on Sunday and with less travelling inland. Forecast wind at 5:00 p.m. on Saturday and Sunday."
Dolan adds: "AEMET has also said that the first fortnight of June is likely to be the hottest start to this month since records began in the Valencia Region. In the first nine days of the month, the thermal anomaly has been +3.3 degrees above normal. What's more, temperatures will continue to go up rather than down. The arrival, on Monday, of the heat wave, is affecting most of the peninsula this weekend."
So a heatwave to hit Valencia from tomorrow and the hottest June on record predicted.
Climate change deniers will have some mental gymnastics to perform to account for this. In addition, sea water temperatures have been uncharacteristically high, above 24° along the Costa Azahar.
On the plus side, your social media pics should give you bragging rights among your friends back home. It's an ill wind…