Brittany Ferries has just launched a new route from Rosslare, Ireland, to its existing route from England's Portsmouth. The 'Salamanca' is state-of-the-art and will hugely enhance your trip, says Eugene Costello
Brittany Ferries has just launched a new route from Ireland to Bilbao, the luxurious Salamanca. With increased passenger capacity, space, and luxury on voyages from Rosslare to Bilbao, the Salamanca is the only ferry service connecting Ireland to Spain. And British visitors can of course take advantage of the existing route from Portsmouth to Bilbao.
The Salamanca is named after Spain's Oxford or Cambridge, a medieval pearl of cloisters and colleges that means it is famed for its sandstone architecture. It is Spain's oldest university and the fourth oldest in the world. So it is quite a heritage to live up to.
But Brittany Ferries seem to have achieved it with their offer to passengers.
They have thrown money at this route, with more than 200 Spain-inspired artworks displayed onboard. And the theme continues with two Spanish restaurants onboard. These feature Spanish cuisine cooked by Brittany Ferries' expert chefs in the Azul and Taberna de Tapas restaurants.
They say that the luxury cruise ferry offers a destination-themed experience from the moment you step on board, with bespoke interiors throughout. This includes a curated collection of over 200 artworks by local Spanish artists. There are numerous cosy and comfortable lounges that offer plenty of space to relax. And the central Plaza Mayor bar – designed to evoke Salamanca city's spectacular main square – is a "buzzing and convivial meeting place", they say.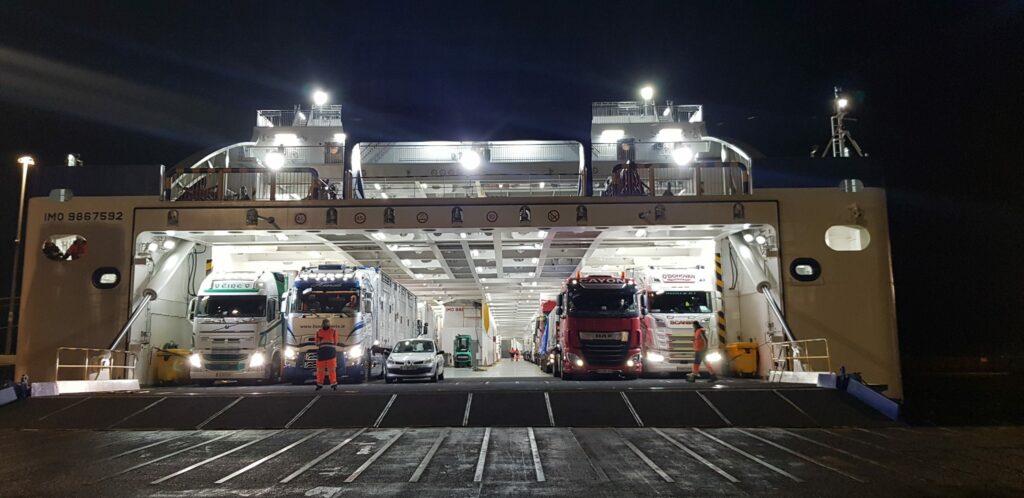 Green and clean is the way forward
It's good for the environment, too. The ship runs on Liquified Powered Gas (LNG), promising fewer emissions as well as a smoother voyage. One way of keeping your carbon footprint down.
Another way is that the Salamanca will also accept bookings for foot and bike passengers. If your end destination is Valencia, by combining with AVE (high-speed train routes in Spain), you can really vaunt your green credentials and help the planet.
Frederic Dumoulin, Chief Commercial Officer for Brittany Ferries said that this was the first time they had done so. He said: "Until now it has been very difficult to accommodate bike and foot passengers on this route. Now we have the right ship, on the right route, so I am delighted to announce a change. From today Brittany Ferries confirms to Irish passengers that they may travel to Spain by car, by bike, or on foot. A sustainable tourism option that's perfectly aligned with our cleaner greener ship.
"Cyclists and foot passengers will boost the number of passengers travelling to Spain and vice versa. Our aim is to add 50,000 in total this year. That's a big challenge, but we are up for it."
Luxurious upgrade
The Salamanca replaces the freight-orientated Connemara ferry, and has more than doubled the capacity. It can carry more than 1000 passengers in 343 comfortable cabins. Some 22 of these cabins are for passengers travelling with their pet dog. Do note that these pet-friendly and upgraded cabins cost extra.
Accommodation is also compulsory on the sailings. Seats start from €12 each way and four-berth cabins from €135 each way this month.
The "state-of-the-art" 214.5m "cruise-ferry" will depart from Rosslare on Wednesday and Friday mornings. The journey will take 29 to 30 hours, with one to two nights spent on board.
One-way rates for two passengers and a car sailing from Rosslare to Bilbao are from €232, with reclining seats included, at the time of writing. The price for two people with a car and cabin starts from €342 each way.
The most beautiful and magnificent landscapes in Europe await you
It's great news for the Irish travel and tourism sector. Monica MacLaverty, Tourism Ireland's Manager of Southern Europe, said: "We very much welcome the launch of the new Brittany Ferries ship, the Salamanca, operating between Bilbao and Rosslare. The Salamanca is really good news for tourism from Spain. It is tripling the capacity of the existing service to 90,000 passengers per year.
"As an island, the importance of convenient, direct access cannot be overstated. It is absolutely critical to restoring growth in inbound tourism. Tourism Ireland will take every opportunity to highlight the service. We recently hosted an event for key travel trade and media contacts in Bilbao to celebrate the launch of the new ship. We already work very closely with Brittany Ferries. And we look forward to continuing to cooperate with them to maximise the promotion of this service."
And Rubén López, of the Spanish Tourism Office in Ireland, was happy. "We are delighted with this new Brittany Ferries passenger route to Northern Spain from Ireland. We are both of Celt origin so we feel a very strong bond with our Irish visitors. The north of Spain has a lot to offer in terms of food, wine, and culture. So we are sure the Irish visitor will enjoy visiting the Basque Country, Cantabria, Asturias, and Galicia. The Irish visitor will also find good value in Northern Spain. Congratulations to Brittany Ferries and the best of luck with this new venture."
They'll also find great value in Valencia. Whether you drive or come by train, you'll get up close and personal with some of the most beautiful and magnificent landscapes in Europe.
• To find out more and to book tickets, please visit www.brittany-ferries.ie or call 021 427 7801