Vidrio Vacío in Ruzafa is a welcome addition to the barrio's already plentiful offering of night spots. It has a slight twist in that it aims to be a wine bar specialising in only Spanish wine. Many are local, and there is a great choice of bio and organic wines. Eugene Costello went to meet owners Ivan and Tanja… photos by Paul Knowles
Ensconced in a sliver of a building on the corner of Literat Azorin and the charming Calle de Romeu de Corbera, a traditional little street with some atypically low pastel-coloured houses, is Vidrio Vacío in Ruzafa. Its full name is Vidrio Vacío de Novi Sad, though. It's a nod to their home town on the banks of the Danube in northern Serbia. It means the Empty Glass from Novi Sad.
(Photographer Paul overruled my original headline of 'Are You Being Serb'd?' as being "just a bit silly". Pearls before swine, no man a prophet an' all that palaver. But hey ho, I pick myself up, dust myself off, and start all over again. As the late, great Frederick Austerlitz – Fred Astaire to you, guv and the greatest dancer ever – so memorably sang. You can take the journalist out of the tabloid yada yada…)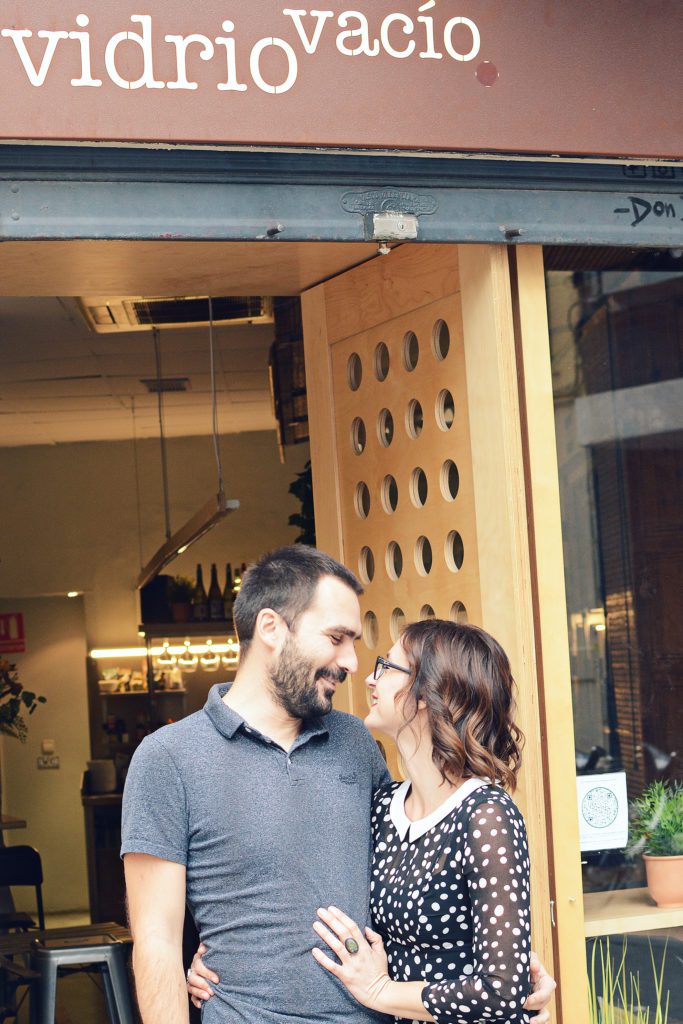 Owners Ivan Cigulov, 36, and Tanja Bojovic, 38, moved here in July 2020. They brought their children, son Vanya, 4, and Sara, 2. Despite both being from northern Serbia, they actually met in London 12 years ago. "I have always worked in hospitality," says Tania, an animated and engaging character with elfin features and a tinkling laugh. "At the time, I was working at the Dorchester [a London top-tier five-star hotel that is host to Alain Ducasse's eponymous three-Michelin-starred restaurant] and Ivan was in town visiting".
Not love at first site
It wasn't love at first sight, however. "It was a slow-burner," says Ivan with a laugh. "She didn't see sense until seven years later. That's when she realised I was the one. She knew she wasn't going to do any better."
Is it a little like when you are playing blackjack in a casino and are dealt 15? Then you are obliged to stick because the risk of drawing again and going bust is too great?
'de Novi Sad' reflects Serbian origins
At this, both look at each other laughing and give each other a hug. One hallmark of their stewardship of Vidrio Vacío in Ruzafa is their warm and effusive relationship. Ivan, who had worked in IT, is slightly more reserved but far from shy, while Tania is the perfect front-of-house presence. She is always laughing and engaged with the regulars that they have built up. It's Friday night, shortly before service. Soon the bar fills up, customers drawn to the warm twinkling lights in the cold and settling dusk like passengers drawn from the icy deck to the ballroom on an ocean liner.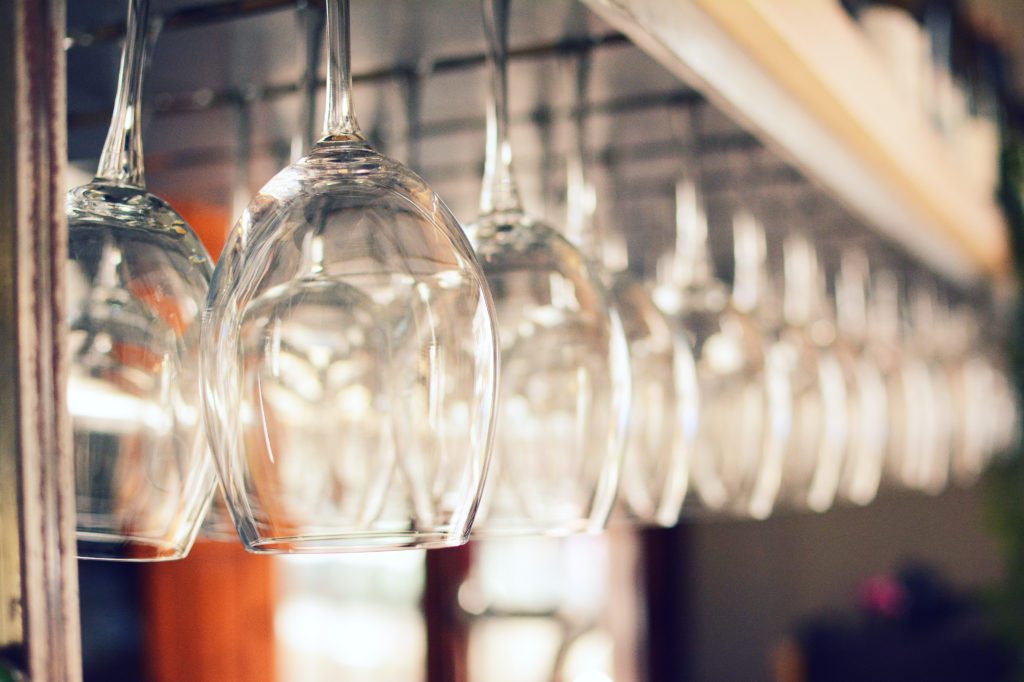 "It was 3 July after the first wave of the pandemic," says Ivan, a slim and wiry chap with saturnine features . "We bought the bar from Italians and kept the name Vidrio Vacío. Not least because we didn't want to lose the high ratings they already had on the internet." He's only half-joking – "but we added 'de Novi Sad' to reflect our origins. And also because in a traditional Serb wedding, the bride drinks and makes a toast before throwing the glass to the floor.
"If the glass breaks, we say she will first give birth to a boy," he goes on. "If it stays whole, it's a girl, so in our case it came true," he grins.
All going South
"We moved to Valencia, then after a few months realised this was the city for us. But we needed a purpose. We both love wine and we love being out and meeting people," he says. "So with Tanja's background in hospitality, it seemed a no-brainer. In December we bought the bar and all its stock, and opened the next day."
The bar itself, Vidrio Vacío in Ruzafa, is an attractive triangular affair, with exposed brickwork, a generous terrace and shelving on the window sills to one side – built by Ivan to allow standing room for drinkers outside. "That, and playing deep house music, plus our food offer, are the only things we really changed," says Tanja. She adds, "If it is not broken, why fix it?"
Tanja is a wine-lover, and explains that after a month or so of being open, they had to close for six weeks thanks to the new restrictions. They don't open by day because they look after the kids and drop off and pick them up from school. So the requirement to shut at 5pm made business impossible.
The pair live in Malilla – "a nice neighbourhood with plenty of hidden squares, parks and playgrounds," says Ivan. The kids go to the local Spanish state school so are integrating happily. And the couple are making plenty of friends among the other parents, mainly Spanish.
"But rather than becoming depressed by another lockdown," says Tania, "we took it as an opportunity to take stock. First, we took on Monica who runs the kitchen for us. It is not a huge kitchen and we don't want to be a restaurant. So our menu is what we call Serbian tapas."
Food full of eastern promise
This means the likes of Ćevapčići. It's a traditional Serbian snack. A small, rolled patty of ground meat, usually beef, seasoned with paprika and garlic, served like a sausage. For those a little hungrier they offer the star of the menu, the mighty Pljeskavica. This is a hamburger that is a mixture of beef, pork and lamb, blended with onion, cheese and garlic. It's served in a floury bap with just lettuce and gherkin and a healthy slug of ajvar, a spicy red pepper sauce typical of the Balkans.
Here, Monica serves up the food with customary good grace and is super friendly. She tells us, "This is as environmentally aware as we can be. We source all the ingredients locally and we have zero waste as I prepare every single item to order. We throw nothing away."
Close to a third of the wine list is Valencian
But there was another, unexpected bonus of this second lockdown. Tanja explains:
"We had inherited a lot of stock of wine with the bar. So we went through everything, asking would we buy this ourselves? And if the answer was, probably not, we removed it from the list. We decided instead to focus on quality Spanish wines, especially from the region," she says.
In fact, close to a third of the wine list is Valencian, and it is all 100% Spanish. They even took the opportunity to visit some wine-growing regions to sample wines for themselves. Consequently, they now have a sterling wine list that starts at €14, the most expensive being €30. They also have Mahou on draft and a selection of house cocktails, such as Manhattans and Martinis.
But back to the wine. I ask Tanja and Ivan to pick out some of their favourites for photographer Paul and me to sample. Tanja is more than happy to take over and dispatches Ivan to pick up the kids.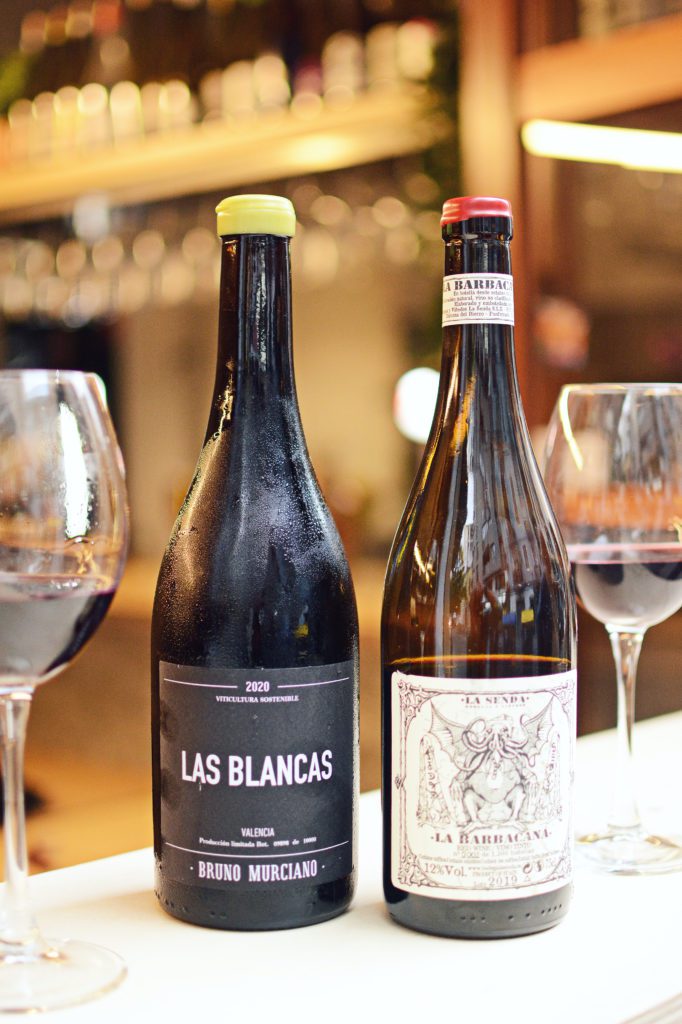 A vine romance
We open with an intriguing and complex red called La Barbacana from the estate La Senda, near Bierzo, on the Camino de Santiago, possibly the most famous path of Christian pilgrimage in the world. Technically part of León, Bierzo's vinicultural identity is both Galician and Leónese. It's a limited edition of just 1,300 bottles each year, and retails at €30. It's a blend of 10% Mencia and 90% Alicante Bouschet. It delivers a jammy punch with notes of cherry, blackberry and strawberry.
Next up, was a white 2020 Las Blancas from Bruno Marciano in Requena, a former Moorish fortress that is now the epicentre of something even more more-ish – Valencian wine. It's a bio-dynamic crisp and flinty blend of Sancho, Merseguera and Muscatel grapes. The Muscatel delivering a pudding-y aftertaste, and is easy drinking on its own. It would also pair well with seafood dishes and Asian plates.
A charming bar run by a charming couple
It might be – though my lips are naturally sealed, I am not a tittle-tattle kind of journalist – that we joined in with the tasting with a little too much gusto. I say that because I am having trouble reading my tasting notes after this. I can only make out the odd random word such as "vanilla", "beetroot" and, possibly, "sausage". Or is that "sewage"? I do hope not! In any case, I am going to blame the cold getting into my fingers and joints, I was outside because I had foolishly brought my dog to the interview.
In short, Vidrio Vacío in Ruzafa is a charming bar run by a charming couple. It's a really welcome addition to the golden triangle of Calle de Cadiz, Calle de Sueca and Literat Azorin. As the (very) late Oliver Cromwell said, "In the name of God, go!", though that was in 1653 while dismissing the rump parliament, I mean it in a far more enticing manner.
Make yourselves comfortable, try the food and let Ivan and Tanja take you on a wine tour through Spain (did I mention that they offer tastings?) without leaving the comfort of your seat. Now that's what I call first-class hospitality…
• Vidrio Vacío de Novi Sad, Calle de Romeu de Corbera 16, 46006 València, Valencia; Wednesday to Sunday, 7pm – 1:30am; +34 615 831 367
For more info about great spots in Ruzafa, check out our five best date restaurants in the neighbourhood.