Valencia's own supervet, Aúna's Fernando Reina, did not give up, even when the situation looked hopeless – and succeeded in saving the life of an innocent feline victim, who'd been subject to a cruel attack. Maya Middlemiss reports…
Our local vet wept with us when we looked at the X-ray screen that confirmed our worst fears.
Less than four years old, our affectionate and much-loved pet cat Neville had an airgun pellet lodged just below his brain, from an entry wound close to his eye. Someone had clearly shot him deliberately in the head, from very close range. Such a trusting and friendly cat. He must have been on the ground looking up at them when they did it.
Dedicated to saving animals
Perhaps they were surprised when he managed to run away and get home to us, but at first glance the situation looked inoperable. All our vet could do was refer us to Aúna Especialidades Veterinarias, in Paterna, for a second opinion. It was here we met Fernando Reina, who had dedicated his life to saving animals. He had known his vocation lay in veterinary medicine since he was very young:
"While some of my friends enjoyed playing ball games and things like that, I was more interested in observing animals and how they interacted with the environment," he explains. "I guess the event that finally drove me into vet medicine happened when I was 12. My little puppy was run over in front of me and I took him to the local veterinary practice. They could not do anything for him. That caused me sadness and frustration.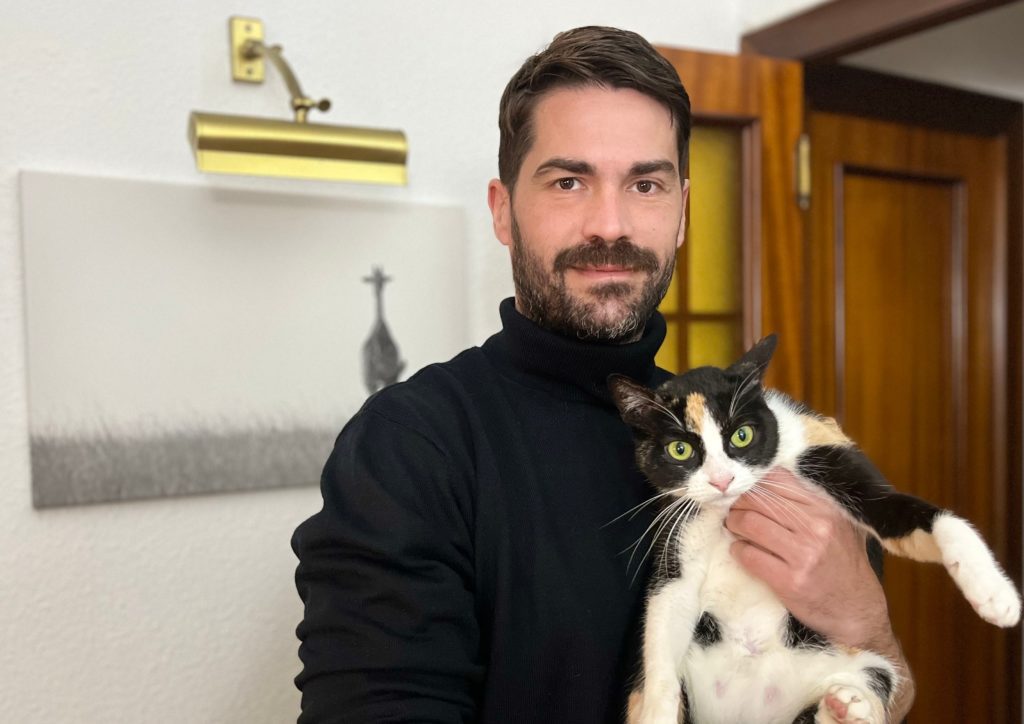 "However, those feelings evolved over the years and became the driving force to make me study hard and be able to enter veterinary school."
Cruelty towards animals is endemic in Spain
Fernando had seen other incidents of similar animal cruelty in the quiet suburban area around L'Eliana, and the local animal charities were already enraged by the situation. Neville became a local celebrity after his surgery.
And the whole community expressed their support, even though the Policía could do nothing. There were no witnesses or even suspects to work with.
We had hoped Neville would quickly put the incident behind him following a complex surgery. Sadly, he developed postoperative infection from the original entry wound. This proved to be of an antibiotic-resistant variety.
But Fernando was determined to save him. He proceeded with a series of innovative ideas, including in-patient administration of a rare IV antibiotic, and a wet-dry dressing to draw out the infection.
Weeks turned into months, as he kept researching and consulting globally, to find a treatment that might prove successful. Honestly, there were many moments we were close to deciding that Neville had suffered enough, and it was time to let him go. But the whole team at Aúna were determined to find a way to save him. We were inspired by their tenacity and compassion. We were also so grateful to find such expertise this close to home.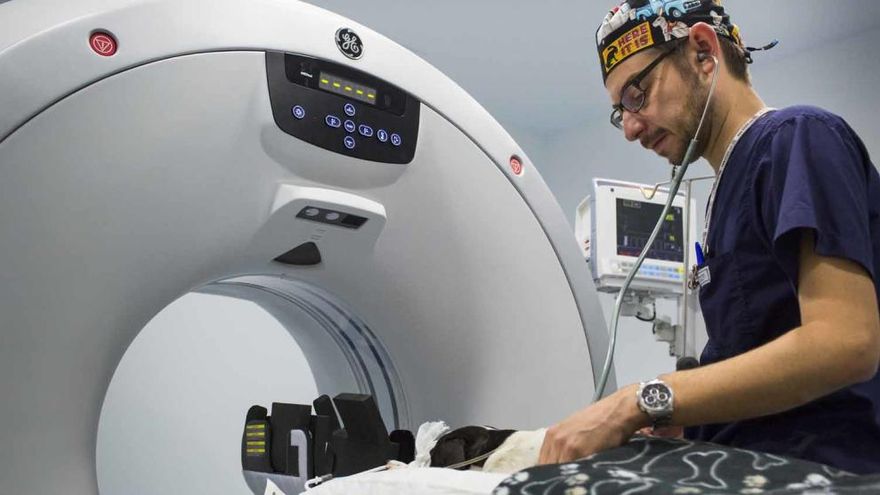 Aúna is a specialist veterinary hospital, dealing only with emergencies, and referrals. No chips and snips here. And as well as trauma surgery, they offer expertise in neurology/neurosurgery, oncology, internal medicine and diagnostic imaging. Vets from all over the area refer their most seriously sick and wounded customers here. And when you step inside the facility, it feels like you are in a modern human hospital.
Driven to become a vet from an early age
"My speciality is small animal surgery. I mainly see dogs and cats. However, in my career I have had to attend to some other species such as rodents or even reptiles when I worked in big hospitals with exotic animal specialists." Fernando explains.
"I studied in Cordoba, Andalucia. It is one of the oldest veterinary schools in Spain. After graduation, I worked a few years in Spain before moving first to the UK and finally to Ireland. In Ireland, I was lucky to enrol in a speciality training program under the supervision of recognised European and American specialists."
Having this kind of specialist centre on our doorstep must be a huge reassurance to any pet owner in Valencia. In our many visits throughout Neville's treatment we witnessed a variety of the complex situations and emergencies they deal with on a 24/7 basis.
Fernando is clear that Spanish attitudes to animal welfare, while they are evolving, still have some way to go.
"I have to say my thoughts are biassed by my previous experience working in other countries such as the UK," he says. "Although the Spanish law has changed regarding animal rights, welfare and protection, I do believe we are still far away from what I experienced working and living abroad. There is still too much to do; however, it is promising to see things are changing compared to what I saw after leaving the veterinary school."
Animal rights still have a long way to go in Spain
Because of his reputation and skill, he's seen far too many innocent pets who became victims of brutality and cruelty. Fernando sees this framed in a context of historical attitudes to animals as commodities, rather than pets:
"Let's say the Spanish population has begun to change their attitude about having pets. But there are still flashes of lack of responsibility, especially when it comes to politics and money. A good example is the tax [IVA] applied for pet owners to see a veterinarian. It makes no sense to apply such a high tax on veterinary services as the one applied to luxury items."
Neville's second surgery in December, months after the original attack, involved a skin graft and what looked like hundreds of stitches. But we're so happy to see him fully recovered now and living a cheerful one-eyed life.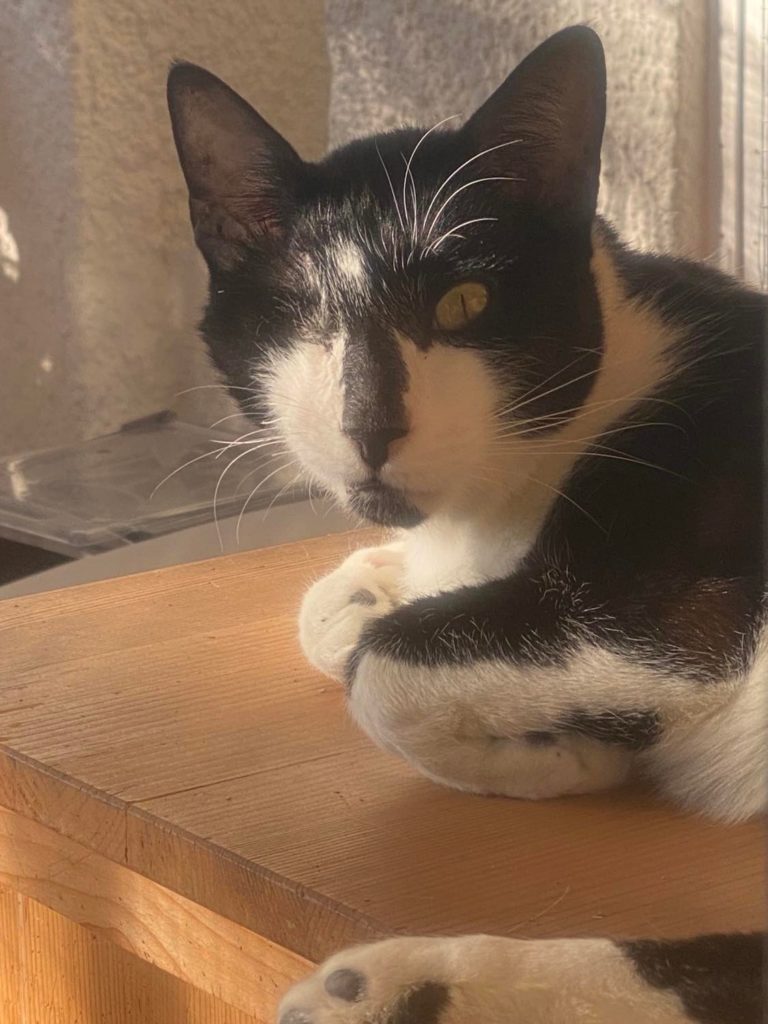 It's too bad he and his sisters are now 100% indoor cats, because we know the animal-hating shotgun wielder remains at large in the neighbourhood. But we still have our lovely black-and-white boy cat, thanks to our hero vet Fernando. And we have fenced in an external terrace to provide the three of them with a 'catio' to enjoy.
"The best outcome for me, is to see Neville fully recovered and enjoying a happy life with his family", Fernando says.
Keep up to to day with the latest Valencia news HERE.