Almuerzo in Valencia has a historical, almost religious significance in the Valencian way of life. Find out about the history of 'el almuerzo', and some of our favourite places to eat. Daniel Hazelhoff reports…
I grew up with the almuerzo, so it's in my blood. From the schoolyard to working in construction, to writing for Valencia Life. It's not just a break, or a meal, its rich history dates far back and it's a sacred ritual. For some it's the most important meal of the day. From around 9:00 – 12:00 in the morning Valencianos and Valencianas from all walks of life take their morning break and fuel up for the remainder of the working day. It's intrinsically embedded within the Valencian DNA.
Its Valencian roots are deeply rooted into the life of the labourers of the land. Our Huerta wouldn't be what it is today without it, therefore Valencia wouldn't be what it is today without it. Intense labour for hours on end in the unforgiving Valencian heat is hungry work. The need for rest and respite under the shade of an almond or olive tree, refuelling the body with a meal was well deserved and fought for. Almuerzo has now become so deeply ingrained into Valencian life that it is a meal that workers are legally entitled to.
The Holy Trinity
In the beginning, the almuerzo took place at the worksite. A piece of bread, salted meats, sausage and wine, were the holy trinity. Initially it was only bread, the idea of the bocadillo would come later.
Today one of the staples of a traditional almuerzo is the bocadillo. A meal between bread, about half an arm's length. Bocadillos contain only traditional and local ingredients. A potato tortilla, bacon, chicken, pork, eggs, calamari and more fill up the crusty bread. The combinations are endless, and their soulful combination leaves one satisfied. For those that understand the history, it's an appreciation and a gaze into the past of that which makes Valencia truly special.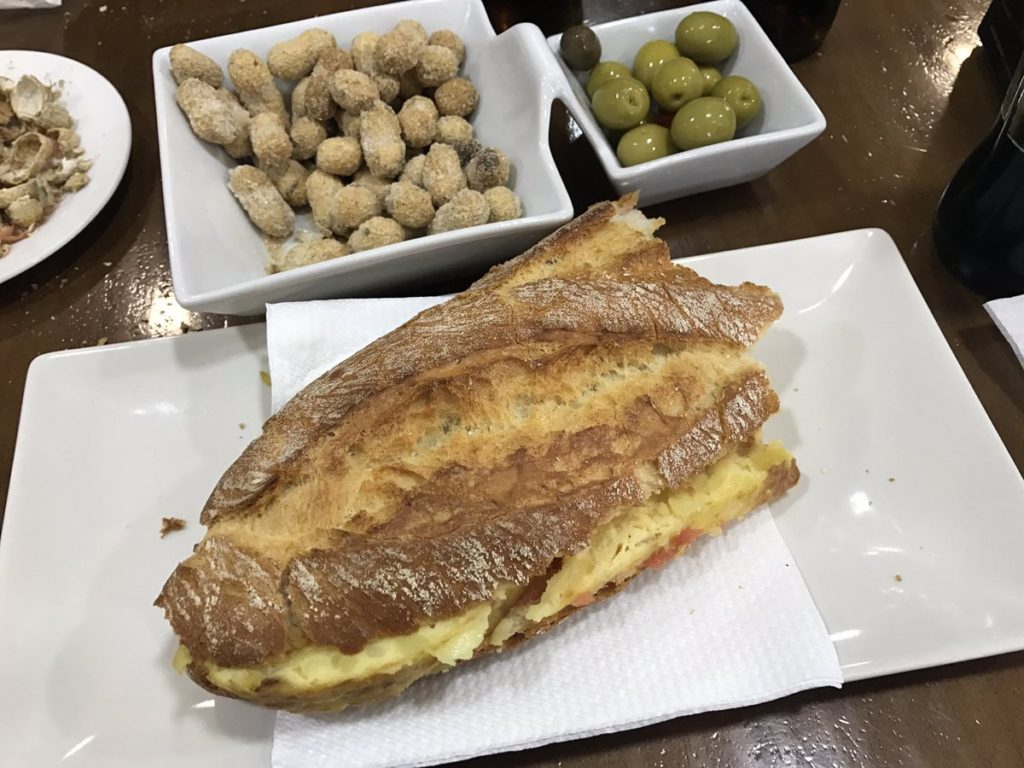 But that's not all. A true almuerzo always comes with olives or small pickled onions and assorted nuts or other nibbles. Along with a caña (a small beer) or a vi amb limoná (wine with soda), and a coffee, however in my case, preferably a carajillo. A carajillo is a coffee with a dash of liquor, usually cognac, or rum. All this for a total of around five euros. As a result the almuerzo is surely the best value meal of the day!
The almuerzo is a labour of love, whether you're having your morning break, or you're enjoying your weekend with some friends and family, drinking and eating in the sun, be sure to familiarise yourself with one of Valencia's greatest traditions. All hail the almuerzo!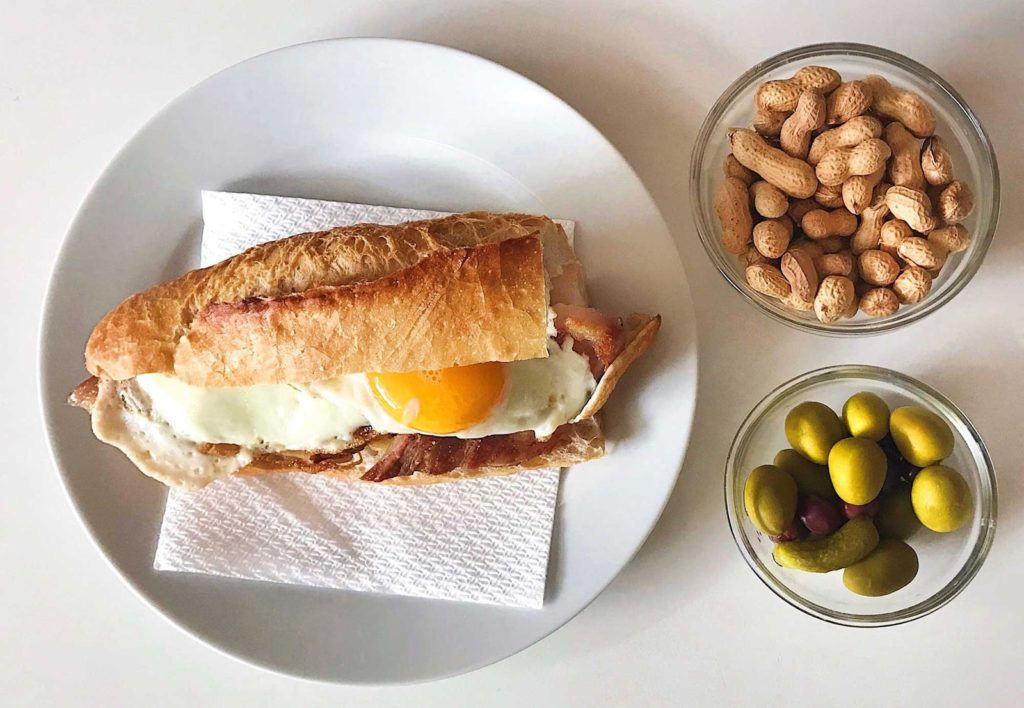 Our Top Three Almuerzo Spots In Valencia
Although most bars supply an almuerzo, and most of them hit the right notes, here are a few places we at Valencia Life think stand out from the crowd, in no particular order.
Cafeteria Pizcueta 14
Cafeteria Pizcueta follows the Valencian tradition at its finest, and provides one of the top 10 best tortillas de patata in Spain. Well brewed coffee and fine examples of how olives should be served for an almuerzo, Pizcueta is certainly not one to miss.
Carrer de Félix Pizcueta, 14 46004, València, Valencia; 963 94 24 00; Monday from 6:30 – 19:45; Tuesday to Friday from 6:30 – 19:30; Saturday and Sunday closed.
Alhambra
This small, but extremely traditional spot hides wonders behind its simple façade. Rated a solid four out of five on trip advisor, take our word for it, their tortilla de patata is to die for. You can even regularly see customers eating standing up. The place is small, and you're lucky if you can get a table, it's that good.
Carrer de Calixt III, 8 46008 València, Valencia; 641 26 75 26; Monday to Saturday 8:30 – 16:30; closed on Sunday.
Bar Nuevo Oslo
Rated at a deserved four-point nine out of five Bar Nuevo Oslo serves one of the most elaborate bocadillos you can find in Valencia. Amstel held a competition to see who could make the best "quart de poblet" bocadillo, where almost 300 bars and restaurants competed. Bar Nuevo Oslo was one of the finalists with their take on a "figatell" with beef, Amstel and plum sauce, tender sprouts, fried onion, and sun-dried tomatoes.
Carrer del Doctor Sanchis Sivera, 7 46008, València, Valencia; 963 85 04 93; Monday to Friday from 7:00 – 18:00; closed on Sunday
These are just a few of some of the best places in Valencia to enjoy a traditional almuerzo. Truth be told, it's hard to find a bad one. Always remember, when you partake in an Almuerzo, you're not just biting into a succulent bocadillo, but you're taking a bite into time and history itself.