Find out about the best pizza restaurants Valencia has to offer. Daniel Hazelhoff reports…
After all the explosiveness of Las Fallas, one is likely to have had their fill of churros and paella. A much-needed break from Valencia's traditional dishes might be in order. So, here are Valencia's best pizza restaurants. After all, going off carbs cold turkey could be dangerous. Never let it be said we at Valencia Life do not care.
Let's be honest, Valencia has a wide range of pizza spots to satisfy your dough needs. We've worked on a comprehensive list to weed out the good from the bad and the ugly. We're ranking these pizza spots by their product quality, price, and atmosphere. After all, a pizza is best shared in good company.
In Ruzafa two spots immediately come to mind when we think of pizza. Without a doubt, these two spots stand out above the rest, and they couldn't be more different.
Interno Mediterraneo
At Interno Mediterraneo, you'll find not only some of the best homemade gourmet pizzas but also an ever-evolving menu that just gets better with time. Chef patron Dario is constantly innovating and improving on his recipes. This is why he never fails to astound us at Valencia Life. From one kilogram of Duroc pork barbecue ribs, steak tartare and homemade ravioli to pizzas del dia. They will leave you both satisfied and craving for more at the same time. And this is just part of why Interno Mediterraneo is one of the best pizza restaurants in Valencia.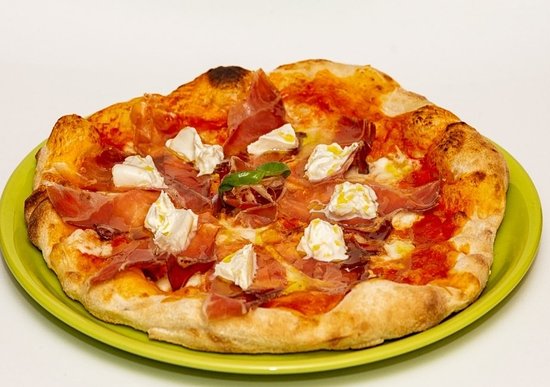 But we're here for the pizza, the best pizza Valencia has to offer. Their classic margherita comes with a twist – they use a smoked bufala. This little twist makes a world of a difference and elevates the iconic pizza to a whole new level. Their Iberico ham and truffle pizza is something else. Topped with their crema de burrata, paleta Iberica, arugula, truffle powder and their homemade tomato base (a revelation, by the way) it's not far off perfection. This top tier pizza only costs €13 for the works – and it's worth every cent.
For the true cheesehead, we recommend their pizza Azul. Made with mozzarella fiordilatte, blue cheese, speck, and basil for that freshness that cuts straight through the whole thing.
At Interno Mediterraneo they don't beat around the bush when it comes to sourcing quality ingredients. They source all of their produce locally straight from the Mercat de Russafa. Securing a low-emissions model, sustainable policy of zero food kilometres, thus minimising their carbon footprint. And at Valencia Life, we're all about that.
Not only an incredible pizza restaurant but killer cocktails too!
They don't only make some of the best high-quality pizza at an affordable price in the whole of Valencia, but they also mix some killer cocktails. Their newly updated cocktail menu includes aperitifs, long drinks, and after-dinner cocktails, all for around €8. Their Smoky Negroni features Mezcal Gusano Rojo, alongside Vermouth Martini Rubino, and Campari bitters. On the sweeter side, their Bramble is made with Grey Goose Vodka, blueberry liqueur, lime and syrup, thanks to resident gifted mixologist Eros.
All these elements add up to a wonderful equation. As it's a small place, it is quite intimate. So, it's perfect for small gatherings, and dates. They've built up a wonderful atmosphere and take pride in their homemade music playlists that consistently dole out absolute bangers.
Interno Mediterraneo is easily at the top of our list for best pizza restaurants in Valencia. And don't forget, as a Valencia Life insider you get 15% off your meal. Just sign up for our newsletter on our offers page to get the best discounts Valencia has to offer.
Address: Carrer de Pere III el Gran, 7, 46005 València, Valencia; Monday from 13:00 – 16:00 and also at 19:00 – 00:00, Wednesday and Thursday from 18:00 – 00:00, Friday from 18:00 – 1:30, Saturday from 13:00 – 1:30, Sunday from 13:00 – 00:00; +34 960 06 72 32
La Finestra
La Finestra is a different kind of spot. They're always busy, and it's a first come, first served kind of experience. Many times you might find yourself sitting with complete strangers. Maybe even making friends over jugs of wine and beer. The pizzas here are small, personal-sized servings. The interior is set up with mismatched furniture, homemade pallet benches, and two private booths in the back for larger groups. Their walls are covered in local artists' artwork, and everything you see can be purchased.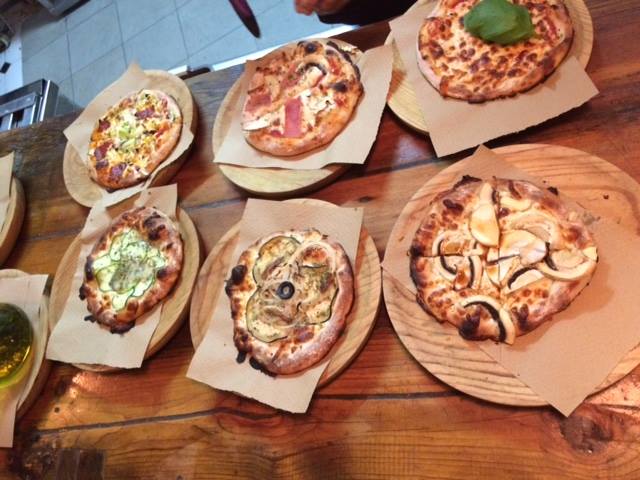 People from all walks of life gather here to enjoy the simpler things. The devil is in the detail, and their pizza speaks for itself. If they're not too busy you can order any ingredients you like on your €2,50 personal pizza. Although it's very rare that this place isn't busy. If they're busy, which they usually are, then you have three options, vegan, vegetarian or surprise. That element of surprise keeps things fresh, as you never know what you're going to get. Their homemade tomato base and dough are the stars of the show. With a staple like that, you can't go wrong.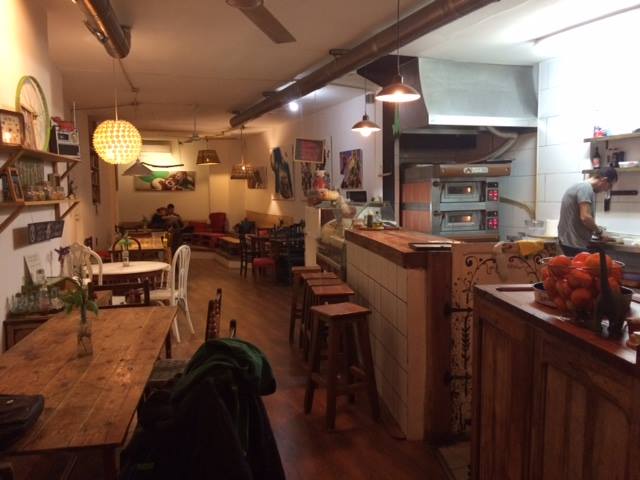 Pizza for everyone!
They have vegan-friendly options for our vegan readers. And their burrata salad is a decadent delight. This small spot is run by a passionate team that are always happy to have a quick chat with customers as they refill your jug of beer or wine.
Here quantity is key. A visit to La Finestra is an experience in its own right. You come for the pizza, but you stay for the atmosphere and laughter. There is never a dull moment at La Finestra. And for those looking to make some new friends, La Finestra is a must-try pizza spot. So, it makes sense it's another of our favourite Pizza Restaurants In Valencia.
Address: Carrer dels Vivons, 16, 46006 València, Valencia; Monday to Sunday from 12:00 – 23:30; La Finestra
Viva Napoli
Pizza is a concept we're all familiar with. Such a classic dish, with such a rich history, rooted in tradition, and technique. So how do places keep it fresh and interesting? Enter Viva Napoli. They're rightly famous for their one-metre long Neapolitan pizzas. You can find them in the charming and slightly grungy – in a good way – neighbourhood of El Cabanyal.
Their pizzas are ranked amongst the best pizzas Valencia has to offer. They received Trip Advisor's Travellers' Choice award for 2020, and honestly, it's no surprise. The thin-crusted artisanal Neapolitan style is no laughing matter. The metre-long pizza is also made with their classic homemade dough and is their claim to fame.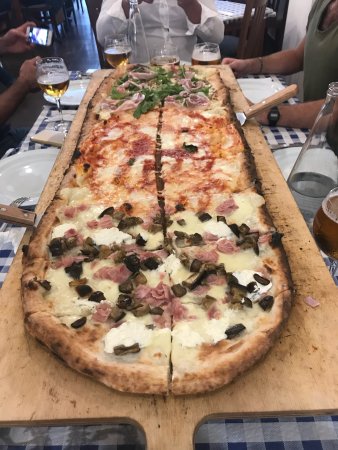 This spot doesn't stray away from tradition, with welcoming employees, good wine, and cold beer on draught. As you're seated you get to see the artists work their magic with their classic wood fire stone oven.
A normal pizza can cost anywhere from €7 – €10 whereas their metre specialities are priced from €13 – €20. Some serious value for all that pizza!
Their entrées host a range of charcuterie boards, which cost around €10 per serving. However, they're big, and of high quality. Their homemade pasta includes gnocchi and lasagna, which go for around €8 per plate.
The quality of their pizza means they are busy, especially on the weekends. So, at Valencia Life, we recommend you make a reservation at least a day in advance, You don't want to miss your spot in this award-winning pizza restaurant in Valencia.
Address: Carrer de la Reina, 60, 46011 València, Valencia; Monday from 13:30 – 16:00 and also at 20:00 – 23:30, Wednesday from 20:00 – 23:30, Thursday to Sunday from 13:30 – 16:00 and 20:00 – 23:30; +34 674 86 97 37, Viva Napoli
Acqua E Farina
At Acqua E Farina they pride themselves on their special dough. They strive for high quality while providing an easily digestible product. And as a way to achieve that goal they use a mix of different flours, including rice flour, Kamut flour, semolina flour, and low refined wheat flour for a better flavour and nutritional value. They take great care in their ingredient sourcing while making sure every ingredient on their pizzas is the best of the best.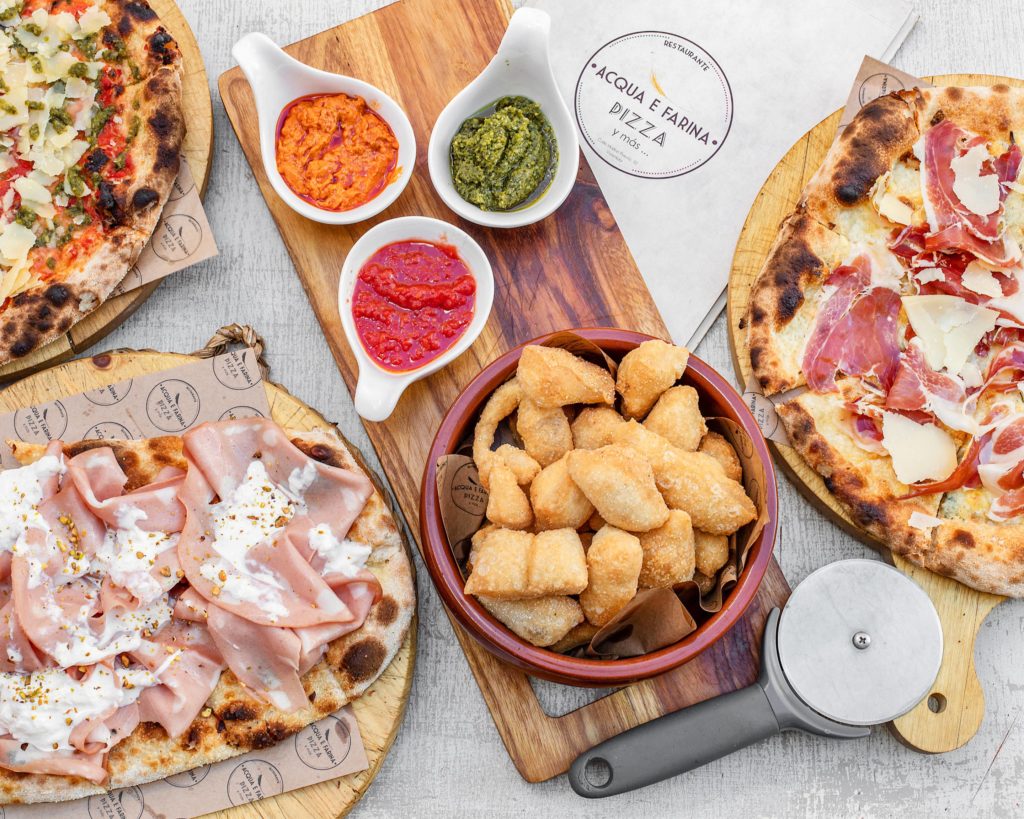 Their speciality is artisanal pizzas. After all, that's why we're here. Pizzas are hand-stretched, and they also supply a selection of focaccias, salads, hamburgers, and Italian desserts.
Their entrees include seasonal vegetable tempura for €8. Their Stracciatella Di Burrata is one of the more interesting appetisers, with traditional Apulia cheese, served with cherry tomatoes, ham, pizza gnocchi or classical focaccia, for €12. And how could we not mention their carpaccio. Served with a lemon vinaigrette, parmesan and rocket, for €10?
Their focaccia range from €5 to €12,50. You'll find and have a wide variety, from classic focaccia with oil and salt to the more complex Surtido de Embutidos, with speck, mortadella di Bologna, spicy salami, buffala, and dried cherry tomatoes.
Red pizza or white pizza?
They serve white pizza as well as red pizzas, with their homemade tomato base. White pizzas omit the tomato sauce and go for around €11,50. You can find salmon pizzas, with smoked mozzarella, smoked salmon, rocket, and pecorino cheese. Their red pizzas go from €8 – €14, you can try anything from their classic margherita to their diavola (a Valencia Life favourite) with their tomato base, mozzarella, and spicy salami. If you want to get fancy with it, then why not try their Foie pizza, with semi-cured cheese, mozzarella, Foie paté, duck ham, rocket and dried cherry tomatoes.
Even though Acqua E Farina is a bit pricier than the other pizza restaurants on this list, it's definitely worth it.
Address: Carrer de Matias Perelló, 52, 46005 València, Valencia; Tuesday to Sunday from 20:30 – 00:00; +34 963 12 97 88; Acqua E Farina
Raffaello
"Cooking in itself is a science, the cook develops art," says a quote on Raffaello's menu. Rafffaello's boasts more than three pages on their menu dedicated to just pizza. So, if you want a wide range of choices, this is your spot. Classic red-checked interior and a friendly atmosphere makes it snug and welcoming. Here, you'll spend time with friends and family, gorging yourself on their wide variety of pizzas, pasta, and risottos.
They have a large outside seating area, so it's perfect for those sunny Valencian days. In other words, most Valencian days!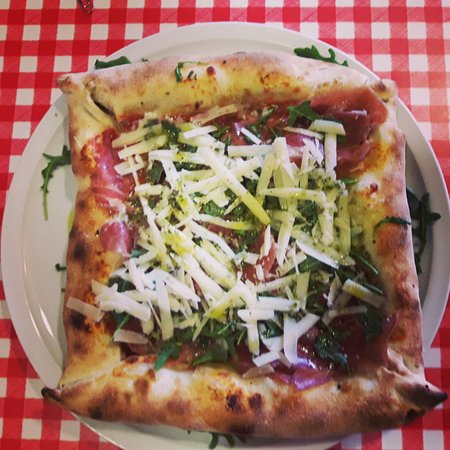 Their Insalata con burrata is fantastic, and a modest €9. As is their fonduta (fondue), two of our favourite entrees at Valencia Life. Their pasta dishes range from classic Lasagna and cannelloni €9 to paccheri con misto mare, a homemade pasta made with the catch of the day and cherry tomato sauce for €11,00. Three different risotto, one with blue cheese, a fish risotto, and risotto with pistachio sauce and shrimp. And all priced at €13,00.
Their four pages of pizza and gourmet pizzas make sure there's something for every kind of pizza lover. Their regular pizzas range anywhere from €7,00 to €11,00, and all of their gourmet pizzas are priced at €13,00.

Address: Carrer de l'Alcalde Reig, 5, 46006 València, Valencia; Tuesday from 20:00 – 23:30, Wednesday to Sunday from 13:00 – 15:30 and also at 20:00 – 23:30; +3 962 06 63 20
For more food and drink news in Valencia take a look HERE