Take a look at the amazing street food on offer during Valencia's annual celebration that is Fallas. Daniel Hazelhoff reports…
Walking around the city this March checking out the wonders Fallas has in store will surely burn some calories. Refuel your body as you stroll along the decorated streets of Valencia with some of the best street food Las Fallas has to offer.
The heart and soul of Las Fallas lives on the streets. Many of these meals aren't Fallas specific, but still hold cultural importance and shine during Valencia's main festivities. Whether it be a hearty two-hour meal or a tupperware on a street corner with some friends and a beer, find your favourite Fallas meal here.
Paella
How could we not mention paella? Valencia's star dish. With rice from l'Albufera, vegetables, rabbit and chicken sourced locally, it's a Fallas staple. Although you can find paella in Valencia all year round, it takes on a special significance during Fallas. The paella is cooked in the traditional way by a 'Casal' on almost every street.
A casal is a local social club, where friends and families meet throughout the year for special events and family celebrations. They are also responsible for funding and building the colourful ninot street displays. It's the centre of life for falleros and falleras. You will find the main celebrations of Fallas here. Almuerzos, lunches, and dinners are all hosted in these large tents.
These tents are erected at the beginning of, and stay up for, the length of the Fallas celebration. One can find friends and family celebrating life to its fullest. Beer on tap, sangria flowing like water, and the distinct smell of orange-tree wood burning.
That smell comes from the paella. You can watch cooks make their paellas live on the traditional flat pan (called a paella – that's actually where the dish gets its name from). As you stroll around Valencia, follow your nose, and you will be able to find a paella valenciana.
A typical paella valenciana in its most traditional form has bomba rice, from l'Albufera, chicken, rabbit, flat green beans, and garrofó, a type of white bean. Of course, there are different varieties, and during Fallas, you'll be able to find them all.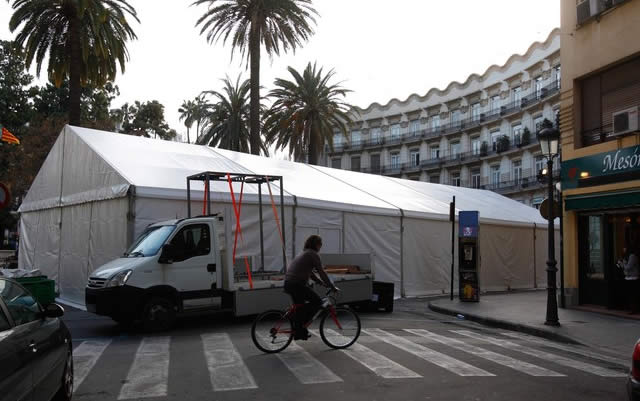 Many casals host paella competitions where you can find a plethora of different types of paella, and cooks trying their best to win. Keep an eye open for such events, and reap the culinary rewards.
Almuerzo
An important Valencian tradition, practised daily. Though not Fallas-specific, walking around Valencia all day taking in the views means a quick stop at a bar might be necessary.
Most bars will supply customers with quality and low-priced almuerzos. A typical bocadillo has beef, pork, cuttlefish, squid, or tortilla de patata (Spanish omelette). An almuerzo can be an ideal midday refuelling point for a full day of Fallas festivities. Grab a caña, and a bocata, and in 15 minutes you're on your way to more celebrating. A typical almuerzo can go anywhere from €6 to €12, and will surely leave you satisfied.
Buñuelos, churros, and chocolate
You can find this traditional staple of Fallas street food on almost every corner of Valencia. During the festivities, March remains a little cold. And in response, street vendors set up their stalls. You can identify a classic buñuelos, or churros stand by their emblematic lighting and colourful displays.
The smell of hot oil and fried goods tends to waft through the streets of Valencia during Fallas. When you've been out all day, and the sun begins to set, the cold settles. What could be better than a hot chocolate accompanied by deep-fried churros or buñuelos?
This combination is easy to find during Fallas. Buñuelos are a Valencian tradition, made out of flour, pumpkin, yeast, and not much else. This mixture is deep-fried and usually paired with hot chocolate.
Churros are deep-fried sticks, made out of flour, water, a dash of milk, and a pinch of salt. Churros are best with a mug of hot chocolate. These simple dishes represent the Fallas evenings. Fight the cold with heartwarming deep-fried goodness.
Horchata and Fartons
Horchata and fartons, for locals, are one hundred per cent the image of a Valencian summer, but don't let that fool you. Being a traditional Valencian snack, horchata and fartons make a mighty comeback during las Fallas.
Horchata is made out of chufa (tiger nut) and was dubbed "pure gold" by Jaume I De Aragón, King of Valencia from 1238 – 1276. It's a refreshing drink, and when paired with fartons, you can't go wrong. Fartons are a type of long and sweet bread. They are made out of flour, milk, sugar, oil, eggs, and yeast, later to be doused in sugar. This spongy sweet delicacy exists for us to dip it in horchata. Fartons also make a great pairing with the traditional Valencian hot chocolate.
Casas de comida
You can find street food during Fallas in casals. However, Valencia has a very special type of business. Las casas de comida. These small, usually very cheap establishments cater to-go. You can find traditional Valencian dishes for extremely low prices, but don't let that fool you. Some of the best lunches are waiting for you in these places. Meals are cooked in large portions, with care, love and experience, and sold in raciones (portions). Raciones can be as low as €2,50 but a ration of paella valenciana averages at about €4.50.
After a morning out, possibly even after your almuerzo, you may find yourself stumbling about Ruzafa, or Benimaclet Do yourself a favour and give one of these traditional houses a try. They are easy to find. Just look for the telltale sign "Casa De Comida", y ya está, you got yourself a cheap, delicious on-the-go meal.
Keep up to to day with the latest Valencia news HERE.