No More Meat-Ups: Is Valencia Vegan-Friendly?
With more and more people flocking here for either a short escape or maybe to start a whole new life the question – is Valencia vegan friendly? – seems to be popping up more frequently. Vegan and Valencia Life writer Sinead O'Carroll attempts to take the fat off the bone…
Veganism is growing globally, there's no doubt. But some cities are really soaring while others are, shall we say, lacking a little. And for a travelling vegan, your experience can be quite different depending on how vegan friendly the city is.
So, to the question at hand, is Valencia vegan friendly?
Yes, it really is.
It's much more vegan-friendly than I first expected. Maybe it's because the Valencian people understand the need to move towards a more sustainable way of life. Or possibly because of the huge influx of foreigners causing the vegan community to expand, and the market is reacting to this growth.
Either way, whatever the exact reason for the huge shift, right now in Valencia, it's easy to live a happy vegan life.
Is Valencian food vegan-friendly?
Now, I'm going to contradict myself a little here, is any Spanish food really vegan friendly? No. No, it is not. De ninguna manera.
You'll find meats, fish and cheeses in most traditional Spanish eateries. So, I don't want to get you over-excited and lead you to believe that every taberna and local bar you step into will be a vegan's paradise, because I'd be setting you up for disappointment.
However, with the bit of insider knowledge that I'm about to share with you, you'll be all set to live as a vegan in Valencia.
What's eating out as a vegan in Valencia like?
Whether it's just a flying visit to Valencia or the start of a new life, most people want to know where they can find food they like, and they want to know now.
So, can you find good vegan food and vegan restaurants in Valencia? Great news – the answer is yes, easily.
And since my first visit almost four years ago, things have become so much better and vegans are spoiled for choice compared to some other Spanish cities. Excluding Madrid and Barcelona of course. So, is Valencia vegan-friendly? Absolutely!
I want to give you some places to get started but if I listed every vegan or vegan friendly place in Valencia I'd be here all day so I'm just going to share some of my favourites.
Vegan breakfast in Valencia
Bluebell Coffee in Ruzafa
This place offers a few tasty vegan breakfast options such as porridge, chia pudding and tomato on toast. You'll find it right in the heart of Ruzafa, one of the coolest neighbours in Valencia.
Bluebell Coffee; Carrer de Buenos Aires, 3, 46006 València, Valencia; Monday to Sunday from 9:00 – 16:00; +34 678 36 16 15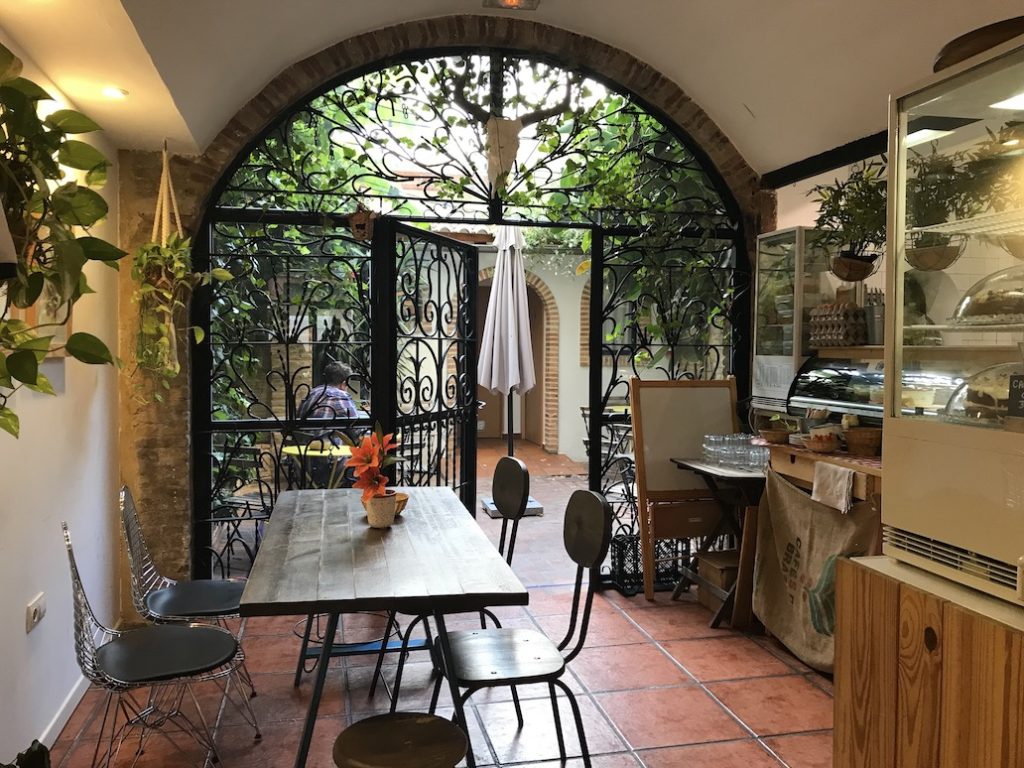 Boa Beach Valencia at Malvarrosa beach
This place is a real treat. Sometimes when you're around the hustle and bustle of the city it's easy to forget that Valencia is actually a city with a stunning beach. So, if you're after a more relaxed morning head to Boa Beach. Here you can enjoy the chilled out atmosphere and order a breakfast bowl, vegan pancakes or one of their vegan toast options. It's actually a great choice for lunch, dinner or drinks, too. Anything really.
Boa Beach Valencia; Passeig de Neptú; 62, 46011 València, Valencia; Monday to Sunday 9:00 – 23:00; +34 960 09 91 80
Dulce de Leche Boutique in Ruzafa and Arrancapins
This is a very cute but busy breakfast spot. For vegans, they offer a breakfast set that includes avocado on toast, coffee and a glass of juice. They've also got dairy alternative milk and a freshly-baked vegan croissant. Yum!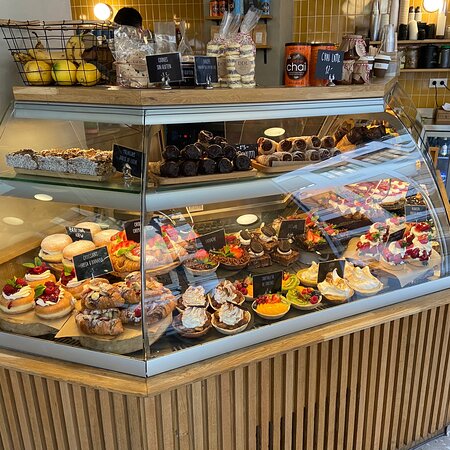 Dulce de Leche Boutique; Carrer del Pintor Gisbert, 2, 46006 València, Valencia; Monday to Sunday 9:00 – 21:30; +34 960 03 59 49
Casual vegan lunch or dinner in Valencia
Jardin Urbano Vegan-Bar – in Ruzafa
This spot gives a bit of everything. A relaxing drink on a charming corner of Ruzafa in the sun. A light snack on some tasty tapas to get you through the afternoon. Or a full evening meal with some friends. Their fully vegan menu has so much to offer that you won't feel like you're missing out on a thing in Jardin Urbano.
Carrer de Pere III el Gran, 26, 46005 València, Valencia; Monday to Sunday 10:00 – 00:30; +34 658 54 36 57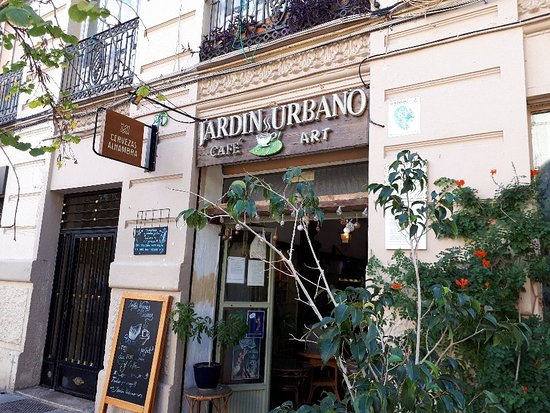 Dempanadas in El Carmen
Who doesn't want to soak in the history of Valencia's old town with an empanada, or two, in hand? There are actually a few of these around the city and you can sit down and enjoy one with a beer or wine or grab one to eat on the go.
Dempanadas; Carrer de Calatrava, 2, 46001 valència, Valencia; Tuesday to Thursday 7:00 – 23:00; Friday and Saturday 12:00 – 16:00 and also 19:00 – 23:30; Sunday 12:00 – 16:00; +34 960 09 99 00 
Khambú in El Carmen
Khambú provides vegan bellies with fast food that simply can't be beaten. A huge range of vegan burgers, hotdogs, wraps, fries and desserts. You'll find everything you could need to get your fast food hit. I've never left anything but satisfied.
Khambú; Carrer de Quart, 41b, 46001 València, Valencia; Tuesday to Thursday 13:00 – 16:00 and 19:30 – 23:00, Friday and Saturday 13:00 – 16:00 and 19:30 – 23:30, Sunday 13:00 – 16:00 and also 19:30 – 23:00; +34 963 12 09 01
Almalibre Açaí House Valencia in El Carmen
Apart from this place serving amazing vegan food, I also like that they are open every day and don't close in the middle of the day. A lot of restaurants in Valencia open and close whenever they please so it's nice to have a place to rely on. I like to go here for breakfast or lunch. They serve a bunch of great breakfast options as well as tasty sandwiches and burgers. If you're not siesta-ing this is the place to head to.
Almalibre Açaí House Valencia; Carrer de Roteros, 16, 46003 València, Valencia; Tuesday to Sunday 10:00 – 22:30; +34 961 04 84 75
La Mandrágora in El Carmen
This is where the vegans are at! It's fully vegan and very alternative. If you're someone who can't make a decision or likes a surprise then this is the perfect spot. It's a set menu so you get what you're given and…you pay what you like.
La Mandragora; Calle de la Mare Vella, 15, 46003 València, Valencia; +34 685 77 19 91
Vegan Asian food in Valencia
There are a few of these around Valencia, actually all around Spain. And they are absolutely the top choice for vegan Sushi in Valencia. The menu is packed with a load of great vegan sushi options. As well as some really cool but weird stuff like Japanese potatoes – you gotta try them!
Miss Shushi; Various Locations
Thai Mongkut in Ruzafa and El Carmen
If you like Thai food you've got to go here, actually even if you don't like Thai food, still go, I bet they'll make you fall in love with it! It's one of the few places I've ever been that serves the traditional dish from the North of Thailand, Khao Soi. It's a spicy noodle soup with crunchy noodles on top, the sh*t dreams are made of. They have plenty of vegan options and you'll find one in Ruzafa and one in El Carmen.
Thai Mongkut; Ruzafa; Carrer de Sevilla, 27, València, Valencia; +34 961 18 91 35; also at El Carmen; Calle de la Corona, 8, València, Valencia; +34 960 21 67 80; Wednesday to Sunday 13:30 – 15:30 and also 19:30 – 22:30 
Restaurant Pato Beikin in La Roqueta
The best spot I've found for vegan Chinese food in Valencia. They've got a huge vegan menu, meaning you can eat pretty much any Chinese food you desire, vegan style. Funny thing is, they'll never offer it to you so you've got to ask. But it's worth it because it's a great little restaurant with a traditional Chinese feel.
Restaurante Pato Beikin; Carrer del Mateàtic Marzal, 17, 46007 València, Valencia; Monday to Thursday 12:00 – 00:00, also Friday to Sunday 12:00 – 00:30; +34 655 52 77 33
Traditional Spanish food – vegan style
La Tavernaire in Ruzafa
You've got to see this one to believe it. Earlier I said traditional Spanish food isn't vegan. Well as a standard that's true. But this place completely smashes the norm. When ordering, and eating, it didn't matter how many times I'd been told it was all vegan, I had to keep asking. It's the kind of place where you'd feel lucky if the olives were vegan because it's so traditional. But…. IT'S ALL VEGAN! If you want to feel like a local while still eating vegan food don't miss this spot in Valencia.
La Tavernaire; Carrer de Dénia, 18, 46006 València, Valencia; Wednesday and Thursday 19:30 – 00:30; Friday 13:00 – 16:00 and also 19:30 – 00:30; Saturday 13:00 – 16:00 and also 19:30 – 23:30; Sunday 13:00 – 16:00
This is one of the first spots I remember going to in Valencia. While it's not completely traditional, they do serve a selection of tapas and sitting out on the tree-lined street on the far corner of El Carmen feels very Spanish indeed. Although, I do have to admit they do one of the best vegan burgers around…maybe not so traditional. Everything they serve is veggie or vegan so aside from their tasty food it's a nice place to be supporting too.
La Tastaolletes; Carrer de Salvador Giner, 6, 46003, València, Valencia; Wednesday to Sunday 13:00 – 16:30 and 20:00 – 23:00; +34 963 92 18 62
Vegan food with a little extra class
Copenhagen in Ruzafa
Looking for somewhere a little classier? Maybe you're going on a date night or fancy treating yourself a little? Then Copenhagen is the perfect option. They bring a modern take to vegan food while adding a little drop of luxury, which can't often be found in places offering a vegan menu. They've got a fantastic range of tapas, salads, mains and desserts but what's even better, is that they serve swanky food at regular prices.
Copenhagen; Carrer del Literat Azorín, 8, 46006 València, Valencia; Monday 13:30 – 16:00; Tuesday to Sunday 13:30 – 16:00 and also 20:00 – 23:30; +34 963 28 99 28
As I said, I could go on all day about the places to eat vegan food in Valencia, but I won't. However, if you do get through all the places on my list and want more, panic not, there are loads! Here are a few to check out yourself:
Oh and in case you haven't heard of it, there's a great app called HappyCow. No matter where you are in the city, or the world, it will help you find vegan options nearby. Get this app on your phone and you'll never go hungry.
Shopping for vegan food in Valencia
Alright, as much as we love having food cooked for us it's necessary for us to cook our own from time to time. But that's all good too, buying vegan groceries in Valencia is no problem either. Another reason Valencia is vegan friendly.
Market shopping
There are two great markets in the heart of Valencia, Mercado Central or Central Market and Mercado de Ruzafa or Ruzafa Market. These are the first places that come to mind when thinking of buying fresh fruit and veg in Valencia. Like any Spanish city, you'll easily find a local market nearby. The only downside with these markets is you'll need to have your blinkers on because there's a lot of meat and fish around the place.
Health food stores
Valencia is actually a great place for its eco-friendly and health food stores. There are two you'll find scattered around the city – Herbolario Navarro and Ecorganic Ecomarket. They offer a huge range of vegan options from all kinds of mock meats to vegan cheeses and so much more. However, they're probably not the best places to do your regular shopping because the prices can be a bit steep but they're great to top up on your health foods and fulfil your cheese toastie craving. I've also been to a few Herbolario Navarros that have little cafes inside so there's another great place to grab vegan lunch.
Are the regular supermarkets in Valencia vegan friendly?
Now, this is a big question if you're looking for your day to day to be as simple as possible. In the centre of Valencia, you'll find supermarkets everywhere. Most of the time it will be either Consum or Mercadona. So, to have an easy life as a vegan, you need to be able to grab what you need at the local supermarket.
So, yes you can. You won't find a huge range of processed vegan food but you'll find what you need. All kinds of fresh fruits, veggies, beans, nuts and seeds as well as tofu, seitan, and hummus. In some stores, you'll find a little more such as burgers, croquettes, cheese and yoghourt. The vegan ranges are growing in the supermarkets, slowly but surely. They're still a long way off the likes of what you'll find in England but there's clear progress. 
What's the vegan community like in Valencia?
This is also growing. In recent years the presence of people living a vegan lifestyle is starting to evolve. If you want to naturally meet some like-minded people get yourself to some of the vegan-only places around the city, you'll soon find out where they hang out.
Of course, I'd be a fool not to mention Facebook groups, if you're trying to meet people in a particular community they are always so useful.
Check out some of these:
So, I hope I've answered the question … Is Valencia vegan-friendly? Yes, it is. It takes a little time to get into your groove but living a happy vegan life in Valencia is more than possible.
• Sinead O'Carroll also writes her own vegan lifestyle blog: www.thewonderingwanderingvegan.com
Keep up with all the latest news in Valencia here.