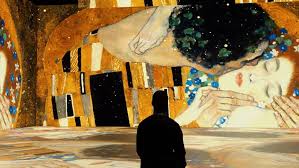 (3-minutes read time)
After successful shows in Seville and Malaga, the extraordinary immersive experience called Klimt's Gold – 'El Oro de Klimt' – is set to be the cultural hit of the summer in Valencia, says Eugene Costello
Good things come in threes, as Spain's third-largest city, Valencia, knows only too well, and the third stopping point for the incredible caravan with its riches that is Klimt's Gold will be taking rest at the oasis of Valencia until August.
This is an art exhibition the likes of which few will have experienced previously. Art meets technology in a dazzling vector that should give the visitor an incredible new perspective on the 19th-century Austrian artist on the 103rd anniversary of the painter's untimely death at the age of 55.
It is being staged at the Mercantil Athenaeum – Ateneo Mercantil de Valencia – in Plaza de Ayuntamiento and is on till 15 August. The organisers say: "Thanks to this new way of bringing art closer to the public, children and adults alike will travel back in time to the golden phase of the European vanguards.
"You will notice every colour, every brushstroke — you'll feel as though you're inside the paintings, like a character from the era. A different way of spending a day with your family, surrounded by art."
Klimt was born in 1862 and died in 1918 as WWI drew to its bloody close, "The War To End All Wars", as the world fervently but vainly hoped. A Symbolist, he was part of the Vienna Secession school. His chief preoccupation was with the female form, seen as erotic. In fact, he attracted much criticism in the early 1900s with a public work for the University of Vienna, when he painted works for the ceiling of the Great Hall; critics attacked his work, calling it "pornographic".
Stung by the criticism, Klimt withdrew from accepting public commissions, and the subsequent years were marked by his new "golden phase", so called because many of the works involved the use of gold leaf as a material, and the subject of this exhibition. The most famous work from this period was The Kiss, finished in 1908. Ten years later, having achieved critical success, Klimt would succumb to the pandemic of the day, the worldwide influenza outbreak.
Ruzafa resident Martina Turbanate, 23, a pastry chef, attended the show and told the Valencian: "It is the first art show I have attended that didn't have any paintings! However, it gave a fascinating insight into the artist's technique and motivation, and I bought a print for my mum in Parma, Italy – Klimt is her favourite artist."
'El Oro de Klimt', Ateneo Valencia; Plaça de l'Ajuntament, 18, 46002, Valencia; +34 963 525 984; www.ateneovalencia.es; tickets for adults, from €12.50, children 4-15, €10.50, concessions available; book at https://tickets.janto.es/klimt/public/janto/main.php

Story by freelance journalist and writer Eugene Costello, formerly based in east London and now living in Valencia, founder of The Valencian https://eugenecostello.co.uk/