The highest temperature recorded in Valencia came on Thursday at Valencia Airport, when the mercury hit a punishing 46.8°C, says Eugene Costello
The highest temperature recorded in Valencia came on Thursday at Valencia Airport. The new high was a record 46.8°C, according to the Spanish meteorology agency, AEMET.
This was the third heatwave to hit Spain this year. The new high surpassed its previous record by a staggering 3.4°C.
Until Thursday the record at the airport's observatory, which holds data going back to 1966, stood at 43.4º, recorded on 6 July 1986, as reported by Catherine Dolan for The Valencia Report.
It has made living in the city very tough. Especially for residents who don't have the option of spending the month of August at a second home. Ideally with a swimming pool in areas such as Javea and Moraira or inland up in the hills west of Torrent.
"This summer was horrible (…) we can't live in our apartments," Valencia resident Nazim Ali told Euronews.
"At night, we put on the air conditioning or the fan. During the day, we try to leave as late as possible (…) and we go to the beach", says Roberto Giménez, another resident told the same publication.
In Valencia city, previous highs of 43º were hit on 26 July 1881 and on 27 August 2010. Records go back as far as 1869. This, then, is a significant jump.
The whole region is suffering from these high temperatures, as AEMET tweeted:

Could temperatures have been even higher en el campo?
That said, Valencia Life was visiting friends in Montroi, near Montserrat. The weather app Accuweather showed 49°C in the shade, as pictured below. Thankfully for the safety of the team, the hosts have a non-heated pool. This saw a lot of action over the period: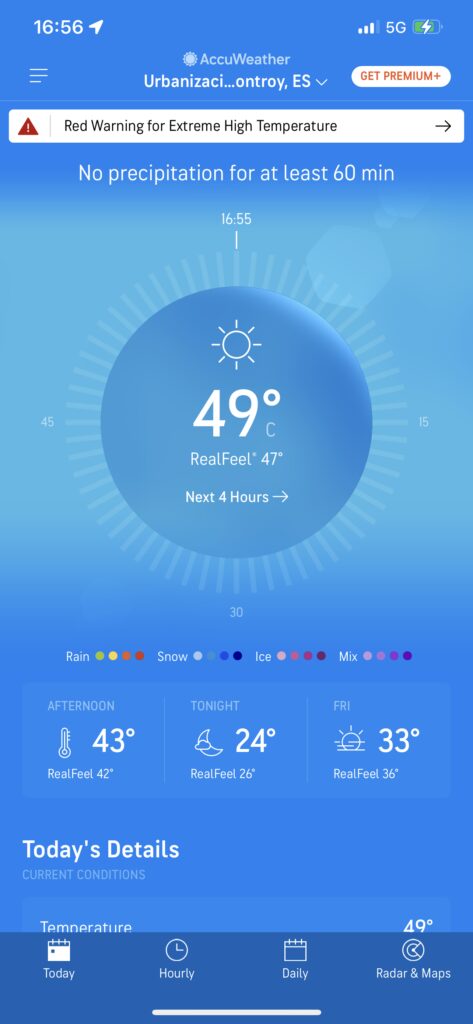 This is not the record for Spain, however. The historic record for Spain was broken on August 14, 2021. This was when temperatures reached 47.6°C at La Rambla, south of Cordoba, Andalusia.
These heatwaves and, it seems, yearly new records represent an inconvenient truth for climate-change deniers. It seems that new records are likely to become an annual event. Valencia Life's best and heartfelt advice is to cultivate friends outside of the city with swimming pools…