After all the hope, dreams and expectations, the Copa del Rey in Seville turned them all to ashes, with the cruellest possible of defeats – the dreaded penalty shootout. Mark Pulley recounts the path to despair…
It was not to be for Valencia in Seville as they lost the Copa del Rey final to Real Betis in the cruellest of ways on Sunday night. Technically speaking, it wasn't until early on Monday morning that the final kick was taken, putting to an end an even contest that seemed to go on for hours.
Let's roll the clock back to kick-off, which was an absurdly late 10pm. I know things are later here as standard but I think someone's having a bit of a joke with that. Probably the same person who booked the legends Mario and Alaska for the pre-match warm-up entertainment. Though Mario could arguably have done a better job on the field.
The Betis fans could easily walk home after the game. God only knows what public transport options were available to Los Che fans at 1am Monday morning. Let's hope a few bars were open for them to drown their sorrows. But, before that, at 10 o'clock, the Valencia fans weren't thinking about getting home. They were dreaming of glory of winning the Copa del Rey.
Home advantage for Betis?
As expected, three quarters of the stadium were green and white, supporting Seville-based Betis. Those from Valencia were together behind one goal. They were outnumbered but they still made themselves heard and waved their orange flags with pride. They were full of hope that they would be taking the trophy back to Valencia with them. Their league form wasn't great, but this was a cup final and Valencia have a good record in finals.
Football geeks might have realised before the first whistle that Valencia were facing an uphill battle due to what Betis' coach, Manuel Pellegrini's, was wearing. A tracksuit. His team has won 63% of games when he's looking casual, compared to only 39% when he's looking dapper. Either way, it was entertaining to see a guy looking like he was straight out of the Panini World Cup sticker album from Mexico '86.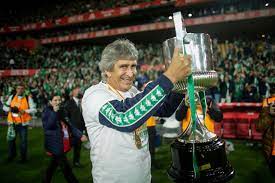 So to the match itself. The tracksuit effect seemed in full swing when after 11 minutes Betis produced some clinical football to take the lead. Héctor Bellerín flew down the right wing and delivered a wonderful cross right on to the head of Borja Iglesias who powered a header straight through Giorgi Mamardashvili in the Valencia goal. It nearly got worse for Valencia minutes later when their sleepy defender, Mouctar Diakhaby, played a terrible back pass and was relieved to see Mamardashvili get to the ball just in time to stop Iglesias getting another goal.
Los Che find their tempo
Los Che eventually got into their stride after 20 minutes, gaining more of a hold on possession and dealing with Betis' pressing game. It was some slick one-touch passing that cut through the press and set striker Hugo Duro through on goal in the 30th minute. He had plenty of time to overthink his finish, but he wasn't going to miss his chance. As soon as Claudio Bravo came rushing out of the Betis goal Duro was ready and dinked the ball over his head, then watched it bounce into the empty net. Valencia were level.
Unsurprisingly the game then became cagey. Both teams became scared to lose rather than adopt a brave gung-ho mentality to win the game. Betis hitting the outside of the post with a deflected shot was the only further action in the first half. Nerves were starting to set in for fans and players alike. Apart from a few half chances for both teams, it wasn't until the final few minutes that chances appeared again. First, Iglesias drew a good save from Mamardashvili at one end and then substitute Bryan Gil outran Bellerín in the middle of the pitch to set up what might have been a dramatic end. Guedes found Soler, the glory appeared in front of him, but he hit his shot straight at Bravo. And that was that, time for extra-time.
I think that the final burst of action in normal time was because the players knew that they didn't have the legs for another 30 minutes. It was summed up best by BBC's live text commentary – extra time is resembling the over-75s match on Father Ted. After reminding myself of that comedy gold this morning, I'd actually say that there was more attacking play on Craggy Island than in extra-time. So, it was inevitable that, at what was now half-past twelve in the morning, it was time for penalties.
Penalties – the cruellest defeat
Betis won the all important toss, meaning that the penalties would be taken in front of their fans. Not something that's essential to win of course, but it does usually help. The first six penalties went in. Only Betis' pensioner, 40-year old Joaquín, came close to missing when Mamardashvili got a hand to his spot-kick, but it wasn't strong enough to keep it out. Next up was Valencia's Yunus Musah. The 19-year old American looked nervous. He walked up to the ball and made the fatal mistake of leaning back too much, sending the ball high over the bar and handing advantage to Betis. It was an advantage they wouldn't relinquish. They calmly dispatched their final two penalties either side of Los Che captain José Gayà's calm effort. It was over. Valencia had lost the penalty shootout 5-4, and young Musah was the pantomime villain.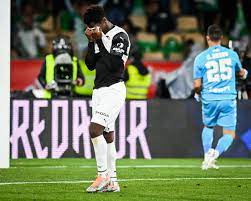 Valencia's season, which was hanging on a knife edge before and during the game will now be seen as a failure. The losing finalists tag won't give them any fond memories. A mid-table finish is the best they can muster, while they watch local rivals Villarreal finish above them and contest a Champions League semi-final with Liverpool. Fans will be hoping that prospective buyer Miguel Zorío will have some positive news for them at his scheduled press conference on the 27th.
• As well as covering football and helping edit 'Valencia Life', Mark Pulley also writes especially about travel – with a focus on Valencia – at thesketchytraveller.com
Keep up to date with news in Valencia HERE.