Copa del Rey came calling to Valencia. It was quarter-finals night and with it came an expectant, febrile atmosphere at Estadio Mestalla for Valencia CF vs Cadiz. Mark Pulley watched the action…
Valencia CF as hosts were firm favourites to beat La Liga strugglers Cádiz and take their place in the last four of Spanish football's premier cup competition. Having scraped through against minnows Atlético Baleares in the last round, they were hoping to put on a better show against Cadiz
Bryan Gil, making his debut following his recent loan from Tottenham Hotspur was keen to show what he could do. But for all of his and Valencia's endeavour in the early stages, it was the old-fashioned lump-it-high-and-long tactic that got them in front. Cádiz's centre-half, known only as Cala (Juan Torres Ruiz to his parents), lost sight of the high ball 40 yards out, failing to get his head on it and then falling over. Hugo Duro, who had kept his eye on the ball, controlled it and advanced towards goal. He then played the perfect through ball to the on-form Gonçala Guedes. Guedes timed his run perfectly to stay onside before finishing low to the keepers right. 1-0 Valencia.
HT – Los Ches are 1-0 up
After surrendering a 2-0 lead at Atlético Madrid in their last game, it was no surprise to hear the fans in the stadium getting nervous as Cádiz began the second-half with control and purpose. But it wasn't thanks to anyone in yellow when Lucas Perez had a golden chance to level the game. That honour went to another Valencia debutant, namely Eray Cömert. Only signed last week from FC Basel for €800,000, the 23-year-old Swiss international decided it was time for him to show what he could do. From a Cádiz corner he decided to grab Cala's shirt, with both hands, and pull him directly to the ground. Somehow the ref missed it but VAR was never going to let it go. Lucas Perez squeezed it past Doménech from 12 yards out, but the keeper really should've saved it. Valencia 1-1 Cádiz
Valencia CF vs Cadiz was now on a knife-edge
Cádiz nearly took the lead just minutes later, when a corner from the same side wasn't dealt with. Perez got a toe to it but the post came to Valencia's rescue. The home crowd were starting to get restless. This turned to boisterous anger when the ref sternly waved away their own claims for a penalty. It was similar to the one given earlier in the half but with some clever blocking rather than blatant pulling. For me, it was the right decision, but I wouldn't have said it out loud if I was around the Mestalla at the time.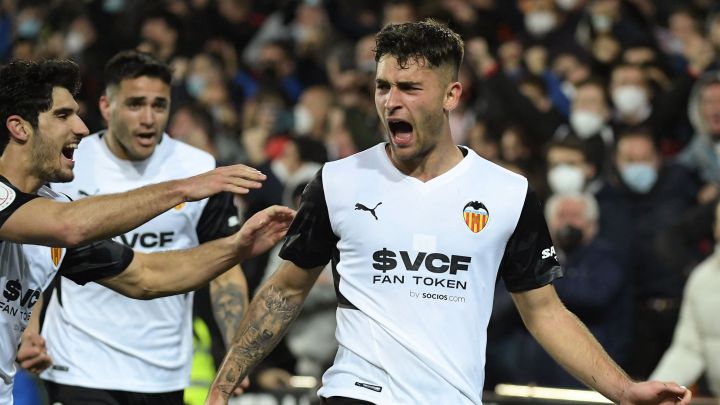 As often happens, a feeling of betrayal by officials is what's needed for fans and players to change a game. And it did. The pressure was building although no decent chances were. But finally a goal came in the 79th minute from another corner. Once again the Cádiz defence failed to defend well and the ball was headed into the corner by Hugo Duro, unmarked, three yards out. 2-1 Valencia. And unlike at The Estadio Metropolitano, this time there was no further late drama. Valencia saw the game out and made it through to the Copa del Rey semi-finals.
FT – A tight 2-1 victory sees Valencia progress
Rayo Vallecano are already through and two more semi-finalists will come from tonight's games. Sociedad vs Betis and Bilbao vs Real Madrid. The first semi-final is on 9 February. So not long to wait.
• As well as covering football and helping edit 'Valencia Life', Mark Pulley also writes especially about travel – with a focus on Valencia – at thesketchytraveller.com