In search of decent Indian restaurants in Valencia? Shahi, Blasco Ibañez, not only serves the taste of home for Brits with a fine, quality buffet. It is also serving up a fantastic discount for readers of Valencia Life. Eugene Costello went to sample and came away seriously impressed with the value and quality… Photographs by Paul Knowles
Raja Ulfat, 39, is the affable owner of Shahi, a fine Indian restaurant in Valencia on Blasco Ibañez, an area popular with both students and local Spanish families. It's situated on the busy six-lane highway that is Avenida de Blasco Ibañez in Beteró, between Algiros and Aiora.
We sit down to chat while the photographer goes about snapping the place. It's like an Indian restaurant in Brick Lane or Bradford. It's lovely and warm, with crimson walls, a bar and Indian music in the background.
That's not surprising. Raja was born and raised in Karachi. Pakistan's largest city has a population of just shy of 15 million, the 12th largest city in the world. But at the age of 21, he moved to Bradford, West Yorkshire. It's arguably the UK's premier destination for Indian restaurants. Or "curry houses" as the no-nonsense Yorkshire folk dub them. In fact, it was crowned Curry Capital of Great Britain for six years in a row. It's the only city to have been accoladed in this way.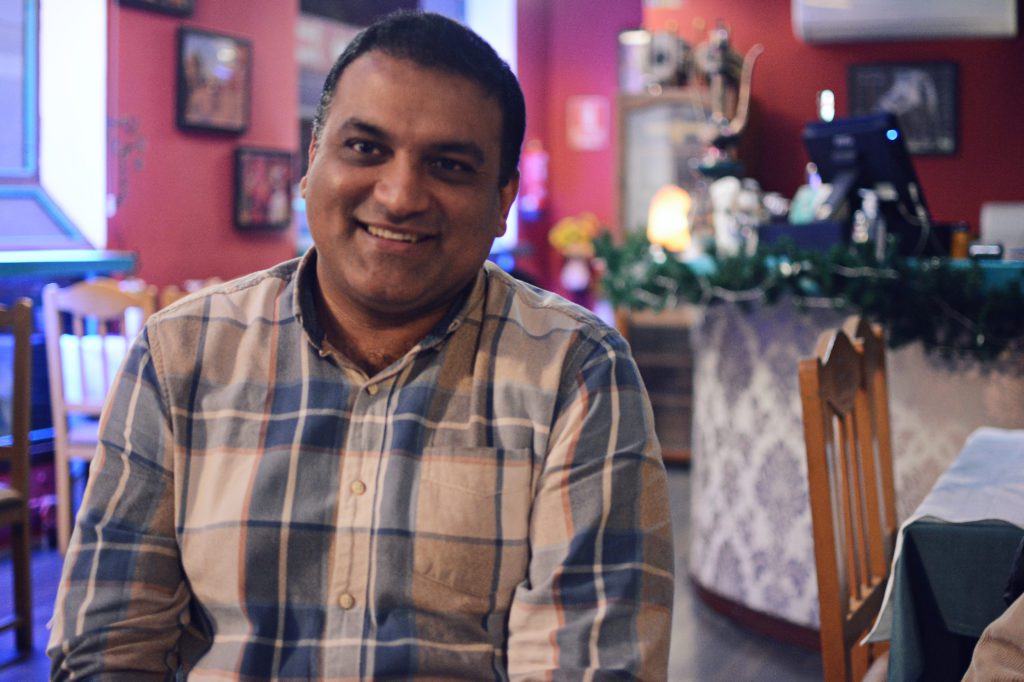 From Karachi to Valencia via Bradford
After doing a degree at nearby Leeds Metropolitan University, Raja worked for some years at a customer service centre for British Gas. But he reached a point where he realised he didn't want to work for someone else. He wanted to work for himself.
"I moved here seven years ago because I had family here from England," he says. "Then three years ago, we realised that there was a gap in the market. A gap for a quality all-you-can-eat buffet. So we started it. As far as I know we are the only Indian restaurant in Valencia to offer an unlimited buffet. And that includes draught lager every night of the week, 365 days a year."
It is an incredible deal, I say. Does he not worry that people will abuse the unlimited lager offer? It would certainly be abused where I am from in east London, I say.
Raja remains imperturbable. "You know, the British over here are not the British in Benidorm, let alone Bradford or Bethnal Green," he says with a smile. "Normally, they will have two or three pints with a meal, and we have factored that into the model."
He does concede that they have some German students who normally come on a Monday night, eat very little but have up to eight pints. But he points out that this is the exception rather than the rule.
At just €11.95 Monday to Thursday and €15.95 at weekends, and with 25 dishes to choose from, it is incredible value. If beer doesn't float your boat, you can choose bottled water or canned soft drinks, of course.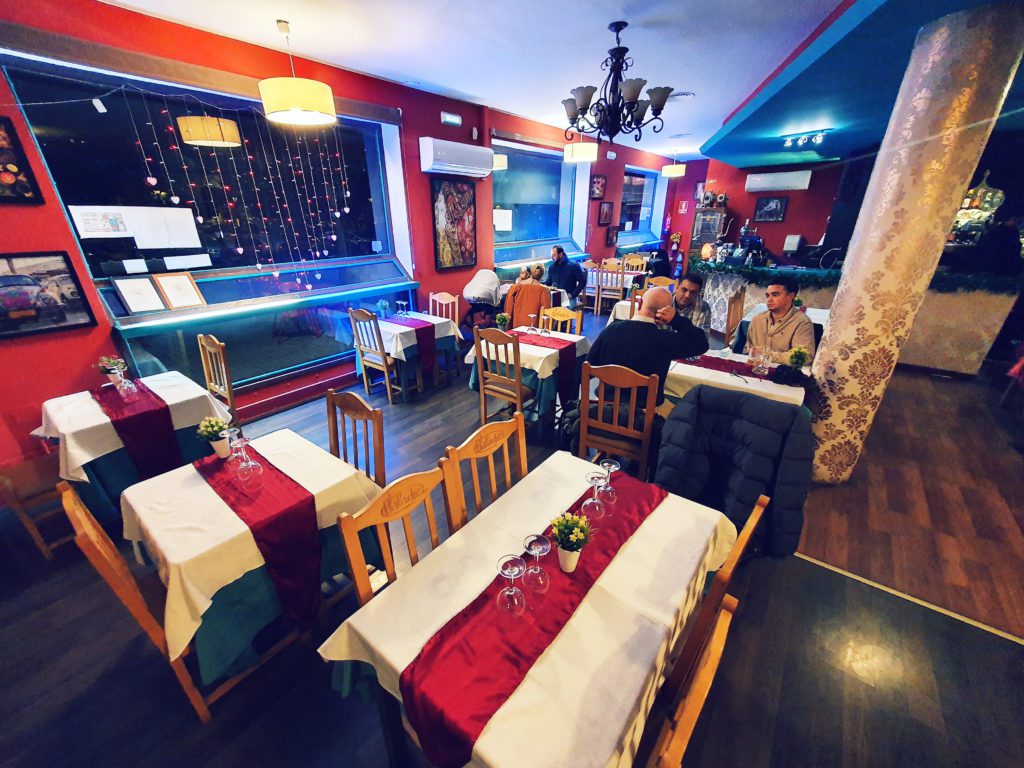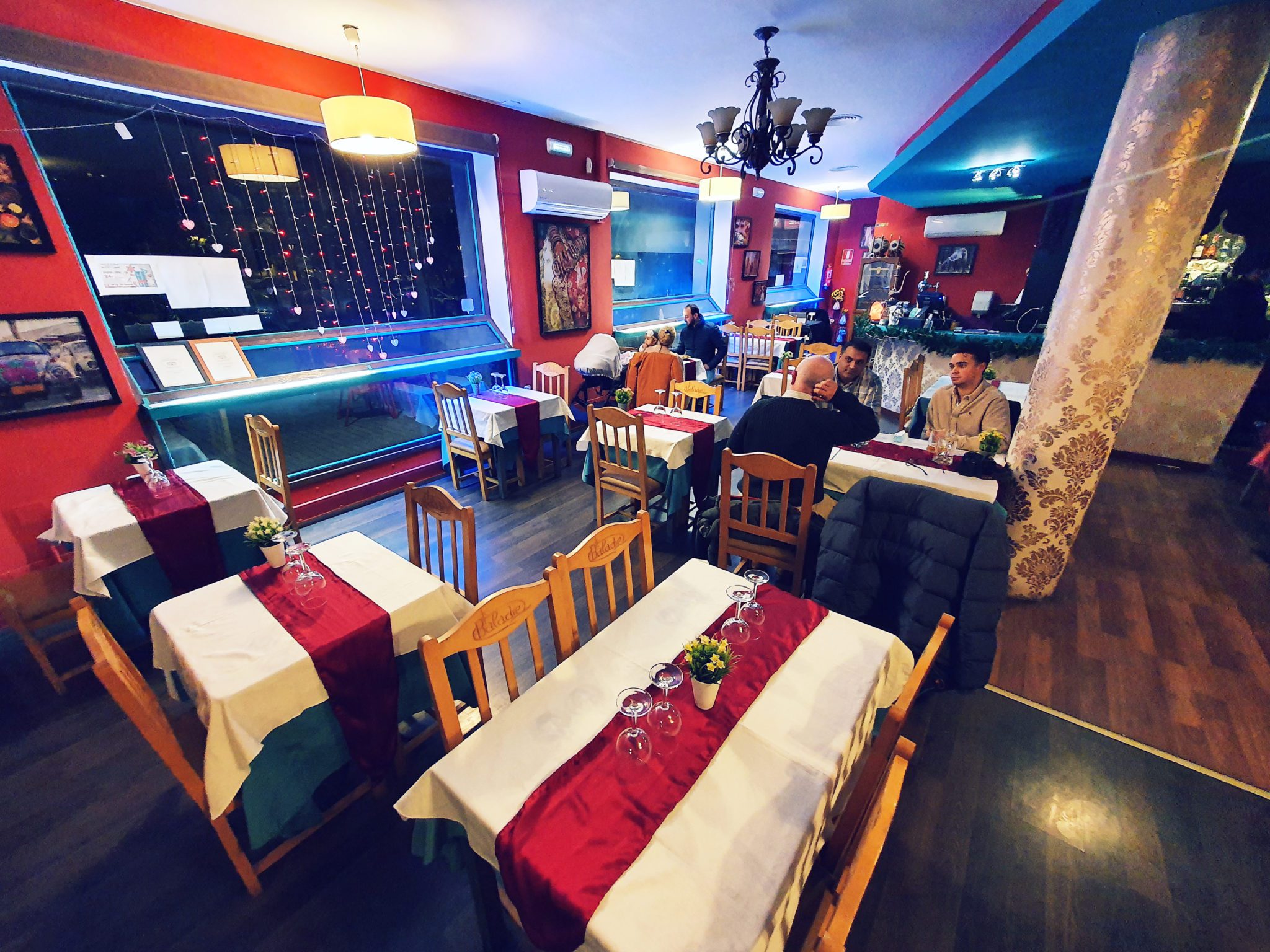 And so to the food
For starters, there is a selection of chicken tikka, pieces of lamb shashlik, vegetable pakora and samosas. These come with an array of sauces – mint, tamarind, chilli and mango chutney.
My advice is not to let your eyes be bigger than your stomach, tempting though these seductive morsels are. Keep space for the main courses.
"My chef is from Delhi, India, and has 25 years' experience of cooking in Indian restaurants. So we are proud of what we have on offer," says Raja. He is honoured than Shahi has been the number one Indian restaurant in Valencia as voted by TripAdvisor users for more than three years.

"We have 25 dishes, with 40% of them vegan, vegetarian or gluten-free, so we really do have something for everyone."
Too spicy?
I ask him about the fact that the Spanish prefer less spicy dishes and whether that causes him a problem?

"Surprisingly not," he confides. "Our walk-in business in this area is neatly split between Spanish couples and families on the one hand and British – especially students on the other. But it is harder for people not offering buffets because they need to find an average level of spice.
"With a buffet," he points out, "we can do a range of mild dishes for the Spanish, and more picante for British tastes."

The food, I can confirm, is delicious. Spicier dishes are given a boost with a layer of freshly chopped chillies and jalapeños sprinkled atop. Personal favourites were the lamb vindaloo and the chicken madras, both spicy enough for the British palate. A standout dish was a poky fish karahi. A Goan-style fish korma was also buttery perfection, putting me in mind of a decent kedgeree. There is a selection of rices, including two pilaus, one with mushroom on the night I was there, and a spread of chapatis and nans.
Vegetarian dishes included a pair of dahls, namely a daal tarka (lentils) and a chickpea curry, chana masala, also known as punjabi cholay. They had also prepared a very tasty mushroom bhaji and an aloo palak (spinach with potatoes). Raja tells me that other firm favourites include a bangan bhaji (aubergine, or eggplant if you are American, curry) and a matar masala (green peas curry).
Scents and sensibility: Delicious dishes delight (scroll to view) © PAUL KNOWLES / VALENCIA LIFE
Buffet not for you?
And of course, as well as the buffet, they offer a great à la carte menu. Raja especially recommends the king prawn with spinach dish (palak king prawns).
To finish, Raja had the chef prepare something as a surprise. When William and Kate visited Bradford last year, they visited a local Indian restaurant and learned how to make lassi, the quintessential Indian yoghurt-based drink that is not dissimilar to Valencian horchata, or orxata in Valenciano. Raja honours us with their take, one made with pistachio and the other with mango. Creamy frothy perfection; I cannot wait for a rematch.
Chatting to Raja, he tells me that they had trialled a discount scheme here in Valencia – "only on á la carte, we make so little on the buffet" – but that he was going to discontinue it. I persuade him to come up with some offers for Valencia Life readers, and so we are delighted to tell you that the following offers apply:
A whopping 30% discount on à la carte orders
And a hefty 20% discount on click-and-collect orders
Seasonal spice
Raja has also put together some great offers for Valencia Life readers that are full of festive fabulousness.
This Thursday and Friday, the Christmas buffet comes with champagne on arrival, and the free bar will include house red or white wine – €24
The same offer is available on New Year's Eve but with extra champagne and grapes for a New Year's toast at midnight
And New Year's Day has the full buffet and again includes house wine as well as beer for €18 per person
Simply enter VALENCIALIFESHAHI22 in the message field of the 'Reservar' section at time of booking for any of the above offers on the Shahi website (see below).
An offer not to be sniffed at.
And with Raja being a British citizen, the Birits among you will have the added satisfaction of knowing that you have helped one of your own in his quest, like many of us, to build a new life here in Valencia. By being the best Indian restaurant in Valencia.
Namaste is a lovely word that I first encountered when riding a Royal Enfield motorbike up the Himalayas. It is a greeting that is usually accompanied with a bow, hands pressed together, fingers pointing outwards towards the one thus greeted.
It is, at once, greeting, deference and welcome.
Shahi achieves this sense in what it does.
Bienvenidos a todos, come one, come all.
And with the special namaste extended to Valencia Life readers, as we say in the UK and Ireland, it would be rude not to.
Shahi, Avenida de Blasco Ibáñez, 153, 46022 Valencia; shahirestaurante.com; +34 963 38 90 27