Given its miles of sandy beaches – six to the north, and a bucketful on the outskirts – you might expect more beach bars. But worry not – Valencia Life has chosen its top picks of best beach bars in Valencia for you. The onerous task fell to Mark Pulley and Eugene Costello…
Considering its proximity to the Mediterranean and the fact that there's a stretch of beach so long that it's actually classed as five or six separate beaches (and that's just the city), you might expect Valencia to be awash with lively beach bars. [Click here for Visit Valencia's guide to the best: https://www.visitvalencia.com/en/what-to-see-valencia/beaches-in-valencia]
That is, after all, how most of us foreigners picture Spain in our minds. Beaches, promenades and bars where the feng shui is all about helping the tourists soak up the sun, sink sangria and gaze out to the glistening horizon. But if you're expecting to find these kinds of beach bars in Valencia you're likely to be disappointed.
Let's first answer this question – what are the beaches like in Valencia? Because understanding what the beaches are all about will help us understand why there are so few beach bars in Valencia. Unlike the tourist beaches that we might expect in Spain, Valencia's beaches are not targeting visitors from colder parts of Europe. They cater more for day trippers from the city. Imagine a family trip to the beach to enjoy the sun, sea and sand. What we mean is that many of the visitors are bringing their own coolboxes and picnic hampers and don't plan to move from their chosen spot of sand except to grab a cold drink, an ice cream or to find a toilet if they are too classy for the infamous quick dip into the ocean.
So where should we head?
There are still plenty of beach restaurants in Valencia for those that don't fancy a day of seaside self-catering. At the south of Playa de la Malvarrosa, which is the name for Valencia's main beach, there's a little promenade where you can find yourself a sunny seat and a drinks menu to keep you busy until sunset if that's what you're after. Just be ready to find that all of these places are much more restaurant than beach bar. You're not going to find typical touristy beach bars in Valencia along the stretch of beach closest to the city. Of course, you can head towards the south of Valencia to places such as Calpe, Altea, Javea and Denia. All of which will give you that holiday feel.
If you are only after a few afternoon beers that's no problem. There are still some great establishments along the beach that offer a beautiful setting to watch the world go by. Boa Beach València is a personal favourite of Valencia Life. Probably because it reminds us of cool beach places you find in destinations like Bali and the Thai islands. Annoyingly, though, 90% of the tables are inside. Again though, remember that this beach is mainly for locals, and locals don't share our passion for sunburn and sunglasses while eating.
Marina is a diamond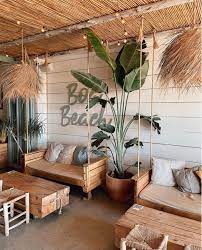 What about Valencia's marina? Can you find any bars around Valencia's marina? In short, yes, yes you can! The only reason I can't class them as beach bars in Valencia is because they're on the south side of the marina where there is no beach. However, there are places that offer rooftop terrace style seating with views over the whole marina, so you still get that glistening view, just without that sand. The marina is definitely a place you can come with the sole idea of drinking with friends while soaking up the sun. It does come at a price though, as these are some of the most expensive menus you'll find in Valencia. But these are places where you can trick yourself into thinking you're spending an afternoon in Monte Carlo, and that feeling doesn't come cheap. So if the VIP life is your thing, maybe it's worth the few extra euros for a drink. The three best bars in La Marina de Valencia are Hoja Malabar, Vlue Arribar and The Roof. [Read our review of Vlue Arribar here…] They're all pretty much next to each other so it's possible to check them all out in one boozy afternoon.
Further up the beach, at Patacona
As we hope you can see, although we're not bursting with beach bars in Valencia it's not like you'll struggle to find somewhere to satisfy whatever it is you want from your day trip to the beach. A picnic on the sand, tapas in an airconditioned restaurant or classy cocktails à la Monte Carlo are all available in and around Malvarrosa Beach.
If you're unsure how to get to the beach in Valencia, it's pretty easy. You can take a tram on either Metro line four or six, both of which will leave you just a few minutes from the beach. Or, as this is Valencia, just jump on a Valenbisi and cycle there yourself. Or better yet, hire a bike or electric scooter – a patinete – from Bikealao…
Valencia, home of the chiringuito
But if you crave a true Ibiza-style beach bar, there are various chinguitos on the beaches themselves. Here are our two favourites.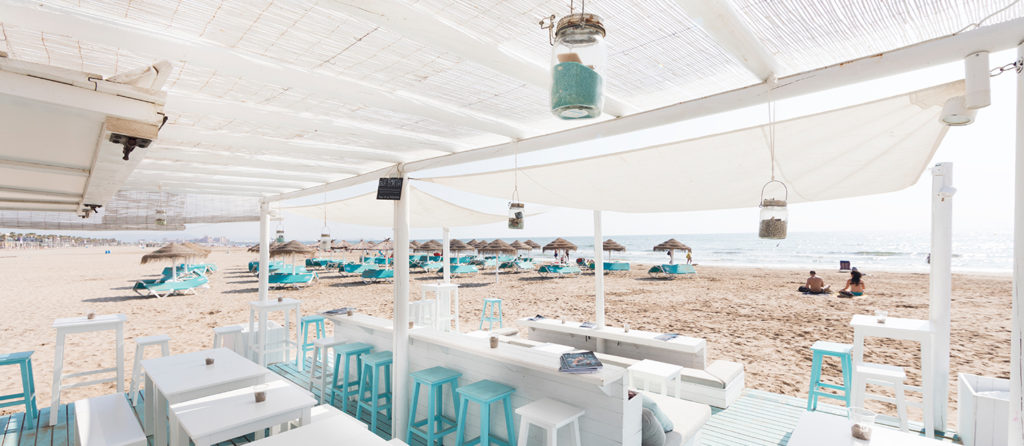 La Mas Bonita is at Patacona beach. It is the cool younger sister to the restaurant of the same name. This is where the beautiful people come to be served up with sangria, long drinks or ice-cold beers, along with ambient house tunes Ibiza-style. It's super-cool and great for people-watching. And with super-friendly staff. Pumping beats elevate it to the place to see and let others see you. You will pay slightly over the odds for your drinks – think of it as a Cool Tax…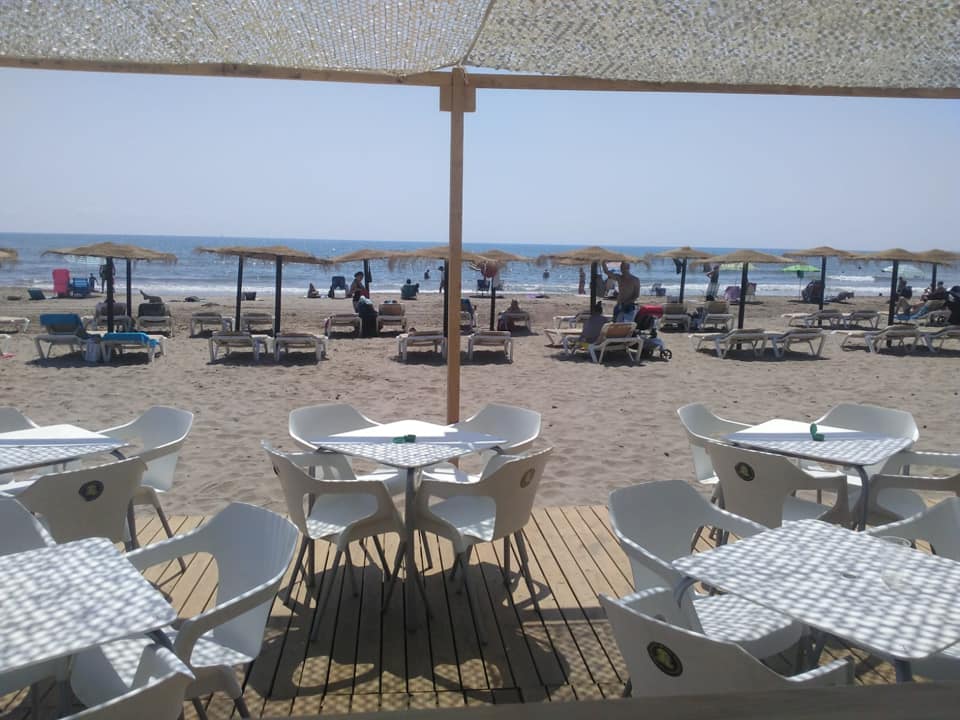 And north of Patacona and Playa Canina (the dog beach) is Port Saplaya, Valencia's Little Venice. A collection of pastel-coloured, bougainvillaea-festooned apartments and a marina. On the beach in front of the many restaurants you'll find Isla Tortuga. It's another beach bar (with toilets) that will serve light meals from next week, owners Oscar and Simone tell us.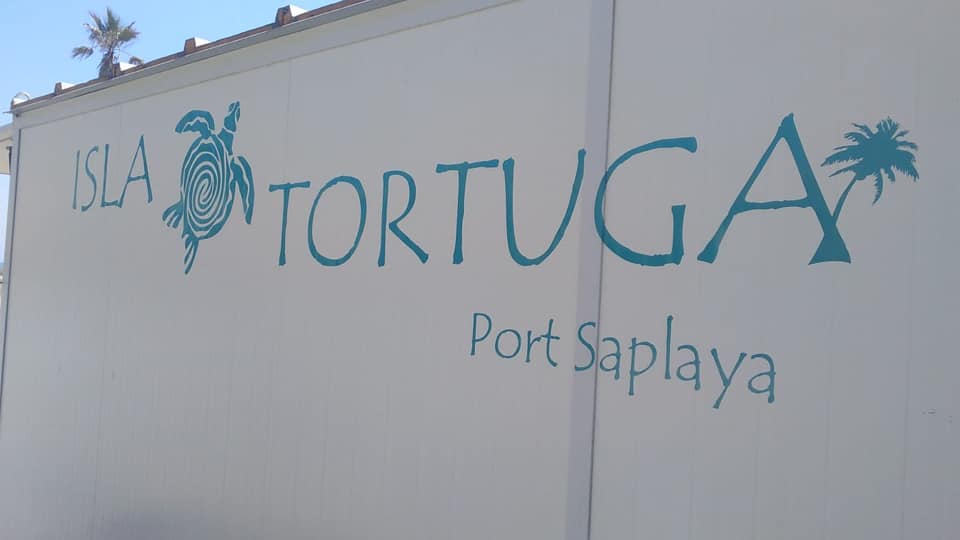 Prices here are consistent with bars across Valencia, and you can rent loungers and parasols. Also pumps out great beats from a huge speaker for the Ibiza vibe. Really friendly owners and staff. Don't miss it for a great day out!