El 9 October – El Dia De Valencia –hosts the yearly commemoration of King Jaume I's arrival in Valencia, Valencia's "national" day. The city is preparing activities and celebrations from 7 October through to 12 October. Daniel Hazelhoff reports…
---
Traditional festivities are taking place in Valencia this week and weekend. Though unthwarted by this year's COVID-19 related obstacles, the itinerary is somewhat reduced in order to comply with the current pandemic. Official celebrations will end Tuesday 12 October.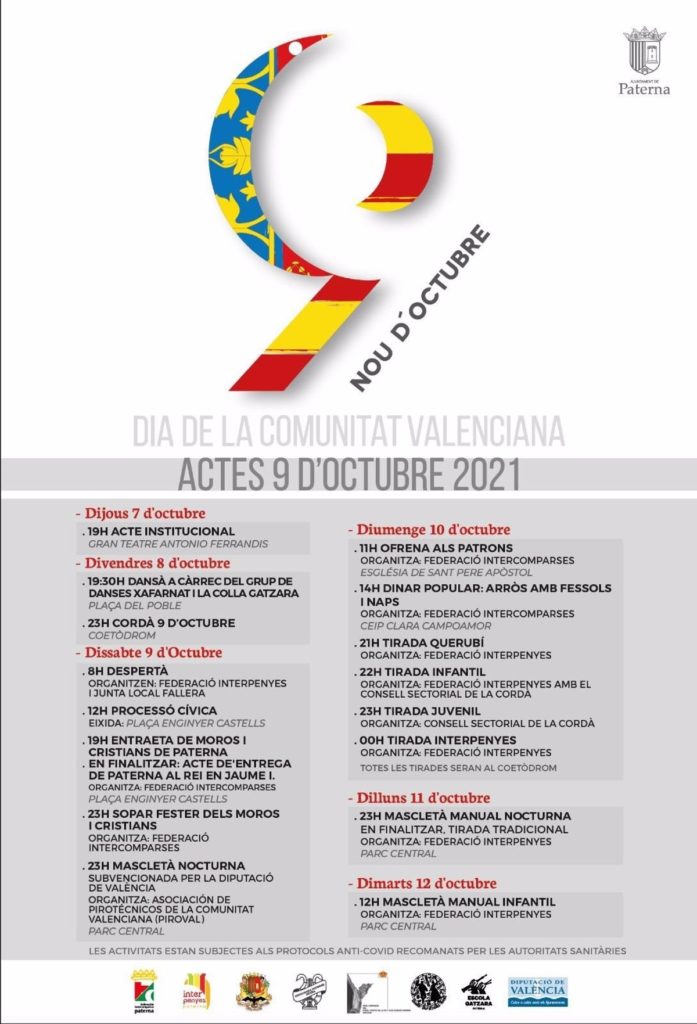 Until then, a wide range of activities will be available to the public in a safe and orderly fashion. Taking example from many of the September Fallas protocols, and locations, there are several parallels between the two events. Namely, the use of undisclosed locations for the pyrotechnic shows, fireworks, castillos, and mascletas, in order to prevent large agglomerations of people. Other events such as the medieval market, free visits to the Palau de la Generalitat, and concerts will be held throughout the celebration.
On 8 October there will be four nocturnal mascletas, two at 22:00, presented by the pyrotechnics team of Vulcano Y Alpujareña Pirotecnia, and two firework events (castillos de fuegos artificiales) at 23:00, presented by two other pyrotechnics teams Zarzoso Y Mediterráneo Pirotecnia. Locations will not be disclosed until they begin, in order to keep numbers down and help prevent the spread of COVID-19.
Saturday 9 October is presented by the Pirotecnia Valenciana, with two mascletas programmed for 14:00, and a Castillo de Fuegos Artificiales at 23:00. Locations will not be disclosed until the start of said events.
Visits to El Palau de la Generalitat on Carrer Des Cavallers will be free for the official acts of the Día de la Comunitat (9 d'Octubre)
Free open-air concerts are to be held until 10 October in Los Jardines del Palau de la Musica. Music is performed by La Banda Sinfónica Municipal, Las Sociedades Musicales de la Ciudad de Valencia, Julio Bustamante & Lavanda, Sole Giménez, Revólver, Lisasinson, Sienna and Badlans.
From today until 12 October the Mercat Medieval de Valencia Jaume I will be open between El Puente de las Flores and El Puente de la Exposición. It will be open to the public between 10:30 and 24:00. The medieval market will host a variety of stalls ranging from food and gastronomy, acts, attractions, artisanal products, toys and playthings.
The city centre is not the only place where the celebration is heralded, 15 municipalities on the outskirts of the city will also host their own small celebrations in honour of el 9 d'Octubre. Fireworks will be taking place in Alfafar, Almàserra, Burjassot, Cheste, Enguera, La Pobla De Vallbona, L'Olleria, Mislata, Moncada, Ontinyent, Paterna, Sueca, Torrent, Vilamarxant and Xátiva.
Itinerary for Friday 8 October
16:00-21:00 Exposition of the Real Senyera in El Salón de Crystal del Ayuntamiento. (Last admitted entrance at 20:30)
22:00 Pyrotechnic spectacles in Valencian towns and municipalities:
Benifaraig, Castillo provided by Pirotecnia Caballer FX.
Benimàmet, Mascletà provided by Pirotecnia Zarzoso.
Carpesa, Castillo provided by Pirotecnia Caballer FX.
Les Cases de Bàrcena, Nocturnal Mascletà proveded by the Pirotecnia Vulcano.
Castellar, Castillo provided by the Pirotecnia Vulcano.
El Forn d'Alcedo, Noctornal Mascletà provided by the Pirotecnia Tomás.
La Torre, Castillo provided by the Pirotecnia Zarzoso.
Pinedo, Nocturnal Mascletà provided by the Pirotecnia Tamarit.
Itinerary for Saturday 9 October
12:00 Acto Institucional in the Salón de Cristal. Afterwards an aerial mascletà will take place from the Azotea del Ayuntamiento provided by Pirotecnia Mediterráneo.
14:00 Pyrotechnic spectacles in Valencian towns and municipalities.
Beniferri, Mascletà provided by the Pircotecnia Aitana.
Banimamet, Mascletà provided by the Pircotecnia Hermanos Caballer.
Borbotó, Mascleta provided by the Pircotecnia Valenciana
Castellar, provided by the Pircotecnia Girona.
El Poble Nou, Mascletà provided by the Pircotecnia Valenciana.
La Punta, Mascletà provided by the Pircotecnia Turís.
La Torre, Mascletà provided by the Pircotecnia Caballer FX.
Massarrojos, Mascletá provided by the Pircotecnia Zarzoso
15:00-12:00 València, amb la Senyera: Exhibition of the Real Senyera in El Salón de Cristal del Ayuntamiento. (Last Access at 20:30)