One of the problems with finding a sufficiently spicy Indian-style restaurant in Valencia is that Spanish tastes are relatively spice-intolerant. So a new opening in the upmarket neighbourhood of Canovas had us excited. A very chic and stylish new Nepalese restaurant called Kathmandu. Eugene Costello reports…
Owner Bikash Bhndari and his team welcomed Valencia Life for lunch last week and gave us a little time to discuss the background to this exciting opening.
The restaurant itself is chic and upmarket, with a minimalist aesthetic, hues of orange and white and stylish ethnic art on the walls (think oils and palette knives), crisp linen on the tables and expensive pewter bowls and silver cutlery.
Kathmandu finally opened in January, giving locals another Nepalese restaurant in Valencia. Bikash, a youthful 30, explains that the original opening date should have been September but they wanted to get the fitout and design perfect, which I am delighted to say, they have achieved in spades.
But there is more to a restaurant than its decor, no matter how attractive.
Despite the fact that this is a new opening for Valencia, Kathmandu comes with a respected pedigree. Explains Bikash: "Kathmandu originally started in 2008 in La Costa Blanca, specifically Moraira, by my uncle Mukunda Lamichane.
"After its initial success gaining some renown in la Costa Blanca, he opened a second location in Denia. Then came Jávea, and afterwards, we opened our fourth spot in Albir."
With four in the south of the Comunidad, Canovas is number five. Says Bikash: "Yes, this is the fifth! We already had some clients from Valencia, and whenever they'd come to our other restaurants, they'd always urge us to open a Nepalese restaurant in Valencia.
Number five comes alive
"We should have been open in September, but remodelling the interior of this location took some time, almost over eight months. As a new business, I'm very happy with our client base, and the business is going well. We have more English customers here than I thought, I was very surprised, pleasantly surprised."
The recipes have been honed at the other restaurants, and of course, the family is Nepalese. So the food at Kathmandu is the real deal.
Says Bikash: "I grew up in Chitwan, and I left Nepal in 2011. I went to England, London, where I studied, and then I came down here, to La Costa Blanca, because my uncle was starting a business, and I decided to help out and learn the ropes.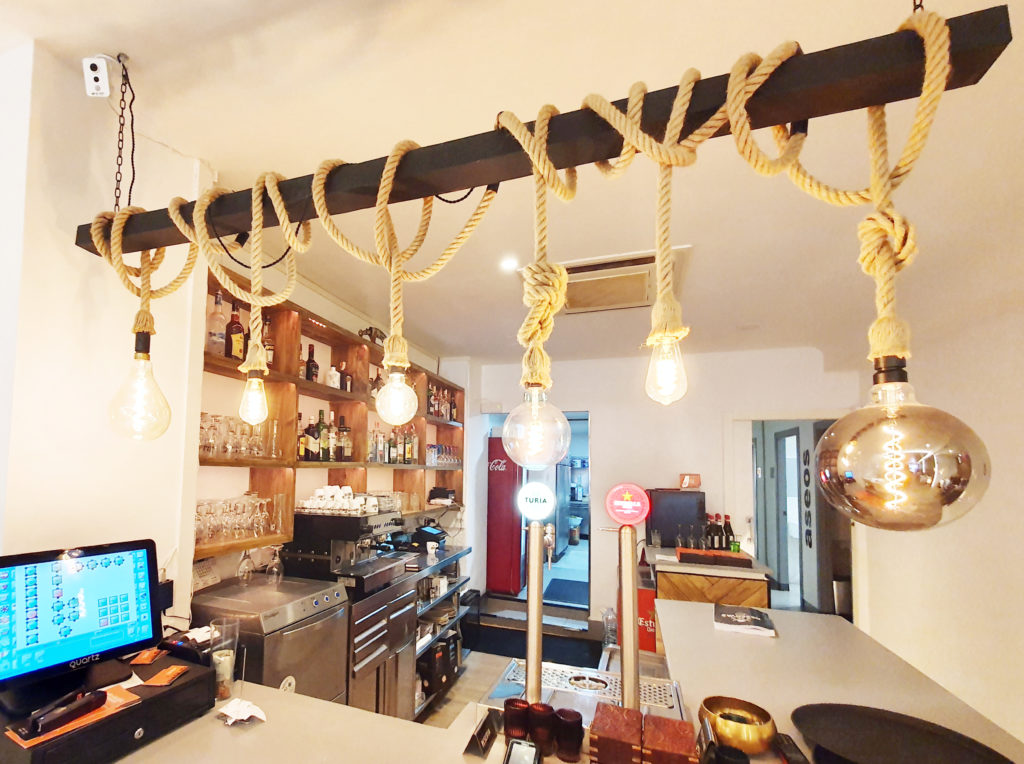 "We've taken a more modern approach to cuisine and decor. We have unique dishes, and even desserts. We work with a modern approach, with a different presentation.
There is a family environment here. Bikash explains that the family with their four other restaurants are partners, so it is essentially a family business. The chef, Dipak, is an artist with his dishes – which we are coming to – and the super friendly front-of-house staff, including Ree, the charming waitress, are also Nepalese: "We all get along very well, and make a great team," says Bikash.
Nepalese people are famed for being cheerful and smiley, so service here is impeccable. Though a constitutionally-protected secular state, around 80% of the population is Hindu, while, since its Lembini province was the birthplace of the Buddha, Buddhism has many adherents also. So vegetarians are very welcome and all dishes have vegetarian and gluten-free versions.
And so to the food…
We start with momo, which is a steamed dumpling. Here they make them with chicken and vegetables, though they have vegetarian options as well, of course. All is made on site, including the dumplings, the filling and the chutney, with coriander, garlic, ginger, and sichuan peppers. Absolutely delicious, like dim sum with an Indian twist. Attesting to Nepal's position at the very crossroads where the Indian subcontinent meets China. They go in seconds… please be sure to try these, they are exquisite.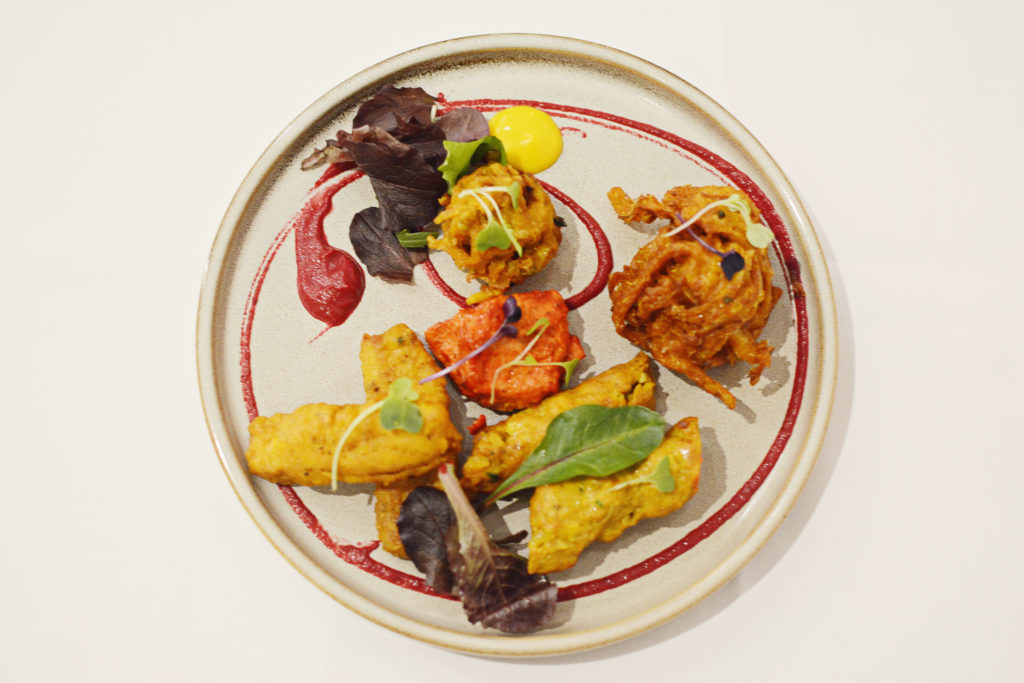 Bikash adds: "If you want spicy, then I recommend the choolai, it's a typical Nepalese food, from the Newari people of the Kathmandu Valley. This is grilled chicken with chilli, it looks like a chicken salad, and it has fenugreek, very popular in Nepalese cooking."
He then brings us a beautifully presented tray of starters, including little sausages of sheesh (seekh) kebab, chicken tikka, onion bhaji and spicy tamarind sauce plus mint raita. These are beautifully done, with a light tempura that does not smother the taste of the filling. Our second starter, the mixed grill, was marvellous meatiness. The seekh kebabs are sheer perfection, as are the sizzling chunks of chicken tikka on a bed of onions.
For our main, we try the chicken tikka masala, a favourite with, especially, British expats. What we don't know is how this dish first came into being, though we know it was invented by Bangladeshi chefs in the UK (some say Glasgow, some say Birmingham), and that a version might have been called Shahi Chicken Masala in Mrs Balbir Singh's Indian Cookery published in 1961.
Nepalese food, British tastes
The association between Britain and India has been going on for centuries, and many British curry dishes are adaptations of Indian dishes. William Philip first used the word "curry", adapted from the Tamil word kari, in 1598 to describe a fish mixture served with rice, noting that it was "somewhat sour but it tasteth well".
One way or another, the dish became beloved by the British, so much so that it displaced fish 'n' chips to become Britain's most popular dish and is a staple of every pub in the UK.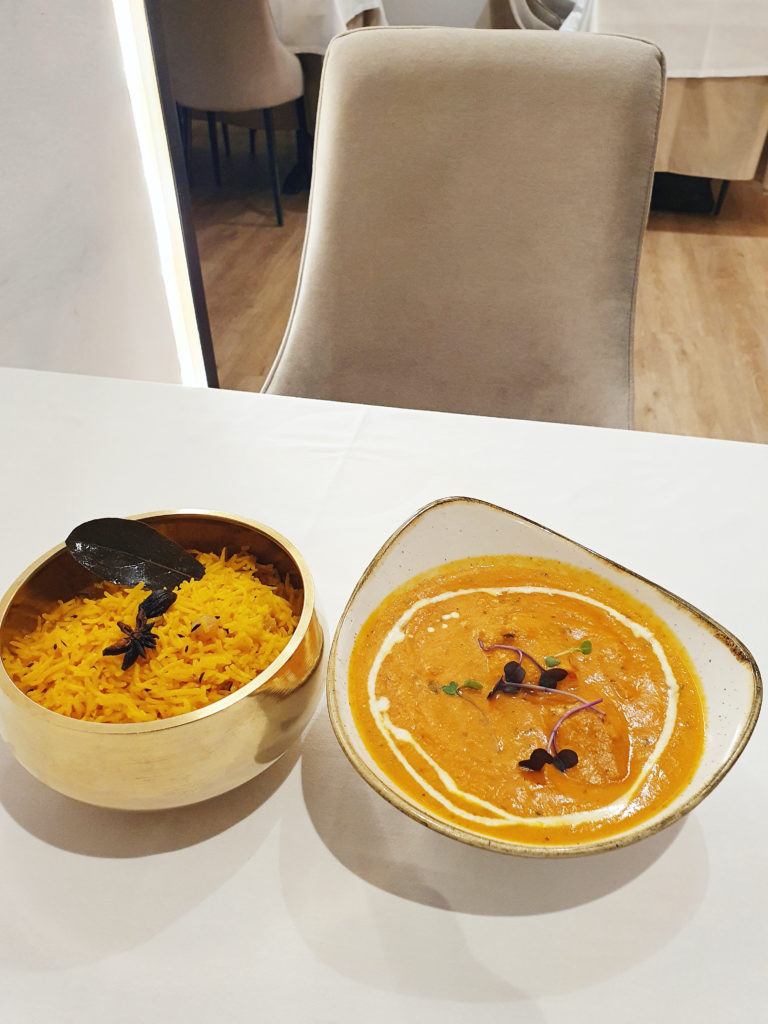 It is a creamy sauce with hunks of marinated tender chicken, marinated in yoghurt and served in a tomato and cream sauce, perfect for palates drawn to milder spices. Served up with a good pilau rice with a little satisfying crunch, not overcooked. And accompanied by a superb naan that was perfectly toasty, not overly chewy.
We paired our food with a rather good sauvignon blanc called Nodus, from Utiel-Requena. Priced at €17.50, this is a good value wine with hints of tropical fruit that offsets the spice of the food spectacularly. Highly recommended.
All through the meal, the service was exemplary. Bikash and his team are naturally friendly, welcoming people who make you feel like you are old friends returning for a social event.
Namaste is a greeting that is widespread on the Indian subcontinent, including Nepal. It at once implies respect but offers welcome and hospitality. It sums up the superb feeling of welcome that will strike you the second you walk through the doors of this wonderful temple to cuisine and camaraderie. Like me, you will surely be back for subsequent visits…
Where to find the best Nepalese restaurant in Valencia…
• Kathmandu Indian and Nepalese Restaurant; Calle Salamanca, 18, Canovas; 46005 Valencia; +34 960 827 198; WhatsApp +34 631 689 367; https://kathmanducanovas.com/en/
We're always reporting on the best restaurants in Valencia. You can find them all HERE.