A new ecological market on a University of Valencia campus puts the spotlight on sustainable, healthy living this month. With stalls showcasing locally-grown produce and artisanal treats. Daniel Hazelhoff reports….
---
October saw the launch of a new eco-market in Valencia, focused on ecological products, sustainable farming, and also healthy eating. There are still two Fridays to check out the Mercat Agroecològic on the University of Valencia's Blasco Ibañez Campus.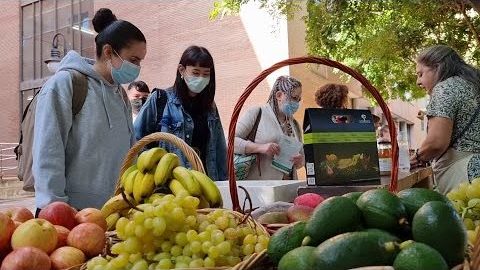 Visitors can buy locally-grown fruit and veg. Browse stands of artisanal products, such as oils, and find out about sustainable-eating initiatives. They also have a chance to try bread from a family bakery. Situated in the open-air between classrooms 1 and 3 on the Blasco Ibañez campus, accessible from Menéndez and Pelayo.
Valencia University rector Mavi Mestra had the honor of opening the market. Who quoted from poet Vicent Andrés Estellés' ode to the produce of the land. 
A sustainable future
The Mercat Agroecològic is one of the University of Valencia's initiatives geared towards promoting sustainable food consumption and has been developed alongside the Fair Trade group.
At the opening, Sergio Belda, professor of the University of Valencia and doctor of Local Development and International Cooperation, presented a guide describing initiatives to make food consumption at the Uni more sustainable and healthy by adopting a seasonal approach and also pioneering respectful ways of treating the land.
The project is led by the Vicerector's Office for Equality, Diversity and Sustainability in collaboration with Las Naves innovation centre and other sustainability-focused groups.
You can find the market at La Universidad Politecnica de Valencia at the Blasco Ibañez campus, on the 22nd and also the 29th October. 
Keep up to date with all the latest events and news in Valencia with us at here at Valencia Life. We aim to keep you in the know with everything that's happening in Valencia.