When Damien and Meghan Spagnuolo decided to give up their middle-class South African lives to travel, they had no idea that they would finish up by launching a passion project in Valencia to help Valencia's goals of sustainability and specifically by proving that zero-kilometre food supply can now be an easily achievable reality. Stefano Reposi met them to hear their inspiring story…
Before arriving in Valencia to launch their environmentally sustainable self-cultivation project, Damien and Meghan Spagnuolo had come a long way.
I'm not talking about the thousands of miles they physically travelled all around South America, engaged in a journey worthy of Homer's brighter fantasy. I'm referring to their "journey of discovery" that they undertook while still at home in South Africa and the one they made without even taking a single step… I mean the one involving their general consciousness and state of wellbeing.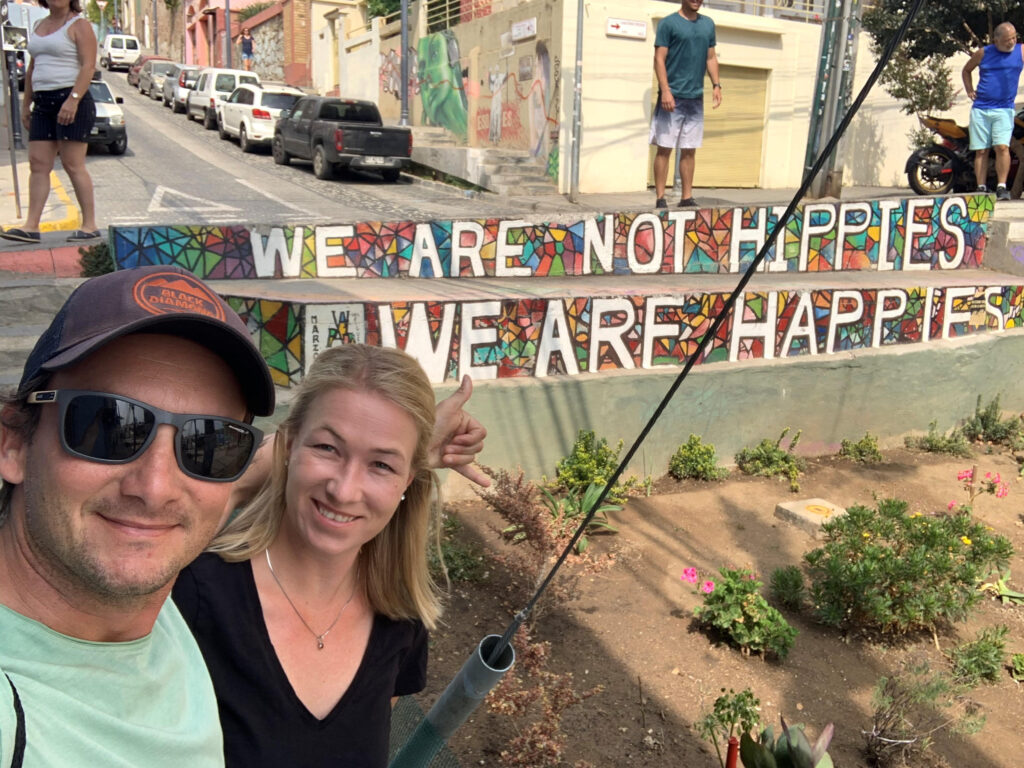 "Call it an awakening," says Meghan firmly, remembering those days long gone, "we wondered is this it? Are we going to accept that for the next 30-40 years we'll be living a highly predictable life like this, forever wondering if there was in fact more to it?'"
Back in Johannesburg, Damien and Meghan were living what is considered to be a very successful life. Meghan, 37 years old, was an advocate, or a barrister as we say in the UK, with her own practice. Damien, who turns 40 in November and has a big smile that bears the imprint of his kindness, was born in Zimbabwe but moved to South Africa right away along with his family. He worked as a property developer for a popular investment company. Things were going great for him at work.
"I had just taken on a new position, the company treated me well, I had many interesting projects and I enjoyed the people I worked with. But at the same time, I still felt uninspired and desirous of something more."
Previous efforts to seek out this alternative lifestyle would involve traveling extensively at the end of each year.
"We would spend our year planning exotic trips with as high a culture shock value as possible. This would somehow give us relief from our day to day life and help justify why we worked so hard."
"But unfortunately, as vacation time was always limited, these trips often ended up being your typical tourist destination holidays, filled with excess and no time for exploring or finding a real cultural exchange"
Yet after each trip they would return home only to feel as though they hadn't even come close to settling their deeper rooted desires. They would fall straight back into "life" only to do it all over again.
"I suppose we just felt like we were stuck in some sort of a pattern that just repeated itself year after year"
The turning point came when Meghan found herself once again searching the internet on a lunch break for anything that offered some sort of alternative lifestyle, from volunteering at cheater reserves and elephant sanctuaries to owning a farm in Spain and this was when she discovered Workaway, a volunteer platform where services are exchanged for food and lodging…. anywhere in the world.
That night she returned home and tried to suggest to Damien: "instead of doing the same exotic holiday at the end of this year, let's try a Workaway experience. We could volunteer and experience a different type of trip."
Damien could not believe his ears. "Are we going to work all year to spend our three weeks' vacation working for someone else for free?" Eventually, though, and after much discussion, Meghan won the argument, however – not only were they going to take on a Workaway experience, but they had decided to go all in and once and for all scratch that itch. They decided to take a sabbatical.
"And that was it, in the months to come, we quit our jobs, sold or donated all our worldly possessions and at the end of it we had a few boxes with sentimental ornaments, art and music, two large travel bags and a one way ticket to Chile… we called it 'Hitting the Refresh Button'.
"We didn't know what we wanted but we knew what we didn't want and once the brain gives you the opportunity to think differently, you've got to take it."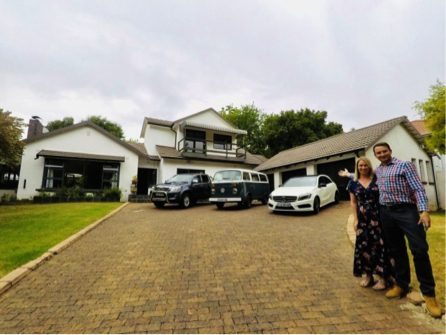 Since South African passports don't need visas, they planned to travel all along South America and then use their European passports for Europe. They left in December 2019, heading to Pichilemu , a small village on the west coast of Chile, in order to attend the three-week Workaway programme, where they were to build an aquaponics system to help feed a eco-friendly commune After successfully completing the system and experiencing the interest and joy that it brought the people in the commune, they decided to continue to share their knowledge of urban agriculture with anyone who wanted it on their onward journey through Patagonia.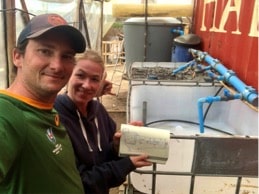 "There were many things that called us in Patagonia," says Meghan, "and under the advice of the locals we decided to rent a van. But since it was the high season, prices were so expensive that it was more economical to buy and old delivery van and convert it into a camper. So we went to Santiago, bought a van, converted it with the help of a local carpentry workshop, and then started our journey to Ushuaia, the southernmost point of South America."
With little internet connection or the ability or interest in following world news, they had not heard much about the new virus that was spreading fast all around the world and would ultimately change their course, drastically
After two months of exploring paradise and living in their van, they had made their way to Puerto Natales in Sothern Patagonia on the Chilean side. By road, Puerto Natales is generally only accessible by passing first into Argentina, traveling south and then re-entering Chile. This is because the land mass to the north on the Chilean side is completely broken up.
"On our return leg, instead of going back into Argentina and traveling the long roads already traveled, we decided to book the ferry to take us back north."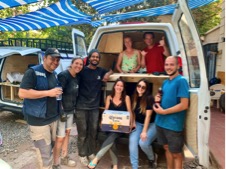 The ferry was leaving in three days' time, which gave Damien and Meghan just enough time to explore the Torres del Paine National Park, completely off-grid and out of any service coverage.
"After three days of exploring and hiking, we left the Park on the morning of the ferry trip and as we came into signal, our phones went crazy with messages and emails. The ferry had been cancelled and Argentina and Chile were in lockdown.
"The virus that we had paid little attention to had just caught up with us," he adds ruefully.
"Our friends told us that the borders were closing and that we had to decide whether we wanted to lockdown in Argentina or Chile. With the ferry cancelled we were basically stuck on an 'island', so right away we decided to race to the closest border post and try pass into Argentina with the plan to drive all the way across to the East coast and meet a Dutch couple we had befriended and who had been overlanding in Argentina."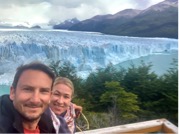 They managed to convince the border officials to let them through and met their friends in Rio Gallegos. Determined to continue travelling in any way possible , they created a Whatsapp group called 'Catch Me If You Van', so that all the overlanders that they knew could watch each other's backs and avoid being stopped at one of the many roadblocks on the main roads. It seemed to work till they arrived in Puerto Santa Cruz.
"When we were approaching the town, coming down a long hill, we could see people dressed in a white uniform," remembers Damien. "We were caught and under police escort, they took us to the hospital to meet a man we call Doctor X.
"Being a tiny fishing town in southern Patagonia and us being the first 'visitors' since their lockdown, they didn't really know how to deal with us. All they knew is that if you had crossed from Chile in the previous 24 hours, you were to be quarantined in full isolation for two weeks. We were locked up and our friends were kicked out of the town. We were supposed to stay in the hospital, but thanks to Doctor X, we managed to quarantine in a tiny wooden cabana on the municipal camp grounds. We were not able to leave the cabana, our food was delivered through the window by people too terrified to come near us and officers from the National Guard would come and take or temperatures each day."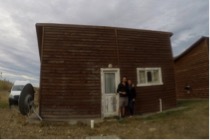 "You have to understand, it was a time where even the man who fed his family by going fishing wasn't allowed to go anymore. In southern Patagonia the supply trucks were cut off and the town was running out of food."
After seeing out their two weeks of quarantine, they still could not leave the town as all of Argentina was completely locked down. They ended up staying in lockdown for a further five weeks, with no clue as to how to get out of there. With the arrival of May, Argentina shut down flights till September. It was then that the South African embassy in Argentina made contact with all South Africans present in the country.
"There were only 15 currently locked down in Argentina so there was no plane coming. At the same time, SA Airlines had just become bankrupt so even if there was a repatriation flight, it would never come. All the embassy could do was say 'I'm sorry, we can do nothing for you, all we can try to do is make you as comfortable as we can with the contacts we have.'"
Damien says their greatest travelling achievement was probably how they managed to get out of Argentina and into Chile.
"We had a lightbulb moment. We started realising that we might be able to apply for a permit to allow us to travel overland. We would make application under the humanitarian act that states that you may not prevent a citizen trying to return home and must allow them to traverse through. The only requirement was to prove that we were indeed trying to get home and the only flights for South African Nationals out of anywhere in South America were out of Santiago, Chile. This meant that our only way to return home was to be allowed to travel over land, across five provinces and into Chile.
They made contact with the South African embassy, who in turn got in touch with the Argentinean foreign ministry and subsequently, the Argentinean embassy and Chilean embassy. They told the couple that in order to start the process they would need to book a flight out of Santiago and secure accommodation in Chile close to the border to undergo another two weeks of quarantine. Not knowing whether or not their application would be successful or whether they could even make it in time, they booked flights and secured accommodation.
After a very stressful further two weeks of email correspondence, medical checks, applications and continual pleading of their case, they eventually achieved the necessary permission and with a mountain of official documentation, set off in the early hours of the morning.
"Our journey was time-barred. Each provincial crossing needed to be achieved within the allocated time frame. When we needed to fill up with fuel, we would be escorted to the gas station and then escorted straight out of the town. We were not allowed to buy food and were not even allowed to stop to sleep. Our applications and permits were purely for 'passage through' and that was it."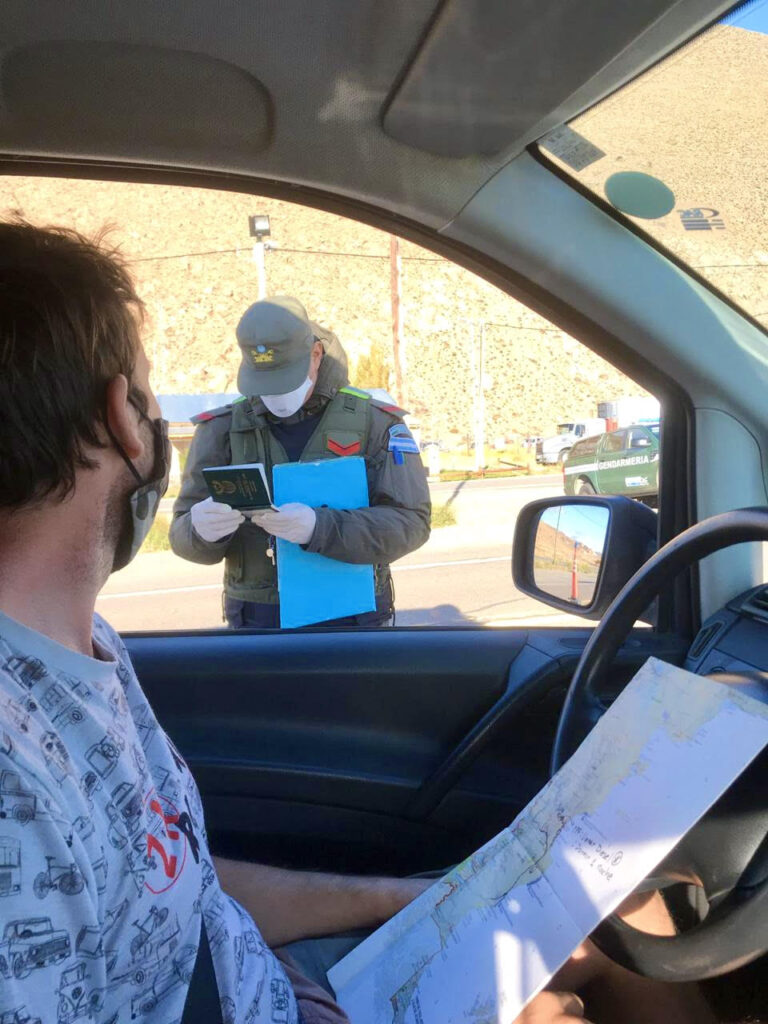 But the odyssey was far from over.
Over the next 4 days, the couple would encounter 21 police and civil defence checkpoints, police escorts, vehicle sanitation sprays, medical checks and countless hours of arguing and pleading their case. They travelled just over 3600km and completed roughly 57 hours of driving. After having crossed five provincial border crossings, they finally made it to Mendoza, where they would apply for a very special permit to be allowed to cross the border into Chile.
"We hit a big roadblock as we arrived in Mendoza," remembers Damien. "Police stopped us and asked us where we were going. We showed them the documentation and told them that we were to meet The Chancellor of the Consulate General of Chile at the Embassy, but they did not believe us. After seeing that our documentation stated that we were trying to return home, they had to oblige. They told us the embassy was closed till the next morning and they made us stay in the van, without even letting us go to toilet.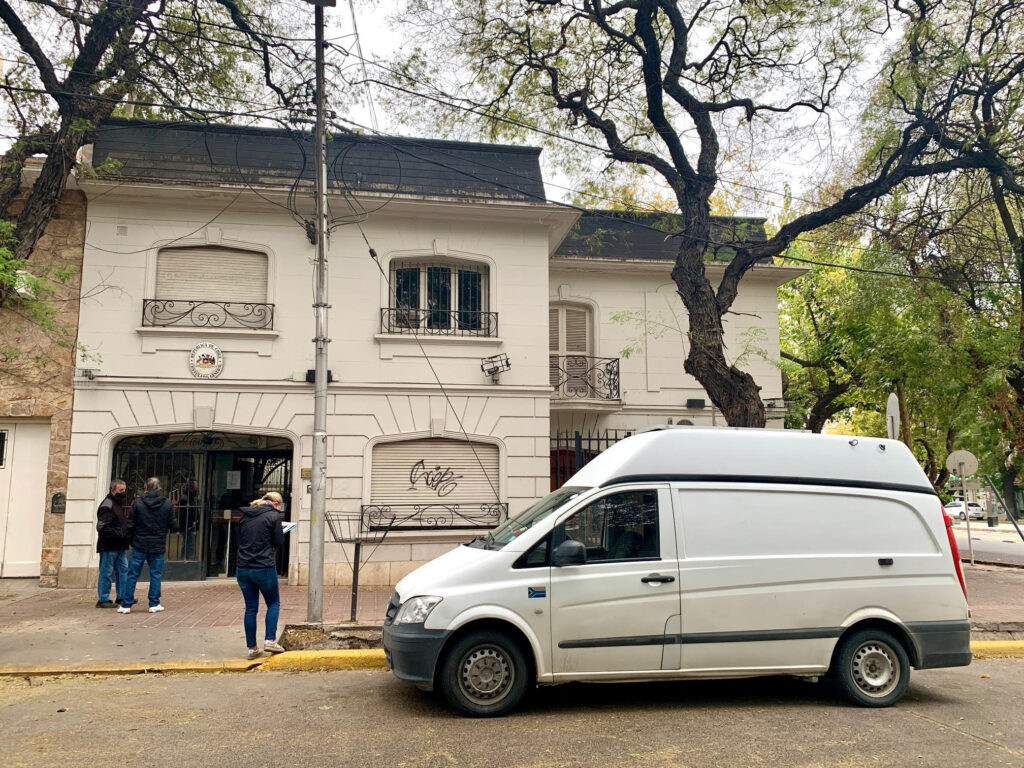 "We spent the night in the street under police guard – iIn the morning our contact in the SA embassy phoned saying they got in touch with the Argentinean Foreign Affairs Ministry who made contact with the Chancellor and that he would meet us in an hour. And just like that, he arrived, gave us each a very official looking document, told the police to escort us all the way to the border and wished us well. We drove for seven hours under escort, arrived at the border, again met by some very concerned and confused officials who searched our van thoroughly – then we were allowed through. We had made it to Chile and went straight into another two weeks of quarantine."
Even if Covid-19 had messed up their travel plans, it gave Damien and Meghan an unshakable certainty: During their two-week quarantine, and the fact that their flight to South Africa had eventually been cancelled, they decided they were not going to go back to live in South Africa. They started to enumerate all the aspects they considered to be most important in terms of quality of life: weather, food and beverage, sense of community, security, family and cost of living. In the end, Valencia came out as the best option, even though neither of them had ever visited Valencia. But first, since every country was locked down, they had to find a way out of South America. Even if they both had a double passport (Damien has Italian origins, and Meghan, German heritage), it wasn't easy to get on a plane for Europe.
"For three weeks we tried to book a flight, but it was forever being cancelled at the eleventh hour. They eventually managed to book their seats on the last repatriation flight to Frankfurt out of Chile.
"Now, Meghan could get into Germany with her passport but I couldn't. So, when we arrived in Germany, they questioned my Italian passport, saying I couldn't come into Germany and that I had to choose whether to go to Italy or to South Africa. The only way I could convince the officials was by telling them that the UK hadn't closed its borders yet and that all I needed was to be allowed to wait in the airport for my UK flight.
"Thankfully, they let me through and we spent the next three weeks with family, planning our journey via train, plane and car to get to Spain on the 1 July. On that day, we arrived in Valencia to start our new life."
Within the first two months in Valencia, and trying to grow seedlings on their tiny balcony in Ruzafa, Damien and Meghan decided to put into practice an idea they had in mind for a long time: to build a prototype of a hydroponic grow-tower (Totem) that offers 27 growing positions in less than half a square meter of space. designed to sit on balconies, terraces or even indoors. They called this new enterprise 'Rucola Menta' as it is their belief that they can help people become self-sufficient for herbs, spices and even some vegetables.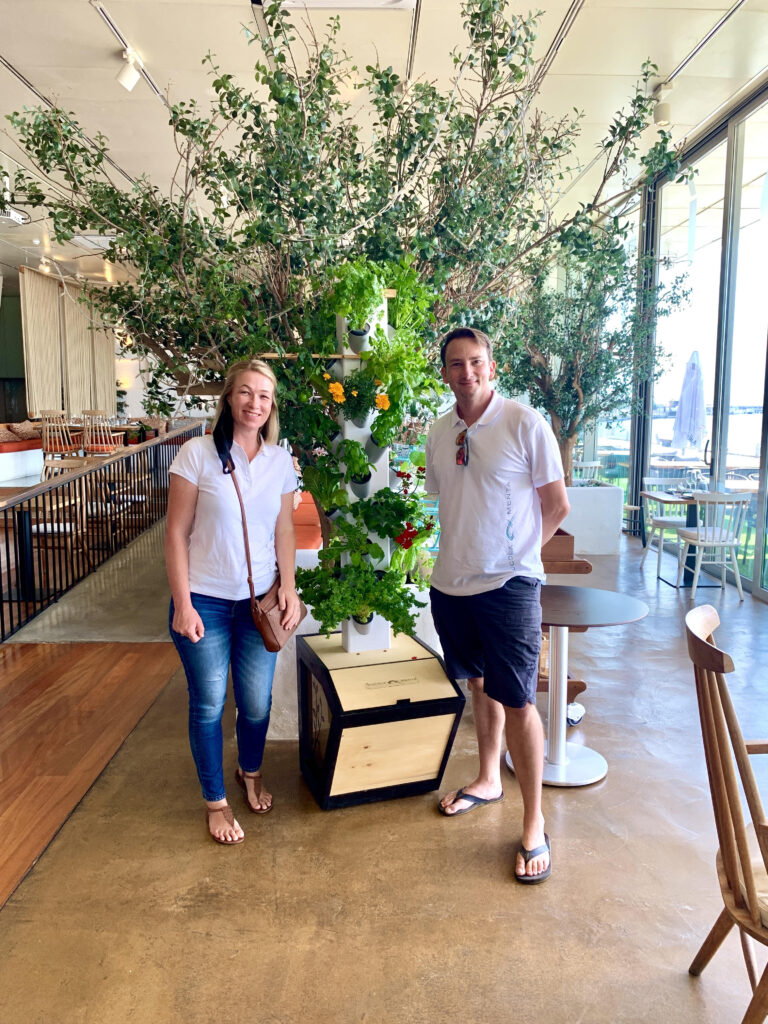 "Our goal is to teach people, restaurants and organisations how to grow their own produce, thus reducing the kilometres travelled by food products and making a positive impact on the environment.
"We want to help build a zero km community here in Valencia," Meghan concludes.
The home model, or 'Minimalist Totem' is available for 350€, and it includes a five-month supply of growth nutrients, a 25w Submersible Pump, the complete grow-tower unit with 27 Grow Cups and everything you need to get growing. If you email The Valencian for a code, you will get a 10% discount on this model, and you will also be part of a project destined to revolutionise our conception of sustainable food.
• For more information on Rucola Menta or read more about their journey, visit rucolamenta.com or Instagram, @rucola_menta; you can also read more at Instagram and their blog, @thedmshow.life