Big Johnson's Burger Joint might just do the best burger in Valencia. And they did a pop-up on Patacona beach, with all proceeds going to Valencia Life's preferred charity, Culturas Unidas. Daniel Hazelhoff reports…
Where the two sides of immigration meet. At what became the interface for these two worlds stood Big Johnson's Burger joint, with their pop-up at Patacona beach. The event was set up in collaboration with Valencia Life, and Culturas Unidas. Big Johnson's Burger Joint donated all their proceeds to Culturas Unidas.
This event became a meeting ground of diverse people and minds. They came together to enjoy some of the best burgers in Valencia. It spoke to the crucial need for inclusion and multiculturalism among immigrant children in Valencia.
Here, digital nomads and entrepreneurs gathered. And they spoke about immigration and the part we all play in collective identity.
Digital nomads helping other immigrant groups
In our current age of digital nomadism, startups, and remote working, we usually associate incomers – expats, if you must – to be the type of people that work within these sectors. Culturas Unidas sees the other side of that reality. And that side is a group that experiences regular racism throughout their daily lives. The less fortunate and societally challenged individuals, the crux of the issue comes to us who inadvertently create or maintain the problem. Organisations such as Culturas Unidas try to make this world a better place.
"I know Eugene from way back in London. So when we realised we were both in Valencia, we rejoined forces," says Valencia Life's own Christian Morrow. "I read about Culturas Unidas on Valencia Life and it inspired me. And then after Eugene wrote a great profile of Shawn and Big Johnson's Burger Joint, an idea hatched.
"There are so many expats here with money. I realised that that is another face to immigration. We felt we could put something back, with the help of Big Johnson's Burger Joint, A privileged group of incomers doing something to help those struggling. Struggling, be it financially, culturally or with basic issues around schooling, language and so on.
"What a great thing to do, we thought," says Christian.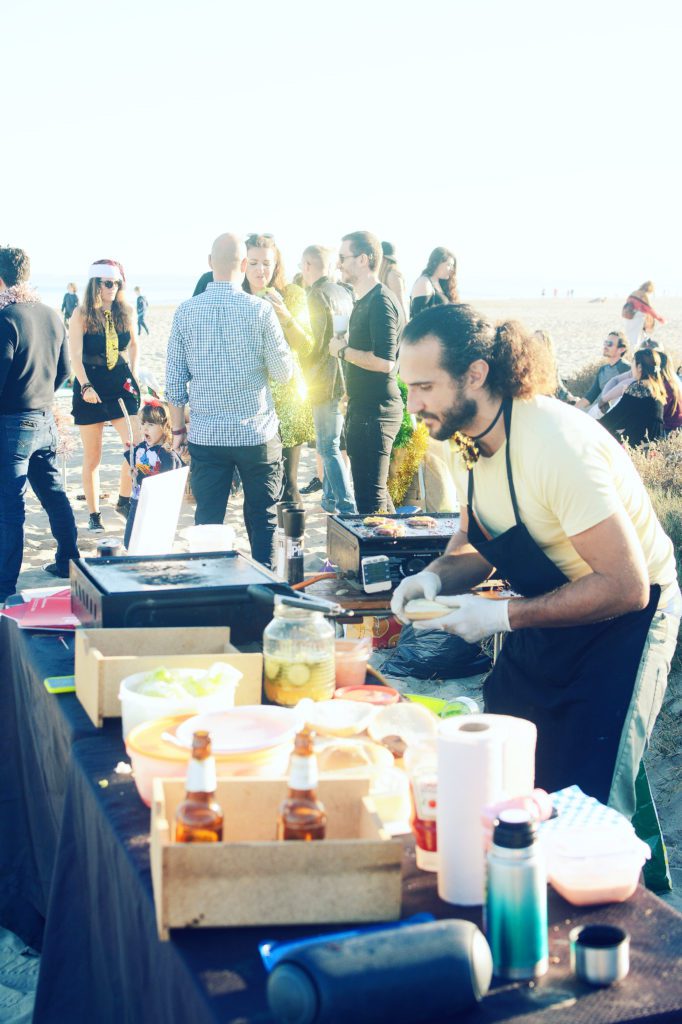 A great Valencia Life day
"Eugene set it up, and we were really delighted that Silvia from Culturas Unidas came down with her friends for the afternoon."
"We were thrilled to be able to raise €200 from the people who came down. And and even more delighted to hand it over to Cultures Unidas, who sent us a lovely letter of appreciation".
"Our thanks go to Culturas Unidas for being such wonderful people, to Eugene and Valencia Life for making it happen – and, of course, to Shawn for lending me his beloved pop-up equipment!"
Christian is too modest to say so, but Eugene says that the idea came from him and Shawn. And it was Christian sweating buckets on the beach to keep all well fed on Big Johnson's Burger joint's burgers to raise money for Culturas Unidas.
And his partner Rachael did sterling work keeping assorted children entertained and amused. A great Valencia Life day, in all… and don't miss their pop-up in Cabanyal on 31 January…
Big Johnson's Burger Joint, Culturas Unidas and Valencia Life
Culturas Unidas helps children from immigrant families to share their cultures with Valencia's culture. They aim to grow a more diverse ecosystem for all, painting a picture of multiculturalism. The young children receive educational aid, often go on cultural trips, and host fun events.
"The event with Big Johnson's Burger Joint and Valencia Life was very important for Culturas Unida. Not only due to the donation, though that was lovely. But also because of the interactions we had with the English, North American, and Australian, among others," says Silvia González, group leader in the new Valencia outpost.
"The event was very cheerful, and it let us engage with other cultures," she adds.
"There were 40 or so people there, of all ages. It was a very happy and dynamic event. The event created visibility for our association in the Anglo-community in Valencia. It helped the kids with their communication skills. And the donation has helped us to buy educational materials for the children," says Silvia with a smile.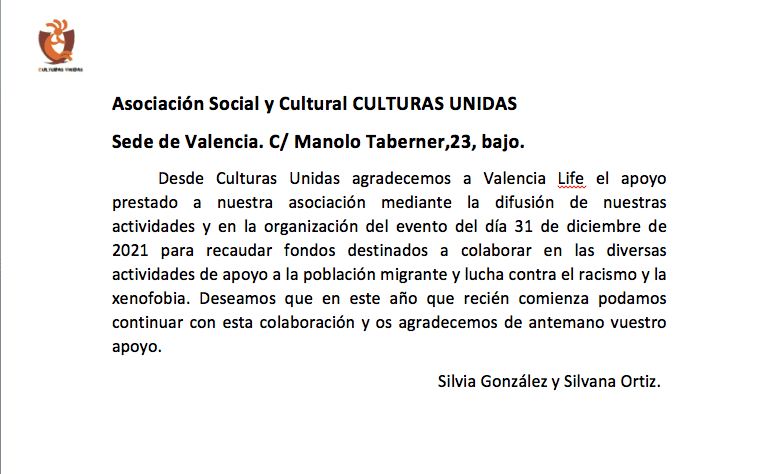 When asked what Culturas Unidas means to her, she gleamed. "It's an intercultural space, where our beneficiaries converge, interact, and enjoy activities that promote practical skills through coexistence and cultural diversity.
"The situation for many immigrants is a difficult one, it's multifaceted. We see a need to create and promote cultural spaces that allow the migrant population to converge. We want to give them the means to express themselves and participate through culture."
Culturas Unidas programme for the coming year
This year Culturas Unidas are maintaining previous projects and setting up new ones. They provide school support with after-school homework clubs. They run cultural outings and photography competitions. One of their new events is a rap festival and graffiti event. Many of their events are financed by funds from the European Union, the Ministry of Social Inclusion, the Generalitat Valenciana and private donations.
This year is important for us, says Silvia, "because we will implement the project 'The Social Dental Clinic'. It's a project that allows people in vulnerable situations to receive dental care. We are promoting the initiative with the slogan 'You Deserve A Smile'. So this project is an important step for us in Valencia. The Ministry of Social Rights and the Generalitat Valenciana are helping to subsidise the project," she tells us.
It's amazing what a small event can do to the lives of others. Valencia Life is so grateful to Big Johnson's Burger Joint for their kindness and generosity.
If you would like to know more about Culturas Unidas. Or if you want to make a donation, you can do so through their social networks, telephone number or directly at their new address.