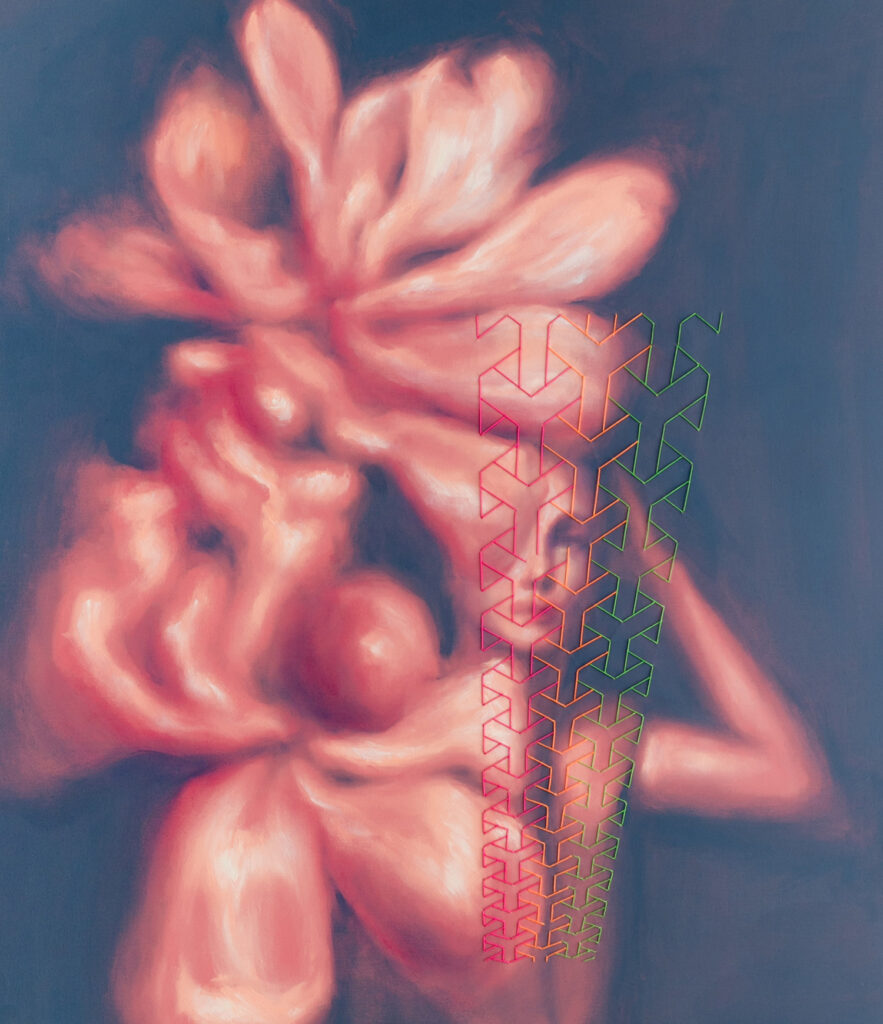 This week, Tina McCallan meets Bay Backner who talks about her artistic influences such as the Old Masters and Paula Rego as well as her innovative techniques as she continues on her journey from scientist to artist…
Bay Backner paints large-scale, surrealist-style oil paintings, which are then hand-embroidered with geometrical patterns. Her work is concerned with identities, especially female identity and how it is subconsciously shaped by experience. She graduated in Physics from Oxford University while at the same time studying at Ruskin School of Art. You can see her work at the Jan Royce Gallery until 30 May in El Carmen.
She says of her transformation from scientist to painter. "I identified more with philosophy than contemporary science and the poet Rukeyser's idea that the universe is made of stories. Not of atoms this profoundly resonated with me and I began my path towards becoming a surrealist painter."
Time to interview Bay Becker
Hi Bay, thanks for having me at your studio.
Looking at the trajectory of your work, I love the black and white paintings from 2019, especially the work Silence. Was that the first time you started to embroider the canvas? Why black and white?
No, it wasn't the first time, I had started a year earlier. I wanted to dive deeper into the idea the canvas was fabric. I had been taught to sew earlier than I learnt to paint. So I found it conceptually easier to deal with the canvas if I saw it as a piece of fabric that I could cut or sew into. Or as a piece of embroidery, it freed me up. Eliminating the colour allowed me to get closer to the style and abstract the figure by using diffused edges.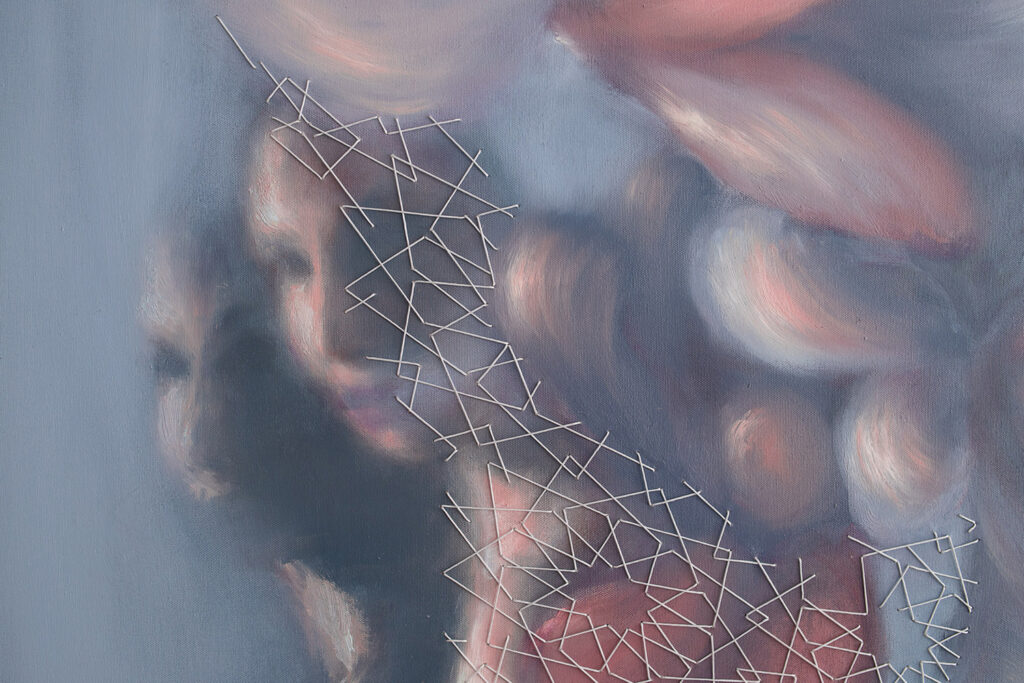 The embroidery seems to function on many levels. First, conceptually referring to what is traditionally seen as women's work which is then juxtaposed physically on top of the genre of oil painting (commonly perceived as patriarchal) but also spatially in terms of creating depth. I'm curious as to where the patterns came from, some have a futuristic digital feel while others seem almost Islamic, what are their origins?
The Islamic idea that only God can be perfect interests me. Craftsmen in mosques would always leave an error in their work to distinguish it from the perfection of God's creation. I'm curious how these patterns translate when I, as a female creative, start working intuitively and make mistakes and how the pattern interacts with the painting layers. The patterns are mainly from antiquity; Islamic, Phoenician, Hindu; especially the tree of life pattern. 
In the past, female artists weren't allowed to draw from life so many used themselves as a model. You seem to be all three things: model, artist and muse. Do you draw yourself from a mirror, from photos or from memory?
I tend to work with trusted photographers to take images of myself in poses that I construct which I then use as a reference., I'm not trying to construct a likeness. I'm looking at how the light plays across the face, how I can represent the face as minimally as possible using light to create volume. I paint "Alla Prima" (wet on wet). It's a technique that can't take more than two ninety-minute sessions. I'm trying to access the emotion that I have, rather than create a likeness.
How did studying the techniques of the Old Masters influence you? Can you describe your process and method? What drives you to paint?
I want to be a technical painter, so the Old Masters have influenced me greatly. I always work with a tonal background and build up layers, working up into impasto highlights, using chiaroscuro, looking at *Rembrandt's triangle. I'm taking techniques of the Old Masters and twisting them, giving the figures an ephemeral, transient feel to tap into contemporary female experiences. I am driven by exploring something that can't be said in another way, visual preoccupations which we all have, that require us to explore them. Painting for me is a subconscious act, it's coming from somewhere else.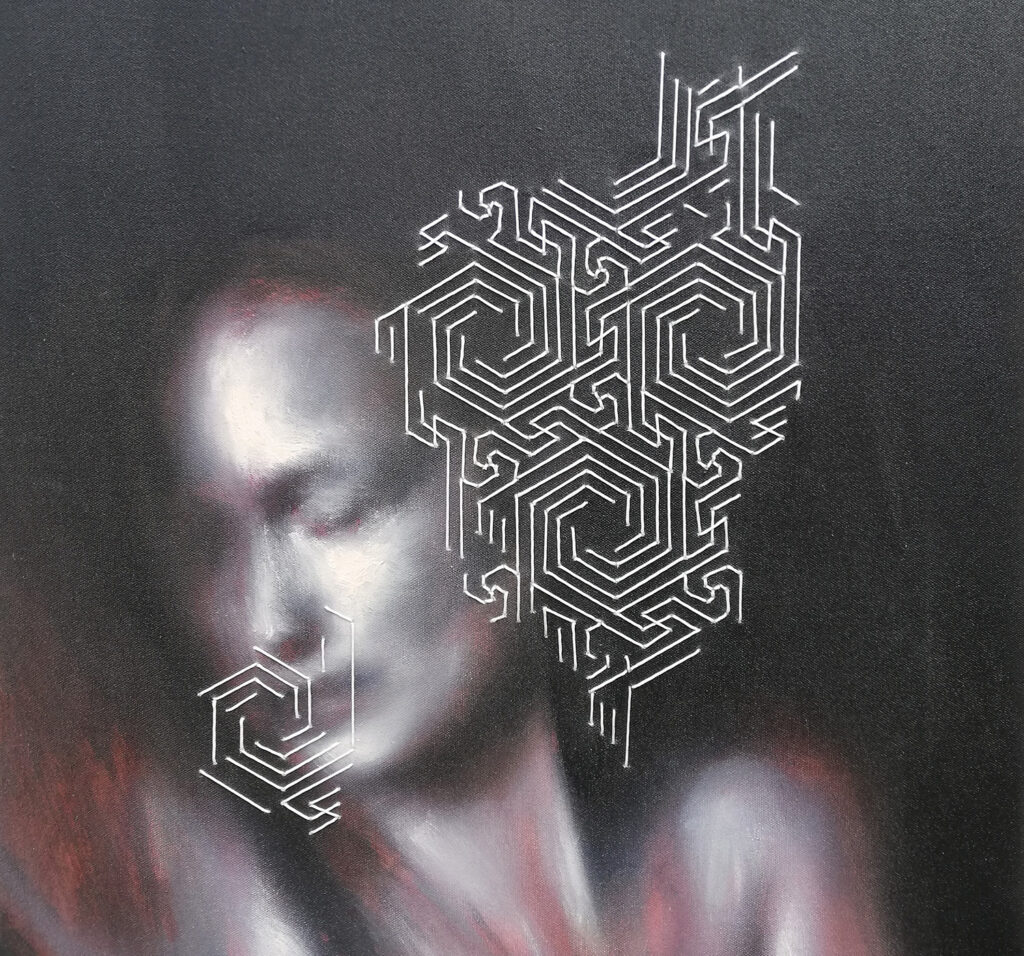 Who influences you? Which artists do you look at?
Paula Rego's exhibition Dog Women was a turning point for me. Iris Van Herpen, she uses fabric and explores geometry to interact with the human body, Robin F. Williams, Jenna Gribbon and all the work coming out of the P.P.O.W. Gallery, New York are big influences for me.
You have said you are questioning the power of consumer media over our identities and exploring the subconscious selves. In your experience, how are those identities shaped by the media and expectations?
Painting has been a process of radical self-acceptance, of accepting these cultural influences. I grew up in a working-class household where the TV was always on, so subconsciously absorbed female stereotypes from advertising, Bond films and magazines such as Elle, Vogue, Hello and OK. All that media consumption goes into my representation of women and then I have to play with it and explore the universals within those representations
How does social media work for and against you and other artists?
I research a lot on social media, I look at the representation of women and beauty, there is a societal obsession with women as beautiful creatures, I've been looking at surgical intervention, plastic surgery, for me there is a connection between that and the way I intervene in the canvas, by stitching, piercing, cutting. My feeds are full of push marketing on plastic surgery so my relationship with social media is quite brutal, it makes me question my own appearance. I immerse myself in it for a couple of weeks, then take a step back. I see it as a tool for our own ends as artists.
In the 2020 embroidered Flower Women series – especially, Allegory – the female figure is surrounded by a giant, fleshy flower, it reminds me of the film The Body Snatchers. It seems to overwhelm the figure almost as if it's absorbing it. What do the flowers represent?
On the one hand they represent these overwhelming cultural expectations that we women have and yet they are so much a part of us . These flowers are not separate from us, they exert pressure or weight. The forms are ambiguous, but the structures can also be grown into and be sources of power. Lately I've been writing about migraines and realised there may also be a connection between the flowers and migraine auras, as my realities and perception can shift quite extensively when I enter those migraine states.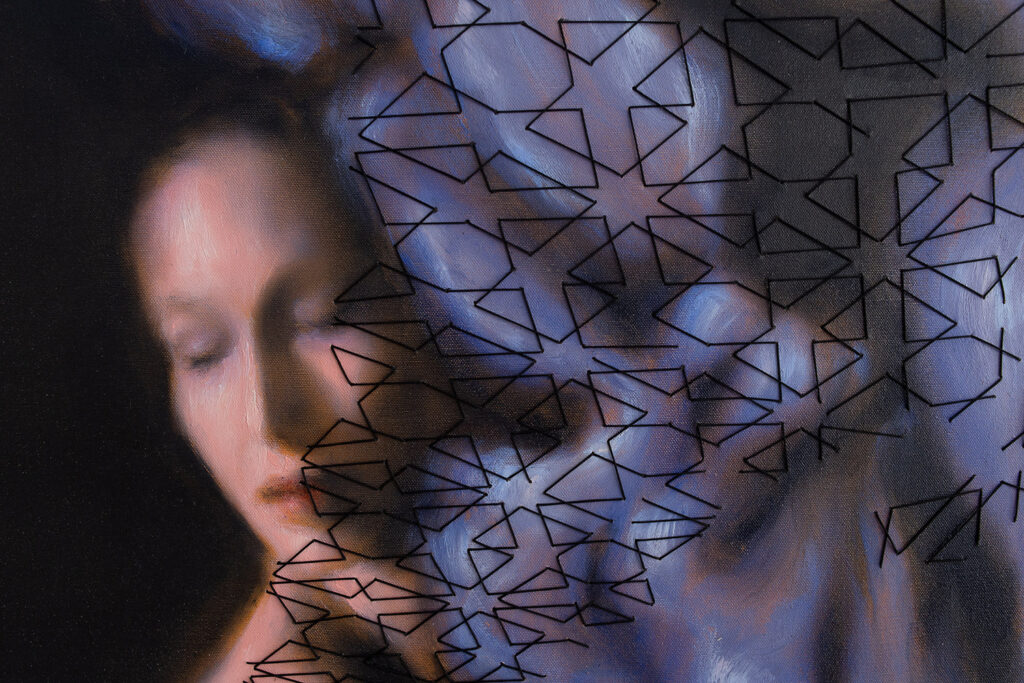 You are currently exhibiting paintings in the Jan Royce Gallery in a show called ¡Abril Despierta! They explore how identities are being shaped by this year's pandemic, how has the pandemic affected your practice?
It's become more introverted. I took my self into isolation, which was beneficial for me, to cut myself off and explore what it was in my mind that I needed to explore. The flower forms came out of the period. I took lots of photos of structures that I made from canvas and wire and explored how these structures interacted with my body to get the idea of pressure and weight. In November, as the world started to open up, the colour came back into the work, I started exploring wider palettes to see where that could take me and as we reach a year into the pandemic, I will now take stock again and take a step back.
Congratulations on the recently organised Art Walk Valencia which was a huge success, what's coming up next?
Art Walk was almost the ending of that period of isolation, with all the galleries opening up.  I'm expecting a lot of changes, I look forward to cutting the canvas as well as sewing it. I'm thinking of laser cutting, using 3D forms, more sculptural forms as we look at how to navigate the new reality of a post pandemic world. 
Thanks to Bay Backner, it's been really fascinating to learn more about her work.
Links
Instagram https://www.instagram.com/baybackner/
Website https://baybackner.com/
Jan Royce Gallery https://janroycecollection.com/
*Rembrandt's triangle refers to a form of side light where a triangle of light is made under the subject's eye. It lights half the subject's face for an interesting, three-dimensional result. 
By Tina McCallan, British artist and writer living in Valencia www.tinamccallan.com
Keep up to date with news in Valencia HERE.