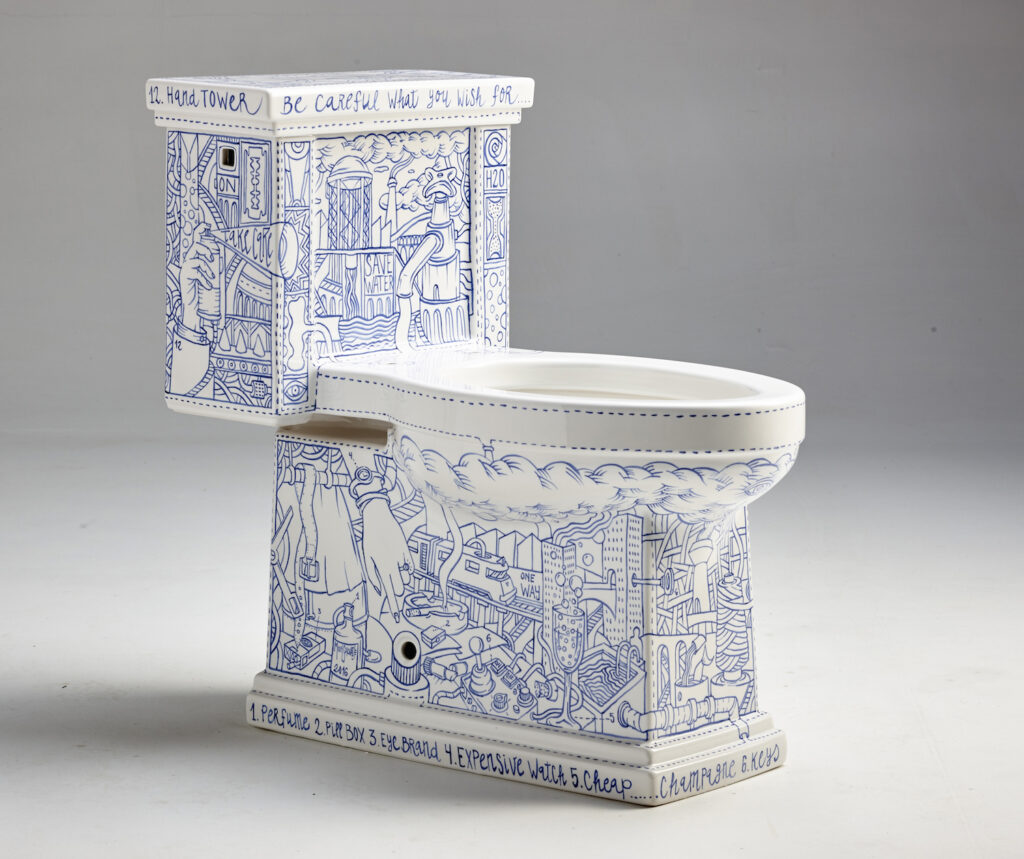 (12-minutes read time)
Xavier Monsalvatje is a Valencian artist, known for his incredible ceramic pieces as well as intricate drawings and collages which deal with the spectacle of the city, industrial heritage and the dystopian times we live in, says Tina McCall 

Monsalvatje has exhibited internationally and has also undertaken many residences all over the world, notably exhibiting in the Grand Palais in Paris in 2019. He shows with Set Espai d'Art art gallery, but you can see his work now in the group show of acquisitions by the Valencian Government at the CCCC, El Carmen until 6 June 2021 and at the Fundación Giménez Lorente until 24 April 2021. His studio is in Moncada, Valencia. So, Tina McCallan went along to his studio to meet him…
Hi Xavi, thanks for having me at your studio. The starting point for your recent show seems to be maps. It consists of ceramic plates, drawings, pots and tiles. The tile pieces are reminiscent of aboriginal dream paintings, whereas the plates seem slightly constructivist. How have Valencian ceramics influenced your work? And can you tell me a little bit about the iconography of the map pieces?
Well, I've always been interested in phrenology (maps of the mind) and I was invited to make an exhibition with the Fundación Giménez Lorente, which is the cartography collection of the university. The tile pieces are imagined maps or itineraries through the city made with the "socarrat" technique, a 15th century technique specific to this area where red clay is painted with white slip, black manganese and red oxide. The plates are an installation of circles taken from the old official taxi map of Valencia.
Each circle and plate represent an important part of my life, where I grew up, where I studied, where my first girlfriend lived. The giant skull represents the Old City, where the foundation of the city was formed by the Romans. I grew up in El Grau, Ayora and, at that time, it was an industrial area, the districts were separated by these desolate areas and I spent endless hours walking through them. So, these plates represent important geographical areas of my life. I also love to paint on the reverse of the plates which refers to the way Islamic potters used to write secret messages on the back, revealing their true thoughts, you see some examples in the ceramic museum in Valencia.
What's exciting about your work, is the juxtaposition of the domestic; plate, bowl, vase, with the political narratives decorating them. Often, they refer to a post-apocalyptic future, the misuse of science or population control. Tell me about the Covid-19 series.
An exhibition I was due to have was delayed due to the pandemic. And at the time I was painting maps, working on the cartography project. I realised I needed to change and paint the narrative that was happening right now. The Covid-19 series shows images which refer to the state of alarm that we experienced last year, images of handwashing, gas masks, anti-radiation suits with the written text of the announcements that we kept hearing such as, "Stay at Home", "Maintain the Distance". The text is painted in black and white on ceramic plates in the form of slogans or statements which refer to the propaganda posters used by the Soviets. I would never have thought these post-nuclear apocalyptic images, which I've often used before in my work, with people covered in masks and boiler suits, would become almost normal these days.
This series seems a natural progression from your previous projects the "Specular City" and also "In Permanent Danger" where you use the symbolism of the city, Big Brother imagery, puppets, man morphing into machines in industrial landscapes to talk about oppression, mind control and politics. Why do you have a fascination for cities?
As I said, I grew up in an industrial area, with lots of abandoned factories so I feel at home in the city. I find them beautiful and there are many disused cement factories in the Valencian region, in fact my first works were about these buildings and how they affect the landscape along with the absent memories of the workers. 
My father also worked in a factory and he wanted me to be an architect, so I feel my natural habitat is concrete. Whenever I go travelling, I always seek out the industrial areas and I want to know what Italo Calvino says about cities: "The image of 'megalopolis' the unending, undifferentiated city which is steadily covering the surface of the earth … A city is a combination of many things: memory, desires, signs of a language; it is a place of exchange, these exchanges are not just trade in goods, they also involve words, desires, and memories", many of my drawings deal with his idea of the megalopolis.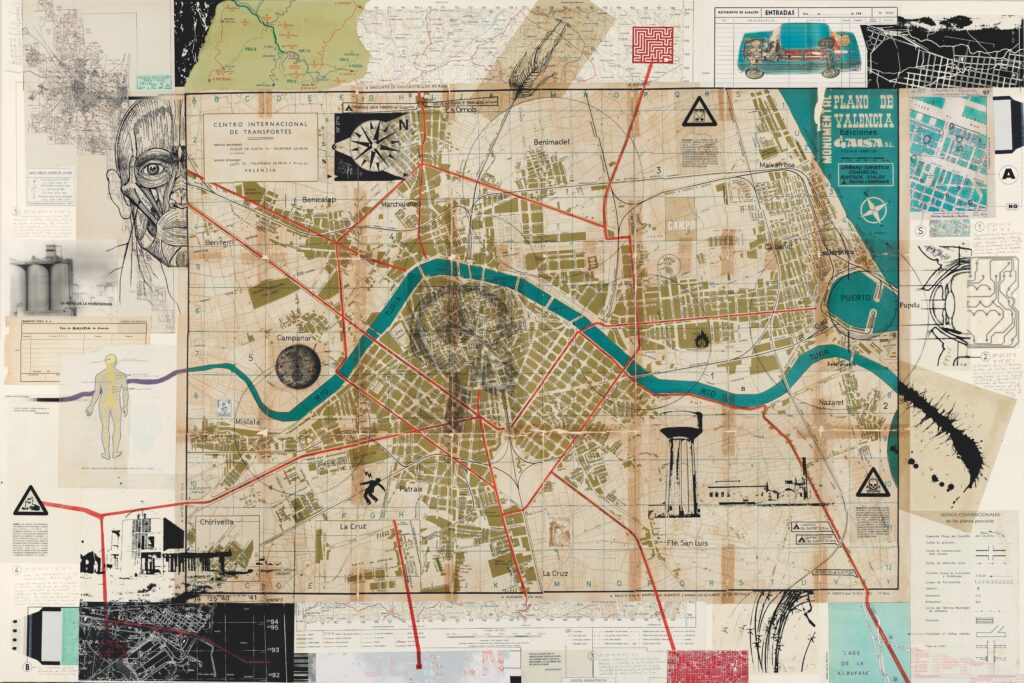 We can often see your drawings on huge vases, pots and containers. How did you get into painting with blue cobalt?
As everyone knows, the blue cobalt style, Delft blue, is common in many cultures. Holland, China and in the past, in Manises, Valencia. In the pots, I mix iconography from the 15th century with my own iconography. My first contact with it was in the Sargadelos porcelain factory in 2004 in Galicia. I had never painted with cobalt before. One day, the factory owner saw my drawings and then said why don't you paint onto the object with blue cobalt. Then I got a scholarship to study in Cordoba and I made the large vases, collaborating with potters in Cordoba. 
One of my favourite pieces is the ceramic urinal, "Marcel Duchamp Still Pissing". Anyone who knows anything about art history knows that Duchamp and his "readymades" changed the course of art. How did you get to that idea?
During my time with a ceramic factory in Arts/Industry. A long-term residency program of the John Kohler Arts Center in Sheboygan, Wisconsin. Arts/Industry takes place at Kohler Co. Having done several of these residences I learnt that it's important to keep your ideas simple. There are many rules in these factories, health and safety etc. So I had the idea to paint the objects the factory already made. They made sinks, toilets and urinals so I made, "Marcel Duchamp Still Pissing" and "Be Careful What You Wish For…". 
Are your works unique?
Yes, mostly, but I do make limited editions of prints so I can reach more people.
What's coming up in the future?
I am doing a huge ceramic mural for some schools in l'Alcora town in Castellon. I'm really excited about them and I have a few other projects on the table.
Thanks Xavi, it's been absolutely amazing to find out more about your work…
Links
Website: http://xaviermonsalvatje.com/en/
Gallery: http://www.setespaidart.com/
Map foundation https://www.facebook.com/FundacionGimenezLorente/
Valenia Life keep you up to date with the local art scene.
Tina McCallan is a British artist and writer living and working in Valencia