Valencia is a sporty and sporting city, with the Turia full of cyclists, footballers, dancers and joggers. But if, like Mark Pulley, you prefer your sport on a big screen with a pint in your hand, don't worry – here's our round-up of the best spots to get sporty with a beer…
Valencia loves sport. Unsurprisingly, football is the main passion, but basketball is also incredibly popular in the city, and it doesn't stop there. Take a stroll through Turia and you'll see a well-equipped baseball field, rugby games going on and plenty of skateboards and BMXs to tick the extreme sport box, too. Which is all why I find the lack of sports bars so surprising.
I guess coming from the UK I'm lucky. Nearly every neighbourhood pub has multiple giant TVs, so even if you're popping out for a pint and Sunday roast there's no excuse to miss the match. I suppose this does still exist in Valencia to a certain extent. What I mean is, if you want to go out and watch a La Liga game it's very easy to. Most traditional cervecerías y tabernas have a TV, albeit a potentially cube-shaped grainy one, high up in the corner. So when you're looking for that multi-screen, commentary blasting over the speakers, sports bar feel, it's not likely to come from such a place. But fear not, I've done all the hard work for you. Sitting, drinking and watching sport. So when you need a sports bar in Valencia, you can just choose one from my list.
Here are the five best sports bars in Valencia
St. Patrick's Irish Pub – Gran Via
St Pat's, as it's known to its regulars, is certainly the biggest sports bar here. It boasts ten screens which gives it the ability to show many different matches at the same time. Therefore, your local friends can immerse themselves in La Liga while you watch a game from the EPL, or even the Championship if you're unlucky to support a non-elite team like myself. Although I'd rather watch Valencian basketball than Birmingham City right now, in fairness…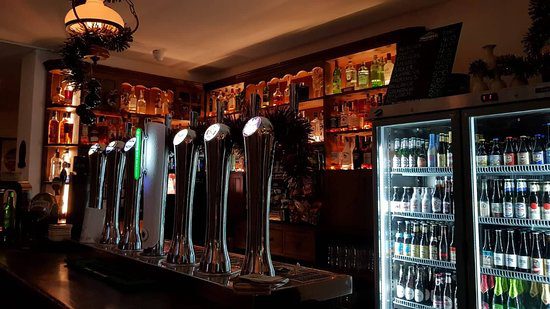 Along with all the screens you'll need, you can also take part in a bit of sport yourself on the pool and füssball tables out near the back. Add an extremely well-stocked bar and a decent pizza menu and you've got all you need for a sports-packed day. They turn a blind eye to you popping down the road to the Good Burger Company if you need to line the stomach, as well. And if you feel like you've been inside too long and need some natural light, they have a few tables on the street outside and a terrace among the trees in the central reservation. Just don't expect speedy service all the way out there!
Find out all the info you need about St Pats on their website.
Liverpool English Pub – Ruzafa
The name gives it away. It's a bar full of sports and music memorabilia. The Liverpool is a place where you come for the match and stay for the party. It's a much smaller sports bar compared to St Pat's, but for what it lacks in size it makes up for in personality. The staff and owners are great fun, and the beer is very nicely priced too. There are usually three screens inside and two outside that can show different matches, which all creates a very lively atmosphere. If you find yourself feeling peckish there's usually popcorn-a-plenty, and some tasty bar snacks on offer too.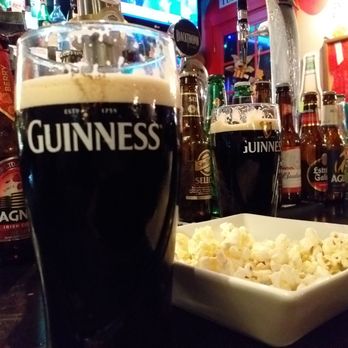 Although they are lacking in space compared to others, they use what they have to give you a full sports experience. You'll even find a streamlined putting green alongside one of the walls. So if getting your handicap down is one of your current aims in life, get yourself down to Liverpool. Don't worry, you don't need your own clubs. That would just be silly.
So, if you want to head to the best sports bar in Ruzafa you can find out all the info you need on their Facebook page.
Saint Martin's Urban Irish – Ciutat Vella
Due to its location, I'd have to label Saint Martin's as the tourist's sports bar. It is right in the middle of the city. Sandwiched between Plaça de la Reina and Plaça de l'Ajuntament it's on the main line of tourist foot traffic. That's not to say that locals don't pop in too. They do, and so do many foreigners who now call Valencia home. This place is just the most popular sports bar for tourists in the city. They have one huge screen and four more dotted around the place, so wherever you find a pew you should be able to see the game.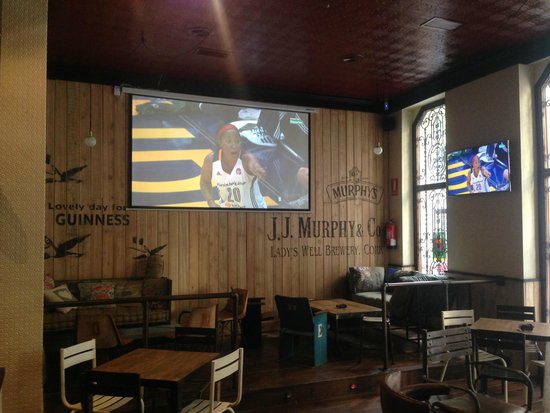 The staff are efficient, but maybe because they're used to seeing tourists everyday rather than locals they can appear less friendly. Don't be scared off by this fact though, they're still nice people I'm sure. Just a bit tired of annoying tourists, I know I would be too. So, although it's not my first choice, if you're visiting Valencia for a short time and don't want to leave the very centre of the city check out Saint Martin's.
Old Trafford Bar – Rascanya
Here we have a rarity. Although the name has you thinking that it will follow the others with an English / Irish theme, it doesn't. It's a Spanish sports bar. Full of Spanish people, Spanish food and Spanish sport. Which is something that really annoyed me the first time I went there. Rather than show a very important English game, they were showing basketball on all of their screens. After practising what Google Translate was teaching me over and over, I sheepishly asked if the game I wanted could be shown. 'No' was the clear response. Which was fair enough. If a Spanish lad walked into my old local in Birmingham and asked for the Valencia vs Villarreal game to be put on he'd be laughed out of the pub.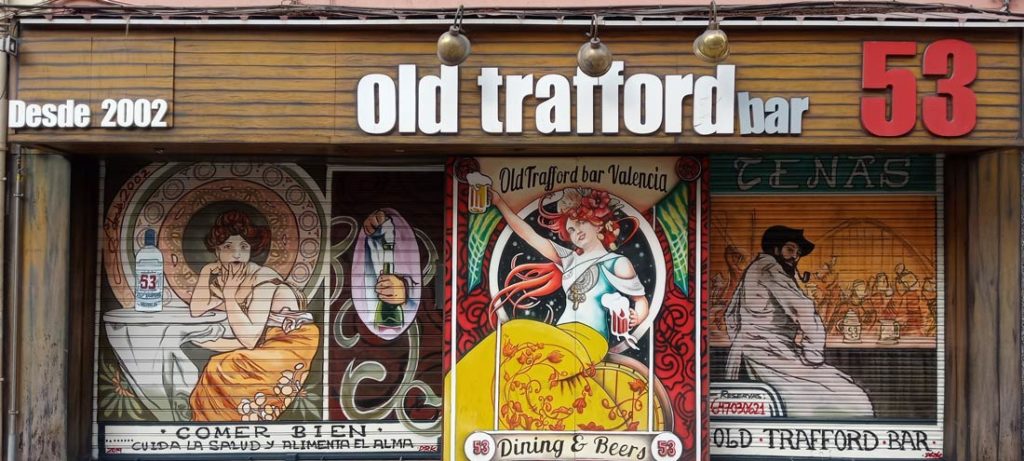 All this aside, I do really like this place. The atmosphere is great and so are the prices. So, if you're planning on heading out to watch a La Liga game in the future I urge you to head to Old Trafford and enjoy something different for a change. Then, as an added bonus, after the game you can walk down the road for a couple of minutes and enjoy the bustling nightlife that Benimaclet has to offer.
The Lounge – El Carmen
I couldn't complete the list of best sports bars in Valencia without suggesting one in El Carmen. The Lounge is not here just to fulfil a quota though. It deserves its place. It's another pub-styled place with dark wood and expensive beer, but it has something the others don't. Pinchos at the bar. And what a selection they have too. Yes, some of the other places have good food available but at The Lounge they tempt you with it by placing trays of it on the bar, directy under your nose. So if eating a range of ready and waiting fresh tapas is what you need at half-time this is the sports bar for you!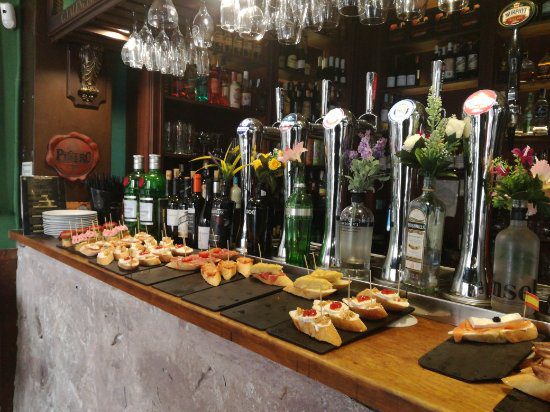 It's probably the smallest bar on the list but you have the benefit of perching on a stool outside and still getting a good view of the big screen. Perfect for you smokers who can't get through a tense game without seeing off a pack of Marlboros.
There you have it, the best places to watch sport in Valencia.
All of these bars have their own unique offerings. We're all different when it comes to how we like to watch a big match. When I was younger I'd be in the middle of the busiest pub. Now, you'll more likely find me in a quiet corner. Listening to the views of someone who doesn't know their Arsène from their Eto'o is enough to push me over the edge. Therefore, my advice would be to experience them all and see which one ticks your boxes.
It's not exactly a chore to find out, now, is it?!
• As well as covering football and helping edit 'Valencia Life', Mark Pulley also writes especially about travel – with a focus on Valencia – at thesketchytraveller.com
Keep up to date with news in Valencia HERE.